'The One Thing'
'Nothing But The Truth'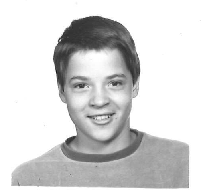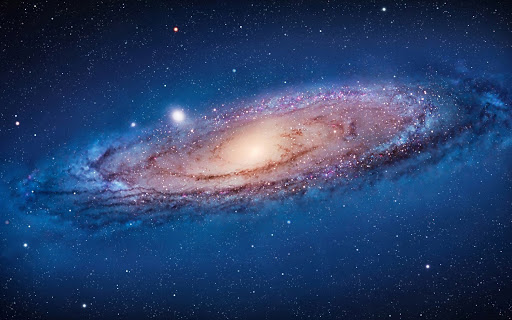 'The Sports History Story of the Century'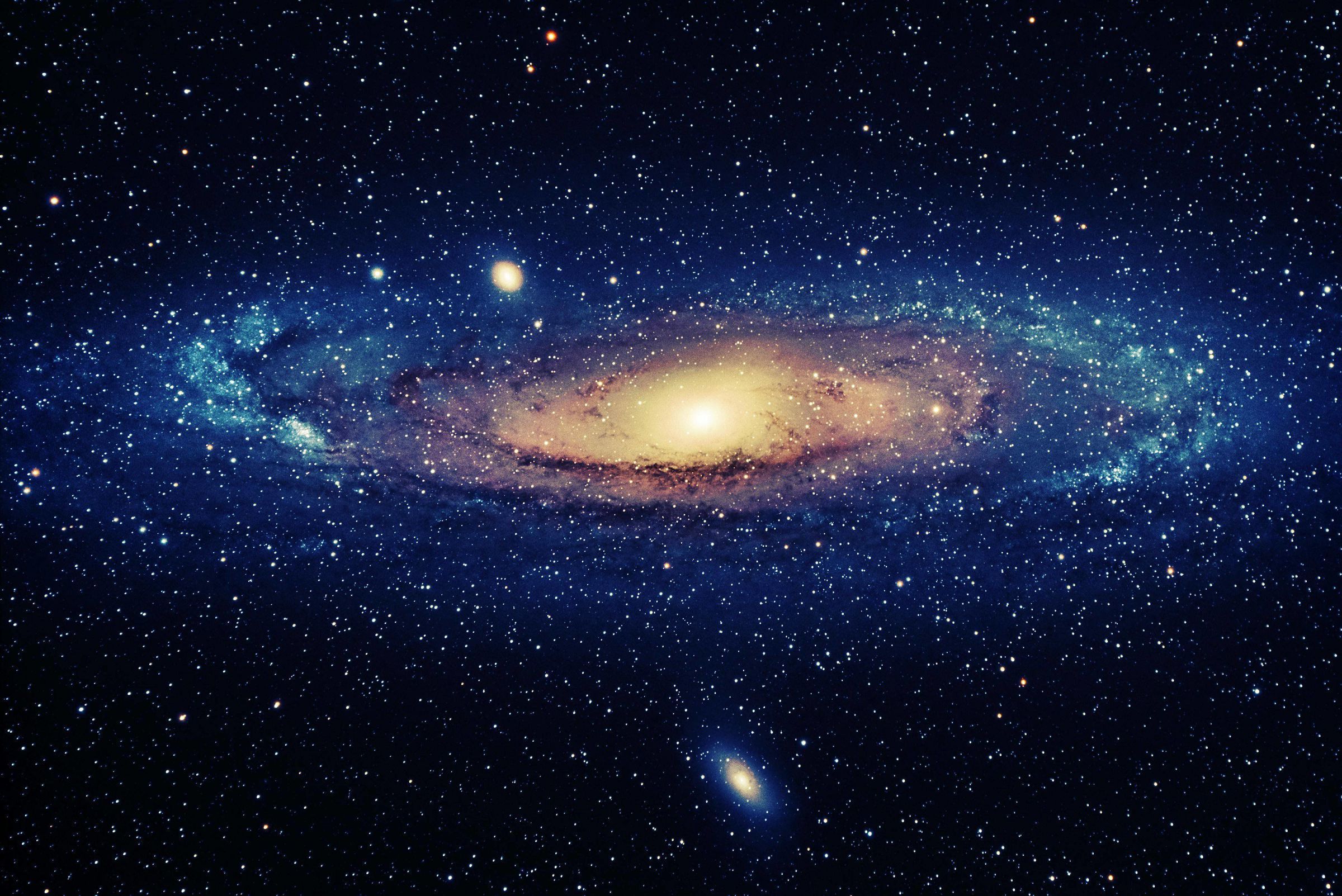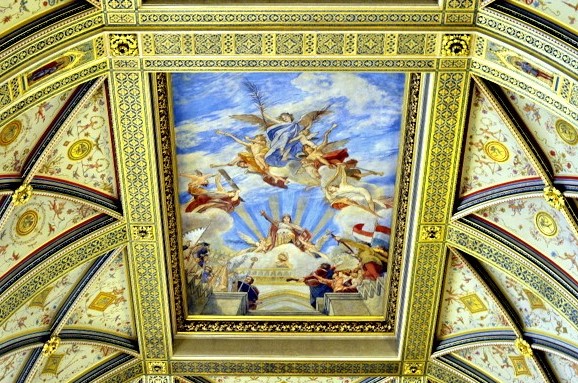 'The Glorification of Hungary' - Károly Lotz.
'The Greatest' & 'The Beautiful Game' & 'Peace Through Sport'
& Truth's Shine on Data, Statistics, Power Rating Benchmarking Plus National & International Treasures
The Plus Ultra King Maestro Game Player

***** Ferenc Puskás *****

The Greatest Very Goodest Godfather of Modern Soccer

' The Greatest Pure Offensive Player Ever '

- As of February 2023 -

The Sport's All Time Top National League Goalscorer (511 Goals)

The Sport's All Time Leader In Assists (404 Assists)

The Sport's All Time Highest Rated Top National Team (2232 Elo Points)

The Sport's All Time Highest Rated Top Franchise Team of 20th Century (2069 Elo Points)

---

The Captain Who Broke 'Sport History's Greatest Home Field Advantage' In 1953 (All Time 90 Years)


The Great Who Played On 'The Greatest Top League Home Field Advantage of All Time' (121 Consecutive Undefeated Matches)

The Inspiring Playing Captain Co-Founder Of The 'European Champions Cup' in 1955 (Honvéd vs. Wolverhampton in 1954)

The FIFA Puskás Award




TABLE OF CONTENTS:

'World's All Time Greatest Crackerjack Goalscorer and Football's First Superstar

Football's 'Scoring Bambino', Folkloric Robin Hood, Tournament Extraordinaire, Horatio Alger, Ulysses and Pioneering Groundbreaking Player

'The True Ace' International Football's Prodigal Striker, 'The Natural'

Midfield Ironman Legend, the 'Conductor Par Excellance'

'Midas' , Football's First Modern Goalkeeper

Manager Legend, 'The Producer'

The Early Great Famous Matches (1952-1953)

The 'Match of the Century' (Nov. 1953)

The Late Great Influential Matches (1954-1956)

Inside 60 Games, Curriculum Vitae, Records & Statistics
Truth's

2023 Year Ranking

All Time Rank

2021 Year

University of Oxford Scientific Ranking

Lionel

Messi

Greatest Ever Player of All Time
No. 1 Gold
Cristiano Ronaldo

Cristiano Ronaldo

The Top Goalscorer of All Time
No. 2 Silver
Lionel Messi

Ferenc Puskás

The Very Best Ever/Greatest of 20th Century
No. 3 Bronze
Pelé

Pelé

South America's Greatest of 20th Century
No. 4
Ferenc Puskás

Gerd Müller

20th Century's 2nd Greatest Top Offensive Player
No. 5
Ronaldo Nazário

Alfredo Di Stéfano

Greatest Ever National Top Franchise Player of 20th Century
No. 6
Marco Van Basten

Imre Schlosser

Greatest Ever Player in 1st Half of 20th Century
No. 7

Alfredo Di Stéfano
***** All-Time Master World Game Players by Win Percentage *****

(minimum 35 goals)

***** Kocsis | Hidegkuti | Puskás *****

source: https://www.rsssf.org/miscellaneous/century.html#goals




The Best Forward Line In International National Football History

Rank

Players

Nation

Goals

Wins

Draws

Losses

Goal Ratio

Win %

No. 1 Gold

1.136

86.36%

No. 2 Silver

0.582

No. 3 Bronze

No. 4

3

No. 5

83

1.00

81.45%
***** If The Master Association Football Equation Is:
*****




Modern (post-WW2) Top Level League and International Per Capita Very Best Ever Major Prolific Highly Decorated Offensive Multi-Champion Successful Top Ace Goalscoring Player = Sport's Greatest Champion of All Time (G.O.A.T.) =

As Any Contested Match's Key Winning Difference-Maker Between Two Perfectly Functional Average Teams To Decide Outcome As Rule No. 1 (To Outscore): Game-Altering Consistent Successful Goalscoring Magic > Luck & X-Factor Variables In Favor > Ball Possession > Defending > Goalkeeping

Ranking The 2021 Year University of Oxford's Top Five 'Greatest Ever' G.O.A.T. Index Players

By Per Capita Effectiveness For Optimal Game Winning By Official Match Top Ace Goalscoring (min. +500 Official Goals)

List of footballers with 500 or more goals - Wikipedia (update: 3.15.2022)

All Time Rank
Optimum Scoring Top Ace Offensive Superstar

Official Matches

Goals

Goal Ratio
No. 1 Gold
Ferenc Puskás

793

806

1.02

No. 2 Silver

Pelé

846

778

0.92

No. 3 Bronze

Lionel Messi

1002

787

0.79

Tie No. 4

Cristiano Ronaldo

1146

825

0.73

Tie No. 4

Alfredo Di Stéfano

704

515

0.73
| | | | | | | | |
| --- | --- | --- | --- | --- | --- | --- | --- |
| | | | | | | | |
| Co-Founder Adolph Zukor | Harry Houdini | Béla Lugosi | Johnny Weissmüller | Ferenc Puskás | John von Nuemann | Mickey Hargitay | Bobby Fischer |
| | | | | |
| --- | --- | --- | --- | --- |
| | | | | |
| Paul Newman | Tony Curtis | Don Shula | Joe Namath | Co-Founder William Fox |
Author: The Professor Historian Emeritus of the Literati / 'The Prophet Of The Truth' , The Awesome Whiz Kid of the English Synthesizer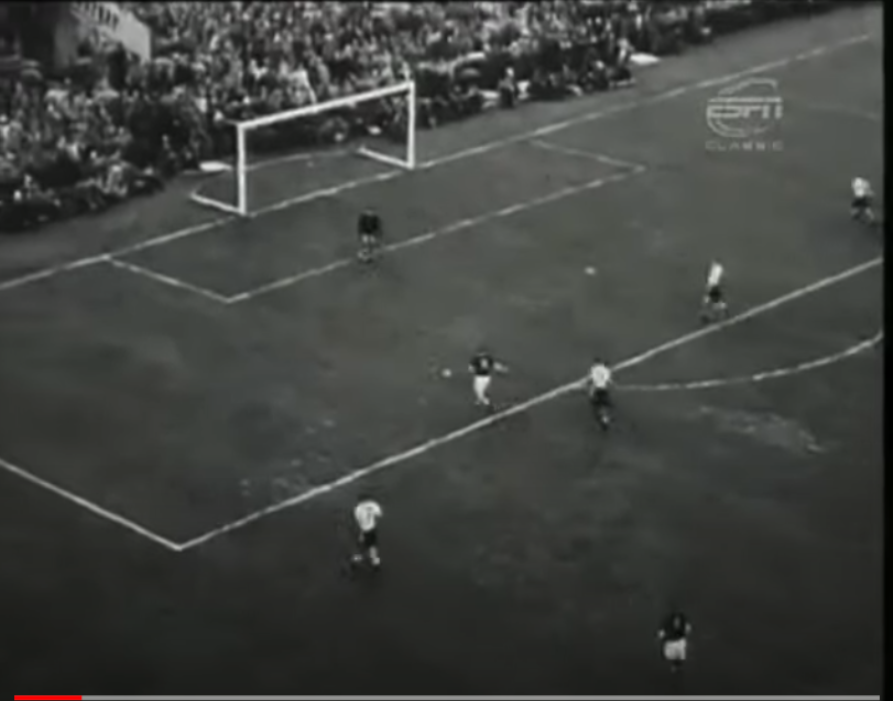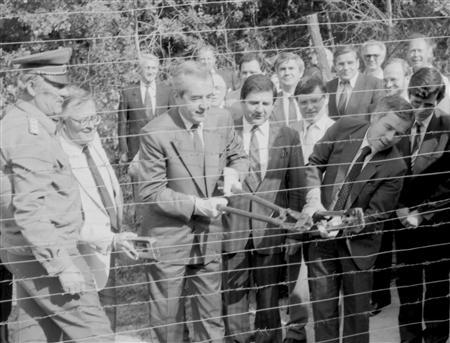 The Goal Legitimate:
Ferenc Puskás'
perfectly
fair 'onside goal'
to tie the mythical 1954 World Cup Final in the 87th minute 3-3
against West Germany on July 4th.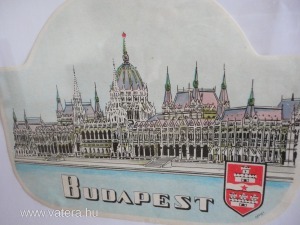 Touchdown at JFK in New York 1980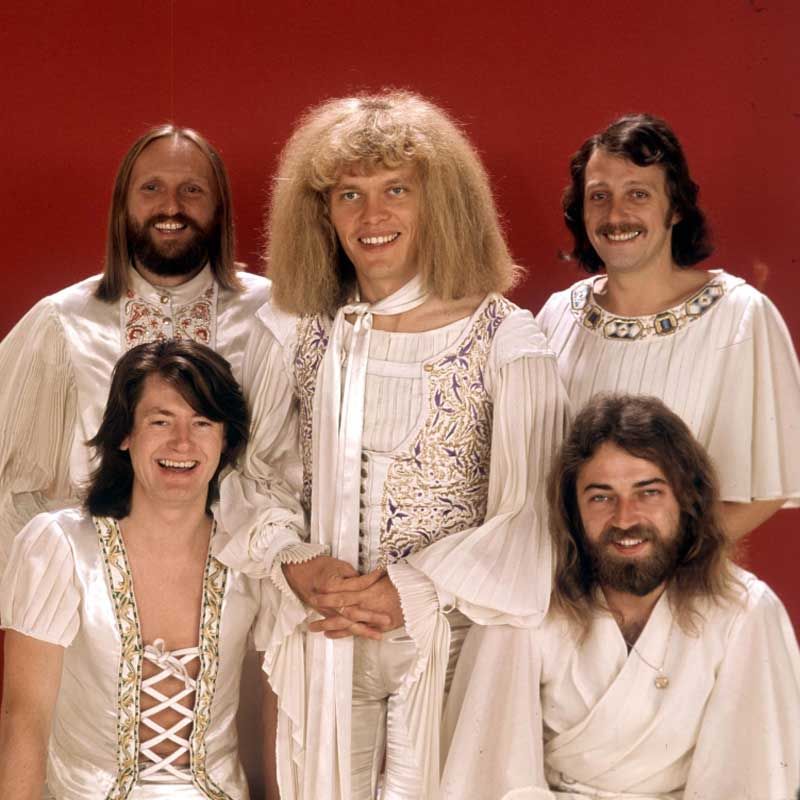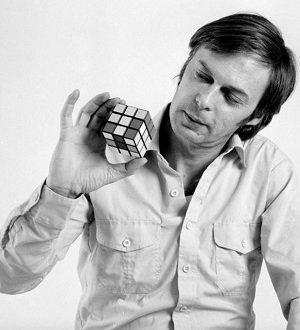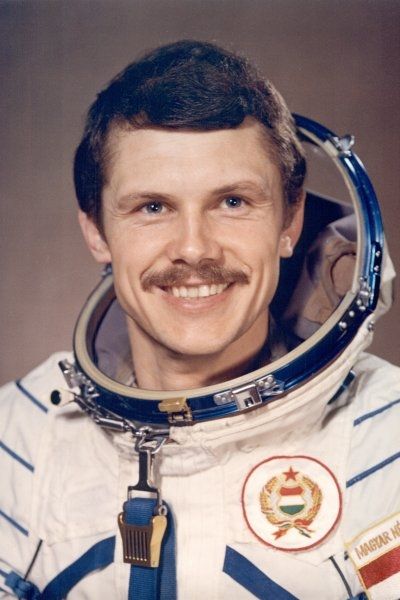 San Diego resident since Summer
of 1980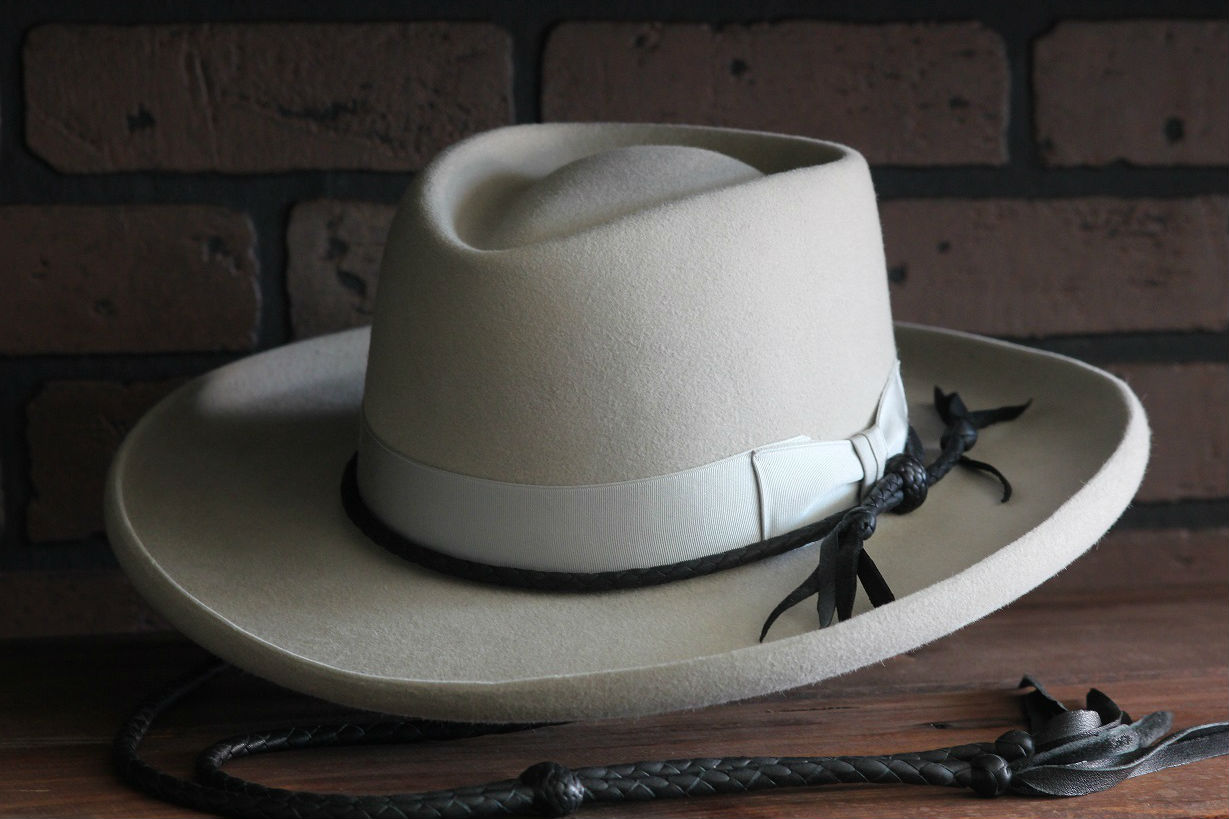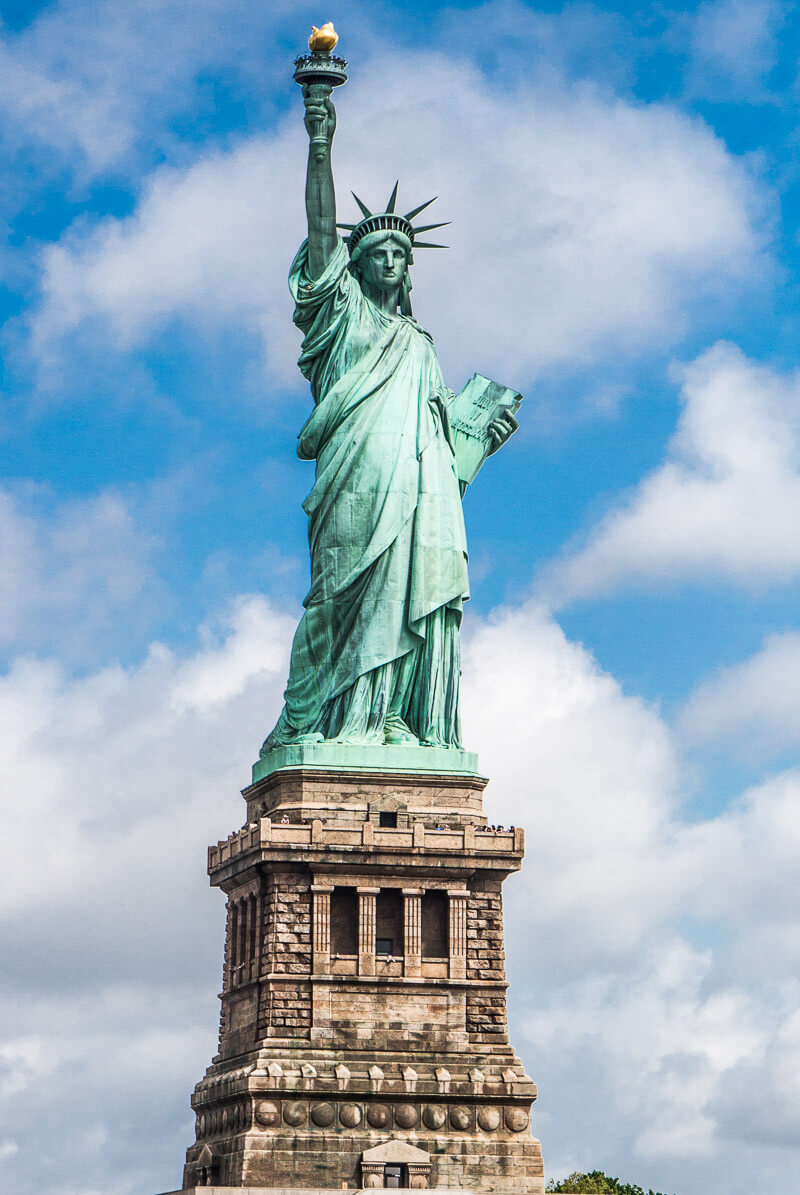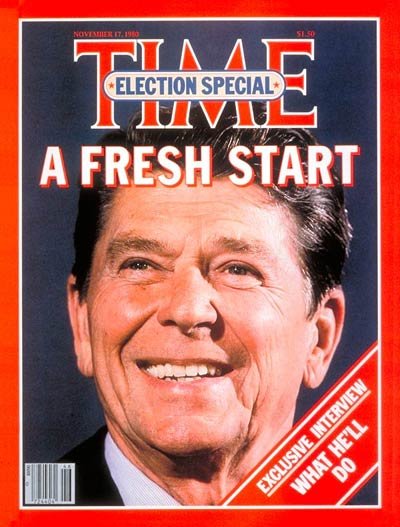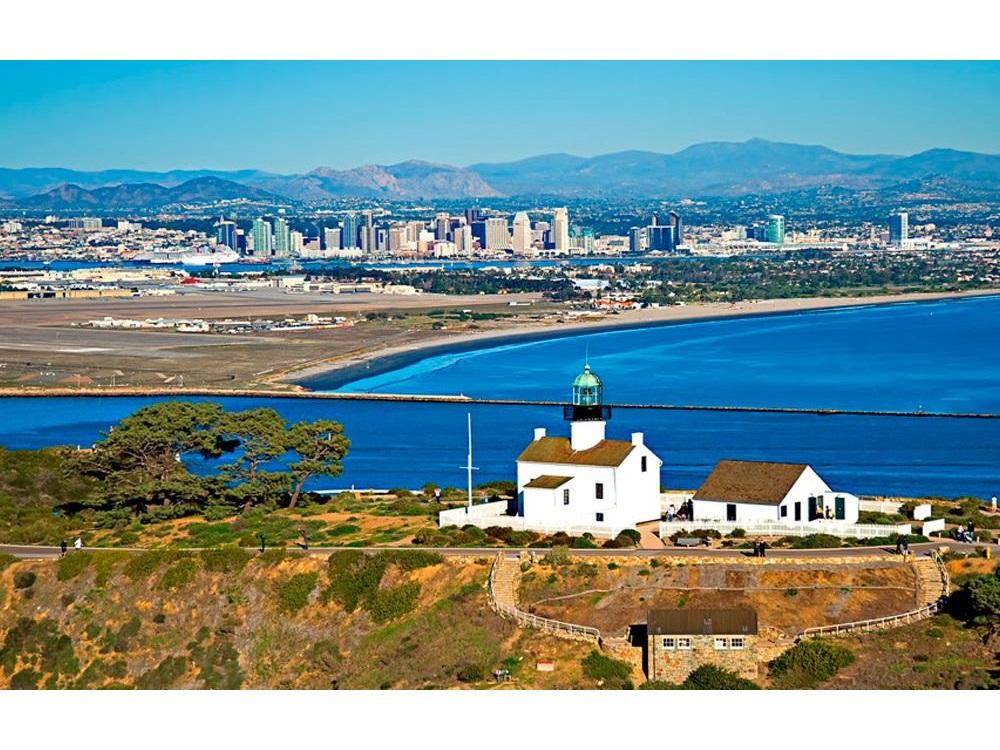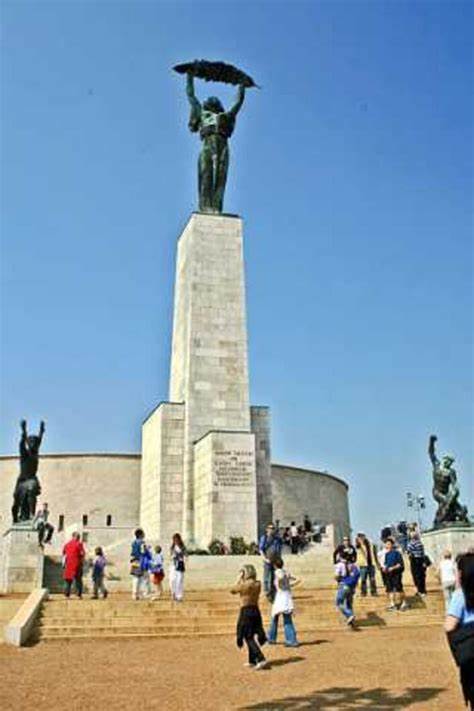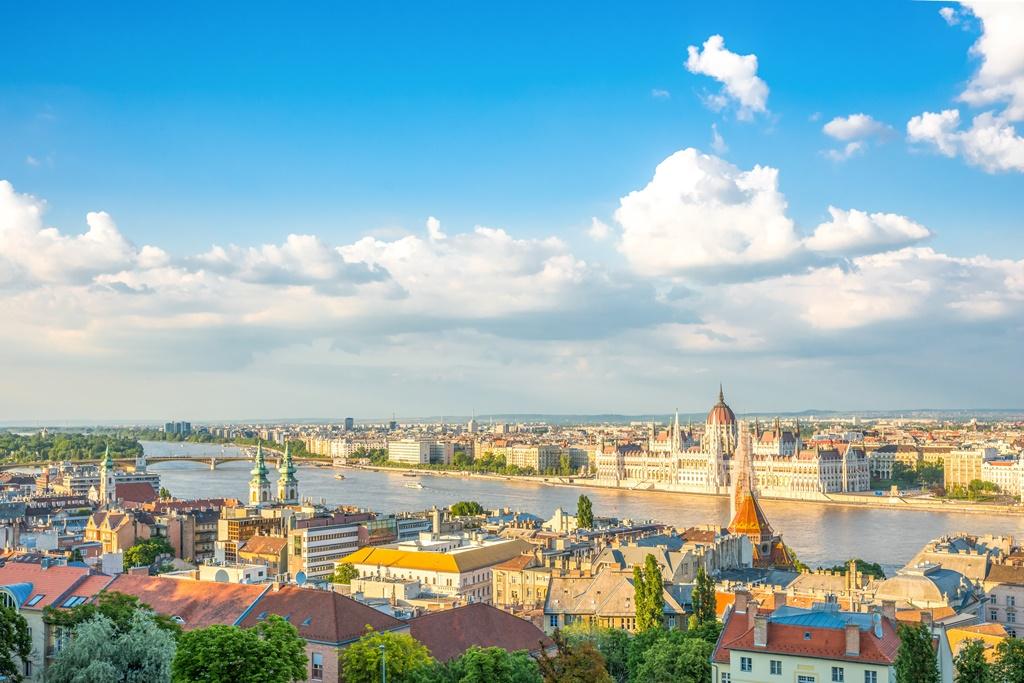 'Enlightened' Dynamic American Writing, Journalism and Photography Academy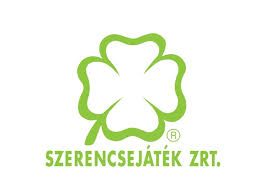 Recommended Reading: Puskás on Puskás : The Life and Times of a Footballing Legend | Rogan P. Taylor (1998) Best viewed at 50%-80% Zoom Magnification, Rated: (M) for Mature
***** The Prime Time Big Leaguer Tournament Puskás *****

Tournament Occasion or Final
Opposing Teams
Winner
Puskás' Scoring Bestowal

1947-1948 top division Hungarian Nemzeti Bajnokság

16 domestic league teams

Puskás' Best League Year

50 goals in 31 matches

1.61 goals/game

Lead All Players In World For Seasonal Year.

1948 Balkan Cup tournament

6 national teams

Hungary lead table

+17 goal diff. & 4-1-1 record

Puskás Leads Tournament With

5 goals

1950 International Year

6 national teams

Hungary

(4 wins, 1 draw, 1 loss)

Puskás' Best NT Year

12 goals in 6 matches

2.00 goals/game

1952 Olympic Games Final

Yugoslavia

Hungary 2-0

+18 goal diff.

1 goal
1948-1953 Central European Championship Final

Italy

Hungary 3-0

+10 goal diff.

2 goals

Puskás Leads Tournament With

10 goals

'Match of the Century'

England

Hungary 6-3

2 goals, 2 assists

'Match of the Century II'

England

Hungary

7-1

2 goals

1954 FIFA World Cup Final

West Germany

omitted due to controversies

Hungary stands at +18 goal diff.

1 (2) goals

Puskás Scores 4 goals In 3 Matches

1.33 goals/game

Puskás 1954 World Cup MVP

1960 European Cup Final

Eintracht Frankfurt

Real Madrid 7-3

+21 goal diff. in European Cup

4 goals

(yet record),

Puskás Leads Tournament With

12 goals

1.71 goals/game

1960 Intercontinental Final (decisive return fixture)

Peñarol

Real Madrid 5-1

+25 goal diff. in two tournaments

2 goals, 2 assists

Puskás Leads Intercontinental Cup Scoring

1962 European Cup Final

Benfica

Benfica

Real Madrid at +20 goal diff. in tournament

3 goals

Puskás Leads Tournament With

7 goals

Yet record: 7 total goals in European Cup Finals history

1964 European Cup Final

Inter Milan

Inter Milan

Real Madrid at +17 goal diff. in tournament

0 goal

Puskás Co-Leads Tournament With

7 goals

1965-66 Pre-Final European Cup Campaign

Tournament Champion,

Real Madrid 2-1

Real Madrid at +11 goal diff.

Puskás Co-Leads Team Tournament Scoring

Puskás Scores 5 goals in 3 matches

1.67 goals/game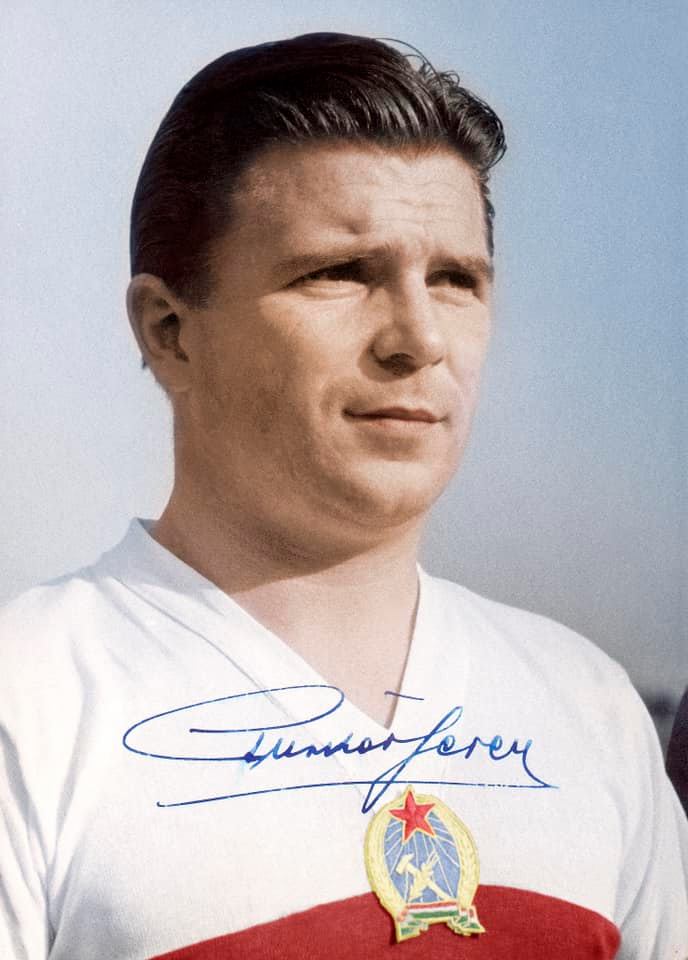 ***** Ferenc Puskás *****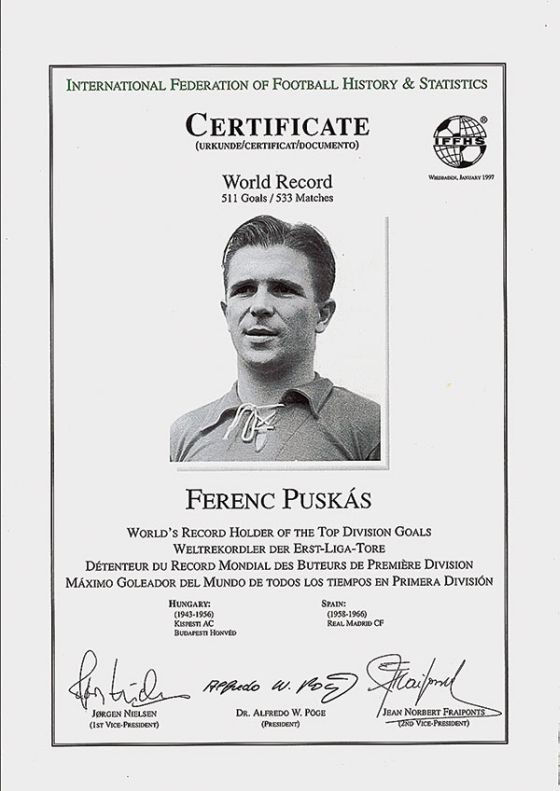 Football's Folkloric Great Legend, Scoring 'Bambino', Tournament Extraordinaire, Horatio Alger & Coaching Ulysses
***** ' The Very Best Ever/The Greatest ' *****
The Greatest Dynamic Top Level Offensive Scoring Playmaking Game Player & Team Leader
The Quintessential Prolific Influential Champion Re-Defining Zenith Player at the Heart of All Time Game & Sport-Changing Historical Greatness 4-Times
'Match of the Century' | 1954 World Cup Final | Honvéd vs. Wolverhamption (1954) | Real Madrid 7 : 3 Eintracht Frankfurt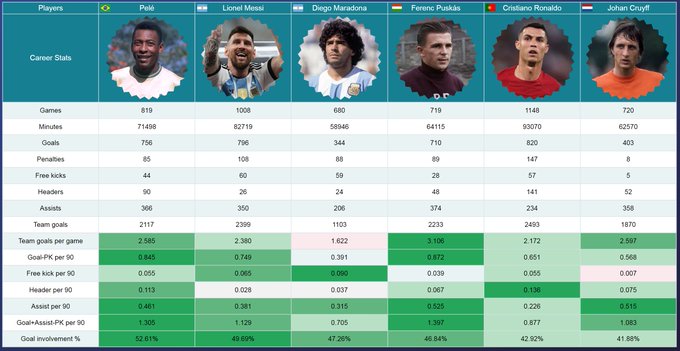 The Greatest Pure Iconic Offensive Player Of The Six Immortal Greats
(Field Goals + Assists + Penalty Kick Goals Per 90 Minutes)
source: ... (@Trachta10) / Twitter
All Time No. 1 Gold
Ferenc Puskás
1.397
Whose Teams Were The High Scoring Dominant Powerhouses?

All Time No. 1 Gold

Ferenc Puskás' Teams
3.106 gls./match
***** The 20th Century's Top Rated Top Division Franchises *****

source: http://clubelo.com/Stats/Highest

20th Century Rank

Top Division Franchise

Elo Points

Peak Date Set

Catalyst Star Players

No. 1 Gold

Real Madrid

2069

March 19, 1961

Ferenc Puskás-Di Stéfano-Gento-Santamaría

Puskás' First 4 Real Madrid Full Scoring Years (1958/1959/1960/1961/1962)

158 total goals (39.5 goals/season) in 153 matches = 1.03 goals/game

No. 2 Silver

MTK Budapest

2037

Hidegkuti-Palotás-Lantos-Zakariás

No. 4

Barcelona

2006

Lászlo Kubala-Kocsis-Czibor-Suarez
***** All Time Top Rated National Teams *****

source: http://eloratings.net

All Time Rank

National Team

Top Elo Points

Peak Date Set

Catalyst Star Players

No. 1 Gold

Hungary

2132

July 4, 1954

Ferenc Puskás-Kocsis-Hidegkuti-Bozsik-Czibor-Grosics

Captain Puskás' Career (1945-56): 83 goals in 83 matches = 1.00 goals/game World Record Holder (1953-1980) | European Record Holder (1953-2018)

No. 2 Silver

No. 4
' The Greatest '

Puskás — Kocsis
Puskás — Di Stéfano

'The Greatest Home Field Advantage' In Sports World History

The All Time Greatest Ever Top-Tier National Unsurpassed Duo.

The 20th Century's Greatest Ever National Top Division Franchise Unrivalled Duo.

121 Undefeated Home League Games from 1957-1965 (All Time World Record)

Puskás & Di Stéfano Practicing in the Bernabéu Stadium Before The 1964 European Cup Final.
***** Ferenc Puskás *****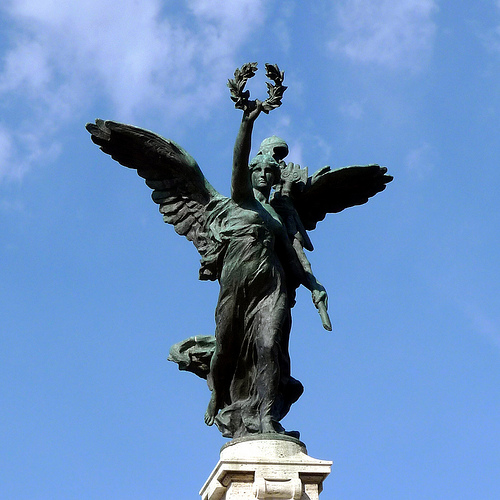 The Most Dominant Powerhouse Modern Offensive Scoring Playmaking Game Player Of All Time
***** Zenith National Top Division League Goalscorers of All Time *****
The International Federation of Football History & Statistics
IFFHS World's Best Top Division Goal Scorer - Wikipedia
(update January 5, 2022)
| | | | |
| --- | --- | --- | --- |
| All Time Rank | Player | Nationality | Goals |
| No. 1 Gold | Ferenc Puskás | Hungary | 511 |
| No. 2 Silver | Cristiano Ronaldo | Portugal | 487 |
| No. 3 Bronze | Lionel Messi | Argentina | 475 |
| No. 4 | Imre Schlosser | Hungary | 417 |
| No. 5 | Gyula Zsengellér | Hungary | 416 |
***** Top National Goalscorers of Europe & the Western Hemisphere of the 20th Century *****

20th Century Rank
Star Player

Home Country

Goals
Matches
Goal Ratio
Years
No. 1 Gold

Ferenc Puskás

83

1.00

No. 2 Silver

Hungary

59 (previous world record)
***** The Sport's Top Assist Leaders Of All Time *****

https://topsoccerblog.com/footballers-with-most-assists-football-history/


All Time Rank

Player

Nationality

Assists

No. 1 Gold
Ferenc Puskás

Hungary

404

No. 2 Silver

Pelé

Brazil

369

No. 3 Bronze

Lionel Messi

Argentina

+ 358

No. 4

Johan Cruyff

Netherlands

358
***** The Hallmark Titan Zenith Rocket Magic Herald Legend Player At Mastery At Three Dynasties *****

***** The Great Epic Crackerjack Goalscorer Whoever Lived *****

The First Original 'Golden Boy' 'Superstar' of Joie de Vivre

Twice Winner/Hero of "The Match of the Century" | The Inspiring Captain of the European Cup's (Champions League) Establishment in 1955 with 1954 Honvéd vs. Wolverhampton.

The Only Man in History to Have Scored in A: Olympic Final (1952), European Championship Final (1953), World Cup Final (1954), European Cup Final (1960, 1962), Intercontinental Final (1960) & Spanish Cup Final (1960,1961, 1962)

---

10 National Championships | 8-Time League MVP Top Scorer | 6-Time European Cup Team Finalist (3-Time European Cup Team Winner: 1959, 1960, 1966) | 5 Tournaments Top Scorer | 1947 Balkan Cup Winner | World's Top League Scorer (1947-1948) | 1952 Olympic Games Winner | 1948-1953 Central European Tournament Top Scoring Winner | 1954 World Cup MVP | 3-Time European Cup Top Scorer (1960, 1962, 1964) | 1960 Intercontinental Cup Top Scoring Winner | 1962 Spanish Cup Top Scoring Winner

references: https://www.en.wikipedia.org/wiki/Ferenc_Pusk%C3%A1s & https://www.en.wikipedia.org/wiki/List_of_footballers_with_500_or_more_goals

Total Official Matches
Total Official Assists
National Hungary (1945-56)
Top National, Kispest-Honvéd (1943-56)
Top National, Real Madrid (1958-66)
European Cup/'Champions League'

Hungarian Cup

Spanish Cup ('Copa del Generalísimo')

793 total matches | 806 goals

1.02 goals/game (Phenom +800 Goal Mark)

404 (Sport All Time High)

83 matches | 83 goals

1.00 goals/game

World Record Holder (1953-1980)

367 total team matches | 383 goals

1.04 goals/game

262 total team matches | 242 goals

0.92 goals/game (Franchise 20th Century Peak for Major Player)

41 matches | 36 goals

0.88 goals/game (All Time High, minimum 35 scores)

11 matches | 20 goals

1.82 goals/game

41 matches | 49 goals

1.20 goals/game (All Time High, minimum 26 scores)

Puskás with English pioneering legend Arthur Rowe, manager of Crystal Palace and advocate of 'push and run' football and Alfredo Di Stéfano in 1962.

Arthur Rowe was employed in Hungary as a consultant and manager in 1938-1940 and also gave a series of lectures on the merits of the 'WM' system.

'Top Division Tournament Extraordinaires'

All Time Best Scoring Efficiency in the European Cup (Champions League) by Goal Ratio (minimum 35 total goals)

Rank
Star Players
Goals
Matches
Goal Ratio
No. 1 Gold
Ferenc Puskás

36

41

.878
No. 2 Silver

Alfredo Di Stéfano

49

58

.845

No. 3 Bronze

Lionel Messi

120

149

.805

4.

Ruud van Nistelrooy

56

73

.767

5.

Cristiano Ronaldo

134

176

.761

6.

Robert Lewandowski

73

96

.760

7.

Eusebio

46

65

.708

source: http://www.worldfootball.net/alltime_goalgetter/champions-league/tore/1/

Real Madrid's 'Very Best and Greatest'

Major Players by Goal Ratio (minimum 171 total goals)

Source: https://en.wikipedia.org/wiki/List_of_Real_Madrid_C.F._records_and_statistics

| | | | | | |
| --- | --- | --- | --- | --- | --- |
| Real Madrid Rank | Star Player | Total Goals | Total Matches | Goal Ratio | Year Active |
| No. 1 Gold | Cristiano Ronaldo | 450 | 438 | 1.03 | 2009-2018 |
| No. 2 Silver | Ferenc Puskás | 242 | 262 | 0.92 | 1958-1966 |
| No. 3 Bronze | Alfredo Di Stéfano | 308 | 396 | 0.78 | 1953-1964 |
| No. 4 | Hugo Sanchez | 208 | 282 | 0.74 | 1985-1992 |
| No. 5 | Karim Benzema | 277 | 555 | 0.50 | 2009-present |
Gold

élan

Silver

bona fide

Bronze

Zeitgeist

No. 4

vis-à-vis

No. 5

joie de vivre

No. 6

plus ultra

No. 7

maestro

No. 8

esprit

No. 9

tour de force

No. 10

débâcle

magnifico

fortissimo

gravitas

alfresco

éclat

juggernaut

métier

Midas

nonpareil

lumière

drama célèbre

outré

exalté

tutti
| | | | | | | | |
| --- | --- | --- | --- | --- | --- | --- | --- |
| | | | | | | | |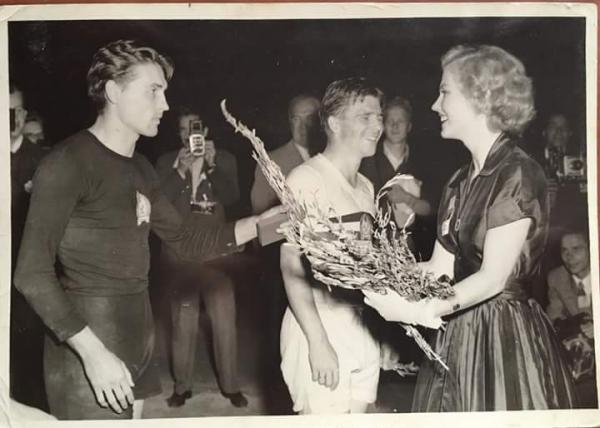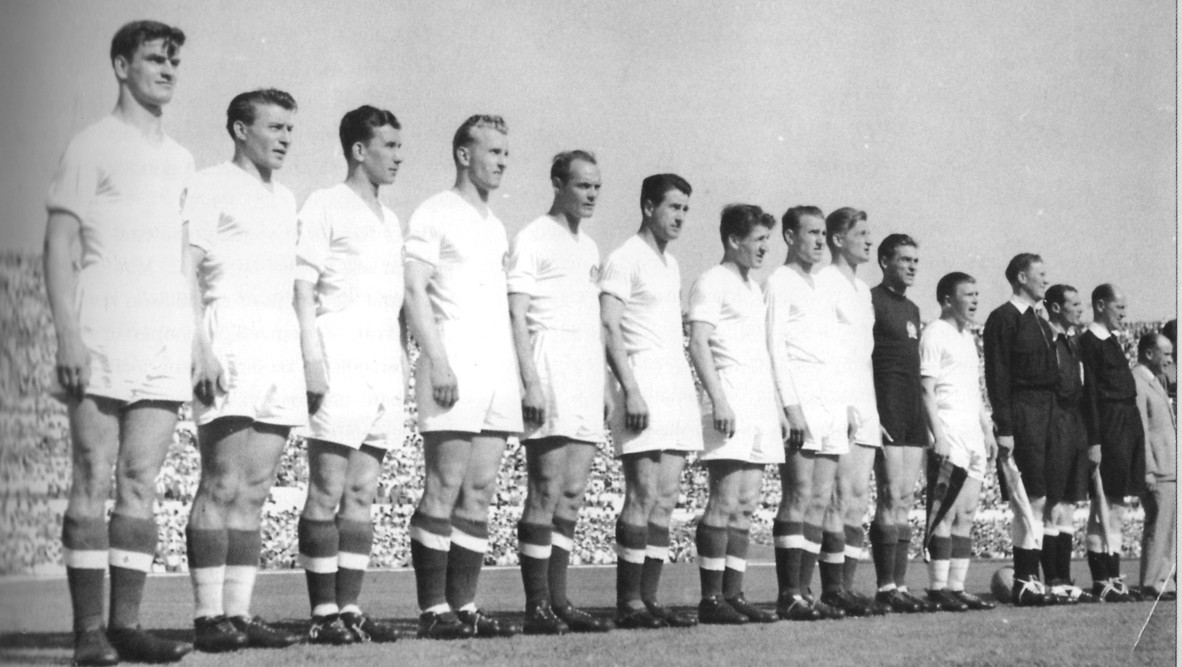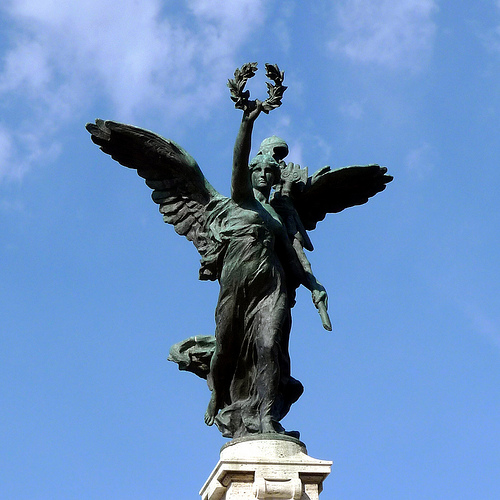 Simply the Greatest! 'The Fantasy Team' 'The Dream Powerhouse' 'A Sporting Avalon' - the classic lineup of the 'Golden Team' / Magical Magyars: Kocsis-Budai-Zakariás-Lantos-Buzánszky-Bozsik-Czibor-Hidegkuti-Loránt-Grosics-Puskás (pictured May 17th, 1953, in Rome), the highest rated national team of all time. The 'Golden Team' went 49 wins, 9 draws, and 1 unwon (with the omission of the 1954 World Cup Final for a 98.3% undefeated percentage) over the course of six years that brandished a historic tour de force blockbuster offense in a class of its own that scored 4.36 goals per game at the sport's highest level. In translating world association football scores to equate with top-tier pro American football (1 goal = 10 points & no draws included), they would have scored 43.6 points/game on the gridiron at the topmost level of the professional game during a 59-game span while conceding 11.7 points/game for a 49 win, 1 loss record. *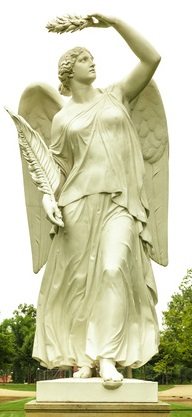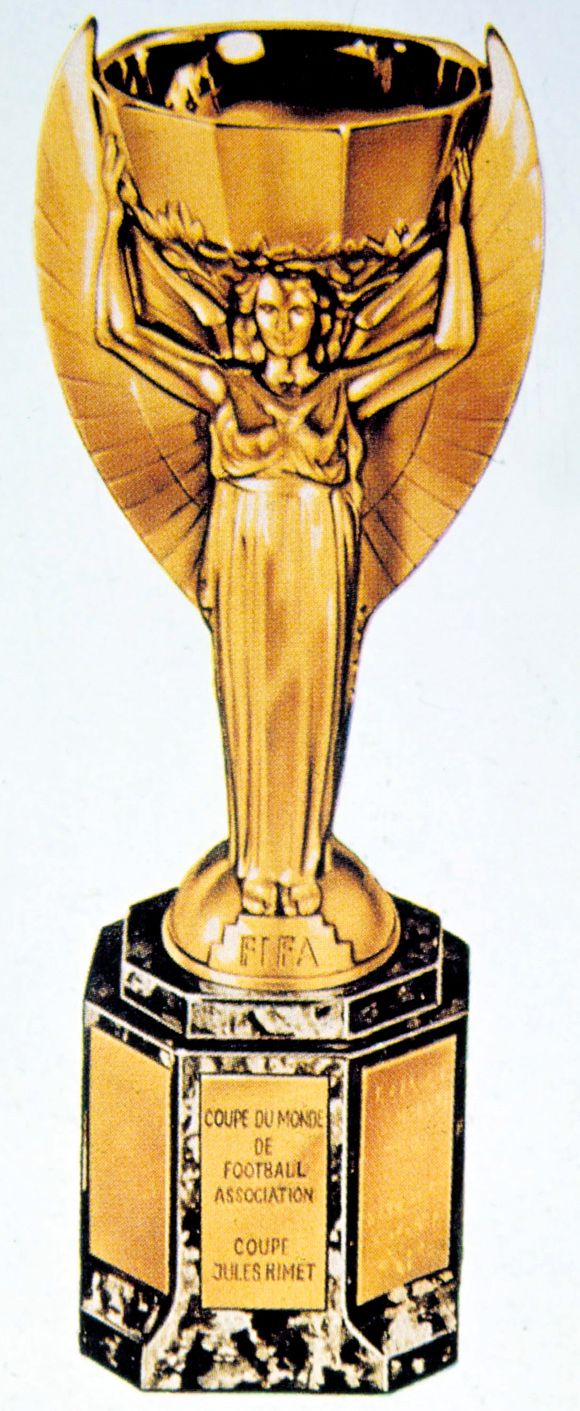 ***** The World's Greatest of the Great *****
1949-1956 Hungary
May 8, 1949 - Feb. 18, 1956
The Highest Performing, Greatest Scoring and Indisputably Highest Rated No. 1 Team of All Time

International Football's Strongest, Most Dynamic, Powerful/Balanced, Most Inventive & Influential

Historical comparison of National sides via average ELO ratings: 1st Hungary 1954, 2nd Brazil 1970, and 3rd Spain 2012 : soccer (reddit.com)

Number of Full Internationals

Wins

Draws

Loss

Winning Percentage:

Undefeated Percentage:

Goals/Match

Goals Against

Goal Diff./Game

Supercomputer's Appraisal

59 matches* in equiv. top-tier pro American football, 49 wins, 1 loss

(43.6 points/game, 11.7 def. points/game)

49

9

1

90.68%

98.31%

+4.36 gls/gm

-1.17 gls/gm

+3.19

Very Best Ever/Greatest Ever

* Does not include the 1954 World Cup Final due to various controversies. The games against the 'Soviet Union' on May 24th and 27th 1952 was played against a ' Moscow Select XI ' (Moscow city teams' selection and not the 'national Soviet Union team') therefore it is not an official "international" match between national teams and will not be included in the statistics. Moreover, the referee in the match was from the Soviet Union.

The Hungarian-American Árpád Élő, the father of relative power rating systems and statistical scores-based sports benchmarking.

Useful Links for Statistics:

World Football Elo Ratings / World Football Historic Center

The Rec. Sport Soccer Statistics Foundation

For the purposes of this writing, we will attempt to use ELO World Football Rankings, developed by Hungarian American mathematician Árpád Élő and adapted for international football.

BBC's/Supercomputer's Benchmarking and Rankings of the Greatest International Teams of All Time: No. 1 Hungary

---

May 8, 1949 to Nov. 27, 1955 (59 Matches)

35.59% of 59 Matches = 5 to + 5 Goal Margin Victory

---

I.) Basic Elementary Win = 1 Goal Win | 7 Matches (11.86%)

II.) Covering the Goal Line (-1.5 Goals) = 2 Goals Win | 9 Matches (15.25%)

III.) Strong Performance = 3 Goals Win | 8 Matches (13.56%)

IV.) Powerhouse Display = 4 Goals Win | 4 Matches (0.068%)

V.) Comprehensive Débâcle = 5 Goals Win | 11 Matches (18.84%)

VI.) Crushing Tour de Force Rout = 6 to +6 Goals Win | 10 Matches (16.95%)

Team Score Statistics and Match Commentary:

www.magicalmagyars.com/Inside60Matches.html

* Does not include the 1954 World Cup Final due to various controversies. The games against the 'Soviet Union' on May 24th and 27th 1952 was played against a ' Moscow Select XI ' (Moscow city teams' selection and not the 'national Soviet Union team') therefore it is not an official "international" match between national teams and will not be included in the statistics. Moreover, the referee in the match was from the Soviet Union.
Captain Ferenc Biró Puskás

'The Greatest'

Sándor Kocsis

Alexander Coachman

József Bozsik

Joseph Bozsik

Nándor Hidegkuti

Palatine Coldweller

Zoltán Czibor

Zoltan Czibor

László Budai II

Ladislaus de Buda II

***** Magical Magyar *****

The National Breakout Débâcle Debuts For 20 Most Involved Players

By Debut
GT Player
Position
First NT Match
NT Games
Score For
Score Ag.
Vs. Team

No. 1

Ferenc Puskás

Inside Forward Left

August 20, 1945

83

5

2

Austria

No. 2

Nándor Hidegkuti

Withdrawn Center Forward/False No. 9

September 30, 1945

67

7

2

Romania

No. 3

Ferenc Deák

Striker

October 6, 1946

20

2

0

Austria

No. 4

József Bozsik

Central Midfield/Center Wing Half

August 17, 1947

99

9

0

Bulgaria

No. 5

Gyula Grosics

Goalkeeper

August 20, 1947

84

3

0

Albania

No. 6

József Zakariás

Defensive Midfielder

34

No. 7

Sándor Kocsis

Striker/Inside Forward Right

June 8, 1948

66

9

0

Romania

No. 8

János Börzsei

Defender

Sept. 19 1948

23

6

2

Poland

No. 9

Lóránt Gyula

Centerback

Oct. 24, 1948

37

5

1

Romania

No. 10

Sándor Károly

Left Wing

April 10, 1949

75

2

5

Czechoslovakia

No. 11

Lászlo Budai

Right Wing

May 8, 1949

39

6

1

Austria

No. 12

Zoltán Czibor

Left Wing

July 10, 1949

42

8

2

Poland

No. 13

Mihály Lantos

Leftback

51

No. 14

Mihály Tóth

Left Wing

Oct. 30, 1949

6

5

0

Bulgaria

No. 15

Péter Palotás

Forward

Sept. 24, 1950

22

12

0

Albania

No. 16

Jenő Buzánszky

Rightback

Nov. 12, 1950

47

1

1

Bulgaria

No. 17

Béla Kárpáti

Defender

Oct. 11, 1953

19

3

2

Austria

No. 18

Ferenc Szojka

Midfielder

July 17, 1954

28

9

0

South Korea

No. 19

Máté Fenyvesi

Forward

Sept. 19, 1954

75

5

1

Romania

No. 20

Lajos Tichy

Striker

May 8, 1955

72

5

0

Norway

16 Wins, 1 Draw, 1 Loss

Win Percentage: 91.67%

+5.67

-1.06
+4.61 Goal Diff./Game

Lajos Tichy

Louis Tichy

Sándor Károly

Alexander Charles

Péter Palotás

Peter Palaceman

Ferenc Deák

Francis Deak

János Börzsei

John Borzsei

Mihály Tóth

Michael Slovak

Mihály Lantos

Michael Lantos

Jeno Buzánszky

Eugene Buzánszky

Gyula Lóránt

Julius Lorant

József Zakariás

Joseph Zacharias

Dr. Máté Fenyvesi

Dr. Mate de Pine

Ferenc Szojka

Francis Szojka
Béla Kárpáti

Bela de Carpathia

Gyula Grosics

Julius Grosics

Sports Reporter and Executive

György Szepesi / George Szepesi

Guinness World Record Holder

Head Manager Gustáv Sebes
---
Players with +500 Officials Goals

RSSSF Statistics:

59 Players Have Scored +500 Official Goals, 11 Were Hungarian (18.64% Of All Players in Association Football History)

source: List of footballers with 500 or more goals - Wikipedia

All Time Rank
Star Magyar Player
Goals
Matches
Goal Ratio
Active Years

No. 6

Ferenc Puskás ('Golden Team' captain)

806

793

1.02

1943-1966

No. 7

Ferenc Deák

(Puskás' first great strike partner)

+795

+511

1.56

1939-1959

No. 16

Ferenc Bene

630

946

0.67

1959-1985

No. 17

Gyula Zsengellér

611

641

0.95

1931-1953

No. 26

Imre Schlosser

+569

458

1.24

1906-1928

No. 35

Sándor Kocsis

(Puskás' great strike partner)

556

537

1.04

1946-1966

No. 42

Ferenc Szusza

544

598

0.91

1940-1961

No. 43

József Takács

539

526

1.02

1920-1942

No. 47

Nándor Hidegkuti

('Golden Team' center-forward)

526

678

0.78

1938-1958

Tie No. 55

György Sárosi

507

592

0.86

1929-1948

No. 59

Lajos Tichy

('Golden Team' striker)

500

610

0.82

1952-1971
***** The World's Greatest of the Great *****

All-Time Highest Ranked National Teams

(Update: 12/23/2022)

www.eloratings.net

No.1

Gold

Hungary
captained by Ferenc Puskás

2232 (sport all time high)

July 4, 1954

With Omission of 1954 World Cup Final Match

A Real Gold Standard Benchmark:

+ 2257 Elo Points (date set: Nov. 27, 1955)

No. 2 Silver

Germany

2223

July 13, 2014

No. 3 Bronze

England

2216

Nov. 9, 1912

No. 4

Brazil

2195

Nov. 28, 2022

No. 5

Spain

2165

June 23, 2013

No. 6

Argentina

2160

April 3, 1957

No. 7

Belgium

2158

Jun 27, 2021

No. 8

Netherlands

2154

July 12, 2014

No. 9

France

2137

May 30, 2001

No. 10

Italy

2131

June 11, 1939
The Amazing True Story of the Greatest Football Team of All Time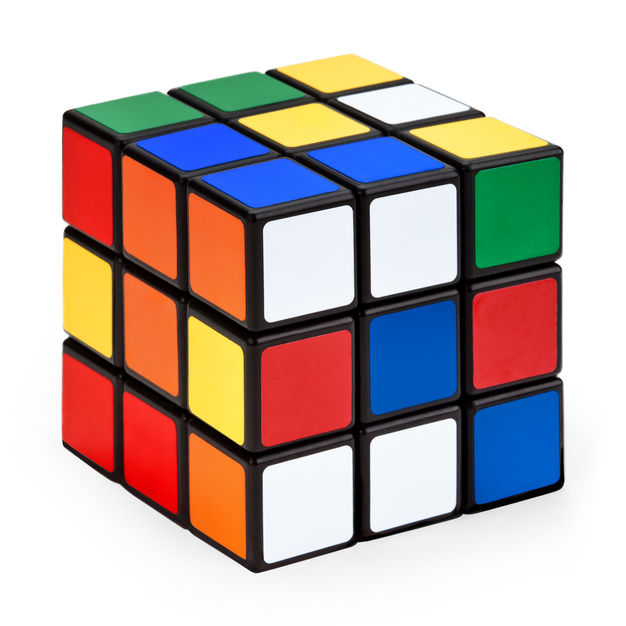 Hungary's Magical Magyars / 'The Golden Team'
***** Joe Namath *****
The Real True Life Amazing Legendary National Champion Sports Hero Playboy Who Re-Defined and Changed Top Level American League Football.
SuperBowl III
New York Jets 16 : Baltimore Colts 7
Baltimore Colts: -19 1/2 Points Pre-Game Favorites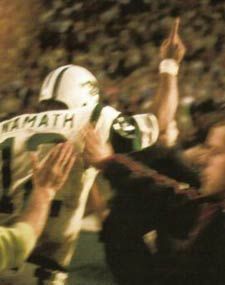 ---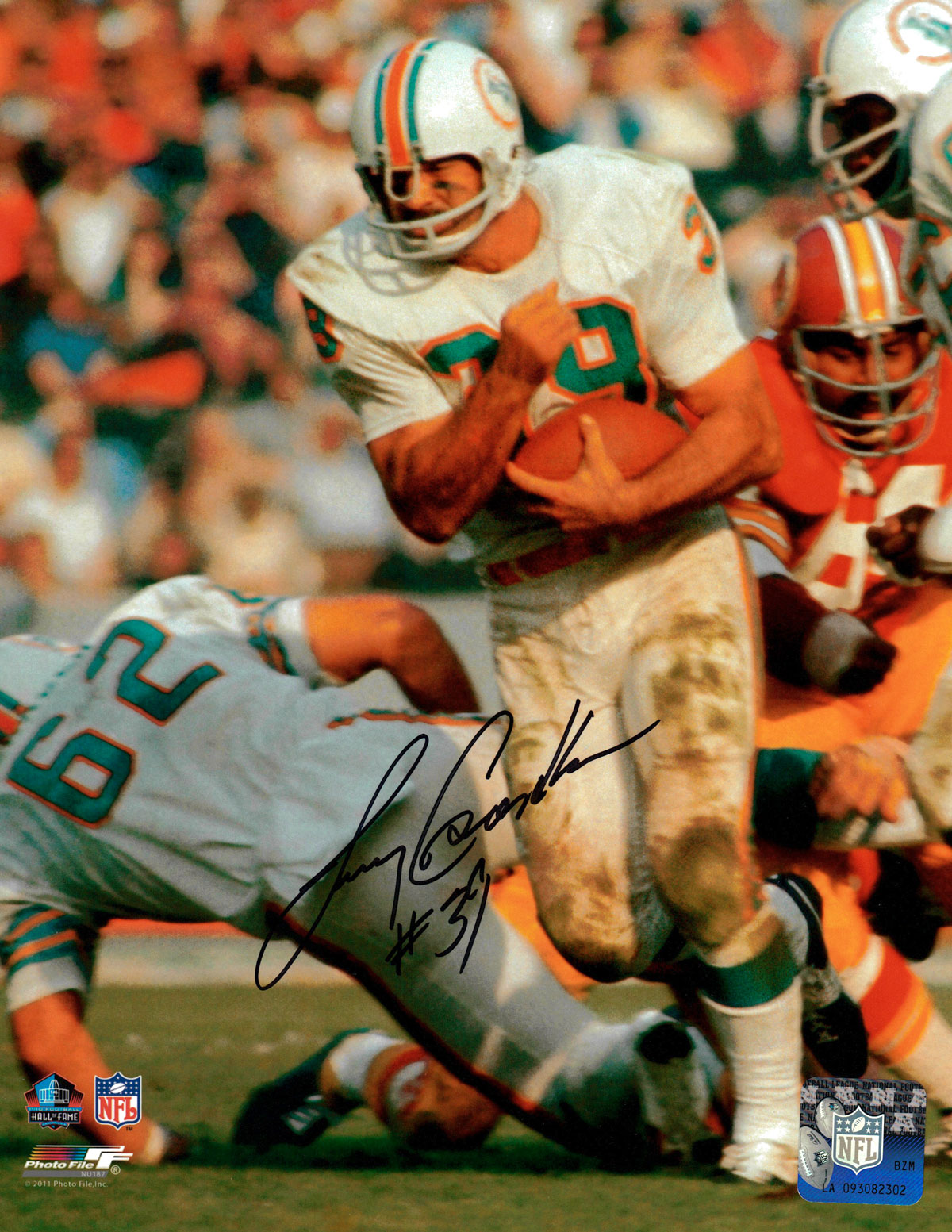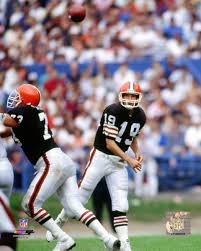 A 'Perfect Season' In Elite Top-Tier Pro American Football Is Perhaps Defined As 21 Games Won Consecutively
Joe Namath (SuperBowl MVP 1969) | Larry Csonka (2x SuperBowl Champion) | Joe Theismann (1x SuperBowl Champion) | Bernie Kosar (1x SuperBowl Champion)
**** Lajos Tichy ****

The Most Prolific & Highest Scoring Player of All- Time

'Magical Magyars/Golden Team' member (1955-1971)

The Prolific Players Who Scored the Most Goals Ever All Time (All Matches)

All Time Rank

Star Player

Home Country

Total Goals

Total Matches

No. 1

Lajos Tichy ('Golden Team' member)

Hungary

1912 goals

1301

No. 2

Josef Bican

Austria-Hungary

1812+

1089+

No. 3

Erwin Helmchen

Germany

1573+

941+

No. 4
Ferenc Puskás ('Golden Team' captain)

Hungary

1565

1269

No. 5

Gerd Müller

West Germany

1483

1228

No. 6

Pelé

Brazil

1301

1390

No. 7
Ferenc Deák ('Golden Team' member)

Hungary

1278+

793+

No. 8

Franz Binder

Austria

1202+

831+

No. 9
Sándor Kocsis ('Golden Team' member)

Hungary

1183

904

No. 10
Gyula Szilágyi

Hungary

1088+

905+
Hungary Versus The World's Elite National Teams

(World's Top No. 1 - No. 12 Ranked Teams)

With Ferenc 'Öcsi' (Sonny) Puskás and Nándor Hidegkuti in 1945, Ferenc 'Bamba' Deák in 1946, added to József Bozsik and Gyula Grosics in 1947 and Sándor Kocsis in 1948 the Hungarian team found the tonic to gorgeous, wonderful and victorious football equipped with immense teams that inspired half the world who had met the one decisive criterion for greatness, prevailing over the most mountainous competition as statistically the most superb of teams.

Date
Venue / Match Ocassion
Opp. World Rank
Nation
Goals For
Goals Ag.

1.)

Oct. 29, 1950

home / friendly

No. 11

Austria
4

3

2.)

July 21, 1952

neutral / 1952 Olympics Quarterfinal

No. 5

Italy
3

0

3.)

July 28, 1952

neutral / 1952 Olympics Semifinal

No. 11

Sweden
6

0

4.)

Aug. 2, 1952

neutral / 1952 Olympics Final

No. 5

Yugoslavia
2

0

5.)

April 26, 1953

home / friendly

No. 12

Austria

1

1

6.)

May 17, 1953

away / Euro. Gero International Cup Final

No. 11

Italy
3

0

7.)

July 05, 1953

away / friendly

No. 12

Sweden
4

2

8.)

Oct. 11, 1953

away / friendly

No. 11

Austria
3

2

9.)

Nov. 25, 1953

away / "The Match of the Century"

No. 3

England
6

3

10.)

April 11, 1954

away / friendly

No. 11

Austria
1

0

11.)

May 23, 1954

home / "The Match of the Century II"

No. 4

England
7

1

12.)

June 20, 1954

neutral / 1954 World Cup Group

No. 6

West Germany
8

3

13.)

June 27, 1954

neutral / 1954 World Cup Quarterfinal

No. 3

Brazil
4

2

14.)

June 30, 1954

neutral / 1954 World Cup Semifinal
No.

3

Uruguay
4

2

July 4, 1954

neutral / 1954 World Cup Final

No. 3

West Germany

omitted due to controversies

15.)

Nov. 14, 1954

home / friendly

No. 6

Austria
4

1

16.)

April 24, 1955

away / Euro. Gero International Cup

No. 7

Austria

2

2

17.)

May 11, 1955

away / friendly

No. 12

Sweden
7

3

18.)

May 29, 1955

home / friendly

No. 11

Scotland
3

1

19.)

Oct. 16, 1955

home / Euro. Gero International Cup

No. 7

Austria
6

1

20.)

Nov. 27, 1955

home / Euro. Gero International Cup

No. 11

Italy
2

0

21.)

April 29, 1956

home / Euro. Gero International Cup

No. 7

Yugoslavia

2

2

22.)

Sept. 16, 1956

away / Euro. Gero International Cup

No. 5

Yugoslavia
3

1

23.)

Oct. 7, 1956

away / friendly

No. 11

France
2

1

24.)

Oct. 14, 1956

away / friendly

No. 7

Austria
2

0

21 wins, 3 draws, 0 loss
93.75% Winning Percentage
100% Undefeated Percentage

In equivalent top-tier professional American football: 'A Perfect Season', 21 wins, 0 loss

Average Opp. World Rank:

No. #8.04

+3.71 gls/gm.
-1.29 gls/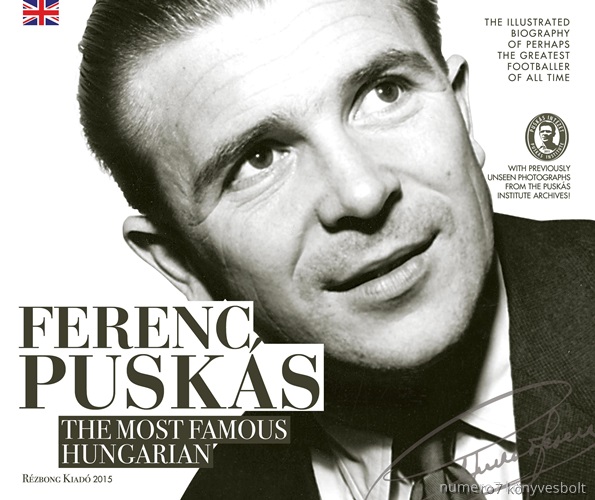 ***** The Greatest *****
Zenith Top Level Game Winning Ace Goal Involvement Player Ratings Per Career Match
source: (3) ... (@Trachta10) / Twitter
***** All Time Top Level Highest Performing Ace Catalyst Producing Game Players In Official Matches *****



All Time Rank
Top Ace Catalyst Player

Nation

G + A *1.5 + PK per 90 Minutes
Total Assists

No. 1 Gold

Ferenc Puskás

Hungary

1.719

(sport all time high)

406 (sport all time high)

No. 2 Silver

Pelé

Brazil

1.536

367

No. 3 Bronze

György Sárosi

Hungary

1.430

204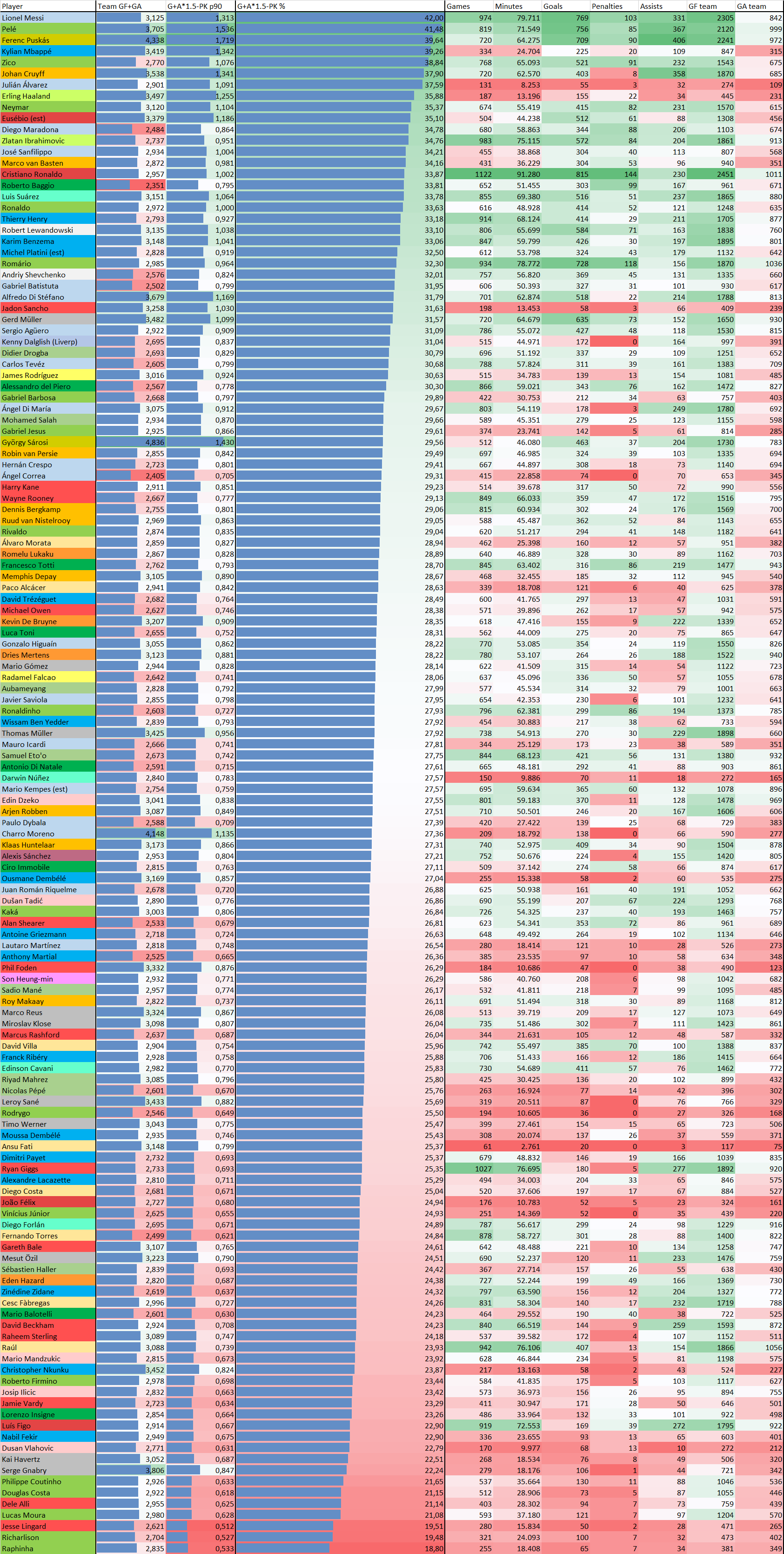 ***** Sándor Kocsis *****

'The Natural' & 'The True Ace International' of All Time

***** Europe's All Time Most Productive and Prolific National Target Striker *****

The Greatest Aerial Header Artist Whoever Lived

The Most Productive and Very Best Scoring National Player by Win Percentage (min. 35 goals)

66 National Matches: 52 Wins, 10 Draws, 4 Losses

Win Percentage = 86.36% | Goals = 75 | Goal Ratio = 1.14 | Hat-Tricks = 7

The Dynamic Scorer Who Catapulted the 'Golden Team'

6 National Championships | 3-Time Top League Scorer | 2-Time World's Top League Scorer (1952, 1954) | 1954 World Cup Scoring M.V.P. | 1952 Olympic Champion | 1953 Central European Champion | 2-Time Copa del Generalísimo Winner | 1958-1960 Inter-Cities Fair Cup Winner | 1961 European Cup Finalist

---

The Only Man in History To Have Won the Fabled 'Scoring Septuple Crown' in a Calendar Year (1954)

I.)

Winning national champion player (Budapest Honvéd)

II.)

1.27

III.)

Top league goalscorer in all the world in 1954

1.27

IV.)

Top national goalscorer in the world in calendar year

1.64

V.)

World Record

for most national goals in a single calendar year

23

1.64

VI.)

Top goalscorer in the 1954 World Cup

2.20

VII.)

World Cup Record

for goal ratio for tournament leader

2.20

Total Official Matches
National Hungary (1948-56)
Top National, Ferencváros & Honvéd (1946-56)
Hungarian Cup

Top National, Barcelona (1958-65)

Spanish Cup

UEFA Tournament Matches (1955-1965)

537 Total Matches | 556 goals 1.04 goals/game

(No. # 41 All Time Scorer)

66 Matches | 75 goals 1.14 goals/game

(3rd Highest European Scorer All Time)

249 Total League Matches | 247 goals

0.99 goals/game

10 Matches | 32 goals

3.20 goals/game

126 Total Team Matches | 82 goals

0.65 goals/game

22 Matches | 19 goals

0.86 goals/game

35 Matches | 29 goals

0.83 goals/game

references:

https://www.en.wikipedia.org/wiki/List_of_footballers_with_500_or_more_goals

&

https://www.en.wikipedia.org/wiki/S%C3%A1ndor_Kocsis
Ferenc Puskás, as player or head manager, is associated with six European Cup ('Champions League') title match appearances. Hungarian players and head managers have won the European Cup on seven occasions ( 1959, 1960, 1961, 1962, 1966, 1972, 1973 ), and came in second place in the European Cup Finale four times ( 1961, 1962, 1964, 1971 ).

Year

Star Catalysts Players or Head Manager

Team

Type of Championship Final

Opponent

Alfredo Di Stéfano /

Ferenc Puskás

/ Gento, players

European Cup Finale

Ferenc Puskás

/ Alfredo Di Stéfano / Gento, players

European Cup Finale

Ferenc Puskás

/ Alfredo Di Stéfano / Gento, players

Intercontinental Cup Finale

(inaugural)

Sándor Kocsis, Zoltán Czibor, Lászlo Kubala, players

European Cup Finale

Béla Guttmann, manager of Benfica

Ferenc Puskás

/ Alfredo Di Stéfano / Gento, players

European Cup Finale

Béla Guttmann, manager of Benfica

Ferenc Puksás

/ Alfredo Di Stéfano / Gento, players

European Cup Finale

Amancio / Gento /

Ferenc Puskás

, players

European Cup Finale

Ferenc Puskás

, head manager

European Cup Finale

Ferenc Puskás

, head manager

Intercontinental Cup Finale

István Kovács, head manager

European Cup Finale

István Kovács, head manager

Intercontinental Cup Finale

István Kovács, head manager

European Cup Finale

István Kovács, head manager

European Super Cup Finale (inaugural)
---
***** Greatest Upfront National Historically Concurrent Forward Line of 20th Century *****
Puskás - Kocsis - Hidegkuti - Kubala managed by Béla Guttmann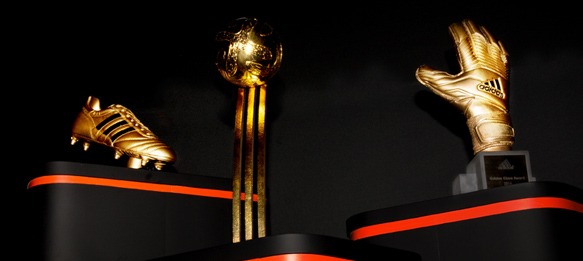 Golden Ball (1954 World Cup Tournament M.V.P.), Ferenc Puskás
Golden Shoe (1954 World Cup Top Scorer), Sándor Kocsis
Golden Glove (1954 World Cup Best Goalkeeper), Gyula Grosics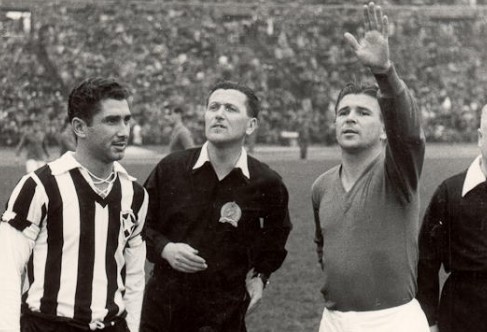 **** 'Matches of the Century' ****

World Football's Highest Rated Matches of the 20th Century

Rank

Combined Points

Favorite

ELO Rating

Nation 2

ELO Rating

Score

Date

Occasion

Venue Location

No. 1

Hungary

2232

West Germany

omitted due to controversies

1954 World Cup Final | "The Miracle of Bern"

1912 Olympics Games Final

No. 4

Hungary

Uruguay

4 : 2

1954 World Cup Semifinal |"The Greatest Game Ever"

No. 5

Hungary

2182

Brazil

4 : 2

1954 World Cup Quarterfinal | "The Battle of Bern"

Hungary

England

7 : 1

"The Match of the Century II"

Hungary

England

6 : 3

"The Match of the Century"
---
Top National Division's Most Powerfully Scoring Balanced Seasonal Champion League Team of All Time

***** 1917-1918 MTK Budapest *****

Number of League Matches

Head Manager

Star Catalyst Players

Wins

Draws

Loss

Goals/Match

Goals Ag./Match

Goal Diff./Game

22 matches in equiv. top-tier pro American football, 21 wins, 0 loss

(66.82 points/game, 4.55 def. points/game )

source: http://xtrahistory.blogspot.com/2014/04/Record-Statistics.html

Imre Schlosser | Alfréd Schaffer

21

1

0

+6.68 gls./gm (sport all time high)

-0.45 gls./gm

+6.23 (sport all time high)
- April 28, 1964 -

The world's No. 2 team, the Hungarian team visiting the Louvre Museum in Paris.

- April 28, 1964 -

The International Top National Goalscorers

World Rank

Star Player

Country

Intl. Goals

Matches

Goal Ratio

Highest Elo Rating of Team as of April 28 1964

No. 1

Ferenc Puskás

Hungary

No. 2

Hungary

Hungary

Hungary

No. 6

Hungary

No. 8

Hungary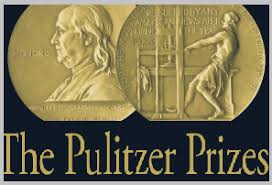 The greatest name in big sensational journalism, publishing magnate
and icon of the greatest prized Literati, Joseph J. Pulizter (April 1847 Makó, Hungary - Oct. 1911, Charleston, SC, America).

"There is no more illustrious history than the history of the Magyar nation ... the whole civilized world is indebted to Magyarland for its heroic deeds." - 26th President of the United States, Theodore Roosevelt, addressing the Hungarian Parliament, Budapest, Hungary April 2, 1910.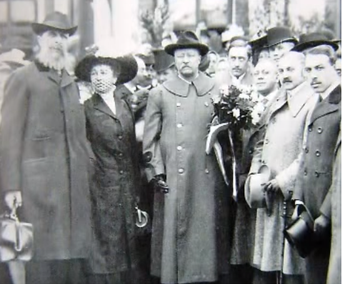 President Theodore Roosevelt
in Budapest, 1910.
"It's not enough to have talent, you also have to be Hungarian." - Robert Capa, The Greatest Ever Photographer
***** The Masters *****

Annual World Top-Rated M.V.P. Star Players at Key Positions, 1948-1960

source: http://xtraimmortal.blogspot.com/2013/12/Annual-Best-Player.html

1948

Ferenc Puskás

1949

Ferenc Déak

Ferenc Puskás

1950

Ferenc Puskás

1952

Sándor Kocsis

Ferenc Puskás

József Boszik

Ferenc Puskás

Zoltán Czibor

1954

Sándor Kocsis

Nándor Hidegkuti

Zoltán Czibor

József Boszik

1956

József Boszik

1960

Ferenc Puskás
---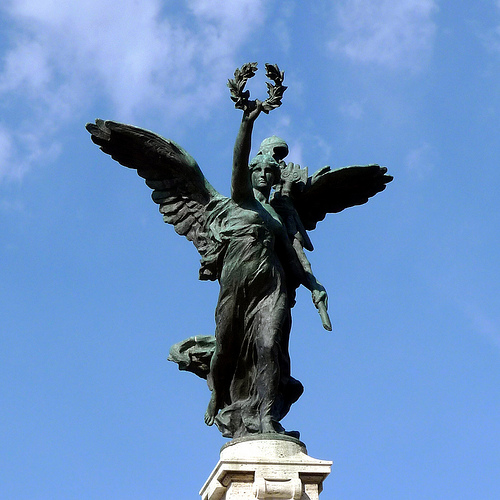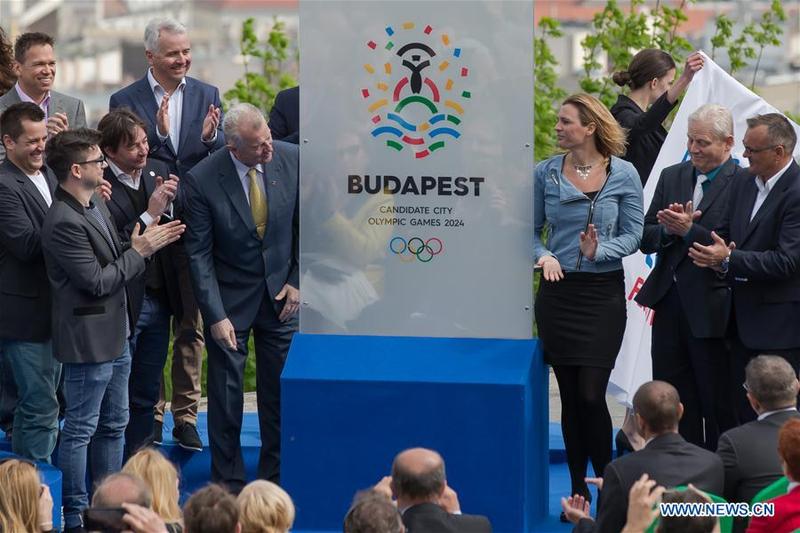 ***** The World's Greatest of the Great *****
The Seven Continent's Greatest Super-Athletic Olympian Nations ( 1896 - 2016 )
All Time Summer Olympic Excellence by Weighted Medals per Capita*
* New York Times criteria (Nations with +1000 points: Gold = 4, Silver =2, Bronze =1)
source: http://www.medalspercapita.com/#weighted-percapita:summer
A gold-medaling Olympic champion, Ibolya Csak of the 1936 Summer Olympics.

Éva Székely and husband Dezső Gyarmati,

the greatest water polo player who ever lived

(with three Olympic gold medals - 1952, 1956, 1964, a silver medal in 1948, and a bronze in 1960).

A gold-medaling Olympic champion, the great Henrietta Ónodi, 1992 Summer Olympics, a Hall of Famer.
| | | | | | | |
| --- | --- | --- | --- | --- | --- | --- |
| | | | | | | Population per Weighted Medals |
| No. 1 Gold | | 1,162 pts. | | | | |
| | | | | | | |
| | | | | | | |
| | | | | | | |
| | | | | | | |
| | | | | | | |
| | | | | | | |
---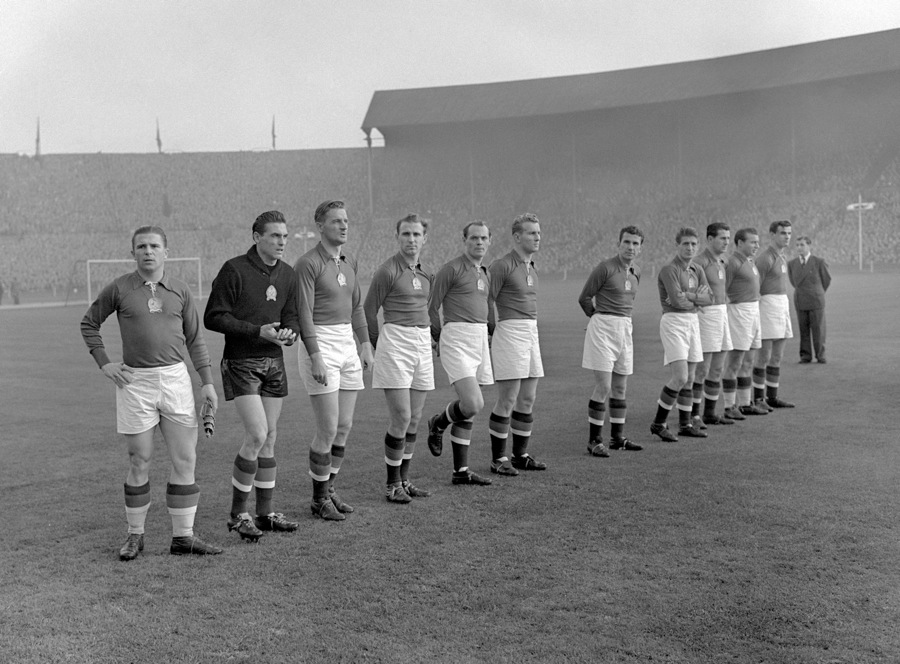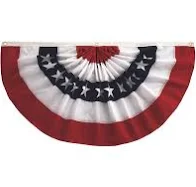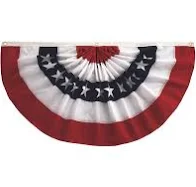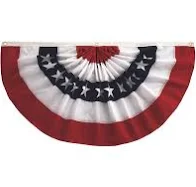 The World's Greatest of the Great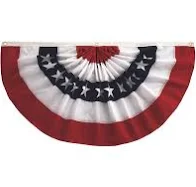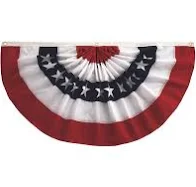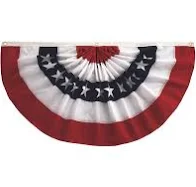 | | Top-Tier Association Football (National) | Top-Tier Pro Association Football (Franchise) | Top-Tier Pro American Football | Top-Tier Pro Hockey | Top-Tier Pro Basketball | |
| --- | --- | --- | --- | --- | --- | --- |
| | 1954 Hungary | 2012 Barcelona | 2007 New England Patriots | 1977 Montreal Canadiens | 2019 Golden State Warriors | |
| Peak Elo | 2232 | 2110 | 1824 | 1742 | 1729 | |
| | www.eloratings.net | http://clubelo.com/Stats/Highest | fivethirtyeight.com/features/the-best-nfl-teams-of-all-time-according-to-elo/ | hockeyanalytics.com/2016/07/elo-ratings-for-the-nhl/ | https://projects.fivethirtyeight.com/complete-history-of-the-nba/#raptors | fivethirtyeight.com/features/the-best-mlb-teams-of-all-time-according-to-elo/ |
---
---

The Arc Light of Football's Post-Bellum Renaissance and 'Modern Football'
August 20, 1945 - to - The 1978 World Cup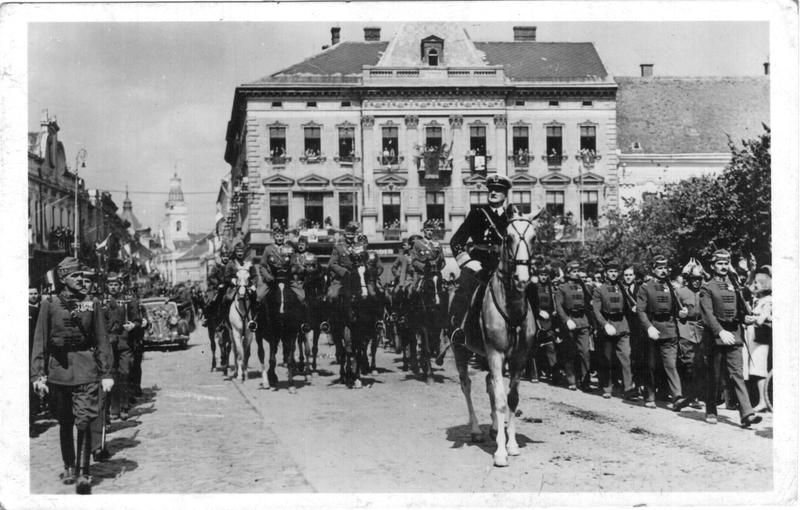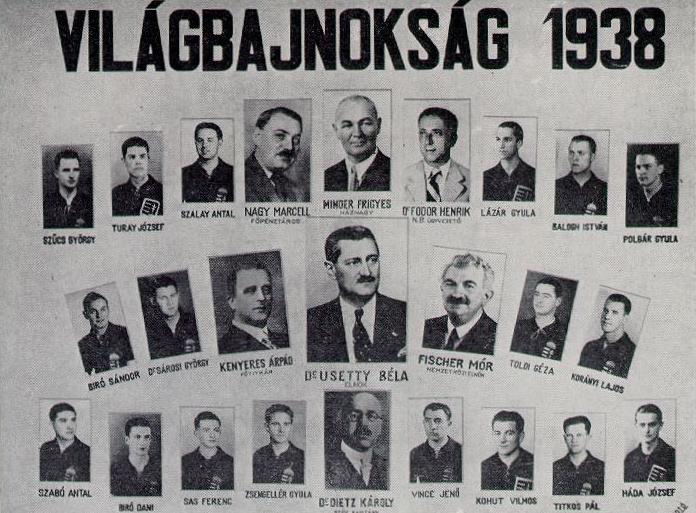 Top Hungarian League Goalscorers In All The World In A Single Year

https://www.rsssf.org/miscellaneous/worldtops.html

Year

World Leading Top Goalscorers

Goals

1911

Imre Schlosser

42

1912

Imre Schlosser

40

1913

Imre Schlosser

42

1914

Imre Schlosser

36

1918

Alfréd Schaffer

42

1919

Alfréd Schaffer

41

1939

Gyula Zsengellér

56

1946

Ferenc Déak

(All Time Old World Record)

66

1947

Ferenc Déak

48

1948

Ferenc Puskás

50

1949

Ferenc Déak

59

1952

Sándor Kocsis

36

1954

Sándor Kocsis

33
The incorruptible admiral on a white horse, Hung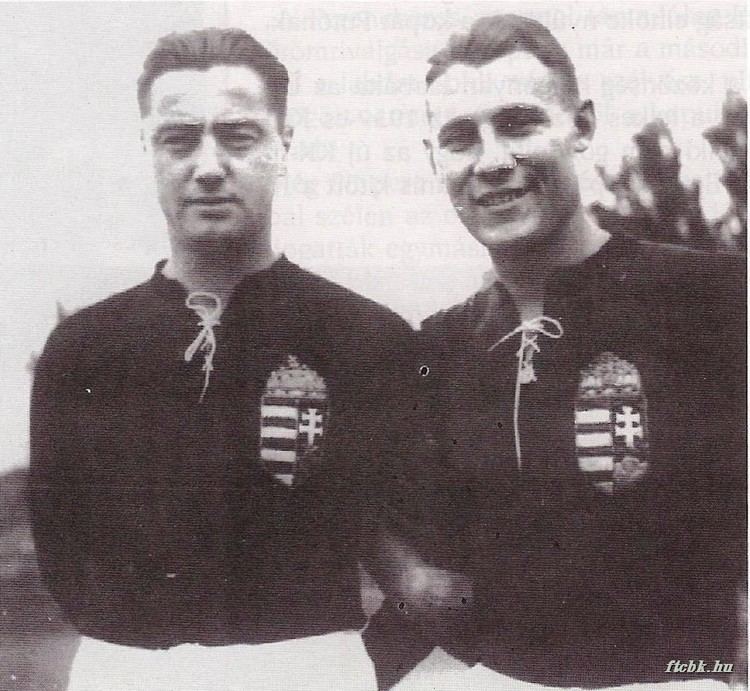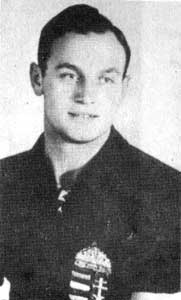 ary's national conservative regent Admiral Miklós Horthy (1869-1957) from 1919-1944 in Royal Hungary. With a lifelong admiration for England Horthy traveled the world and won international tournaments in fencing and tennis as a young man and was a very good bridge player. No less a man than James Joyce, the great Irish writer, was his English teacher. Horthy was the source of the various Hungarian quotes in Joyce's novel Ulysses, one of the 20th Century's foremost novels. It was during the powerful Horthy era that most members of the Magical Magyars began their careers.
Pictured (above left) is the 1938 World Cup finalist silver-medal Hungarian team that averaged a goal differential of +4.00 goals-per-game on the eve of the 1938 World Cup Final.
Pictured are three famous and iconic all time pre-1950 Hungarian legend players who played in the 1938 World Cup Final: the renowned Captain Dr. György Sárosi (smiling 'Gyuri' or 'Georgie', standing right), considered one of the sport's pre-war great all-around completed, thoroughgoing scoring and dominant sustainable players (NT career: 1931-1943), the eternal Hungarian defensive star legend at rightback, Sándor Bíró (pictured center, NT career: 1932-1946) and Gyula Zsengellér (pictured right, NT career: 1936-1947), a powerhouse top level and international goalscorer.
Sixteen years later, the 1954 Hungarian team reached the highest rating all time on July 4th 1954.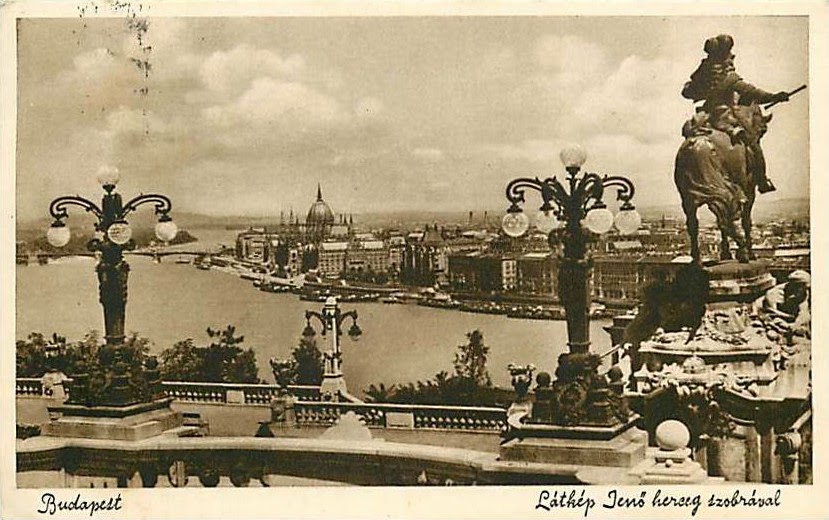 The Amazing and True Real Life Story of a 'Magyar Mona Lisa', Countess Ilona Edelsheim-Gyulai.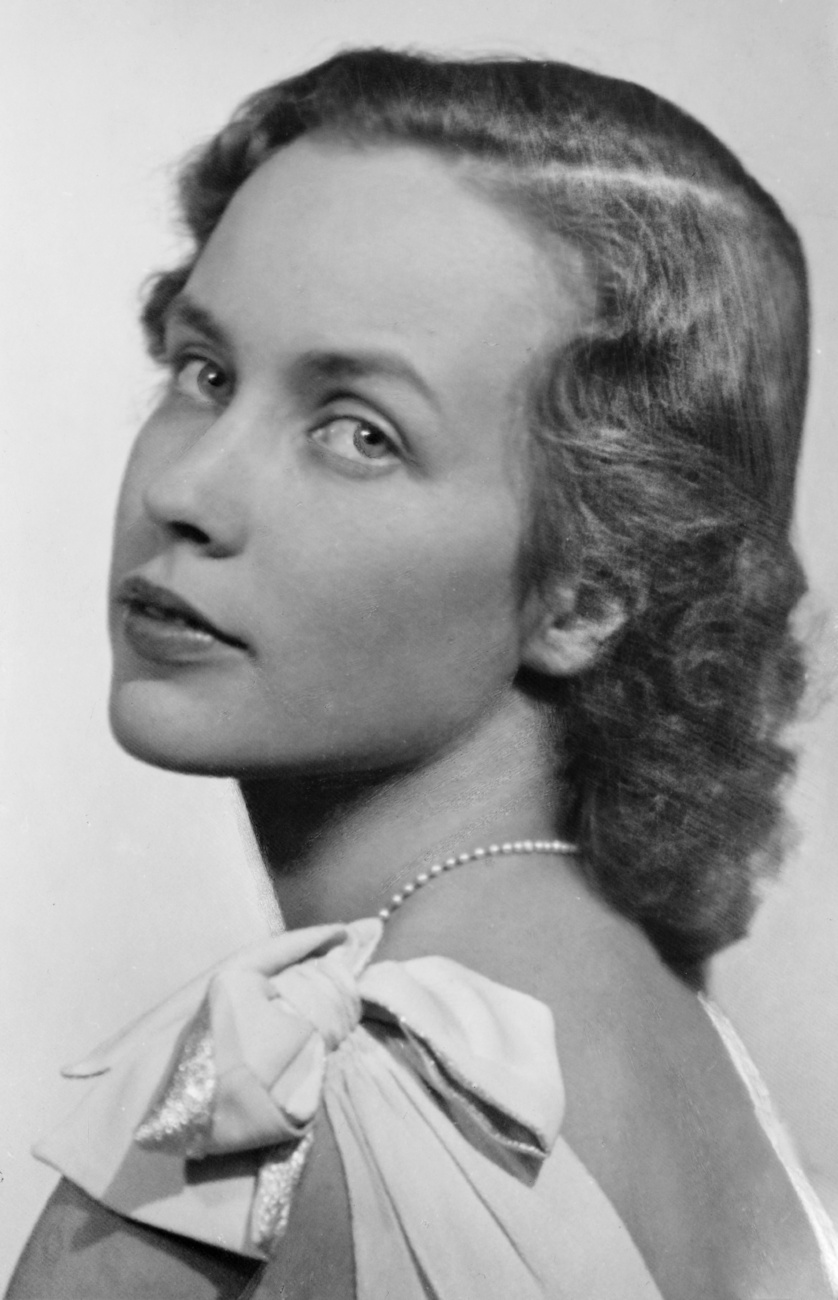 (Budapest, July 14, 1918 - Lewes, England, April 18, 2013)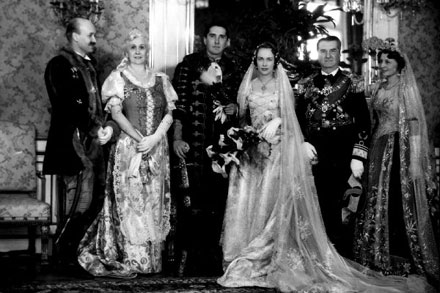 The 'Hungarian Marriage of the Century', April 1940, István Horthy and Countess Edelsheim-Gyulai.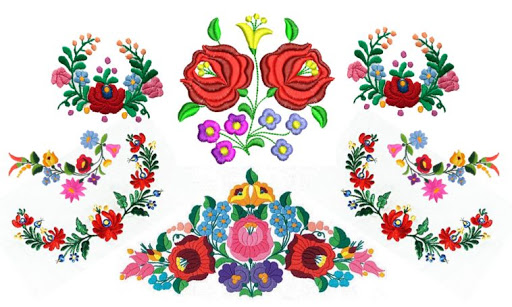 Perhaps the Greatest Scene in Film History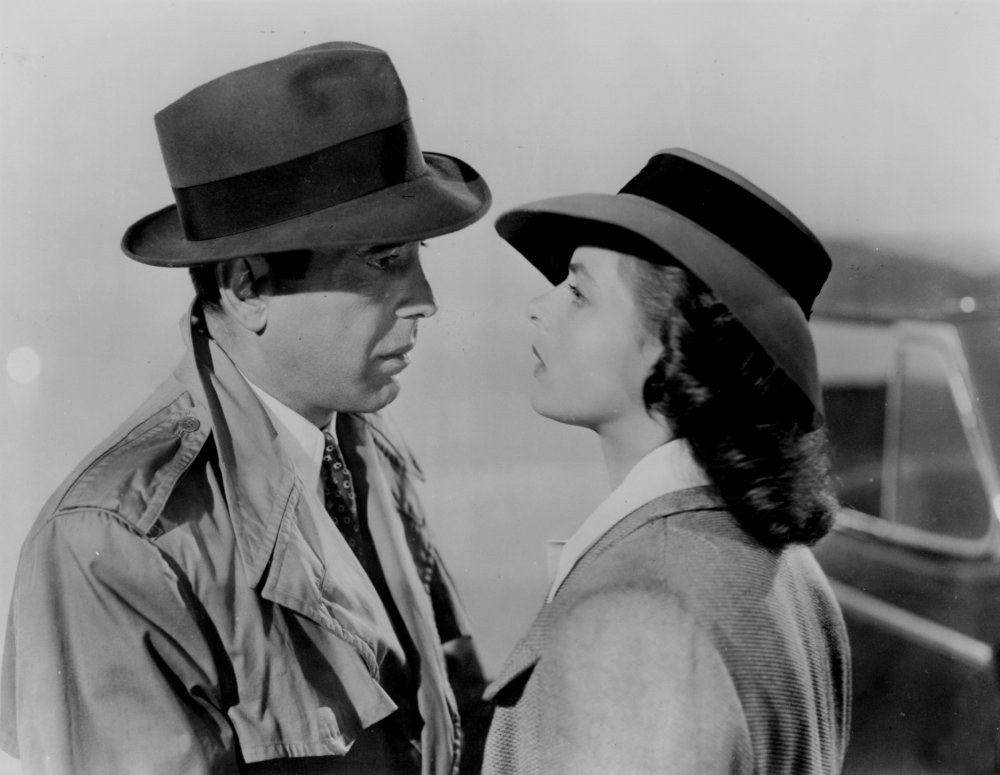 'Casablanca' (premier Nov. 26, 1942), The 'most beloved film of all time'. An outstanding candidate for the greatest film of all-time, one of the very greatest American films ever made and the greatest romantic motion picture of all-time directed by Hungarian American Hollywood director Michael Curtiz. Hollywood's No. 1 leading man, the icon Humphrey Bogart as Rick Blaine, the rising superstar Ingrid Bergman, Paul Henreid as Victor Lászlo and the Hungarian American Peter Lorre.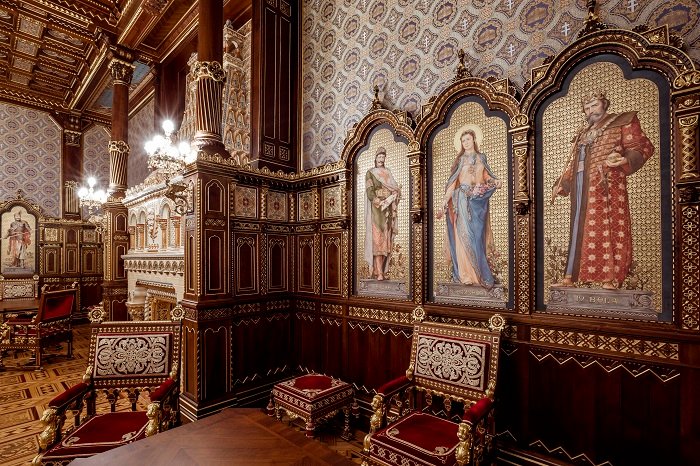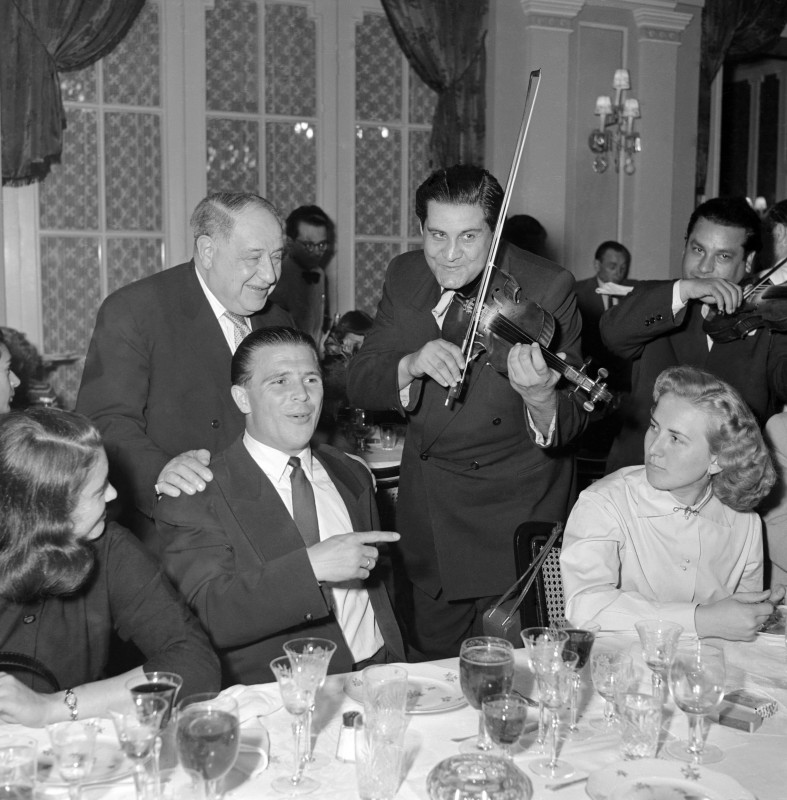 The incomparable and all time Hollywood legend, Zsa Zsa Gábor, Miss Hungary 1936.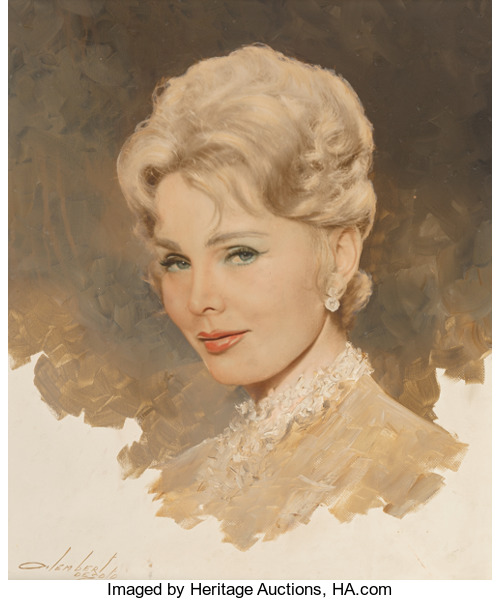 'For Your Eyes Only Dahhhling'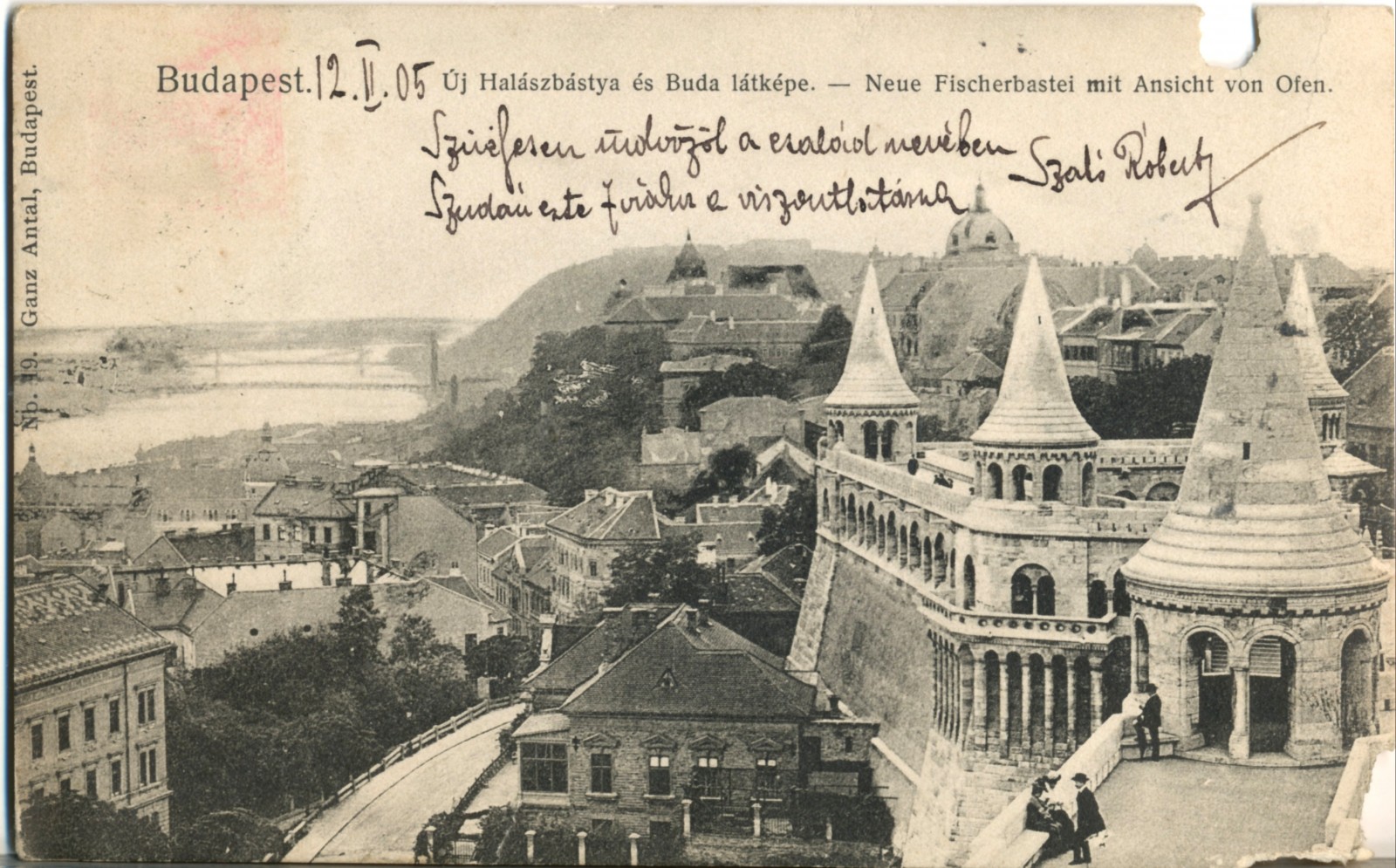 The
'Paris of the East',
the
'Pearl of the Danube'
, the
'City of Spas'
, the
'Capital of Freedom'
old romantic Budapest is a very ancient city with its venerable pivotal and strategic past. In the depths of the Second World War in Hungary largely untouched by the war on December 5th, 1943, in the Hungarian Transylvanian city of Nagyvárad, the precocious young talent, 16-year-old Ferenc Biró Puskás makes his debut for Kispest (a local 1st division club from Budapest).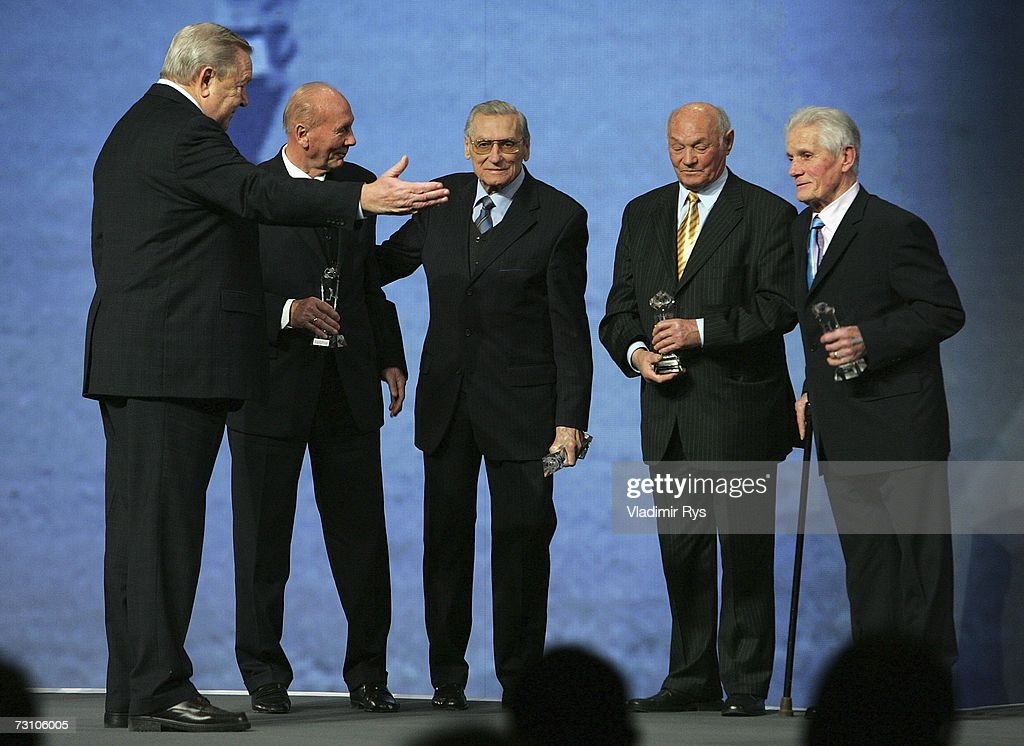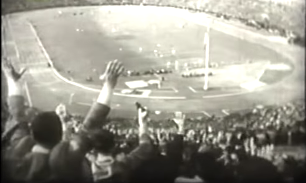 Who better to tell parts of the story than the Midas-player in the center, Gyula Grosics, the real legend goalkeeper from 1947-1962.
IT might be prophetical and right that the 20th Century should have prepared the way for a team of prolific prize-winning Olympian productivity and that when this team came they were one of the extremely few who do not belong to any century but for all time. They were of a remembered time and when they came they played beyond the genius of the game as makers of a scaled true artistry that their crush of strength rejoicing with a decided playmaking presence of high skill was more powerful than elsewhere on a new matchless world-renowned team of the ages with an attained seven year scoring intensity seen to be the greatest in all the records of the sport and one of the principal teams of all time.
It was the irresistible modernizing team in impeccable rightness of form bronzed with experience zoned in modulated checkered balance that lived upon an unbeatable capital of the alluring forward tenor enlivened and vitalized by the amazing goal-striking élan of Puskás-Kocsis-Hidegkuti-Bozsik-Czibor that thoroughly re-imagined and mapped out the game's new archetype and exerted a strong influence on the sport's age from 1953 and into 1978.
Wholly amid goalscoring prowess there is something relentless in their fate as lusty confidences and the flush of the known game is in them, the errant ball to seize, then the splendor of the ball falling in where it is wanted, playing a swift sport through the air, advancing out of the sides or undergoing stratagems of movement and bursting through in un-looked for directions with transfers and promotions and sudden rightnesses the colloquy is there, the unmatched trio of hammering goalscoring bravado, Puskás-Kocsis-Hidegkuti, the ball conversing with the learned men of the game far fitter than words can describe. And what may have happened on history's most fulsomely hailed lines that felt utterly powerful moving forward but at the defensive stern left unstable a man of surefire appeal made stable that they catalyze some sort of footballing perfection for Gyula Grosics, the goalkeeper accustomed to a three-man backline that responds, he masters in the backfield that few could penetrate the goal behind his company.
By 1949 the Hungarian national side possessed the origins of the invincible 'Golden Team' and a very significant part of the team's hope was presented by the new head manager himself, Gustáv Sebes, the 'good communist' who had the presence of mind to approach them with a powerful new concept, a roadmap to a finer forge of goal-besetting tactics bulwarked by an outperforming defense amid a flexibly moving offense passing composedly where the goalscoring hammers roll borne through the strong deliverers of league all-star players like Puskás, Kocsis, Hidegkuti, Bozsik, Czibor, Budai and goalkeeper Grosics enduring with a classic on-field 'socialist' formulation enough to outvie the greatest teams of the era.
There is magic in the Atlas team, the sport's re-defining powerhouse and see its scoring bolts be triple in Puskás-Kocsis-Hidegkuti thundering interior wonder and quaking the sport with goal behind goal poured in rich profusion they defeat a great file of teams; the team of good voyage goes far to find out what they are: they teach the world "modern football" and ran the impossible distance as the greatest soccer team of them all.
***** The Fabulous Crackerjack Ace Six of Hammering Goalscoring Bravado *****

Puskás (83) - Kocsis (75) - Hidegkuti (39)

197 Team Career Goals, Most of Any of Trio Past and Present.

Players

Goals

Matches

Goal Ratio

Wins

Draws

Losses

Win Percentage
Puskás
83
83
1.00

63

10

10

81.9%
Kocsis
75

66

1.14

52

10

4

86.4%
Bozsik

10

99

0.10

67

16

16

75.8%
Hidegkuti
39

67

0.58

53

7

7

84.3%
Czibor
17

42

0.40

35

5
2
89.3%
Grosics (GK)
/

84

/

59

13

12
78.00%

The matches against the Moscow city clubs' selection on May 24 & 27th 1952 not included.

The iconic and world-renowned legend Béla Guttmann managed the prodigy talent of Ferenc Puskás at Budapest Kispest in the 1947-1948 year where Puskás had his most advanced top league and sensational world breakout scoring season with 50 goals in 31 matches to lead all players in the world. Guttmann also transmitted the famous Hungarian invention of the 4-2-4 to Brazil in 1957 after he absconded from Hungary during the famous 1956 Revolt.

The men, the legends, the icons, Hungarian managers of all time character and importance, Béla Guttmann and Gustáv Sebes.
Some already know the story. From once upon a time they set out every year starting in 1949, Honvéd and MTK of Budapest and hardened in their rivalry to victoriously career through the Hungarian top division and like the very best of teams to make a grand tour of world football once united. Housed in one common command-and-control model called the 'Golden Team', a directed sporting magnitude of national manager Gustáv Sebes who commenced to make a single team of undivided destinies and many stories, the grand concord zooms and goes on sporting commissions game after game, year after year for a world-record 49 undefeated months and the news runs by — July 1954 nowhere had any team reached such precision, technical workmanship, pitch of peerless power, thematic and imaginative exuberance in any age or country before. For the team united the day of completion arrived to the last athletic reality on July 4th and everybody would feel the thrum of the climax as the acme of all things accomplished and the encloser of things to be as journalists, sports writers and historians heralded the sport's most important and far meaning game ever played that confronts a new era.
On the 4th of July West Germany would play its final sixth match against the gigantic inconquerables, the Hungarian 'Golden Team' who stand ready to receive their first world triumph. For the West German players it is a leap toward the same quality of the magnitude of the greatest football power yet seen, the real thing where the first rate is known, the skilled originals, the culmination, the fine ultimate team that wins the sport's hemispheres, the sport's Avalon, the team of fame and mythologies that brought down the football empire in the ancient country of the legendary players the year before in the sport's most valued monuments.
They played and worked at a fortunate and privileged moment in the history of modern soccer that seemed to be a very European dream. This is the time of six great world-class players in a historic junction in the brightness of their promise re-writing records, precedents and new the frontier; and it is no exaggeration that the 'Magical Magyars' were the most powerful team to be staged in the sport's athletics, the dynamics would be determined by the hot key men of expert control making of it a brilliantly devised system.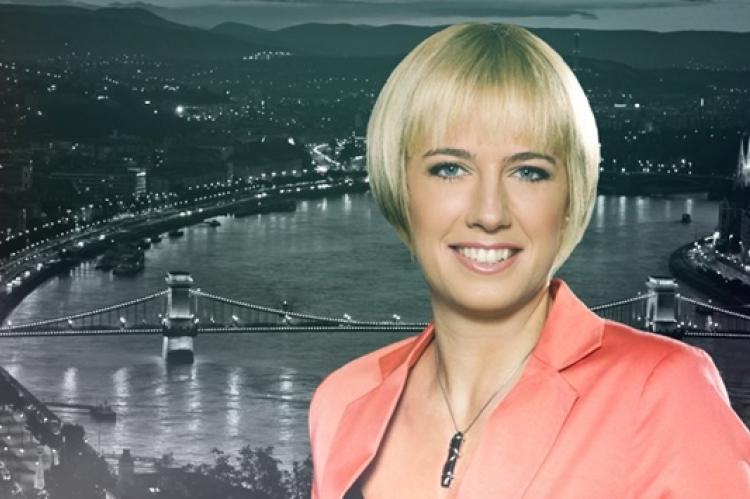 The fabulous, magical, wonderful, dynamic award-winning newswoman reporting the editorial news today, Emília Krug.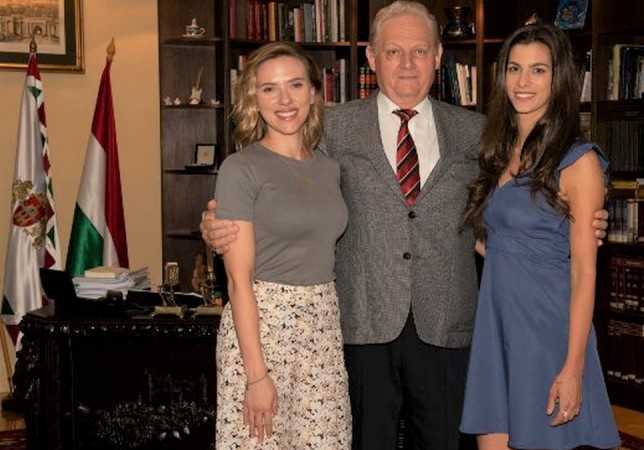 The 'Lord Mayor of Budapest', István Tarlós,
Hollywood megastar Scarlett Johansson and Deputy-Mayor
Alexandra Szalay-Bobrovniczky, Sept. 2019.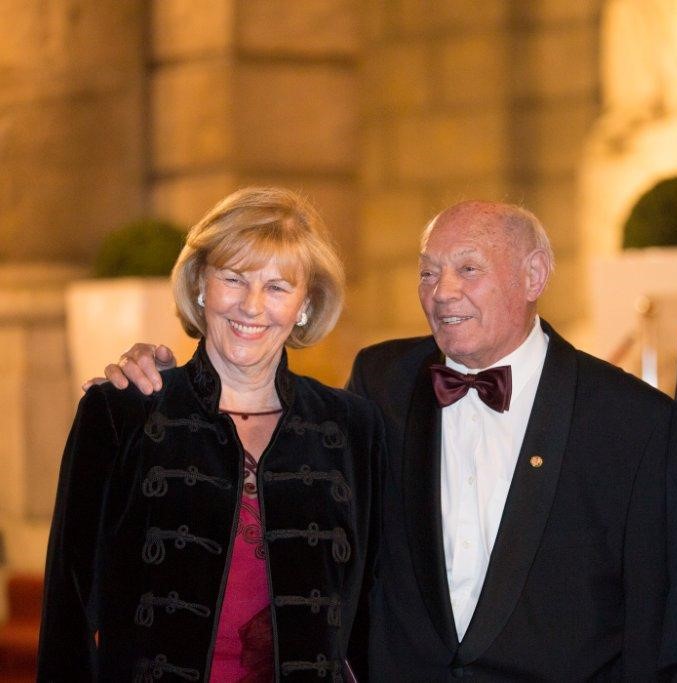 Ms. Katalin Makrai, the former First Lady of Hungary and the great last surviving classic member of the team, Jeno Buzánszky at the Silver Rose Ball, March 2014.
---
The 'Golden Team' was a sporting medium of special importance and its ranking among the most important sides of history is due in great measure to the fact that present-day teams find themselves portrayed in it after they expanded in scope how the game could and should be played and their bestowals represents an enormous knowledge as Sebes and his players produced the form of soccer that many historians define as "modern".
Sebes boldly affirmed that his 'socialist football' perfectly revealed the 'total-team' concept as the game turned away from reverence for tradition toward a glorification of tactical change that shocked the old long-lived powers with smashing successes as the changes engendered by the advances made by the Hungarians spread over the Continent and beyond in the 1950s and after.
Rivaling teams approached an inventory of talent of any and all time whose warping tactical field work, thrumming goal reckoning blaze and invisible points of flair moved with such undeciphered ease the game evolved to a new modernism so transfiguring and transforming the archaic familiarity of the 'pyramid' and 'WM' systems played variously in the world looked outdated and seemed an imposition and a sign of the new pre-war conservative in the sport.
To render the team's experience in all its intensity manager Gusztáv Sebes calls for the opening up to an offensive scoring dimension that first contained the essence of the famous 4-2-4 tactical shape with an enormous contemporary potential. Sebes blends the old 3-2-5 formation so convincingly powerful at the punch to the threshold between the 3-2-3-2 and 4-2-4 that maintained tactical polarity lit up in a pattern according to a new mystery, the outré of players overlapping and changing their positions that was simply about twenty years ahead of its time that looked so natural to the prevalent eye but seldom seen before.
From this malleable base the immense changes wrought into the sport plots the course of football's evolution that outplaced the old 'pyramid' and 'WM' and 3-2-5 tactical shape with the newer, bigger 4-2-4 with its sweeping broad quality in defense and foremost trenchant tone in attack that men in football saw with a presiding genius that many figured could never be improved upon as the Golden Team for seven years, scene to scene, mile on mile unwinds a pouring surf of scoring vibrancy (4.36 goals-per-game) on history's first remarkable national side to go +30 matches undefeated.
These conceptions by Sebes were the first to put the 4-2-4 and 'socialist football' (early 'Total Football') into the framework of a highly successful grand theme perhaps intended to be the harmonization of all of the sport's knowledge in regalement of a refitted 'MU' shape in the atmosphere of the pioneer and frontier extravagance. Sebes' early 4-2-4 and 'socialist football' began its immense influence on the world sport as the finest heritage of the Magical Magyars and the game could count on a coming time when the outperforming two-edged élan of their system would be paralleled and imitated all over the world.
Free to create his original team that pointed to a re-invention and revolution, Sebes found the salubrious attacking end of football's spectrum that lodged to higher octaves of game speed, skillful precision and power and wrapped vast accumulated fame around his team led by the charismatic flair of Puskás and five other ascending world-class players. The monumental mason of character and team-building traits had shifted the paradigm with a set of broad advances and had shown a persistent wisdom in building a near perfect super-team that lost one match in the course of six years driven by causes to have football come of age by injecting a massive dose of future orientation. His was the wisdom that was permeating the game, the 1954 world title would be a rendering onto a sage and the 'Golden Team' was everything it was meant to be and everything it symbolized as world sides were strode over by the unprecedented new technique team imbued with ostentatious talent that delighted.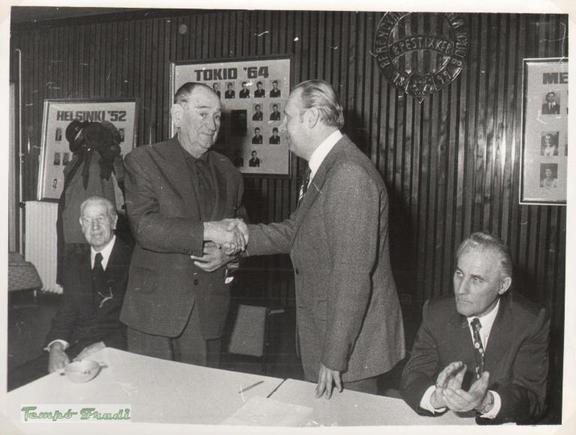 The venerable coach Márton Bukovi receiving ovation at Ferencváros for his many contributions. Bukovi would take over the head job for the national team in July of 1956 after Sebes and guide the team to a very famous 1-0 win over the Soviet Union in Moscow a month before the 1956 Revolt. Bukovi was the one who laid the basis for a new system at MTK Budapest to transform tactics forever. This approach would be transmitted throughout the world following the eventual demise of the 'WM' system to be replaced by Bukovi's ideas that later evolved into the highly successful 4-2-4 in the 1950s.
Mobilized for sport and guided by Puskás-Kocsis-Hidegkuti-Bozsik, the whelmings of Gustáv Sebes' team for seven years had broken the traditional-based eminence of soccer's old athletics forever and continued to reverberate long after the revolutionary coach left not of his own choosing.
The Golden Team and their players directly influenced the game that saw their tactical system arrive to 5 World Cup title matches:
| Year | Nation | Hungarian Tactical Genre | Star Catalyst Players | Goal Diff. (Tournament) | Highest Elo Rating in Tournament |
| --- | --- | --- | --- | --- | --- |
| 1954 | Hungary | 'MU' formation (3-2-5/3-2-3-2/4-2-4) + early "Total Football" (socialist football) | Kocsis | Puskás | + 17 goals (all time high) | 2232 (sport all time high) |
| 1958 | Brazil | 4-2-4 | Pelé | Vava | + 12 goals (tied for 3rd all time) | 2139 |
| 1970 | Brazil | 4-2-4 | Pelé | Jairzinho | + 12 goals (tied for 3rd all time) | 2173 |
| 1974 | Netherlands | "Total Football" (fully democratized football) | Cruyff | Neeskens | + 12 goals (tied for 3rd all time) | 2074 |
| 1978 | Netherlands | "Total Football" | Neeskens | Rensenbrink | + 5 goals | 2102 |
---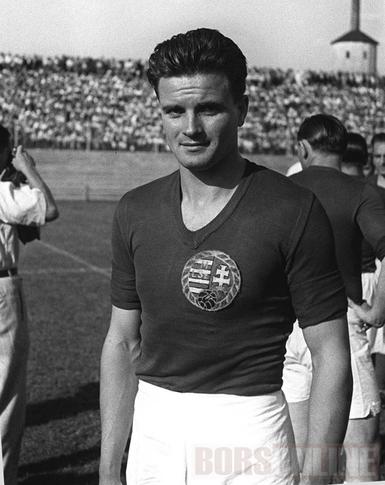 Ferenc Deák ('Bamba') the superstar who gave the
baton to Puskás and the keys to the Golden Team.
Before Puskás but after György Sarosi and Imre
Schlosser, one of the greatest superstars Hungary ever
produced in football worldliness, Ferenc Deák. In 20
internationals (from Oct. 1946-Nov. 1949) he scored 29
goals. In 1945-1946 he scored 66 goals in the league,
an absolute 'Old World' record in a single season. He
again lead the world in first-division football by scoring
48 goals in 1946-47, followed up by an another phenomenal
campaign in 1948-1949 where he put out 59 goals to again
lead the world. From 1939-1959, the phenom forward scored
+794 total official goals as history's 4th highest scoring
August 20, 1945 | 'Saint Stephen's Day'
Ferenc Puskás' International Debut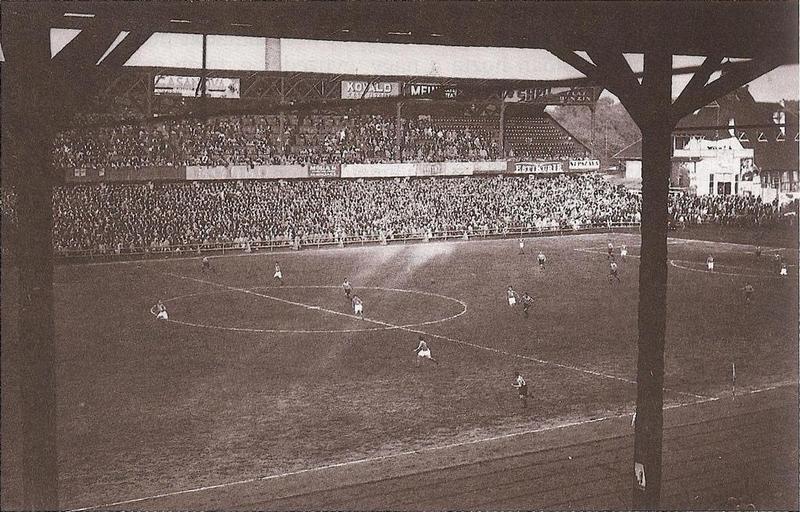 Of enchanting classic legends rare and old at Ferencváros' homeground.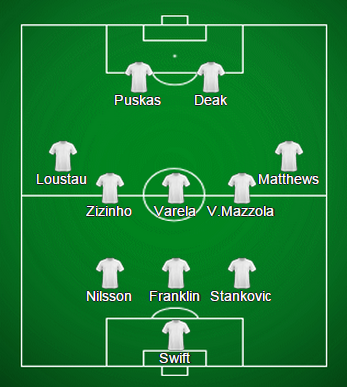 The World Select XI of the second half of 1940s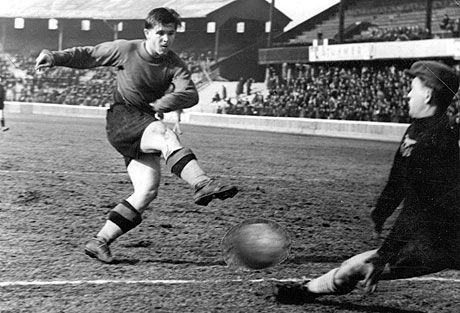 Occasionally a great master team of much exhilaration will come along to overwhelm with new insights and teach anew the game; and if there is such a thing as the philosophy of soccer history with the proudest franchise and national performances compacted indissolubly running through the career of the sport, the Hungarian national team on August 19th and 20th in 1945 playing to large home crowds on consecutive days against the Austrian national team on Ferencvaros' vaunted home ground started to achieve the 'modern' and greatest in the international game.
That team which is known as the 'Magical Magyars' descended from a great many people who entered into a large connection linked in high endeavor, in a great ensemble, the prodigal team christening decisively great maiden victories, creatively inspiring in the sport's post-bellum renaissance and nourishing an active on-field re-invention. Starting in 1948 and upon the intervening decade the Magical Magyars by far were the biggest and brightest show that has ever been assembled. For unparalleled contests and wins over four years undefeated they are the main theme in five tournaments (1947 & 1948 Balkan Cups, 1952 Olympics, 1948-1953 Gero International Cup and the 1954 World Cup) and the games become theirs, the appointed winners of a long-running destiny.
On August 19, 1945, the day before Hungary's foundational holiday, Saint Stephen's Day and three months after 'Victory in Europe Day' proclaimed the war's stirring conclusion in Europe, Hungary manager Tibor Gallowich lead out his No. 11 ranked side against their long-standing rivals, the world's No. 8 Austria. Rudas and Zsengellér both scored to make it a good day for a 2-0 win. It was Hungary's first game in 1945 and it was a victory.
Among the budding stars on the match on Saint Stephen's Day included a fresh-faced eighteen-year-old precocious teenage talent named Ferenc Biró Puskás who was making his national debut from Kispest and it is the beginning of a rare bit of greatness and who earned a quick distinction. It is a triumphant performance of one steady prolific co-operation brought to a huge national result. In the 12th minute Puskás scored first, and in the 13th minute Szusza and 15th minute Zsengellér followed to take charge to a 3-0 lead and win 5-2 at the finish.
On September 30th of that year, Hungary took on Romania at home in a match where Nándor Hidegkuti made his international debut, scoring first in the 8th minute and the 86th minute that was comprised of the impressive line of Puskás—Zsengellér—Hidegkuti—Nyers as No. 8 Hungary put in another impressive rout defeating Romania 7-2 and here Puskás scores two goals.
On Oct. 10 1946, in his forth international appearance and although he did know it then in his early career, young Puskás was to play alongside the greatest assemblage of prolific talent up front far greater than any other team of any era as the nineteen-year old Puskás stepped into a circumference of crackling talents and skills wider than anyone can remember, the ephemera of a surmounting lineup for the ages, the redoubtable scoring nexus of Puskás—Deák—Zsengellér—Szusza as Deák's two goals worked a 2-0 win over No. 9 Austria.
History's All-Time Projected Most Talented Scoring-Prolific Lineup in Any Top-Tier Football Match

October 6, 1946, Hungary 2 : Austria 0

End of Career
Total Official Goals

(update 5.2.2021)

All Time World Rank

Top League Scoring M.V.P.

Ferenc Puskás (Sonny)

2756 Total Goals
689 goals/player (All Time High)

162 International Goals
40.50 gls/player

5 World Scoring MVP
honors
Source: http://en.wikipedia.org/wiki/List_of_men%27s_footballers_with_500_or_more_goals
The great wing-half from Kispest, József Bozsik, for him the right conduct is the aim to move the symphony true joined on August 17, 1947 in a crushing 9-0 victory over Bulgaria at home. Three days later on the 20th of August, Gyula Grosics makes his first international appearance as the national goalkeeper as they defeated Albania 3-0.
There was Sándor Kocsis, the gifted one who gives them a physical approach through a gallery of air way, the greatest header of the ball of any who makes the experts smile and one of the greatest strikers ever to play football, the 'Natural' arrived finally aboard the national team on June 6, 1948 and scored in the 66th and 84th minutes and Puskás scored in the 57th and 87th minutes in a crushing 9-0 victory over Romania at home.
The good right-winger Lászlo Budai, dependable as they come, who can surprise starboard secrets with his thundery breaches and crosses debuts from Ferencváros on May 8, 1949, in the match played against No. 12 Austria at home and came gathered one of the greatest assemblages of prolific talent up front Hungary ever produced in a single international match, the forward line of Puskás—Deák—Kocsis—Czibor—Budai. In the activity of the five players there is that indescribable freshness in a shining 48 minutes that grew an enchantment with Deák scoring in the 1st minute to build out a 4-0 lead with Puskás playing his brightest scoring three goals with Deák getting two and Kocsis one in the big 6-1 rout.
On April 10th, 1949, Gustáv Sebes, the Deputy Minister of Sport becomes the head manager of the national team and it was an inauspicious occasion losing away 2-5 to Czechoslovakia, but the wins soon start to come as he started cutting his team out to greater patterns with tactical and training pabulum. On July 10, 1949, Zoltán Czibor, the mercurial one who strikes awe down the flank from Ferencváros makes his debut from in an 8-2 win over Poland.
On November 20th, 1949, the twenty-seven-year-old Deák played his last game of his brilliant and short international career, a huge 5-0 win over world No. 4 Sweden in Budapest in which he and Puskás both scored. This was to be their last game together, Deák's brief dash into the evanescent sunshine of world football was over. This was a symbolic 'a passing of the baton' from one astral football genius to Puskás. At the end of this match, Puskás had already accumulated 24 appearances and had 29 goals and had entered the essence of the real thing. The newest great had finally arrived who would constitute an elite variety world-class legendary player who would triumphantly answer in all lands, all times, and on all teams, subliming every team by his fusing contributions and parading his peers through sports history after later surmounting gorgeous sports histories and out-topping the best.
It is that of a high speed game for Puskás especially, both mentally and by the fiery power of his left-foot that Puskás had reached by his magical 50th international (the 'Match of the Century', Hungary vs. England 1953) the then world-record 60 international goals and between things ended and great things begun the master himself to whom golden things happen led his unexcelled team onto the plateau of world popularity. Puskás would eventually become the regular captain of this team and with his wits and wisdom marshaled striking the keynotes by his 29th match had given status to the entire team with 41 goals (1.41 goals/game) to inaugurate the team's own perennial sources as they became national expressers of fame on the greatest sporting rhapsody, and as men tremendous and executive in themselves drove their seminal talents on a great voyage of those who sought football's 'holy grail' and found it in 1954.
Teams' captain and sport herald who earned everlasting and ever-fixed scoring marks of the 20th Century with his glorious sailing bounding drives, Puskás was the real golden boy in the golden heydays. With Puskás an enduring guide through first grade teams, the king maestro who once presided over games since August 20, 1945, who has a tale to tell of goalscoring figures hitherto unseen before, with successful Kocsis and Hidegkuti spurring the scoring thunder and trice told greatness, the irrepressible rising well-positioned team practicing growing inevitable for the perfect coming dream.
The greatest player in the world, Puskás teeing up the ball in practice on Loftus Road
before the 'Match of the Century' as Budai, Kocsis, Hidegkuti and Czibor look on.
Puskás was two goals away from breaking the international scoring
record of 59 goals set by Hungary great Imre Schlosser.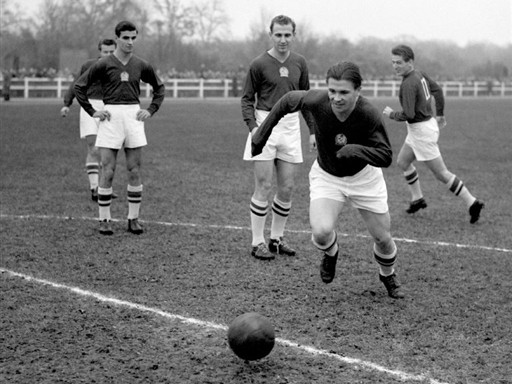 ***** The Sports World's Greatest 'Home Field Advantage' of All-Time *****


'The Maximum Team' — England versus Foreign Teams Outside of British Isles

1863 to Nov. 25 1953

Wins

Draws

Losses

Goals/Match

Goals Ag.

Goal Diff./Match

36

3

0

5.23

1.03

+4.20
In equivalent elite top-tier elite pro American football:
36 wins, 0 loss
96.15%Winning Percentage | 100% Undefeated Percentage
( 52.31 points/game | 10.26 def. points/game )
| | | | | | |
| --- | --- | --- | --- | --- | --- |
| | Date | Opp. Team | GF | GA | Opp. Rank |
| 1) | 12.21.1907 | Netherlands | 12 | 2 | 6 |
| 2) | 3.23.1908 | France | 12 | 0 | 11 |
| 3) | 10.20.1908 | Sweden | 12 | 1 | 12 |
| 4) | 10.22.1908 | Netherlands | 4 | 0 | 5 |
| 5) | 10.24.1908 | Denmark | 2 | 0 | 2 |
| 6) | 3.13.1909 | Germany | 9 | 0 | 12 |
| 7) | 4.19.1909 | Belgium | 11 | 2 | 11 |
| 8) | 11.06.1909 | Sweden | 7 | 0 | 13 |
| 9) | 12.11.1909 | Netherlands | 9 | 1 | 4 |
| 10) | 4.9.1910 | Switzerland | 6 | 1 | 18 |
| 11) | 4.16.1910 | France | 10 | 1 | 15 |
| 12) | 4.4.1911 | Belgium | 4 | 0 | 10 |
| 13) | 10.21.1911 | Denmark | 3 | 0 | 2 |
| 14) | 3.16.1912 | Netherlands | 4 | 0 | 4 |
| 15) | 11.9.1912 | Belgium | 4 | 0 | 11 |
| 16) | 11.15.1913 | Netherlands | 2 | 1 | 5 |
| 17) | 4.19.1923 | Belgium | 6 | 1 | 9 |
| 18) | 10.11.1924 | South Africa | 3 | 2 | 16 |
| 19) | 11.26.1924 | South Africa | 3 | 2 | 17 |
| 20) | 12.08.1924 | Belgium | 4 | 0 | 17 |
| 21) | 12.09.1931 | Spain | 7 | 1 | 7 |
| 22) | 12.07.1932 | Austria | 4 | 3 | 2 |
| 23) | 12.06.1933 | France | 4 | 1 | 32 |
| 24) | 11.14.1934 | Italy | 3 | 2 | 1 |
| 25) | 12.04.1935 | Germany | 3 | 0 | 8 |
| 26) | 12.02.1936 | Hungary | 6 | 2 | 9 |
| 27) | 12.01.1937 | Czechoslovakia | 5 | 4 | 9 |
| 28) | 11.09.1938 | Norway | 4 | 0 | 15 |
| 29) | 11.27.1946 | Netherlands | 8 | 2 | 26 |
| 30) | 5.3.1947 | France | 3 | 0 | 20 |
| 31) | 11.19.1947 | Sweden | 4 | 2 | 9 |
| 32) | 12.02.1948 | Switzerland | 6 | 0 | 17 |
| 33) | 11.30.1949 | Italy | 2 | 0 | 3 |
| 34) | 11.22.1950 | Yugoslavia | 2 | 2 | 9 |
| 35) | 5.9.1951 | Argentina | 2 | 1 | 1 |
| 36) | 5.19.1951 | Portugal | 5 | 2 | 28 |
| 37) | 10.03.1951 | France | 2 | 2 | 23 |
| 38) | 11.28.1951 | Austria | 2 | 2 | 8 |
| 39) | 11.26.1952 | Belgium | 5 | 0 | 24 |
| 40) | 11.25.1953 | Hungary | 3 | 6 | 1 |
| 41) | 12.01.1954 | West Germany | 3 | 1 | 3 |
| 42) | 11.30.1955 | Spain | 4 | 1 | 10 |
| 43) | 5.29.1956 | Brazil | 4 | 2 | 3 |
| 44) | 11.28.1956 | Yugoslavia | 3 | 0 | 7 |
| 45) | 12.05.1956 | Denmark | 5 | 2 | 38 |
| 46) | 11.27.1957 | France | 4 | 0 | 12 |
| 47) | 5.07.1958 | Portugal | 2 | 1 | 33 |
| 48) | 11.22.1958 | Soviet Union | 5 | 0 | 5 |
| 49.) | 5.06.1959 | Italy | 2 | 2 | 20 |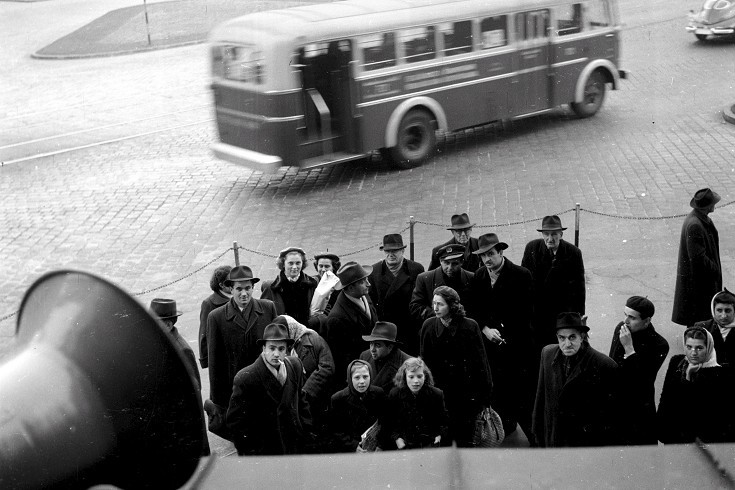 Anxious and excited fans gather in Budapest to listen to game developments from 'The Match of the Century'.
Half prevailing with Puskás' spear steel shots that flew across the field with a passing captivation that lost opponents and kept his fame advancing and, in an intenser sway, one of the greatest ever players moving through high-ranged thought which plans out matches conjuring others to do better is what completes him. Since August 1945, glory could still re-whisper itself to the hallowed player, Puskás — the eternal star-triggered goal shooter in the guaranteed corner at forward inside-left who gives gleaming dynastic names to Budapest Kispest-Honvéd, Hungary and Real Madrid — or even make of him the greatest player who ever lived.
The old Soviet dictator at the height of Stalinism in Europe, Joseph Stalin died on March 5th, 1953, under mysterious circumstances at his dacha outside Moscow and a process of normalizing reform began.
---
November 25, 1953
'The Match of the Century' | 'World Championship Decider'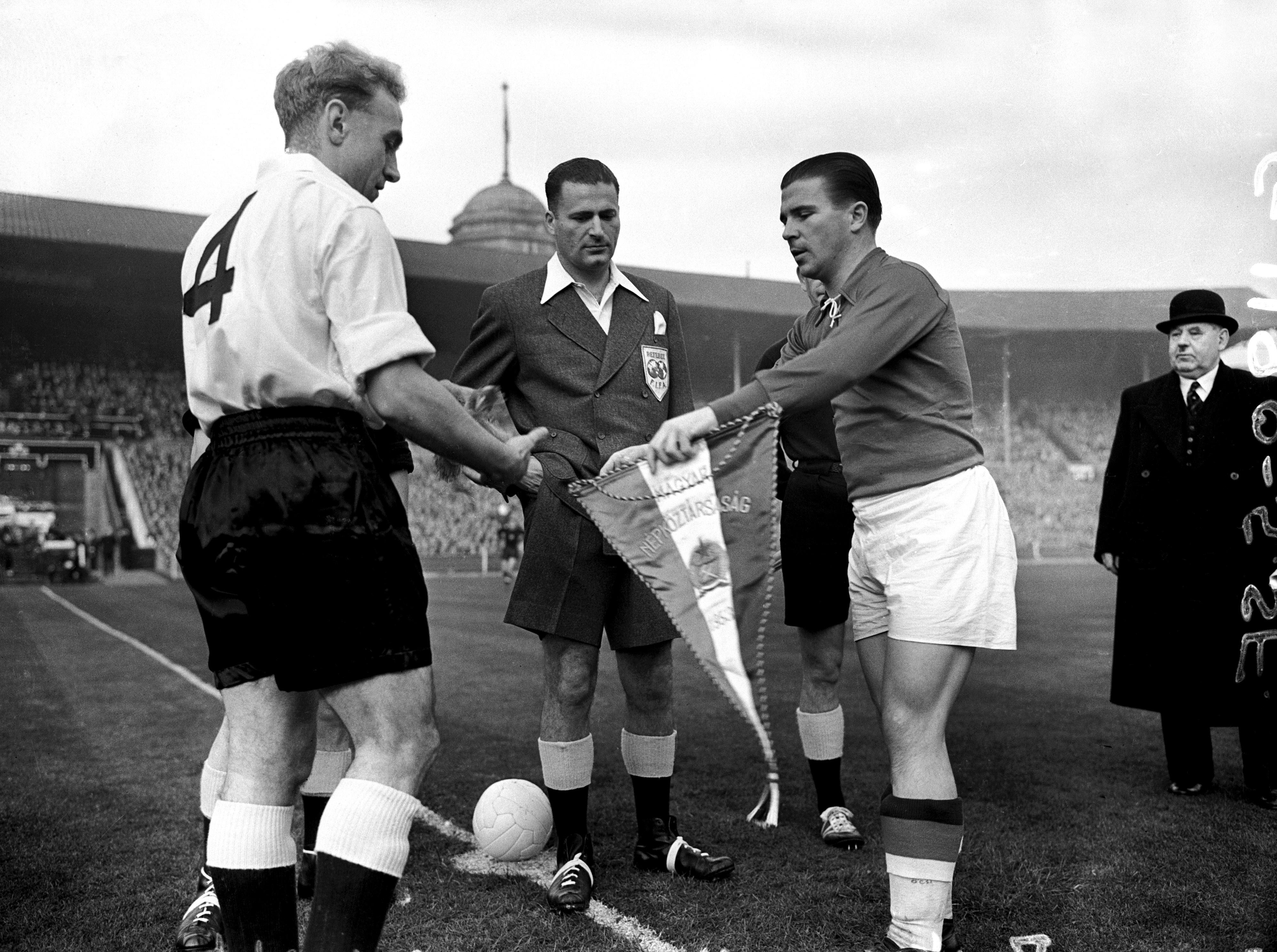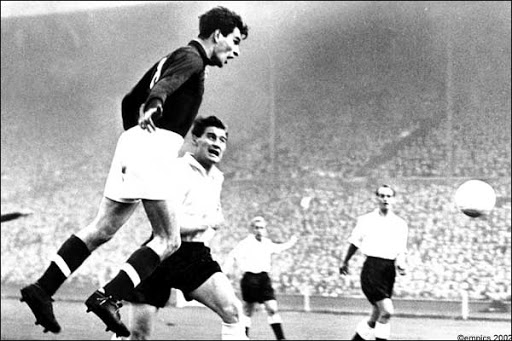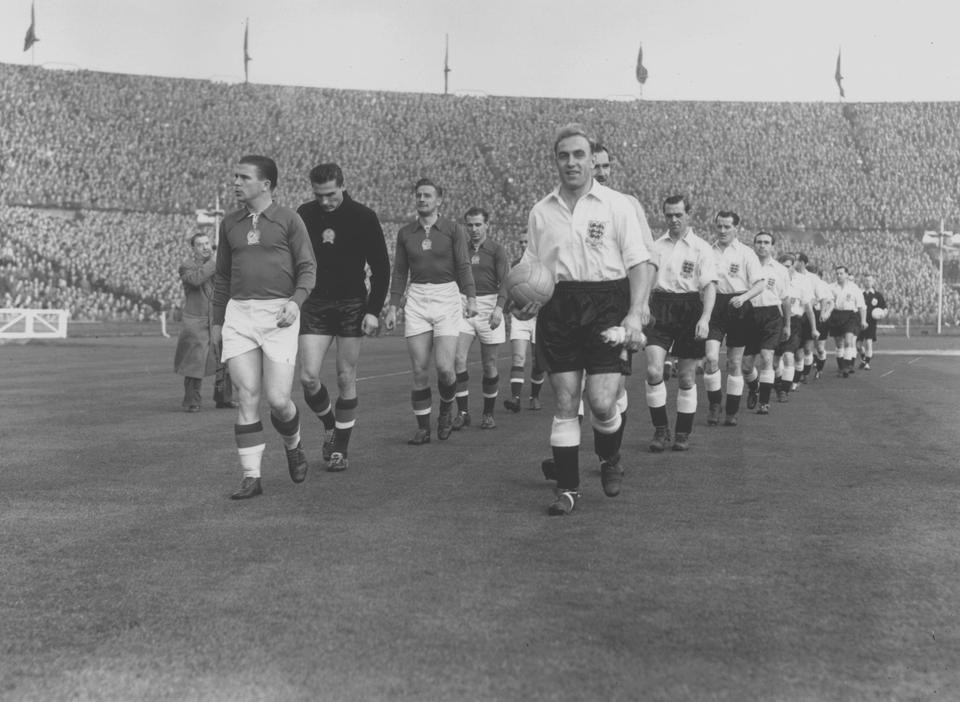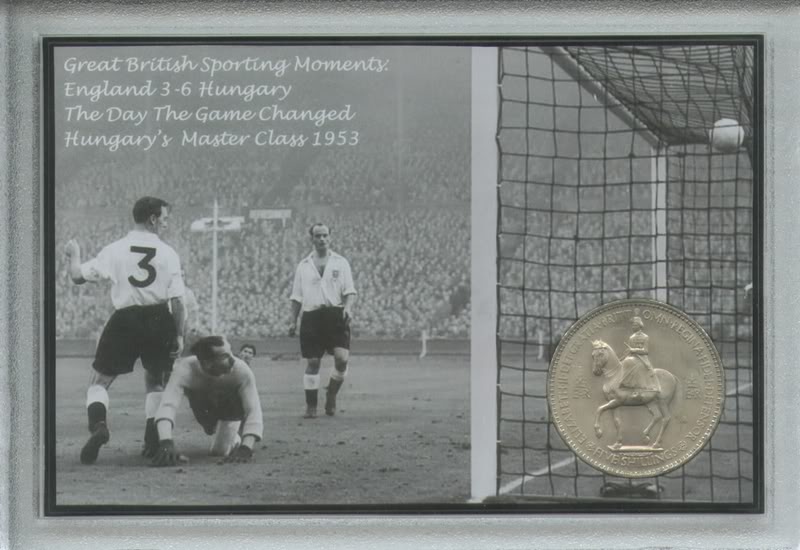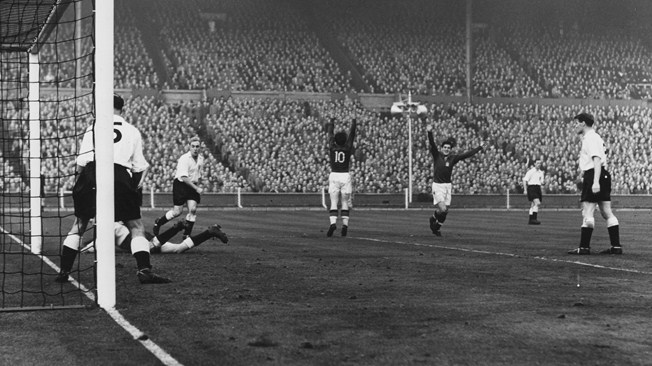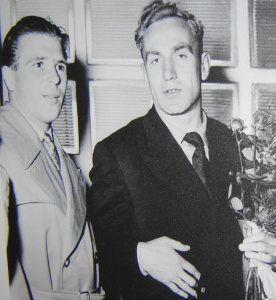 Two Legendary Captains in May
of 1954:
Ferenc Puskás, the world
record holder for most
national goals
and Mister Billy Wright of the
'Maximum Team' who would be
the first top national
player to reach
100
appearances as
a player after
surpassing the 83 record matches set
Once every hundred years an athletic spectacle ascends up from the world within and forces itself to be expressed with a specific audience that impresses the mind, stimulates it, focuses certain memories and values, interests and needs, gushing forth a great many judgments and speculations that get tied up with the spectacle. After the spectacle questions and immediate commentary multiply themselves quickly as journalists and historians try to find the essence that best represents the stellar discovery, setting in motion ideas and feelings to contemplate long after the event itself. In its most public aspect, the spectacle is usably real even more for its instructive value which for a variety of reasons may have been especially memorable and impressive. After everything is marvelously taken in, and as it were, savored, the converting spectacle is given public shape and the immediate motive is to best articulate the experience to others and later generations as a historical turning point to something higher.
November 25, 1953, an eternal athletic glory is at play that through acres of memory and sport's history has held football legacy ever since. It is the wonder game of the age.
The top level game's (national world and top division's) to-be most prolific scoring player, Ferenc 'Öcsi' (Sonny) Puskás leads out the legendary 1953 'Golden Team', a sensational panoramic Hungarian side with new vista that changed the game forever in the storied 'Match of the Century' versus world-renowned undefeatable England and their legendary captain Mister Billy Wright. It would be the lordly ones of the game, venerable England at the height of 90-year-old legendary invincibility of professional greatness versus the No. 1 Hungarian team in the world.
In a very famous football day, a celebration of the game's powers that be, a herculean encounter between the greatest teams of any era, an invincibly supreme, talented and much-fancied English side of grand power, the great old masters of the game following the all-victorious antique drum of tactics at home versus the all-carrying Continental high scoring juggernaut in Hungary from behind the 'Iron Curtain' without a loss in 3 1/2 years.
In the ancestral 'home of football' they tell of a place where the famous English team prepares for headlines where the game has its tower like an empire found in the hard endless competitive drive of self-possessed invincibility that is forever the sport's greatest 'home field advantage' standing assured of certain certainties that it conquered all men of the game and put all the rest of the world game in the shade — the home of history's stoutest long fabled classic legends rare and old since organized football first began in 1863.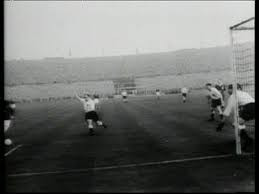 With mesmeric Robin Hood mastery and contributions on the sport's original 'hallowed turf' itself inside England's magnificent Empire Wembley Stadium at the intersection of greatness, history and the timeless moment Puskás scores two goals. In his incontestably best and brightest 'Goal of the Century', rated the chief of his scoring glories the sport's powerful first new athletic manifesto is witnessed and two more stunning goals are marvelously set up by Puskás. Unprecedented in the experiences in the world game, the 'Magical Magyars' amazingly prevailed 6-3 with a 90-year-old historic international record and touchstone surpassed.
A new epoch-making classic among classics the "Match of the Century" was the international world game's greatest and most influential prestige friendly ever played that was also named the 'World Championship Decider' by the British press and where historians recall the modern game first began.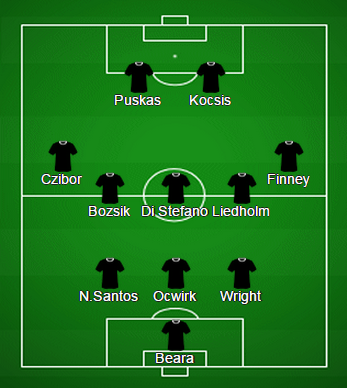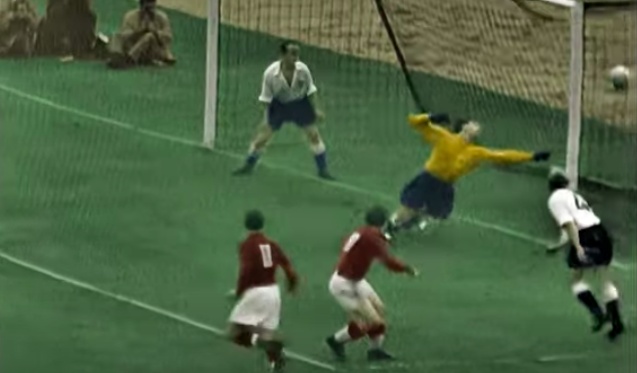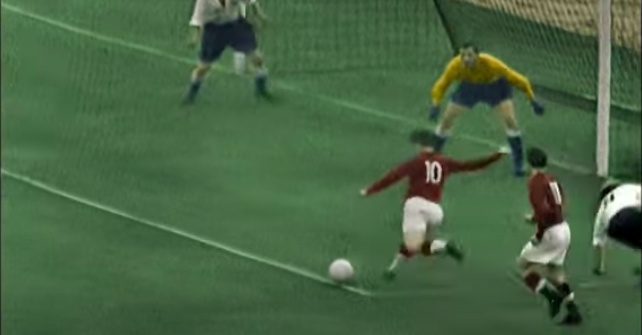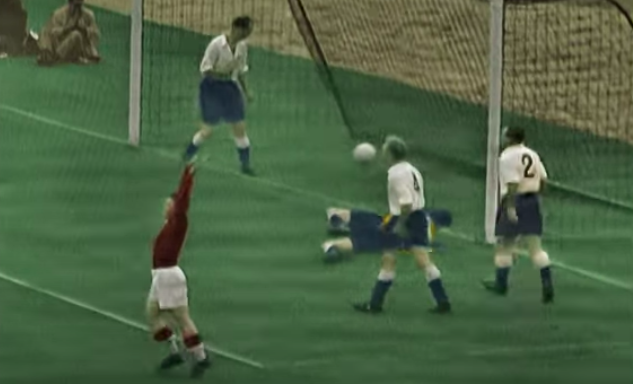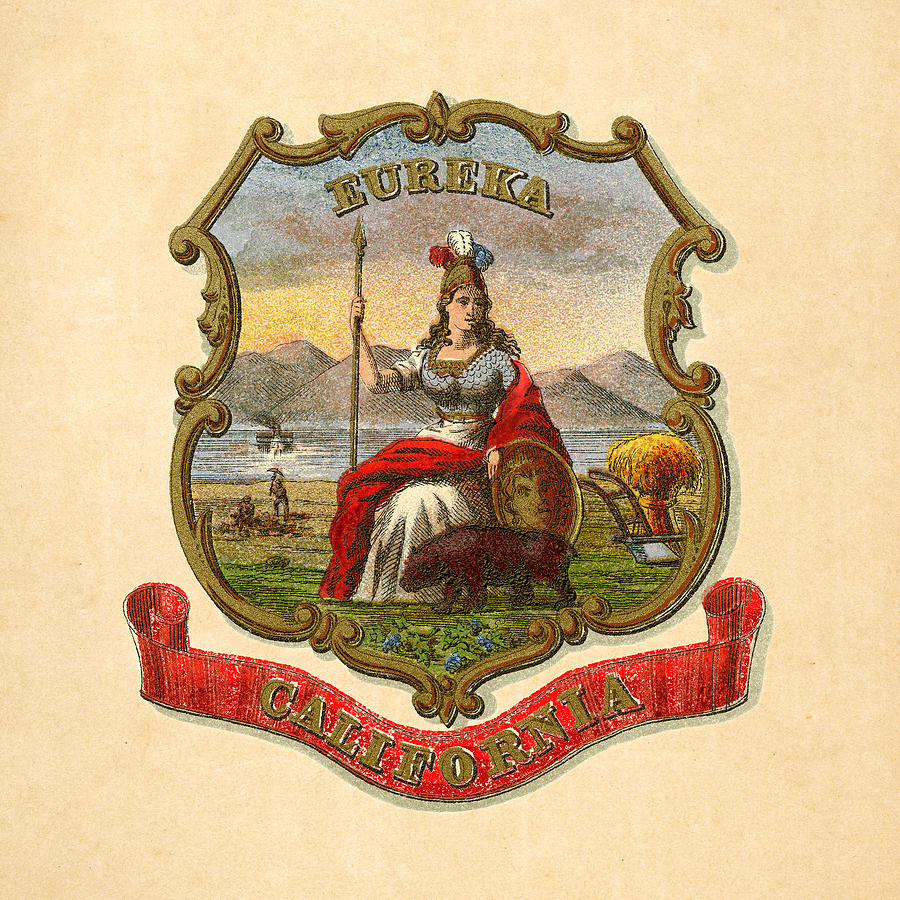 Ferenc Puskás' immaculate 1st goal described by the press as the 'Goal of the Century' that changed the course of the 'modern' game and the sport's history.
The World's Select XI for the First Half of the 1950s (pictured far left)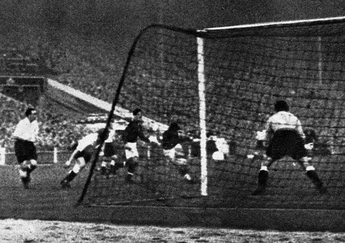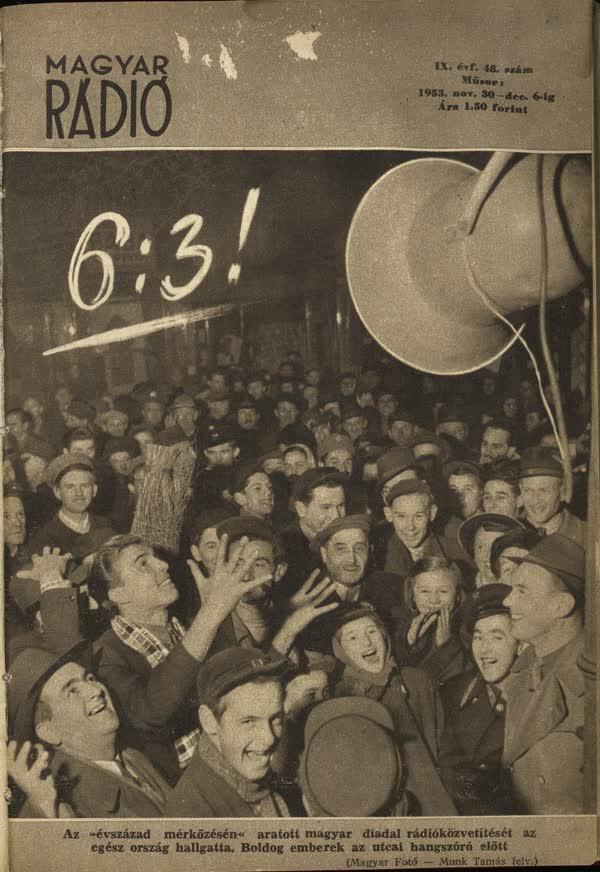 Of all the rides since the birth of the game in 1863 sung in legends or told in the modern reports, of all that which vaunt of marvels here is the giant match that for a long time since contributed mightily to the new capital of the sport. The privileged place to be is cathedral Empire Wembley Stadium, the 'hallowed turf' where the 'Golden Team' became messengers ripening for a new epoch and where Puskás left an indelible and durable trace.
London spoke for England in the impeccable southern intonations of the radio announcers and the press in building out the biggest game of the century that lay ahead galvanized worldwide audiences naming it the "Match of the Century" that gave the match a sort of here-and-now universality in the service of sensation and thus focused the eyes of the Anglo world upon the huge encounter. A visit towards both teams' power rating the media's remark of the match taking on such significance as the unofficial 'The World Championship Decider' was a very becoming view considering the acme strength of both nations (world No. 3 England versus world No. 1 Hungary).
Long awaited since the Olympic summer of 1952 and after years of fermentation and experimental boldness behind the 'Iron Curtain', finally in late 1953 'modern football' burst forth in the unforgettable 'Match of the Century' of game-changing implications.
Since the codification of the sport in 1863 in Victorian England the English national team had never suffered defeat on its home shores from foreign opposition from outside the British Isles and their successful tradition had been penultimate and globally decisive. The old producers, the inventors of the game, the idyllic English team of impeccable record and wonderous competitive spirit had turned aside every effort in 90 years to overcome the mightiest team of them all and never have the world's finest sides left England victorious.
The world's stalwarts and all heavily praised teams all had their rendezvous with that most vast, most grand and formidable of historic teams, England at home and could not confound the team of all time. As a rite of passage in the abode of epic champions all foreign arrivals yield their names to the maximum team by an average goal difference of -4.20 goals, the asserters of classic excellence and the cunning formalists of the age with an unsurpassed mastery who remained the best in the world renowned in a kind of proud anachronistic insularity.
The overall mood, outlook and new optimism in the United Kingdom in late November in the bellwether year of 1953 was winding down positively, the outcome of the highly publicized 'Match of the Century' with Hungary would burnish a very memorable year as the country was very prominent in current affairs. Post-war rationing of many food staples finally comes to an end, and in a revelation in February Cambridge scientists announce to the world the landmark discovery of the structure of DNA that would herald in a new era in perhaps the greatest scientific discovery of the 20th Century.
'The Magician' and 'The Wizard of the Dribble' , the incomparable legend Stanley Matthews, the 'Player of The Year' in 1948 whose remarkable playing career spanned the world record thirty-three years had of one the sport's most astounding careers of durable brilliance, experience and longevity from 1932-1965.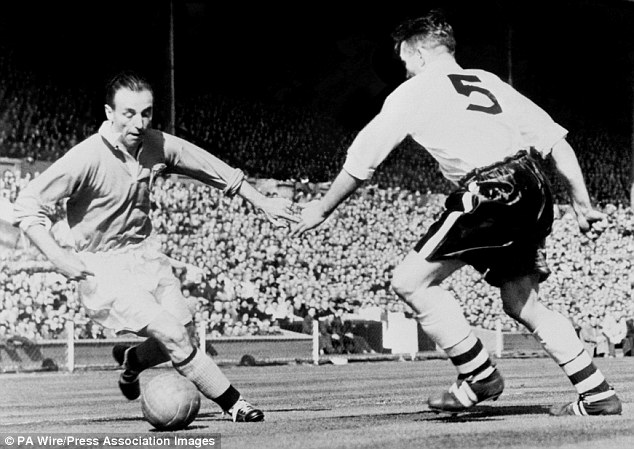 The most important happening of the year was also the world's first ever major worldwide television event to be broadcast live to many millions around the globe. A new young monarch, Queen Elizabeth II comes to the throne in June amid acclamation that occasions the real advent of global television as a real societal force on the world stage. In the process, the television age would come of age in Britain and largely shape a British cultural Zeitgeist in the years to follow. The radiance and youth of the queen and the senior experienced wisdom of the level of Prime Minister Winston Churchill was sought by many sentiments to give rise to a new age of poise, serenity and progress. In late May, hale British adventurers with their porters set out for a mountainous physique in Nepal that had daunted the imagination that had claimed the lives of many brave earlier explorers who have gone before. The conquest of Mount Everest on 29 May 1953, the outpost of a last frontier, reverberated around the world and made headlines to mark one the greatest human feats of the 20th Century. News of the expedition's success reached London on the morning of the young queen's coronation on June 2, 1953 and Britain was on top of the world.
Most in the English public generally felt good about the prospects of facing the Hungarians in Wembley. Many observers felt premier experience, high professionalism with the game to be played in the country of football's birth would bring success with ease against a team from the Socialist Bloc where no commercial interests were allowed in football whose players were technically amateurs from plainer backgrounds most of whom were nominally pressed into soldiery in the Hungarian army.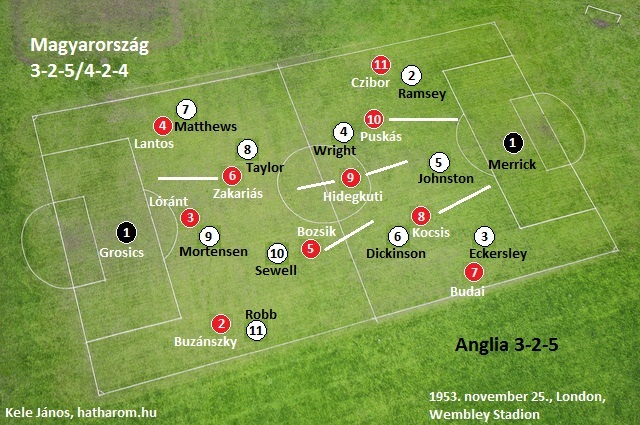 England fielded a squad of considerable and legendary power within the time-tested and patently English formation of the 'WM'. There were some mighty sharp men as public characters in the vaunted national team that was composed of all the stars of Football League First Division, two of whom would be later knighted for exceptional services rendered towards the sport. These included a first-rate world-class maestro, the ageless wonder Stanley Matthews considered one of the great athletes of the century and a phenomena of longevity who was entering veneration as one of the greatest ever vintage players aged thirty-eight and Alf Ramsey who would later become the famous national coach from 1963 to 1974 who played right-back with special spatial awareness and technique. Stan Mortensen was the strong much feared center-forward who had scored 22 goals in 24 appearances, defensive star Harry Johnston was the 'Player of the Year' in 1951 and attacker Jackie Sewell was the most expensive signing in the land. Center-half legend Billy Wright was the 'Player of the Year' in 1952 and described as a real talent before the war who became the regular captain of the team and would go on to be first player in history to reach 100 appearances for a national side for whom there's current involvement in an ongoing campaign to have knighthood conferred posthumously.
At England's order was a powerfully sturdy and salient midfield, a quadrangle of four players with an untiring work rate of fetching and carrying the ball with consummate handling up and down the field whom the Hungarians referred to as 'the piano carriers' of Wright, Taylor, Sewell and Dickinson.
The anxiously promising match was ever England's sternest challenge to stem a gathering juggernaut from across the Channel from behind the 'Iron Curtain' that had remained undefeatable for over three and a half years and in deference to a remarkable time-honored tradition and time-tested unrivaled power England would have its place in the sun again as the highly approved side, stating what has come to be universal opinion — the total superiority of football's inventors at home where it was considered near impossible to win. England would be a defender of the native sport's undefeated venerations of past and present and their stand against Hungary that November would be a clear fulfillment of the superior ease in the conventions, the usual confident thoroughgoing considerations and learned national expertness concerning the sport.
Here lies nine decades unblemished by defeat mused with history and diehard brilliance and England were exceedingly good and skilled to pull the playing wires that baffles visitors' hopes who had much practice and great talent to receive opponents when they come, there, at Empire Wembley Stadium, the venerable edifice of a historic order of things, the ancestral 'home of football', an air of real atmosphere, character that belonged to England and nowhere else that ascribed the amplitude and abiding genius of the place — a vast place tremendously bourgeois and colossally intimidating ripe with all-filling awe where the goings are absolute, a place of incredible happenings, of splendors and revelations, teams of gravitas and men in accurate form where no foreign team could snap the full spectrum of antique excellence, where resurrections be.
Here on the splendid mountaintop a classic zenith of grandeur pinnacled — marathons' powers between the templed towers bright with vaunted eternal strength that embronzed the earth's sport and adorned England's thick succession of crushing triumphs amid mirth-shouting great native moments — here at the intersection of the timeless moment, history and greatness is England scoring a steamrolling 5.23 goals-per-game where the national team be at maximum, its reigning 90 year old legended invincibility a souvenir armored against the world.
Here the maximum team convened the most intensely dominant football the world had ever seen that it conquered all men of the game with an awesome legend-making high scoring attack as most aspiring visiting sides headed towards cratering defeat by more than a four-goal difference done by the great master team.
In their old assurance of conquest England still held the 90 year old aegis and come set, sterling in the old fashioned invincible learned work of the 'WM' formation molded toward an essential ideal of the 3-2-2-3 that shed the unmistakable light of professional greatness with captain Billy Wright, Matthews, Mortensen, Sewell, Ramsey, Johnston to meet the six Olympian and new central European champion attack of Puskás-Kocsis-Hidegkuti-Czibor-Budai-Bozsik with wells of scoring action in the silky concord of the new 3-2-5/4-2-4. It along told the tale between tactics in opposition between once in the past and now: the old voguish English 'WM' formation, the prevailing standard in worldwide use since the 1930s and Hungary's 'MU' formation that pushes the modern technique of a new kind and mentions the youth of the game and considered the forerunner of the 4-2-4.
Before kick-off the Hungarians unlimbered tension in spirit and body by performing unwitnessed ball tricks at warm-up. They were darting lenient and serene moods and beguiled the pre-game tedium with jokes and friendly chaff. A game was formed jocosely as Kocsis wagered to amuse Puskás that he could hang the ball in the air with one hundred subtle kicks which Koscis almost accomplished with ninety-eight kicks before Czibor, poking fun at the skylarking, snatched the ball away. Later Puskás and Jozsef Bozsik volleyed the ball to each other about 25 yards apart, caught it on the instep, levitated it up into mid-air for before returning volleys eight times without the ball ever contacting the ground.
The day glorious with expectancy it happened on November 25, 1953 in a province of historic football legend inside Empire Wembley Stadium on a foggy Wednesday afternoon in front of a prodigious 105,000 crowd and broadcast to a worldwide audience of many tens of millions of listeners and television viewers inside the realms and Commonwealth and the 'Magical Magyars' mesmerized.
***** The Stars of the Match: Puskás and Hidegkuti *****
The 'Golden Team' were prepared with a cunningly wrought new métier too little known to the outside — Gustáv Sebes' new magic scheme, 'The Playing Father of Total Football' — Nándor Hidegkuti who had worked some things quite the best of their kind in some ways incomparably deft as the newly invented false No. 9. He was the new autonomous menacing robust character in football operating on the event horizon between midfield's edge and the opposing rearguards and between creator and goalscorer, the controlling presence at withdrawn center-forward who unsettled the defensive beams to create new field, the magnetic man of action who marvelously engineered to disunite accustomed defenses and bust the circumference to width with event-driven spontaneity and chicane, Nándor Hidekguti, the specialist who held a little prelude and the keys to let in the Puskás and Kocsis breakthrough.
Puskás and Kocsis and the wingers Zoltán Czibor and Lászlo Budai were allied to the newly chartered playmaking wiles of the seasoned campaigner Nándor Hidegkuti, the scoring metronome never fathomed, the alluring center new motion cracksman who hovered above the main line to suddenly appear at the foremost box with the acumen of a path finding artistry who put his impressive powers to work and scored the famous hat-trick. Hungary's composing this day is powerful and sweet and unstoppable and what follows is the most influential prestige friendly ever played acquiring in public consciousness the meaning of 'all time greatness' from the awareness of the game's new superior surroundings of thorough craft, formula, art and enviable new powers from the Continent. Notes of an old triumphal tutti pace the air on radio from commentator György Szepesi.
The game began with a rush with a scheme of unwitnessed ingenuity and medley of valiant deft passing cascading with vigor after kick-off. Inside the first minute the English defense experienced passing pressure invented out from midfield as the Magyars' startling attack proved insolvable with a new ground game that made lanes into England's stout stereotypical 'WM' formation and exploited a flaw in their rigid marking system that opened gaps by cleverly drawing defenders out of position. There, among the vestiges of all time invincibility, it is the aura of ten great Hungarian players led by Puskás embroidering upon the talents and skills of eleven great players with motoric passing force as in an attempt to jump over a barrier built by nearly a century of time and create a lasting monument.
Throughout the game Nándor Hidegkuti was unmarkable in a starring role as he persistently assailed the English line mixed with befuddling actions of Ferenc Puskás and the Hungarian forward line that posed riddles by running interference for one another by overlapping and changing their positions with an entire earnestness that left English defenders spatially dislocated most especially the well-known distinguished defensive star from Blackpool who was named in 1951 the 'Player of the Year', Harry Johnston. Johnston was never assignment true in his dealings with the withdrawn center-forward No. 9 Hidegkuti, unsure whether to accommodate him with man-to-man coverage or to play zonally that caused him to be subtly adrift in a kind of no man's land that undid a large part of the old 'WM's defensive posture.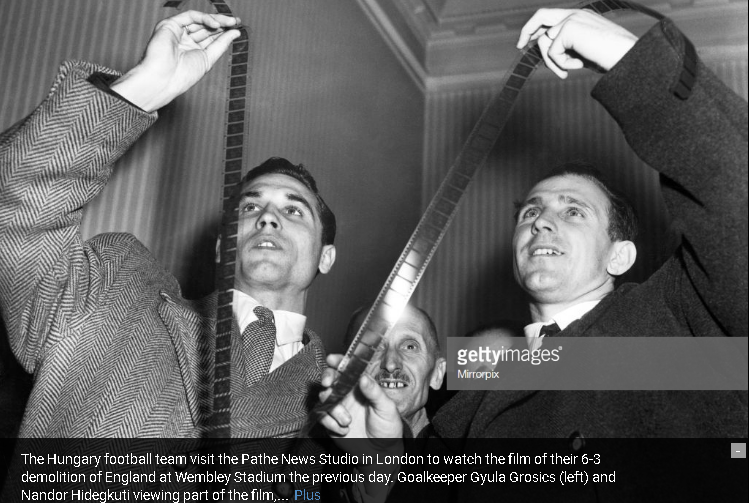 Rapid is the trot in the England half and Nándor Hidegkuti could not be subdued. Midfielder József Bozsik released him to advance with a center pass atop the English box. To a magical astonishment forty-five seconds into the match Hidegkuti ran down a center seam, sold a feint thereby freezing Harry Johnston, diagonally veered outside and sent a long soaring sweeping right-to-left 17-yard vector into the upper left-hand corner of the net beyond the lunging mitt of goalkeeper Gil Merrick.
Very quickly it was 1-0 as sensationalist coverage was broadcast by György Szepesi who deployed more than his usual excited charm in the press box at radio station 16 on the same front terrace as the Royal Box along with all foreign correspondents. After Hidegkuti's first long score from the outside an Englishman with a tap on the shoulder solicitously offered him a glass of whiskey for a warmer glowing mood for Hungary's most legendary sportscaster, who in 2006 earned the world-record longest career tenure as sports commentator.
Passing strides the surge and the pulse around them beat a panoramic length to attain a swift glide and set the genii of the Hungarian team free to turn an evolution. As time in the game progressed England found difficulties in gaining possession as long vivid Hungarian plays rippled up and down the field with the ball constantly jetting away from the home side. One can wonder at a new stunning brand of football, the wonderous jazz of their interplay who played clearly prodigally with short and long passes all tipping in their favor and already by the 27th minute (with a 4-1 score) their moving and scoring cycles show that the 'world champions' are out of step with the 'Golden Team' in every way as if the heralded visitors, through higher gears, had moved into another realm. The legendary match is dreamily invented with fresh virtues of positional fluidity that fixed the splendid connections in the intricate prizing team joined to the electrolysis of near telepathic teamwork with a 6-2 scoreline by the 53rd minute.
There comes some lucky ninety minutes of an athlete's life that's fused in the alembic of a perfect game and of all the famous goals that Puskás scored there has got to be the one, a wonderfully fine goal in the high hour in the north that promises to be the leaven that settles victory that aroused a heavy roar in whole receptivity to a milestone that now 'modern football' can date from it — how Puskás rocks the comfortable circle of good and great teams with inner spontaneities, fiber and pure breadth then Puskás' brightest score with high native originality, the towering famous flash of intuition.
The left-winger Zoltán Czibor, who possessed a less predictable personality on the field and who can sometimes so impress with his smoldering quickness that he had no mercurial threshold, opponents were seldom able to tell on which side of the field he would arrive on. It's a cheering sight as the ball progressively moves step-by-step towards the English goal, Czibor jaunts down the right flank and flew with speedy succor to the right corner out of position and gets passed the ball deep wide by right-winger László Budai for a reaching around the back of the defense. After rounding the corner Czibor plays it low with a less than perfect flat pass to Puskás who takes up a position on the right-hand side of the six-yard box.
He is a type of the coolest intellect in that scintillating flux near the goal. At first keep Puskás caught the ball shakily, briefly touching the escaping ball that drifts toward the dead-ball line. Legendary captain and center-half Billy Wright in a flash barrels down to tackle and dispossess the unsteady ball. The time between the drifting ball handled by Puskás and Wright's roaring incoming tackle is very short and like a quick mobilized frame of athletic epiphany in a very sharp way Puskás drags back the ball with the sole of his boot a split second before Wright came within an ace of capturing the ball. For Wright the move is suddenly unexpected and left the English captain finding empty space where the ball had been de-cleated and nearly reposed and sprawled on his back.
Then in a narrow space of athletic fixity Puskás was on the one great choice and here on instinct becomes uncompromised and clear and Billy Wright hears halfway behind him but the true sound of brevity from the fierce short fuse, the kick incommunicado, with the pinpoint of a laser-glint of force Puskás sends the superb "Goal of the Century" to the auroral edge of greatness. Achieving a compact force after the savory beneficent conjuring trick, Puskás swiftly pivots and caught the gleam of daylight between the near post and had a first-rate play on keeper Gil Merrick and sent the old heat as smoothly as ever and smoother than ever to let the glory out — it's Puskás' greatest goal that's flown.
The rising 10-yard strike hit the orbit and sum of Puskás' wit that informed its flawlessness. The mass and majesty of the Puskás hard cannonball between Merrick and the near post propelled a new 3-1 scoreline and the 'Eureka!'-moment that stuns to Puskás' ecstasy to seize the white perimeter of victory and they soon had all the romance of the game on their side.
The inexpressible completeness of the well-made move and the finish beyond the ordinary in incontestably his best goal, Puskás had put himself out today with plasticity and grit, heard the roaring golden din of the crowd and verifies the dream. Puskás' famous stunning piece of off-hand ball control is a sporting emblem of general sublimity of the purest play of unlimited drift and wit, a goal sculpturing unrehearsed four-move impromptu packed with personification that made his 'Goal of the Century' a mainstay on classic highlight footage. It is altogether a platinum movement and relic goal by Puskás.
That strong mystic play and charming marvel of Puskás brightest score was emotionally immediate with sports commentator György Szepesi who feels more than he can say and reports it accurately and vibrantly: "This is a world sensation!! Puskás pulls it back with his sole!" Besides being a charming and transforming piece in itself the scene presents a clever player successfully deceiving one of England's finest players as one of the richest portrayals of Puskás' fast thinking as the distinguished and perceptive football columnist Geoffrey Green immortally wrote that Billy Wright had charged "like a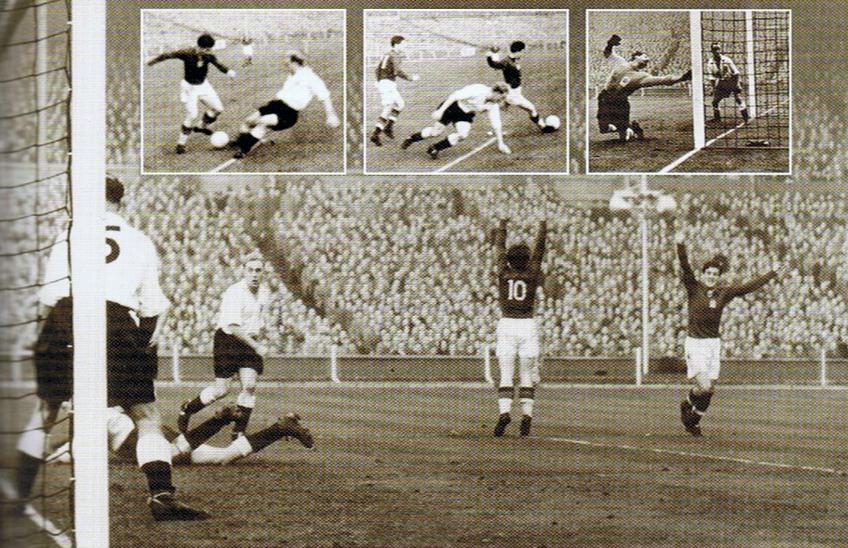 fire engine going to the wrong fire."
Nothing could be finer than the dream sequence first goal of Puskás and the heady sensation and winged joy of hitting the bull's-eye translated to folkloric treasure as the great match breaks on the shore of foundational historic world fame. He by it will be remembered forever and had caught the top of the international scoring ladder of 59 goals capped by that early master, Hungary's great Imre Schlosser as Puskás' great squad had unraveled ninety-year-old history in achieving the unachievable of bygone times.
Three minutes later Puskás came upon the once in a lifetime occasion of a sport leading achievement, the considerable world record-breaking goal to outtop all scorers in the world of the past and surpass Hungary's Imre Schlosser to be the king of the international goal — József Bozsik took a long flat free-kick along the turf and Puskás, slowly trotting midway to the goal line re-directed it miraculously with a skillful backheel brush as the perfectly deflected ground ball burrowed on an angle bouncing inside the far post past the utter disbelief of the upstanding Gil Merrick. With 60 goals in 50 world matches (1.20 goals-per-game) Puskás had performed master work in the grand day at the very top and had reached the sublime summit, he became the world leader in international football as goalscorer along with being the 'greatest player' in the world.
Then in the 50th minute came one of the most beautiful and certainly one of the most difficult goals ever scored and seen at Wembley. One of the sport's greatest all time central midfielders who dresses the emerald field with situations, József Bozsik got the ball's rebound from a header that Kocsis with kinetic fury put on the far right woodwork and it found Bozsik 23-yards out above the right side of the box. Bozsik, firm and unhurried, put the ball into the air with one undulant thrust, the heavy ball rising straightway and flying exact and plumb as a ruled line towards the upper left corner. A desperately laterally diving Gil Merrick could not reach the airborne rainmaker and on the goal line a defender behind him leapt to deflect it with his head but in vain as the still rising ball was meticulously deposited under the bar into the far high left corner. The long perfect loveliness and laser-like dalliance of the levitating 23-yard strike took many by amazement.
Ripened beyond computation a joyously wholesome, prodigal electric victorious feeling rolls in the souls of the men who just played the visionary game. The warm garden of feelings of transcendence all goes together after the sealed 6-3 monumental win: unique, unrepeatable. They moved on the new territory of 'all time greatness', original now and pure, revived and sure that unfolds a new famed destiny. Puskás, who remained a great souled arch-player of great heart, a compassionate person, the frontest man inconquerable wins the inner world to a meteoric fame. The master knows that he is unprecedentedly great and that all around him are now unprecedentedly great. As they catch the sunset whole over the city of London, they owned the sports world of the earth that night.
Hungary 6 : 3 England
(All time 90-year-old invincible historic-athletic sports record broken | Puskás becomes world record holder for most international goals with 60 goals in 50 matches)
(Hidegkuti 1', 20', 53' | Puskás 24', 27' + 2 Assists | Bozsik 50')
November 26th, 1953, this dawn is the first dawn of 'modern football' that built a newer sport when the edgeless passing-scoring feats at Wembley made sense of football that vouchsafed a future vision of the game and gave occasion to the very discovery that the world game had changed. The 'Match of the Century' had an enormous vogue that many thought it perfection and stunningly dramatized "A New Conception of Fooball" as the London Times described it and it is called the new playing of the game. Never during England's sporting experience has a more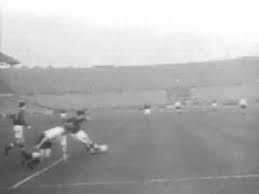 exciting event occurred than the sudden bursting upon the national firmament, full, blazing, unparalleled, of the bright resplendent stars from abroad whose honored names shine refulgent at the head of the game in 1953. In the afterglow of the match in that Austerlitz sunrise (that is, a dazzling sunrise revealing all) the following morning there were reverent superlatives that appeared in print in sports editions of newspapers all over Europe.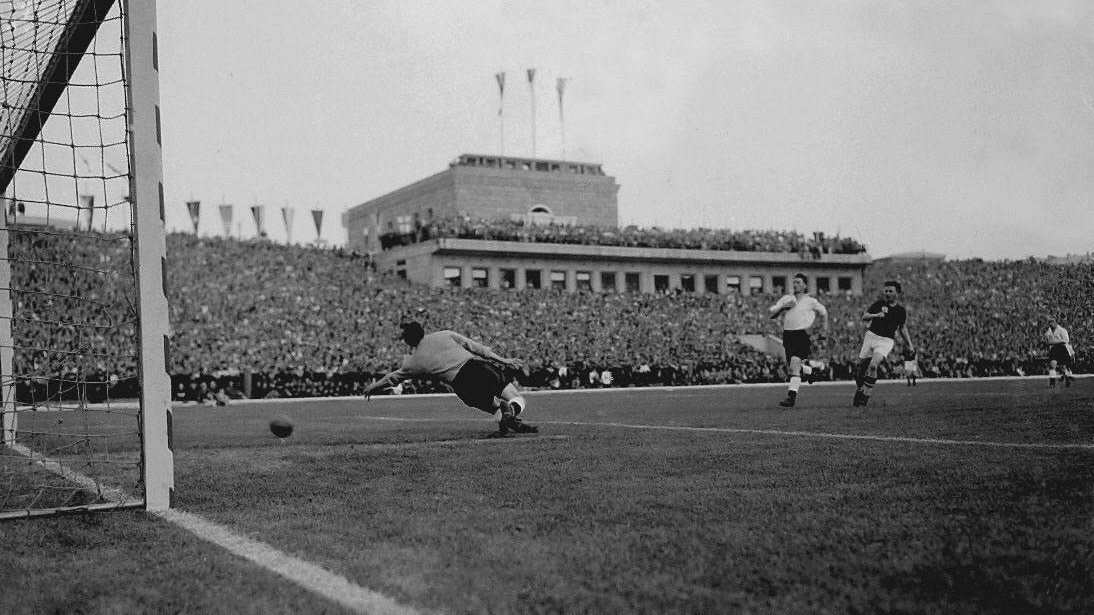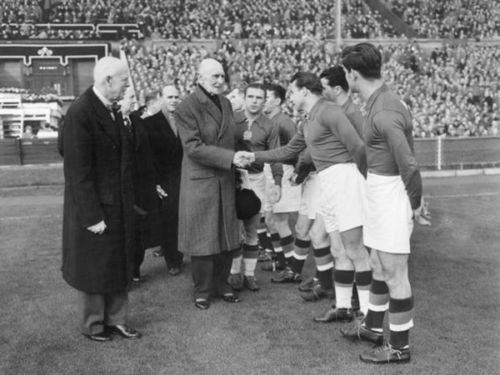 The profound influence of the 'Match of the Century' remained long after the game finished. In England the immediate reaction to the game was shock. Most especially the 6-3 score that reflected the ease that lordly foreigners from the Eastern Bloc had pulled asunder an extremely talented side and one of England's finest ever teams one could wish for in front of the public's eye so convincingly. The inevitable, long stayed, had made landfall and come to home shores, a brighter image strode so brilliantly past the caliber of world-class famous veterans like Wright, Matthews, Ramsey, Sewell, Mortensen, Johnston, Merrick that an admiration from those playing them was long assured. It seemed more than a great victory for just one team and many described it as history in the making as it aroused nationwide comment and became one of those very rare performances that many not only described but analyzed.
The inexpectant and heavy defeat carried a gravity for most everyone watching from the stands. For the English game things were never going to return to the way they had been before. For those whose livelihoods and professions were connected to the sport saw at once, perhaps, the point of it all — interwoven into the texture of the match a new epiphany of something groundbreaking, new revolutionary dynamic football of a special driving force in elusive strong scoring style with limitless imagination hewn to a thick-coming aptitude that was hard-hitting and glabrous in movement all the same, passing skills that were lofty commanding time and space, of new winds blowing, of new tactics outgeneraling the old. There was hardly a football educator or manager of note who was not influenced or impressed by the superb new archetypal game played by the Hungarians as an excellent one worthy of perpetuation.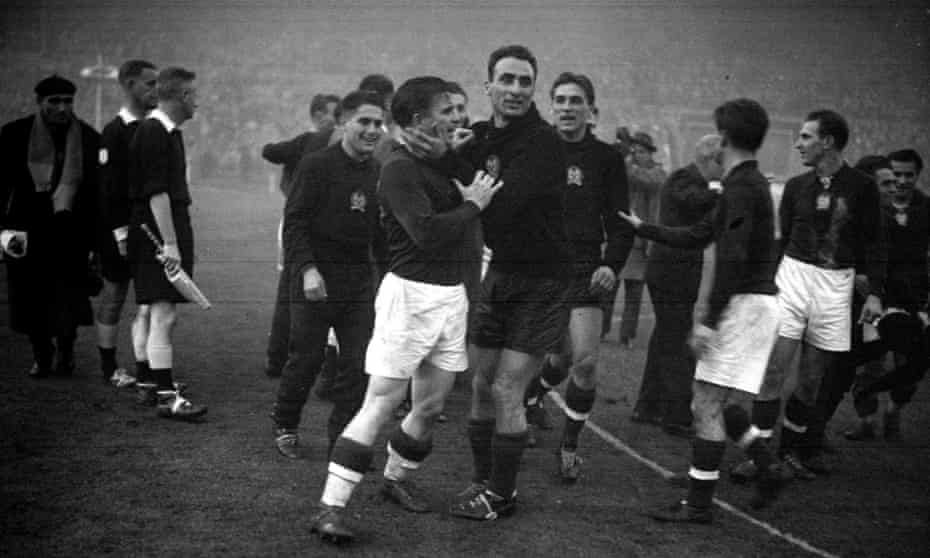 The 'Match of the Century' where the Hungarians broke through the density of old records into a renowned rarified zone and that influenced soccer is surely the athletic teamwork of the century where the game can discern a certain new construction of flexible cohesion replete with action-packed passing geometry that showed another aspect of how the game could be and should be played as it peered toward a versatile new dimension. Near invincible English football looked dated with dull timbre before a new idyllic form from the Continent. The essence of the old conservative pre-war conventional, heavier and more industrial style seemed to have run its course and a move toward a more improved presence superbly demonstrated that afternoon was now needed to accommodate the new good brought into the sport.
The performance of Puskás' team that afternoon was all spectacular and revelatory that merited the term 'sports masterpiece' as a historic landmark watershed that sheds tribute to a newly desirable stylized mode that excelled all others, found a major feat and vindication of the progress made by the mainland Europeans and finds in the match new visionary transcendent soccer that slowly resolved in the following years football's past and present with new guiding principles of ever-pushed flexibility, unhampered team mobility, skillful turf passing interspersed with outflanking long balls as the most practical way to get around the defense lined up to an acquisitive, possessive and besetting accurately transmitted scoring style that would take the pressure off the defense that it became the preferred choice and fountainhead that make up today's 'modern' game.
The 1953 'Golden Team' of fabulous new vista showed a panoramic prevision of a new epoch to be the basis for much if not most that followed in the game as the sport's post-war most influential great re-defining hallmark performance; it offered the game new values to prevail upon old insular normative beliefs to re-inspire and drive the frontiers of the sport and where football's contemporary 'modern' era may be said to have begun.
The now famous team stepped forward to acknowledge the most cherished plaudits of their career. Such honoring for any one national team had little chance of seeing its like again. Out of their great windfall, the players had to endure congratulations and compliments across their voyage home through Europe. Congratulatory crowds of people lined the track everywhere their trained stopped and station masters waved their congratulations when they were simply passing through.
"We were stunned. Because we saw a style of play, a system of play that we'd never seen before and none of these players meant anything to us. We didn't know about Puskás, we did afterwards and all these fantastic players. They were men from Mars as far as we were concerned." — Sir Bobby Robson, head manager of England (1982-1990).
On May 23, 1954 in Budapest, the 'Golden Team' team had a famous re-match with England at home in front of a massive 105,000 audience, the big capital city drowsing in the sunshine of a bright hot summer afternoon under the serenest purest sky in the august new People's Stadium.
They opened a dramatic rehearsal that conjured wonder again and made bright with burgeoning possibilities of what was to be visited at the 1954 World Cup in a month's time in Switzerland. It was against this backdrop of national pride and football ecstasy that the team hit their most sustained and brilliant form in their finest ever home performance. Alive, renowned, gallantly flying and passing, they were playing upwardly in the ascendant at crescendo concert pitch that momentous afternoon and left a sufficient number of fine goals, seven in all to suggest great potentialities for the 1954 World Cup.
Eight minutes after the start Mihály Lantos's keen 22-yard free kick that was hammered past Merrick began an outpouring that saw three long racetrack breakaway plays putting goals past keeper Gil Merrick. Puskás caught a pass and was racing laterally to the goal inside the penalty area, Gil Merrick seemed to keep pace and drifted right-to-left to seal off the near post but Puskás discharged the ball like a bolt of lightning with his matchless whistling fastball and sent a long reverberating peal of joy thundering after it as it soared past Merrick's legs into goal.
Keeper Gyula Grocsis heaved a long throw to the left sideline, there Puskás with one-touch furthered the ball up field along the sideline with a long zestful through ball. At midfield Zoltán Czibor took receipt and flipped the switch on with his flabbergasting quickness and was at top speed along the left periphery in a coast-to-coast sprint with two English defenders giving hard chase. Czibor, the very quick winger of playful breeze on the outside flanks then took a diagonal run inside deep. Caressing the ball at half speed alongside the two defenders Czibor intelligently played to open Sándor Kocsis to the right who feigned once before kicking into it sonorously and before Merrick could do anything the score was lodged in the net.
Their celebrated 7-1 win over England diffused a euphoric contentment in Hungary that their sport had not known with the sports press affected to strumming praise of a great homemade triumph under a Hungarian heaven that drew the entire nation into a rolling wave of sheer delight, joyously greeted by all who saw the match from the terraces or heard it through the airwaves. With Puskás and Kocsis netting two apiece and one from Hidegkuti set the collapse of English soccer of historic import with a 7-1 emphatic stunning rout and was carried out so brilliantly stirring emotions of awe and wonder in foreign correspondents who covered the event from the press boxes. The tremendous win, England's worst ever loss, gave a galloping sense of proportion of destiny at work convincing leading newspapers Puskás' 'Golden Team' was undeniably the greatest in the world.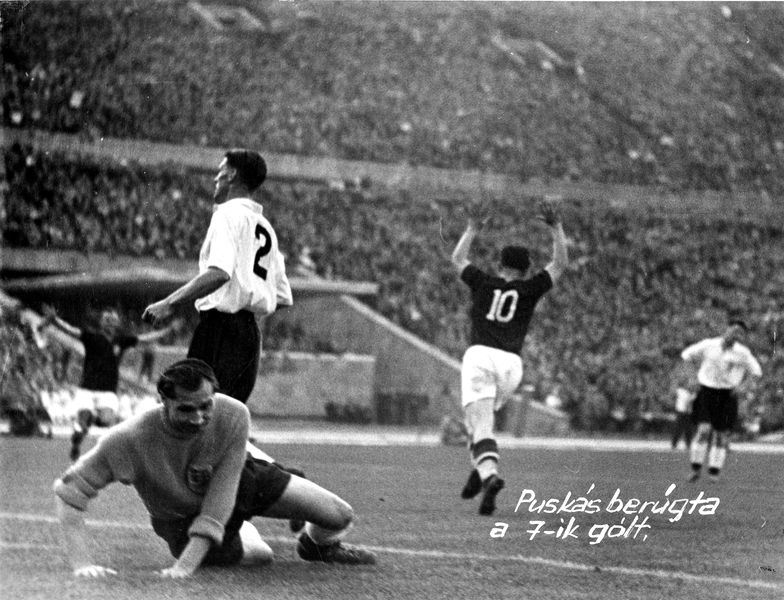 Syd Owen played at center-half for England and remembered the occasion well, he later commented: "... it was like playing people from outer space."
Hungary 7 : 1 England
(England's heaviest all time loss | 'The Golden Team' has consensus to win 1954 World Cup)
(Lantos 10' | Puskás 17', 71' | Kocsis 19', 57' | Hidegkuti 59' | J. Tóth 53')
After that they have become 'unofficial world champions', their sport arching up with mid-century optimism. World champion in all but in name the new Hungarian soccer kings of Europe were set on a colliding course with the soccer masters from South America, Brazil or reigning twice world champion Uruguay for the world title with great expectations reaching a joyous exhilarated pitch throughout the land.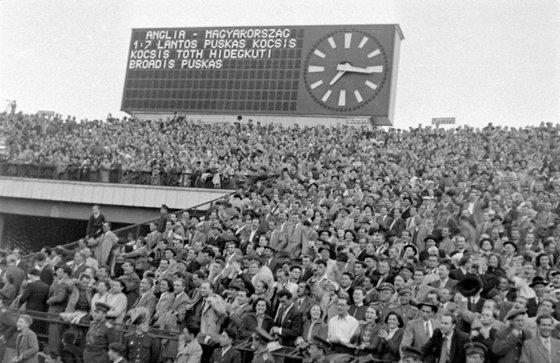 Shading upward from admiration for the special brand of the game witnessed from the sport's new power shining in the East, bearer of the desirable modern and enlightened, Puskás' Hungarian 'Golden Team' becomes a proper partner for conversation to hoist the world championship in a month's time in July when they have become statistically the highest rated mountain of all time and the 1954 team were appraised by general consent as having the most redoubtable team to carry the title with plenty of talent to match.
December 3rd, 1953, The 'Golden Team' on Top of the Football and Sports World.
---
The greatest ever film executive and founder, William Fox (born 1879 Hungary).

' The Greatest Ever '

1949-1956 Hungary

The greatest foundational entertainment pioneer and founder, Adolph Zukor of Paramount Pictures (born 1873 Hungary).
Largest Team Goal Differentials on the Eve of the World Cup Final

All Time Rank

Country

World Cup Year

Goal Diff.

Matches

Goals-per-Game

Elo Rating

No. 1 Gold

Hungary

1954

+18

(all time high)

4

6.50

(all time high)

2232

(Sport all time high)

No. 2 Silver

Brazil

1950

+17

5

4.2

2067

No. 3 Bronze

Netherlands

1974

+13

6

2.33

2074

Tie No. 4

Hungary

1938

+12

3

4.33

(2nd highest)

1975

Tie No.4

Brazil

2002

+12

6

2.67

2029

No. 6

Argentina

1930

+11

4

4.00

2109

No. 7

France

1998

+10

6

2.00

2044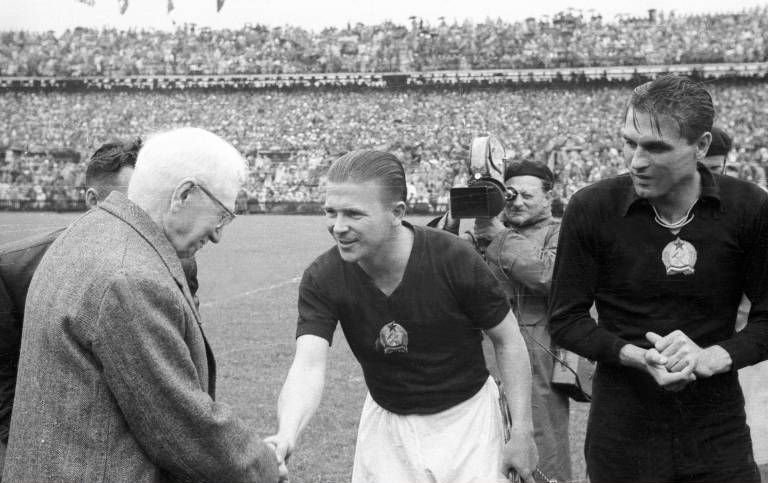 Former FIFA President Jules Rimet pays homage to two great Midas players, the greatest player in the world, Ferenc Puskás and Gyula Grosics, the greatest goalkeeper in the world prior to the kickoff at the 1954 World Cup Final. The man most responsible for bringing the World Cup to worldwide significance to rival the Olympics as an extensive athletic spectacle spanning the globe, the pioneering architect and world football's highest official, one who oversaw football's vast internationalization since 1921 as its founding father, FIFA President Jules Rimet was the world sport's old supremo.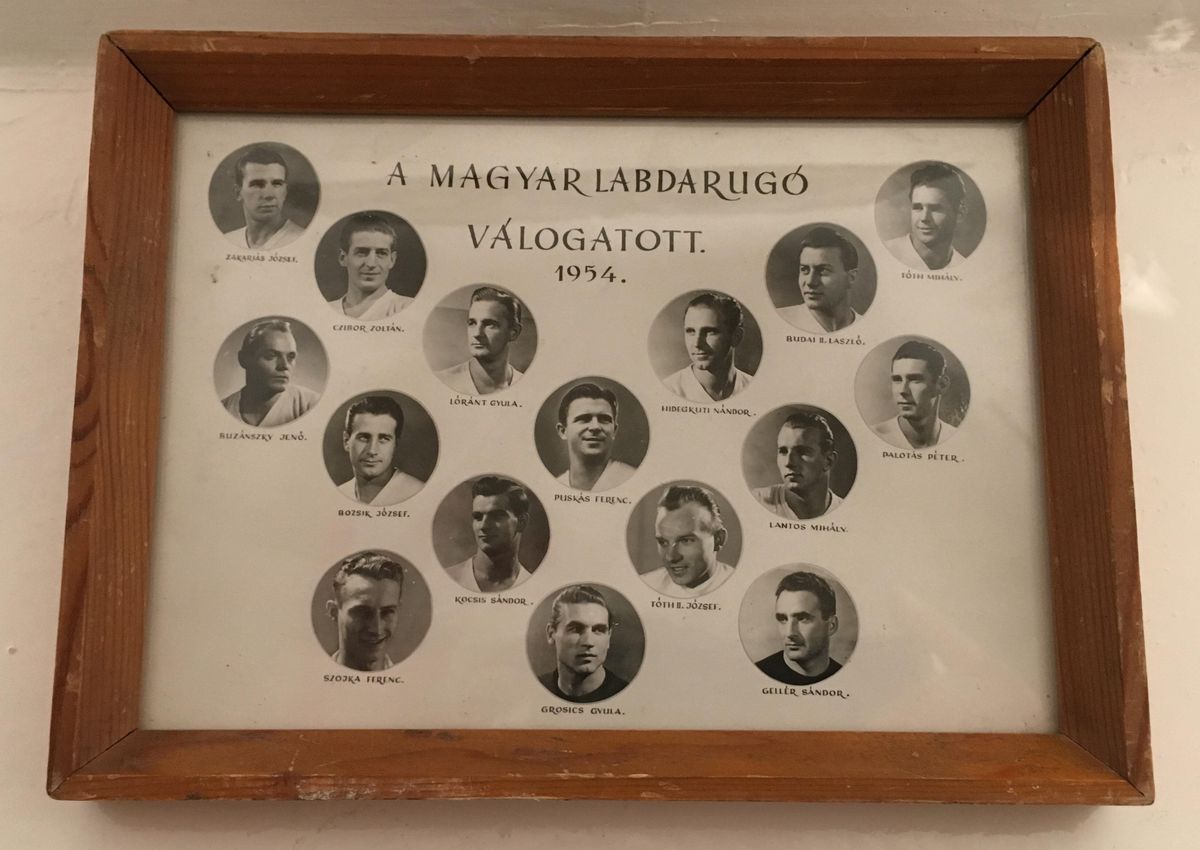 ***** The Highest Rated Game of the 20th Century *****

The Seminal Match of All Time Macro-Historical Significance

No. # 3 West Germany

(Sept. 23, 1951, to July 3, 1954)

No. # 1 Hungary

(May 8, 1949, to July 3, 1954)

Wins

Draws

Losses

Ave. Score

Score Diff./Game

The Game-Time Goal Spread Line: Under Ideal Conditions, Perfectly Refereed & Everything Being Equal.

-1.6 goals,

Hungary

Wins

Draws

Losses

Ave. Score

Score Diff./Game

15

3

3

3.14 goals

+1.71

34

6

1

4.46 goals

+3.31

Hungary Installed as Heavy Pre-Game Favorite

The Dominant Redoubtable Crackerjack Dynamic Renowned Reinventing Record-Breaking Legendary 1954 Team

Scoring a steamrolling landslide 4.46 goals-per-game in 41 matches since May of 1949, the 'Golden Team' carried a 31-game undefeated run in a world-record 49 months and had reached the all-time strongest statistical benchmark with 2232 Elo Points scoring 6.5 goals-per-game in the 1954 World Cup to arrive with destiny to the 1954 World Cup Final.

In Equivalent Top Ranked Elite Professional American Football:

Hungary is -16 Point Spread Heavy Favorite to Win 1954 World Cup Title Match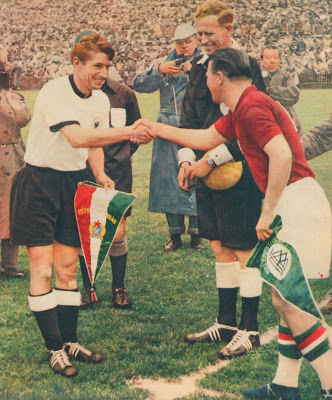 The pennants exchange in the greatest game of them all of all time legends Fritz Walter and Ferenc Puskás.
***** The Fabulous Crackerjack Ace Six of Hammering Goalscoring Bravado *****

'The Moderns', The Most Excellent, The Most Influential

(July 3, 1954)

Players

Goals

Matches

Goal Ratio

Wins

Draws

Losses

Win Percentage

Puskás

67

55

1.22

43

5

7

82.7%

Kocsis

48

38

1.26

32

5

1

90.8%

Bozsik

4

50

0.08

40

5

5

85.0%

Hidegkuti

30

37

0.81

34

3

1

95.9%

Czibor
8

29

0.28

25

4
0

93.1%

Grosics (GK)

1.06 gls/game conceeded

30

3

0

95.5%

The matches against the Moscow city clubs' selection on May 24 & 27th 1952 not included.
July 4, 1954
The 1954 World Cup Finale | 'The Miracle of Bern'
-- The 'Golden Team' of Puskás, Kocsis, Hidegkuti, Bozsik, Czibor & Grociscs --
Between the idea and the reality, between the fame and the fact, when the golden annals of the game open there could be but a single supreme team in the whole world in the sport's bellwether year of 1954 and a far advanced victory accruing Magical Magyar side cannot be eluded and cannot be stopped as Puskás' star-spangled team of hammering goalscoring bravado pressed the whole way toward the 'holy grail' of the sport's touchstone. Courting victory with a surging scoring thunder all along rejoicing June-July after overthrowing milestones with crashing climaxes and rocking the world's stalwarts with the dreamt-of soccer revolution Puskás' team became the highest ranked national team in history to arrive beautiful to the 1954 World Cup finale.
Of the crowds of great teams who came and went, aloud in the raptured ears of men beheld Puskás' team within the circuit of European football there entering a seven-year reign of a national side that was very the best side of them all during a doctrinaire and the most extravagant and cavalier age of the game, but Puskás and Sándor Kocsis transformed them as 'statistically the greatest ever'. In the season of Sándor Kocsis in 1954 who swung the sport's powerhouse of the years they come with a new century in their eyes and so prepared the Golden Team for the occupancy of being the greatest of all time.
As the priding world of gain and appearances goes on the renaissance and revolutionary team of irresistible appeal crackling with game was all of a piece throughout which can overtake the very best, thwarting old systems and up the game's impossible sides in 1952, 1953 and 1954 Puskás' team swept through the severest and most trials with an unprecedented opening-up of hale crushing charms and élan, mismatches and débâcles their avatar and seal, and sprinting to the pantheon of might's monuments scoring 4.46 goals-per-game in 41 matches and the everlasting record 49-undefeated months in 31 matches that rocket the mind quenching a game so dimensional that it must be seen to be believed.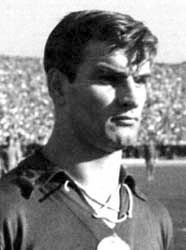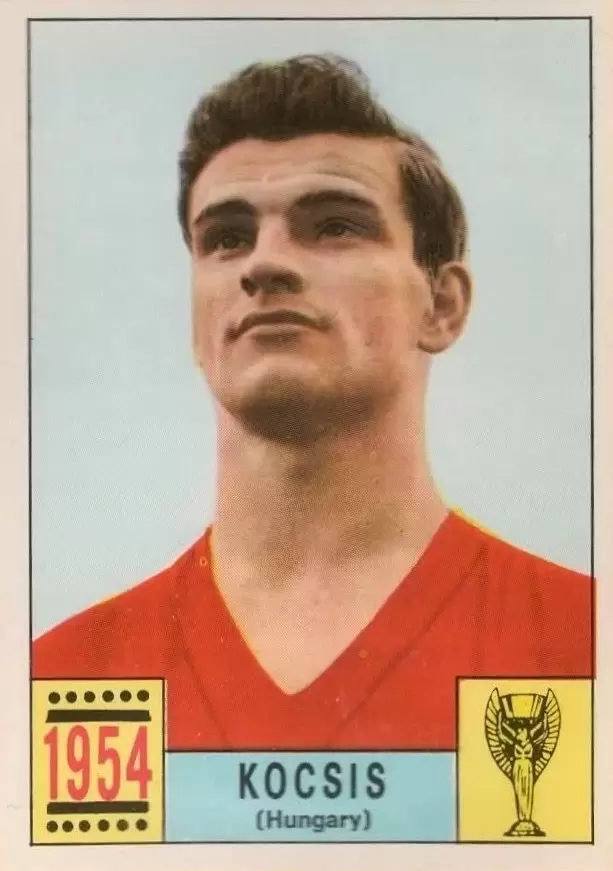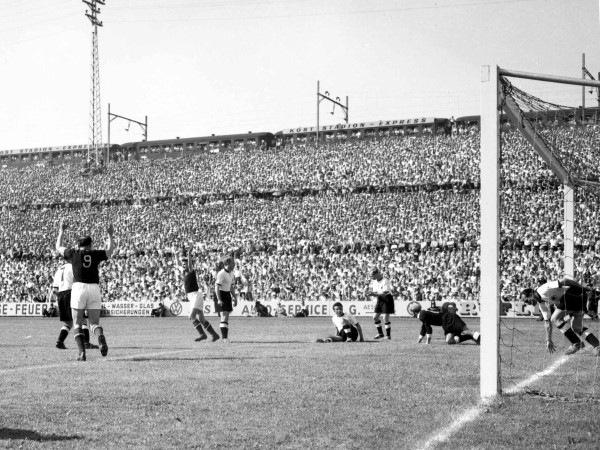 A celebratory scene, a Kocsis score in the 8-3 win over West Germany on June 20.
Thick with conquering and elate football, the team of bounty and mystique that surmounts all real and imaginary wants that lifts the gates of hearts to feeling, the Magical Magyars were marathoning among the clocks and souvenirs of records and statistical realms unvisited where no team has stepped once and were down the homestretch with the supreme goods of 27 goals (the most ever in the World Cup). Playing sweet recreation at the full with Puskás', Kocsis' and Hidegkuti's fantastic shots that promptly beat the panoply of every defense there is something special and inspiring that comes uppermost in the tournament, that there is a sort of magic of the divine gift of the creative fire that gives the team weight and magnificence and a soul of dreams.
Limitless, the unanswerable sports show set up by the little phalanx of strong scoring flair and made glorious by Puskás—Kocsis—Hidegkuti—Bozsik—Czibor, unstopped and unwarped and towering beyond measurements, makes a perfect return to the World Cup finals since 1938 after great dynastic overturns of Sweden (5-0, 6-0, 4-2), Czechoslovakia (5-0, 2-1, 5-0, 5-1), (Austria (6-1, 3-2, 1-0), Yugoslavia (2-0), Italy (3-0, 3-0), England (6-3, 7-1), South Korea (9-0), West Germany (8-3), Brazil (4-2) and Uruguay (4-2) on the tallest days who had four world titles between them they bring in the hot and thundery tournament leaving their secrets inexplicable and unreachable as before.
Helmed by history's greatest upfront line of the centered lordship of Puskás—Kocsis—Hidegkuti—Bozsik which knows the artful trade forging the name of victory and applauding scoring wind that upset the world champs there was never any more inception of greatness than there is now in the summer of 1954 that produced five best epics under the sun. In the imperial gathering of Puskás—Kocsis—Hidegkuti—Bozsik pitching forward streamlined to instantaneous stardom, on the horizon a Hungarian century-team of martial build equipped to admiration of ravishing power at its present fearful speed that swept the dial to greatness through all the battle of wave with scores sealing the lips of fate and here all teams stand dwarfed.
The huge and mighty talent-plush days of Puskás—Kocsis—Hidegkuti, three Midas-type players amid bright walks of rare imagination, spars of knowledge and prizes of ambition are ever endeavoring to go beyond their predecessors, capable of putting forth unprecedented offense that sinks the great teams, firing enthusiasms in capacity crowds, they are making their way upward through football's hierarchy and are treading in the steps to the sole fountain of sporting immortality where awe alone prevails.
Puskás—Kocsis—Hidegkuti ordain an unusual brightness as they come in bangs of wit and natural skill evincing football's zenith on a team liking an elegance of which the source is hammering goalscoring bravado, Puskás—Kocsis—Hidegkuti are the swift and majestic men of towering aplomb, the grand natural players who had been the most prolific and Puskás is the key: their combined career scoring of 197 goals would be more numerous than those of any other trio past and future on a side where a goal lost is exactly equaled by more than four goals gained.
The Strength of Major Teams On The Road To The 1954 World Cup Final

Hungary 7 - 0 Versus Top Ranked Teams With A Combined Best Form 200 Game Record Of:

155 Wins - 31 Draws - 14 Losses

World Rank

Competed Against Teams

Wins

Draws

Losses

Win %

Hungary Score

No. 5

Yugoslavia (Last 23 Matches)

1952 Olympic Title Won

16

3

4

76.09%

2-0

1944 Elo

No. 11

Italy (Playing At Home Last 49 Matches)

1948-1953 European Championship Won

36

11

2

84.70%

3-0

1863 Elo

No. 3

England (All Time Since 1863 Playing At Home vs. Teams Outside Of British Isles)

Maiden International Defeat At Home

36

3

0

96.15%

6-3

2022 Elo

No. 26

South Korea (All Time Since 1948)

Largest Win Margin All Time In World Cup

11

4

2

76.47%

9-0

1677 Elo

No. 6

West Germany (Last 19 Matches)

West Germany's Heaviest All Time Loss

14

3

2

81.57%

8-3

1957 Elo

No. 3

Brazil (Last 29 Matches)

World Cup's All Time Toughest & Physically Most Brutal Match & Post-Game Ever

21

4

4

82.14%

4-2

2037 Elo

No. 3

Uruguay (All Time Since 1902 In All International World Tournaments & Teams Outside Of South America)

Maiden Defeat All Time Since 1902

21

3

0

93.75%

4-2

2018 Elo
The quite unprecedented fabulous three of Puskás—Kocsis—Hidegkuti with the creme of their careers pushed their goings earnestly at the head of an astonishingly free, sundry command of attack that was beyond question the greatest goal reckoning side in the history of international football that throbs a live sensational game. There is plenty of glamor there as Puskás, sunshine's treasurer, the clever deviser, bestows on every game a pulsing creative energy and an exquisite and accurate poise of his left leg in resplendent command known to be the most powerful in the sport's history that he received every award a player can hope to win.
In the duo partnership of Puskás and Sándor Kocsis at Budapest Honvéd and in the national team, the innovative genius Puskás trying out and exercising his talents had made him tougher and quicker. Honvéd and the 'Magical Magyars', caught in the splendor of maneuvers invisibly pistoned threshing out very good sides in the sunlight of the greatest teams, by 1954 the 'Galloping Major' had become entirely what he was, a master of prize-winning goals flashing to elemental history who had a double natural, Sándor Kocsis, and there gathered from the air a live tradition of the greatest header of the ball who ever lived with no equal of their kind in Europe and the sports world. Puskás' intensely powerful broadsides and with Kocsis proper scores of tumbling gorgeousness cascade from his right, left foot and his head with prodigal zest that deemed them extravagant.
Tipped by their scoring consummations chiseling the ripple scoring summits, Puskás and Sándor Kocsis changed the game with such newness that the sport itself was swayed and they came to be seen or heard now leading the dreamed-of 'Golden Team' amid ostentatious talent seeking the rumor of football immortality whose sporting lineage (an early 4-2-4 formation & early 'Total Football') expressed in their style for two decades on seemed to tell the whole truth about the game. How excellently Sándor Kocsis matched and fitted well Puskás' unique style and who emerged as the Golden Team's main goalscorer rendering clear the wins and advancing the due series as the most victory-bound national player of all time of players who scored +35 goals.
Under broad sail of the dexterously sensational Sándor Kocsis, the tall bold football slugger set vivid against the tournament (scoring 2.75 goals/game in the World Cup on the eve of the finale) which rejoiced in the man's lovely, peculiar aerial prowess with an accuracy so prim by this new star in the world a complete other worldliness flourished over them. 'The Natural', Kocsis, was the new meteor of the team, the lean precise phenomenon at mastery sweeping across 1954 that year (scoring the international world-record 23 goals in a single year) and blazing the unnatural goal, Kocsis conveys the exalted team through the remembered gate of legend — now a tiger month, now another and another in the ever-opening spaces of everywhere and the new galvanized team has the makings of a great dynamic side that finds his talents emblematic.
With Kocsis leading them to a mesmerizing end it sang forth praises of the arrived team playing deliberately as giants who marched lustily past the great fame of the sport's old masters and the world's stalwarts and their abrasive iron games.
Riding the aerial and ground senses necessary Sándor Kocsis is shooting up like a cavalier man possessed putting his proud epic use to heft the team, the target striker supreme addressed to new directions has a new high gear and the hero is into the next great thing gaming for the world title. Scoring 13 goals in the last 5 games upraised Kocsis rides the teams apart baffling in such toils of ease that lead to acknowledging a new kind of superiority, Kocsis on the way as Europe's greatest ever national target striker, a new preciosity, tonic to dominant, the acrobatic craft and karma for the goal giver of summers (top scorer for Hungary at the 1952 Olympics and top 1954 World Cup scorer) is again playing summer gold on a storied wizard's gate. Imagine a long, lean, fantastic young man with fine dreams who was so very rich in talent who was on his way to becoming the greatest goalscorer of all time in the national world game, that was Sándor Kocsis.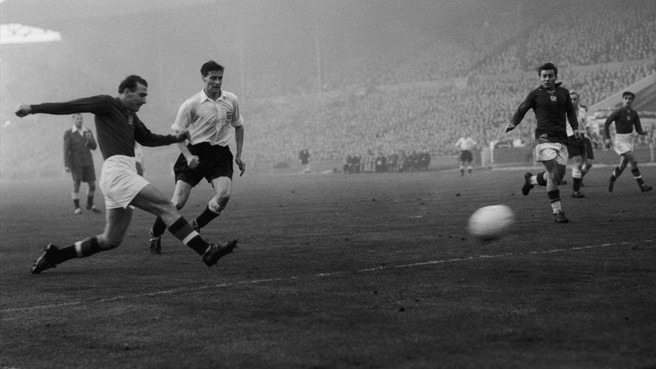 The cunning 'playing father of Total Football', the great false No. 9 Hidegkuti.
With the high playing Nándor Hidegkuti, who could mix in his own smashing goals at his bidding speed, he rigged the forward area with parsing runs as the duality of the motion cracksman in Hidegkuti coaxed out the last line of defense to extend new stretch of space for Puskás and Kocsis that leaned into the strength of the unrivaled duo — the old unquenched unsmotherable scoring heat of the Puskás—Kocsis double arts that holds and boasts Honvéd and the immeasurable national team. From a superb deep center following a sequence of movements and sleuthing the goal zone area Hidegkuti was brilliant in fits and starts to split through the middle and join the jubilant show in padding out débâcles with speed and directness (scoring 4 goals in 3 matches in the tournament).
Sometimes now and then a piercing gleam cuts through, another master craftsman, Zoltán Czibor down the sidelines past things that open. To the right of Hidegkuti was the world's greatest left-winger, the mercurial Zoltán Czibor seeing the swift above other teams who strikes awe down the flanks with his lightning end runs on the periphery and scooting obliquely ran from great space into great space to put the finish to successful plays with his smoldering quickness. Aside Puskás, Zoltán Czibor is the only other player who has scored in an Olympic Final, a World Cup Final and European Cup Final.
As by some great conductor, midfield ironman legend, the greatest wing-half in the world, József Bozsik at the peak of his virtuous powers, the uniter of here and there, the seer, the tenfold renewer with his superior physical grace as the No. 4 rallying point in the center sets about surveying the whole field, knowing every particular corner and skipping the ball to his upfront colleagues that staked their destines with ampler largeness whose province is all feeling, all observation, all vision; making advances, prevails who seemed surest to push forward with copious dribbles in mentally testing out all possible versions and impeccably passing to this side or that side with the ball's flights in all directions. He was the oak, Bozsik, the great player of ideas fusing all durable stuff of talent who artfully contrived the game from the center. Puskás himself who had played with and against the very elites of the game described Bozsik as the "greatest player I ever saw or knew". Charting and sifting out the glory from center and mapping and directing progressions down field, his game is of truth of detail which strikes all as the real thing.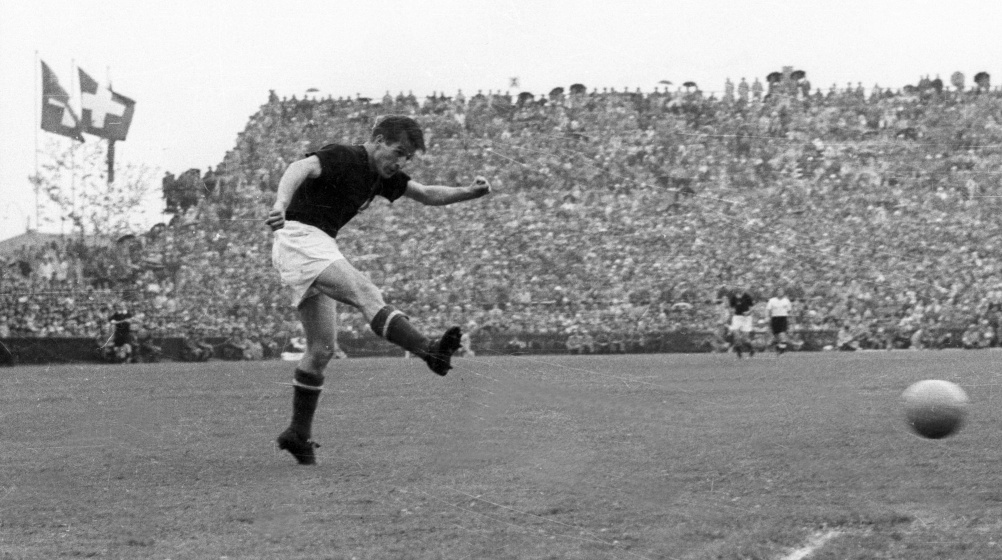 The explosively fleet mercurial Zoltán Czibor,
the greatest left-winger of the era.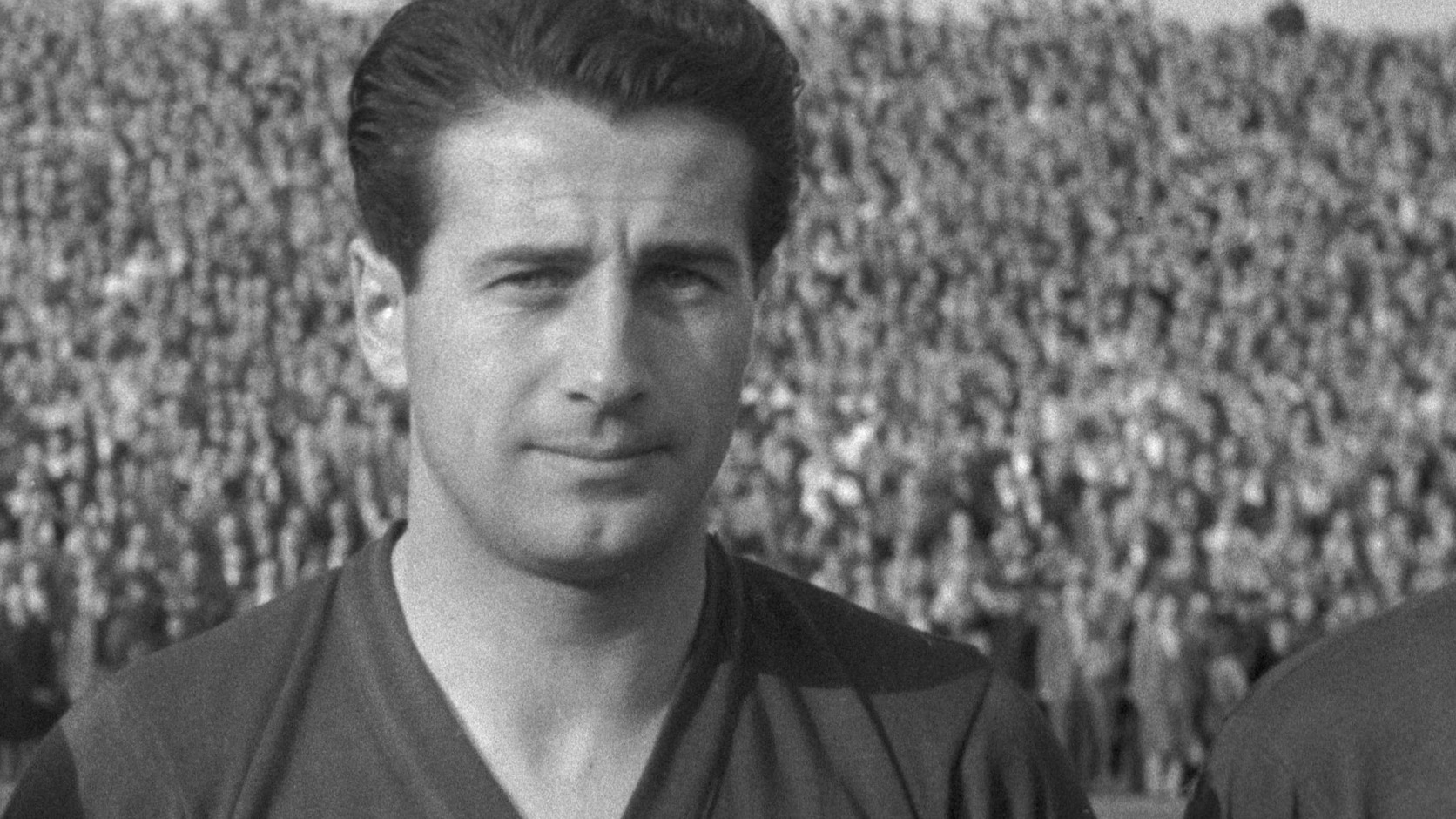 The incomparable No. 4 wing-half József Bozsik, the era's greatest midfielder.
West Germany's 1951-1954 Record In Best Current Form

No.

Date

Home or Road

vs. Team

vs. Rank

Score

1.)

9.23.1951

Away | Friendly

Austria

8

2

0

2.)

10.17.1951

Away | Friendly

Ireland

30

2

3

3.)

11.21.1951

Away | Friendly

Turkey

44

2

0

4.)

12.23.1951

Home | Friendly

Luxembourg

83

4

1

5.)

4.20.1952

Away | Friendly

Luxembourg

83

3

0

6.)

5.04.1952

Home | Friendly

Ireland

29

3

0

7.)

10.05.1952

Away | Friendly

France

17

1

3

8.)

10.19.1952

Away | Friendly

Saarland

39

4

3

9.)

11.09.1952

Home | Friendly

Switzerland

22

5

1

10.)

12.21.1952

Home | Friendly

Yugoslavia

6

3

2

11.)

12.28.1952

Away | Friendly

Spain

10

2

2

12.)

3.22.1953

Home | Friendly

Austria

10

0

0

13.)

8.19.1953

Away | World Cup qualifier

Norway

41

1

1

14.)

9.02.1953

Home | Friendly

Switzerland

27

2

0

15.)

10.11.1953

Home | World Cup qualifier

Saarland

34

3

0

16.)

11.22.1953

Home | World Cup qualifier

Norway

32

5

1

17.)

3.28.1954

Away

Saarland

39

3

1

18.)

4.25.1954

Away

Switzerland

27

5

3

19.)

6.17.1954

Neutral | World Cup Group

Turkey

38

4

1

20.)

6.20.1954

Neutral | World Cup Group

Hungary

1

3

8

21.)

6.23.1954

Neutral | World Cup Playoff

Turkey

26

7

2

22.)

6.27.1954

Neutral | World Cup QF

Yugoslavia

7

2

0

23.)

6.30.1954

Neutral | World Cup SF

Austria

7

6

1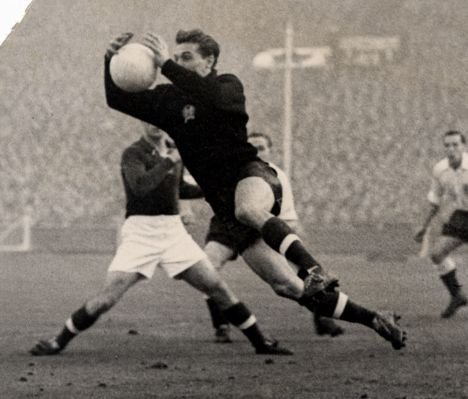 The Midas goalkeeper who won 30 matches out of 33 games allowing 1.06 goals/contest with no defeats, the revolutionary take charging Gyula Grosics.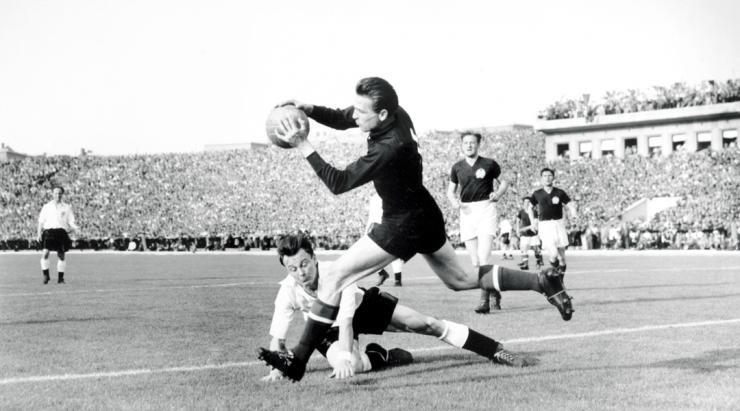 Bright with well-studied game and moving with perfect halepoise the six goal-starting men in Zakariás, Bozsik, Hidegkuti, Lantos, Lóránt, and Buzánszky for the steady replenishing of a new attack the Golden Team outrivals and passes the strong invigorations of the world's elites in all directions to the glad clear sounds of the most goals in World Cup history.
Lest the pure feeling should decline, conspicuous on the emerald fields of praise where power has lease from August 20, 1947, the strong shadow of their defensive wing lead by Grosics in goal, a Midas-type player undefeated all-time in 33 matches (allowing 1.06 goals-per-game) where a mighty will stands with the restless pulse of care that encouraged his colleagues in their own grandiosities at the bow.
Like something long preparing finally arrived, stepping free and elastic, for Puskás, Kocsis and Hidegkuti the scores truly and steadily rolled. Of the wear and tear and iron games weathered with Brazil and twice world champion Uruguay played expensively with injuries, the nonpareil Magical Magyars rolled their broad surge scoring an onslaught of 6.5 goals-per-game full of magic and secrets between the most guarded goalposts on earth and into the mythical 1954 World Cup finale itself.
Little wonder that in Hungary the authorities as a matter of state also came to show their appropriate gratitude to apprehend the immensity of the arriving world title triumph. Foundations of large statues to stand in vast augustness of some seventeen persons were carved out for the glorification of the world-beating footballers. Two million stamps were designed to be pressed into circulation commemorating the victory, missing for final imprint was the scoreline by which Hungary would go on to win.
-- Eve of the Match --
The eve of the all-important Final was hardly serene and restful, and the Hungarians did not find themselves in harmony during the night for the essential tomorrow. The Hungarians had a much harder time getting to the Final in facing two incredible all time legendary epic matches that were soon not forgotten in treading the half-savage measures of No. 3 Brazil crammed with battle and in the tiring herculean bout with twice world champion No. 3 Uruguay. The truth was that the welter of the aggressive, bumptious clash with Brazil and the two fifteen-minute periods of extra-time with Uruguay three days later saw the team not a full picture of wellness.
Yet a larger, unhelpful disconcerting showed up just outside their majestic Krone Hotel at night. A second kind of in-harmoniousness was affected by the cacophony of Swiss brass bands practicing inauspiciously for the Swiss national brass-band competition complete with the uncalming loud din and rancor of parades, noise and music wafting and billowing through the night that seemed to live on until two o'clock the next morning and denied many players the rest they needed.
On Hungary's wings to provide width on the morrow: Mihály Tóth on the left and Zoltán Czibor was acquainted with a new station at wide right-wing where he had never played before to stress left-back Werner Kohlmeyer who apparently suffered from a lack of pace. Many times agendas were set for the team by Puskás in selecting who to play in matches such was his influence with managers who were probably in awe of his talent. All will not agree with Sebes' decision. Sebes' selection of Mihály Tóth over talented right-winger László Budai was not a popular or inspiring choice with Puskás. Budai, dependable as they come, had been part of the most prominent landmark matches and carried the veteran experience but according to Sebes he looked exhausted and needed the fresher Tóth who had merely played in 4 international games while Puskás felt he needed Budai's presence as a vital source of supply from out wide.
Many years later in 1981, the Hungarian player Sándor Karoly (who was to assume Zoltan Czibor's role at the left-wing after Czibor's defection) commented on the peculiarly ill-chosen re-positioning of Czibor to the right flank in the Final: "What happened? What happened was that on the left-wing was one of the greatest players in the world who had never played before in his life at right-wing. Never. How this fully uprooted the whole team cannot be described."
-- Sepp Herberger & Fritz Walter --
Sepp Herberger was appointed national manager of the German team in 1936 during the high point of Nazi Germany, himself perhaps out of careerism joining the Nazi party in 1933. Later rehabilitated after the war, found himself back at the top post, taking on the re-building job of the West German national side in 1950, a position he would hold until 1964. Always one to dispense pearls of wisdom to his players with the desired discipline he built his national side around the significant talents of one of his best players, goalscoring midfielder Fritz Walter.
Toward the end of the war in 1945 Fritz Walter in had been in detention in Transylvania and was on the verge of being transferred to a Soviet gulag with the rest of the general German prisoner of war population when an act of providence liberated both his life and destiny to captain the 1954 West German side nine years later. A Hungarian spectator with a fondness for the game had seen Walter play a starring role during better times in 1942, on May 3 in Budapest in front of 40,000 in Hungary largely untouched by the war representing the German national team managed by Sepp Herberger and had scored two goals and three assists in a stunning 5-3 comeback win after being down 1-3 to Hungary at halftime. West German legend Fritz Walter later said of this fine German war morale-boosting 1942 match in Budapest: "That was the most important game of my life." In 1945, in the internment camp Walter was selected to play in a muddy pick-up game between Slovak and Hungarian guards and a Hungarian teammate saw a recognition in Walter of the star German player he saw in the Budapest match in 1942 as a golden memory mused with vivid recall. That Hungarian spectator now turned camp guard misdirected the Soviet captors to the notion that Walter's real identity was Austrian and that he was not a German national that enabled Fritz Walter's full life's rescue.
Head manager of the fast trending strong West German team, Sepp Herberger feeling the moisture of the wet pitch prior to the 1954 World Cup Final. It was initially debated to reschedule the match because of the field's condition.
Herberger fashioned messages of stamina, strength, diamond-hard determination and preparedness that very much took hold in his players, who would, in turn, forever sculpt and hew out these exemplar virtues on the soccer field. West German players were beholden to Herberger, their headmaster, puritanical, a monumental mason of character and team-building traits his responding players living proof having now achieved a reputation in Germany akin to that of an eminent war strategist. The manager studied the great Hungarian team until he felt he understood them and held insights of his own. Herberger had travelled to see the wonder game of the age at Wembley the previous November only if to help him weigh his judgements and the Hungarians' great 6-3 triumph over England had been put to film. The Germans put in homework in pouring over meticulous footage anxious to do better than the English. In the meanwhile during their 3-8 defeat at group stage Herberger absorbed what he wanted from the game to make furtive estimates of Hungarian strengths and appraised tactics and came off ever more informed than before.
It presented that West German manager Sepp Herberger, the Byronic hero of the wonder-working hard Cinderella West German team, Herberger, that iron-nerved master of ceremonies whose name would later become, for many, shorthand for the obsessive monomaniacal manager who gave chase in unyielding pursuit for the world championship title and his West German team, then a step-child to good fortune, would run its course against the planet's best team framed to their finest hour of the three excelling legendary mid-career stars of the old mighty incomparable nexus of Puskás—Kocsis—Hidegkuti down the center forward line around which no defense could be designed.
Sepp Herberger aligned his revitalized though less gifted Mannschaft team in marvelous form well into peak condition as a team unshaken by the shadow of fatigue that had gathered on many teams. Their steering board flowed through four scoring men: Max Morlock, Helmut Rahn, Hans Schäfer and Ottmar Walter, the five of whom had scored 15 goals in their 5 matches. This new West German team would include six new players, all main regulars, and the result most likely would not revisit the earlier rough sketch simulation débâcle (the 3-8 loss on June 20) that served as a sort of raveling out of Hungarian strengths for the researcher in Herberger. The considerable range of set down by the powerfully sweeping Hungarian 'Golden Team' that aimed high both at precision, making space and elusiveness, a character that often made their game very difficult to cope against and tediously required of Herberger's eleven the most careful and informed attention in the face of the preponderant Hungarian sports juggernaut force that irrupted 32 goals (6.4 goals/game) past very strong sides in their last five matches.
-- The Match --
Wankdorf Stadium was charged with an electrified atmosphere under a tight Swiss police presence. The Germans' team bus that preceded theirs' received passage inside, the Hungarians' team bus was obliged to park outside the venue with the players having to wade through heaving crowds to make their destination. That left manager Sebes explaining to police at the stadium gates that they were one of the match's arriving teams and was met by the heavy end of a policeman's rifle butt in a heckled and graceless incident.
Much lore had grown around Fritz Walter back in Germany for his personal drift to thrive at his best when rainy weather were at issue and this aura would be present again. It was the very atmosphere where Fritz Walter goes best about playing his finest — 'Fritz Walter Weather' had returned. The rains on the playing field would radically alter the game's complexion as the sodden drenched playing surface would conspire to soak up the true pace of the Hungarians' superior technical skills, confident swiftness and action orientation whose beauty in playing mannerisms would wane by some shades.
Gorgeously arrayed at the front with a protecting defensive line competent to praise, hundreds of goals endow them with buckled teams and they have blown a highway to tally a miraculous prophecy. Outbidding all in their fitly appointed destiny they are at once amazing and fix the emblazoned zone near the West German goal and start the revisiting scene inside 8 minutes (Hungary had defeated West Germany 8-3 in their worst-ever loss at group stage where Puskás was injured), the encroachment of that old débâcle with two goals which also stands symbol for the finer achievement, the +20 goal World Cup differential.
It was July the 4th and World Cup title games are rarely shaped in such perfect good starts as the one Hungary began in the 1954 World Cup final; they broke across with offensive dodges to and fro with the giant détour of heres and theres and a thousand subtle kinds of moves and counters, mix of passes and the strike of triangles they run the summit of the game to the mythical record and unbreakable athletic barrier — the +20 goal World Cup differential — they were men of action rightly displayed and the game has not anything to show more fair than they finding crested glory in the 8th minute and a 2-0 lead by Puskás' and Czibor's goals to the beautiful purplish weight of victory everywhere in the air.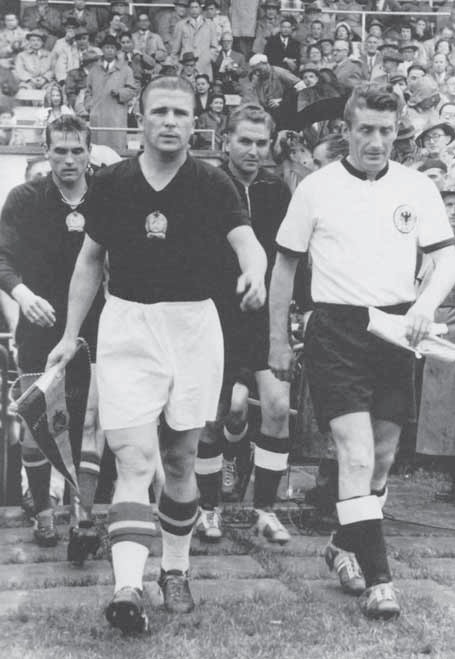 The great Puskás, who had scored 67 goals in 55 matches
leads out the highest ranked team in history and Fritz Walter
in the highest rated match of the 20th century, the seminal
and most consequential and important title game ever played

.
In a herculean contest of genii against West German manager Sepp Herberger's cold tactical measurings as if harnessed by magical football kings in storybooks they break on the motley company with an intensity to ravel out the stout amateur team over long Swiss ground that Czibor's goal opened the match's sunset by the 8th minute. In the last athletic reality, in a pattern called a footballing battle for the world title, West Germany against the metaphysicals, the unstopped 'Golden Team' juggernaut now volleys through them in its very breaking to be the greatest ever by the players of subtler advanced substance.
József Bozsik pressing out from the center in attack and defense crosses the forward sequence inside and early in the 6th minute found Sándor Kocsis' uprush who was inside the penalty box and who let loose a booming belt to the left side of the net. In mid-flight the ball bounced off Horst Eckel's legs and sent the rebounding ball wide left falling there to the right lanes and fast sparks of soccer's inhabitant genius who is on the spot as though by magic whose presence was the sweet income and who has one kind of everything in any well-run contest, the prize producer Puskás' prodigal left leg's exactitude and muchness. Of old sure knowledge the legend had returned. Puskás with clinical art whanged in the first score from a tight narrow lane in front of goalkeeper Toni Turek to roars of open joy to those listening on radio to drive in the speediest goal in World Cup Final history.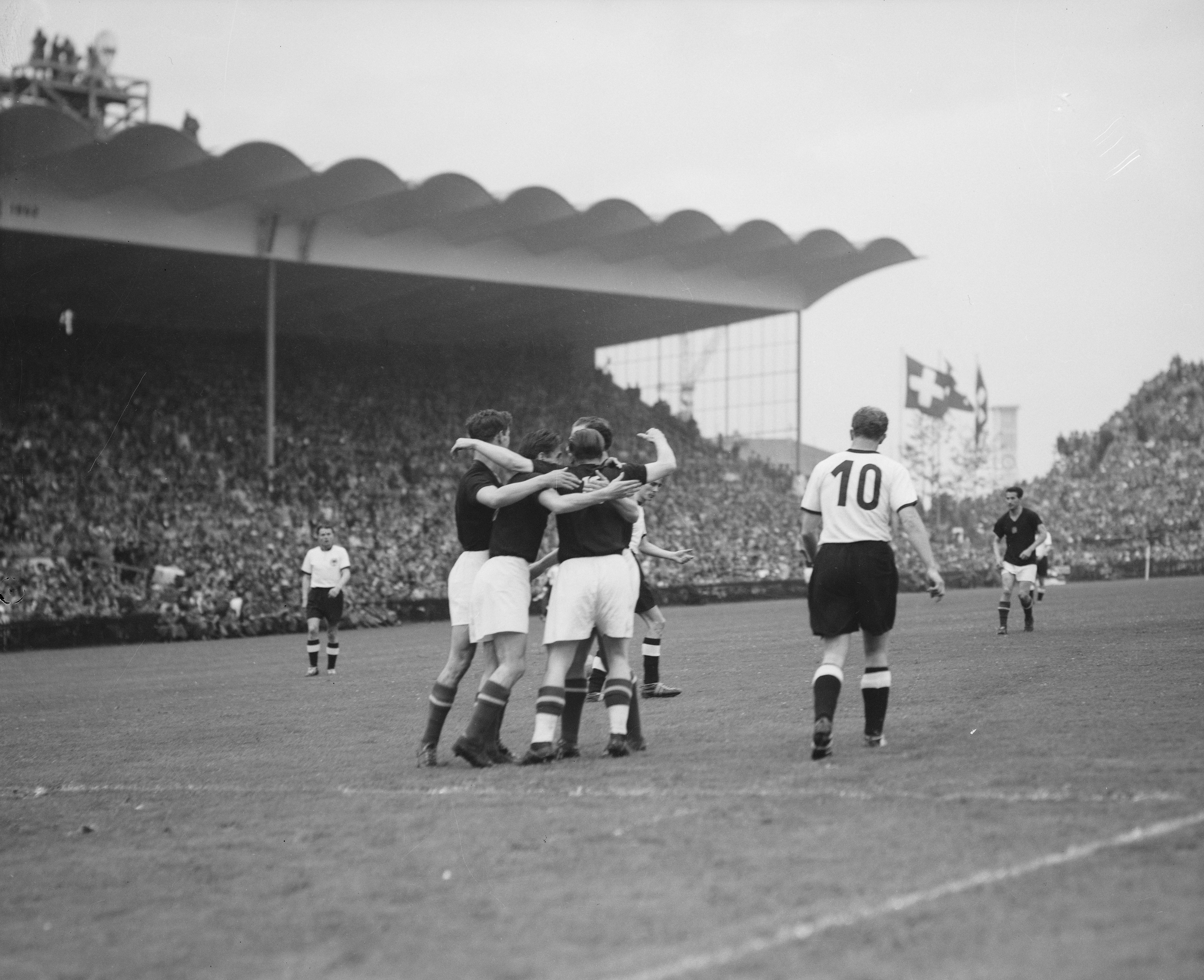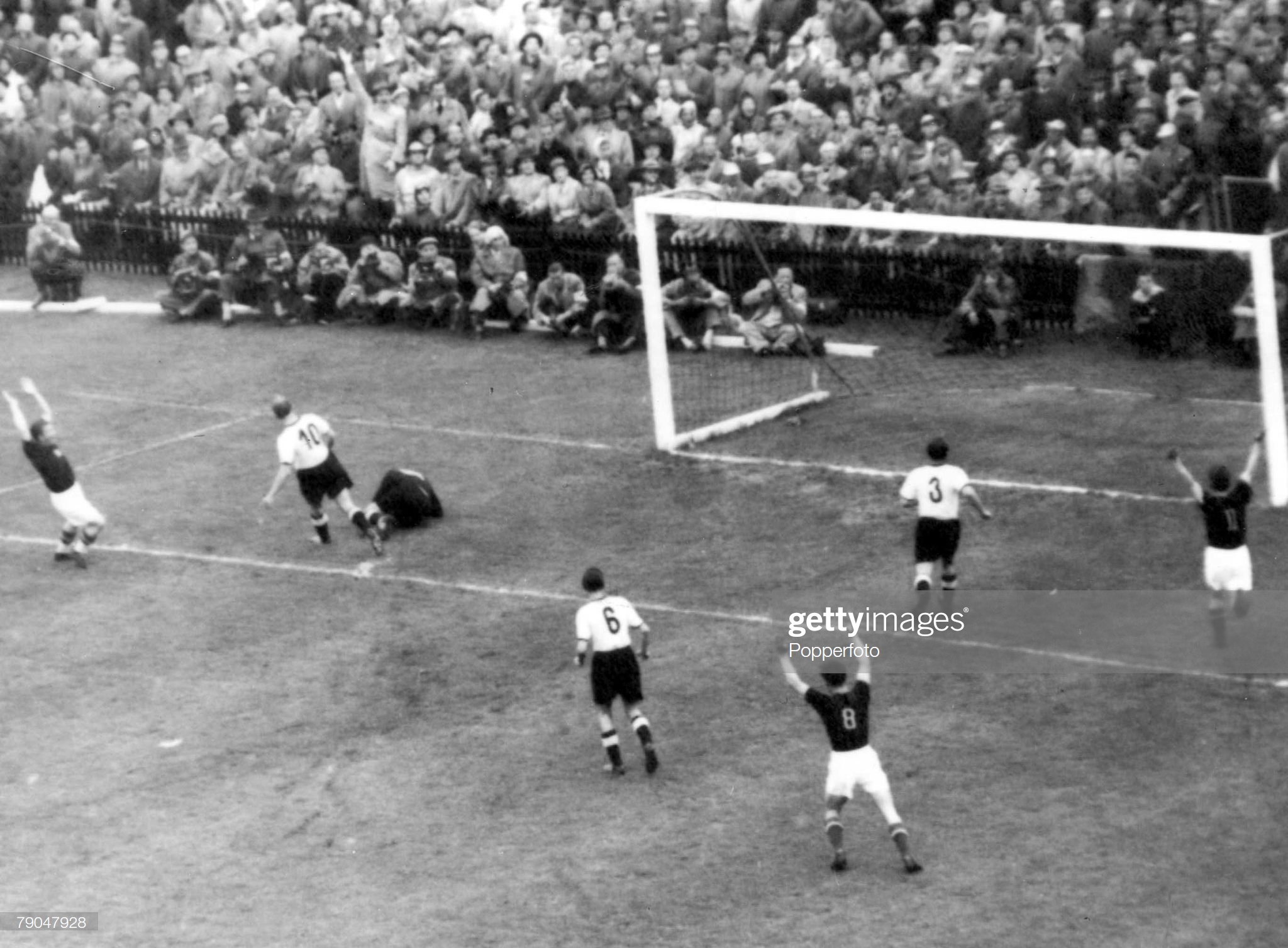 Hungary 1 : 0 West Germany 6th minute
(Puskás 6')
It took the Golden Team less than two minutes to act on the lead and open the Mannschaft's richest nightmare in the testing hour, a gathering of all fears for a nation of sixty million listening on radio made its return, a goal that sets the given inevitable thing of victory easily before the audience.
He who had become the ace goalscorer of Hungary, Sándor Kocsis is here and everywhere there again, in the West Germany penalty area doing hard battle for possession and was fast approaching the six-yard box. It was a much-stressed Kohlmeyer who thought it wise to back-pass to keeper Toni Turek to reset the match in the face of such a foray. Formidably menaced by Kocsis, Turek resembled a badly nervous keeper and a momentary lapse of coordination by 35-year-old Turek caused the slick ball to be mishandled as it fumbled loose just inches from his hands. Perceiving the uncollected gift was Zoltán Czibor who sprung it free into the open and wheeled around to get square with the vacant net and roll the ball into the empty goal. Czibor ran to meet his compatriots his right arm raised in buoyant elation with the second goal coming inside eight minutes blazing his team to the finish line with the enormous moment released.
West Germany seemed lost through ambushed senses and in the orient of the two thick-and-fast scores. Strung to a vast early precision, the grand concord Magical Magyar engine was rounding the 1954 Final with bolts of scoring melody and was getting to be prodigal and surely uncontested now. The game prepared by Czibor's doubling and anticipating a West German loss, the huge crowd brooding the Magical Magyar scoring formulae again, there is a dawning understanding as truth rides upon observers, match correspondents and journalists: 'Hungary would beworld champion in 1954 and they will rise up the greatest by morning'.
At the peaked margins in the scheme of new exhilarations and new amazements that all the sports world knows, the velocity with which they aimed at the craft and the art that crushed the density of very good teams they roll towards something overwhelming, elemental, historic in a ring of athletic prophecy. The fabulous Golden Team was considerably far, and the world championship game was turning slowly into gold. They were deftly voyaging where no team had gone before into the sure en-winding arms of immortality amid another swift realm of rapturous scoring football.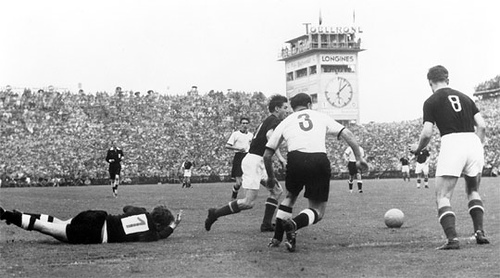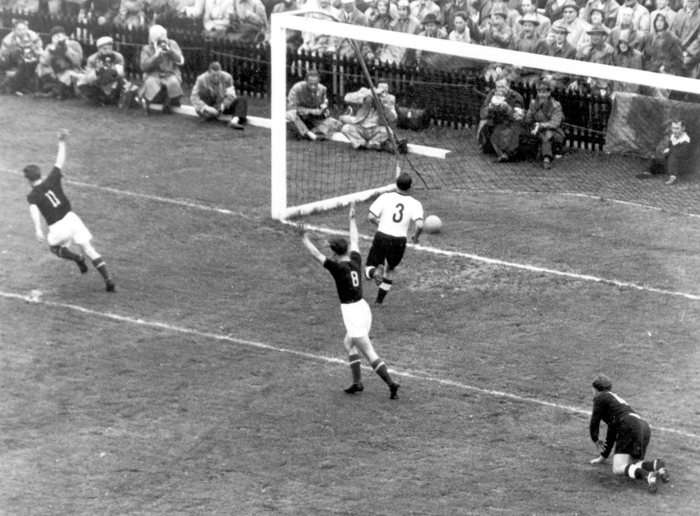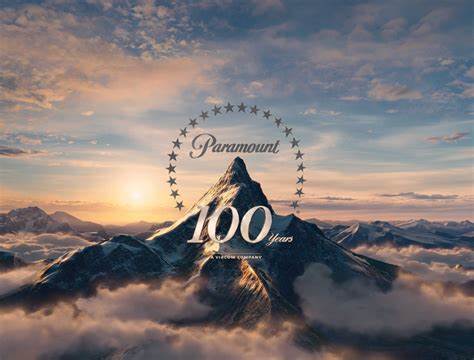 Hungary 2 : 0 West Germany 8th minute
(Puskás 6' | Czibor 8')
The Zenith Paramount Moment: + 20 Goal World Cup Differential
But over many miles of front the Mannschaft came with such a strong increase in no greatly different way from the two other world's No. 3 teams they have just faced. There is another team, rather a far better side than they have met before whose recent big wins show them strong, a new West German team in earnest who followed the plan utterly made of hewed out endurance playing the lengthened game like the newest of the great for flashing gold.
They had faced a Marathon of foes that wet day and are welcomed by a difficult music. The arresting heat of the rain had increased in the second half. Europe's most prolific ever national target striker, Sándor Kocsis in the year's sports rapture, in the matter of his aerial prowess, eager for flight, made for victory was there and set up the first two scores who drew the double coverage that followed from every more or less quietly awestruck defender, but injured Puskás, the world's greatest player, engages the West German line alone.
A Defining Moment
The un-whistled flagrant mid-air rough interference tackling foul on goalkeeping Gyula Grosics by Hans Schäfer in the 18th minute that brought down Grosics to the turf. The ill-guarded goal was scored upon by Rahn seconds later to re-make an ascendant 2-0 Magical Magyar lead into a heavily contested 2-2 match in the highest rated match of the 20th Century, the 1954 World Cup Final title game.
In the scenes most necessary the radio announces Kocsis in space but Kocsis' threatening sensation, the lionized striker's singed sure header hit the crossbar. Hidegkuti took a spot just inside the West German penalty box, held it fast for the positional thicket and rich confusion of jostling players to be right and kicked it hard as he was able through a crowd of players, but the ball violently ricocheted off the left post. Late in the game Hidegkuti valiantly struck the right upright and drew a momentary sight of the West German goal's violet doors again and seemed to have just missed the perfect goal as the ball struck goalkeeper Toni Turek's arm and Czibor's kick was blocked on the line. They are a legended team already but now hit a certain accelerated West German team of rippling strength and measureless will power riding the latest most incredible successes fused possibly by the black inimical power of stimulants who break out the opposing music.
Hungary 2 : 2 West Germany 18th minute
(Puskás 6' | Czibor 8')
(Max Morlock 10' | Helmut Rahn 18' - bad officiating judgement in ruling goal valid after rough mid-air interference tackling foul on keeper Grosics )
With what hints of greatness the West Germans deal in two scores by the 18th minute to level the game, the 2nd West German goal trespassed a surprise past a flagrantly tackled Gyula Grosics who was on the turf and could not guard the net. After a time when nothing for scoring has happened for sixty-six minutes of stultifying high drama and traded excellence, panache on panache where the contest between Puskás' 'Golden Team' and Fritz Walter's West Germany equals strong there was no fault in the massed kick by Rahn in the 84th minute to break the stalemate in the stubborn hour and take the lead 3-2, a lucky straightway and very fast hydroplaning ball that hit a slippery surface past Grosics' fingers to the right low corner, the "goal that made the German nation", the glorious goal that is of many years that helped hearten and inspire a new self-possessed confidence that was the myth-making goal of a whole generation in West Germany.
Unforgettable West German sports hero Helmut Rahn, who saw a rare chance to draw definition on Gyula Grosics' goal had momentarily split a seam between two defenders and with his nondominant left leg rocketed an unscathed low shot with perfect power into the bottom part of the right net past the viewing chagrin of a young Sepp Blatter, a 18-year-old Swiss journalist who supported Puskás' Magyars and saw the titanic lucky goal from behind the Hungarian goal section. Mr. Blatter would later become the President of FIFA (1998-2015) who founded the FIFA Puskás Award in 2009.
Through the saws of rain and the drenched playing surface rank with numbed wet earth that roughed up their fluency and pace they hover but will not fix the game, the catalytic tapestry of the team slows down to favor the West Germans who put on the revolutionary new Adidas racing shoes of separation with a charm that tops the parlous pitch and now lead 3-2. The technical footwear innovation had reached the West Germans before the match and this secret equipment would spark added lease into their game to become a sort of leveler of contrasts as the shoes were eminently suited to interface with any playing surface. West Germany has re-awakened and Hungary's key heavers unluckily cannot make it cohere to victory for sixty minutes and who move not as they did. In such heavy machination of duress and stress of the elements and weather they confront a rare concert of the tangible running and passes of the West Germans who tore through the rain and moistened field.
This day the West Germans are jetting the stuff of far more potency and luck than any other match in their history who seem active and hale in the biting rain and who wore fantastically well on the gritty sodden pitch; the new Adidas pioneering shoes thoroughly re-translated the match for the West Germans and offered a revealing look at the manifest advantages of brave traction surety and sprightly team movement that stood up to scrutiny on the field's slippery slope. It was perseverance dancing with the incredibly solid team that owned everything this day with roads forced from exact meters of Sepp Herberger's new strategy. It was his will to take heroic risks that settled the place of Herberger in the imagination of his supporters.
All of the Magyar team's unnameably profuse attacks that won out in wise assaults of forty-nine months seem imprecise and dulled in the low afternoon and now curve and roll with the heave of impulse amid match fatigue. Over and over the Golden Team held possession and the occupation was steady with a headlong intensity in the West German half but the goals were not coming as they used to, and they were not possessed of the usually remarkable precisions that wet day. Pounding the gates of an amazed West German castle of goalkeeper Toni Turek by the most accurately transmitted team, the Magyars had fiercely poured the inaccurate fire, 26 shots on goal before the final whistle. Bombarded, yet Turek stand in the game of his life bravely saving all the bitter incompletions on goal.
With a dim outline of chances with the deepening of time, the greatest team in the world was poised perilously on the brink of it to the competent hard team. By and by the diminishing charms of nature around them prevailed and under the gleam of rain they shine out their last to the West Germans who seem burnished with new stamina possibly on singularly strong stimulants and move with a rugged engaging ease. There, however, was one vividly great player of unbounded urbanity with an air of the esprit who still pursued the team's luckless fight against the elements and the hard grey sky. At the call of stranded time many thought of the old appeal in Puskás, thinking of Puskás, thinking there must be Puskás to redeem the hour, and it was moments like these that legends get re-made.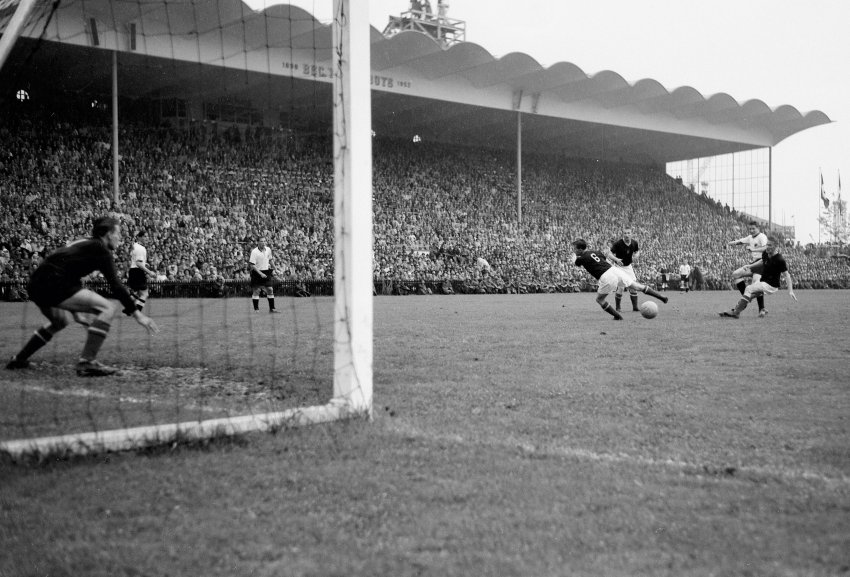 Helmut Rahn's perfect and lucky scorching low fast groundball breakthrough score in the 84th minute called 'The goal that made the German nation'.
In the 87th minute the West German midfield had been rocked out position that invited the rending and the latest Magyar playmaking shuffled into the Mannschaft defense more more time. There is a redoubling of ardor and haste in the final minutes and it again came together powerfully, convincingly before they gave up the Golden Team's proud histories.
The world title match has the greatest player in the world in it who does an off-the-ball maneuver. The captain who famously burst the dam and stiff history of ninety years, Puskás had turned tunefully off center to find a clean edge. Mihály Tóth was the known source and sender who fired the relay to Puskás and gave him the lead gift, the through ball out wide where alone Puskás was moving airily in the gigantic game turned sharp with midsummer's rain and the unbowed fatigue-resistant opposition and at the brink of midfield he starts it up. Just at the end with many feeling the absence of an adequate Magyar scoring return in West Germany football's paradise of the real with a kind of stupendous triumph approaching, when the attentions change:
In a situation of amassed adversity — time, weather, Puskás' injury — for the West Germans expectations of an imminent eternal glory, but through the fists of hard space and penned in at an inglorious spot at the berg of doom there was Puskás and there was no one like Puskás and he knows how to jazz it.
Out of nowhere, at last, the lumière, 'The Galloping Major', a wonder putting out from long marooned roads Puskás conjures a comet's flight and makes in an amazement of resurrection the final marvelous act. The wisdom-fruiting boundless main line thinned today, there was one more drive of firm endeavor as Puskás seizes the descending team and blows grit into his stride. Puskás, who loved to possess the ball, magnificent among the stars, is running free and clear the played-out theater of midfield at his back.
Turning an inner courage for his ankle's injury and picking up nice speed to the inside angle amid the high slippery slope and the sting of rain Puskás could see no defender in front of him and he had the greatest team in the world to himself on a long closing run on goal: the legendary 20-yard run flexing ample speed of proud restraining purity upholding the creation, all the thousands of hours hours held perfect since 1950 worth enough for four years' indulgence here, a Danubian reverence bringing another country with it who assumed some epiphany within all, the wet leathery heavy ball the rolling gear of the magnifico starched by short time who takes it up brilliantly. In open space, concentration and taught discipline came into being for Puskás as he kicks the wet leathery ball upfield in cherished possession.
Zoltán Czibor's fateful colliding hard run into goalkeeper Toni Turek late in the game, seconds later Hidegkuti struck the left upright from a steep angle.
Thinking of the young athlete nine years ago while a student of the game, the days for playing, the hourless afternoons for training plays on the clear viol of his memory when the four-year inconquerable team's rhythms burned alfresco in deep physical enjoyments with the athletic glories erupting that fashions fun, feast and freedom, the weather now usurping the super-team questing below victory, in the grit of the absolute occasion are carried by the 'Galloping Major' to the massive tying goal. Amid heavy attitudes Puskás issues from changeless prospects and hazards in a sheen of rain and caught declining fortunes head on over the imminent denouement to win back the match that anchors both teams to the scene's limits. Linesman Benjamin Griffiths' offside flag was not raised.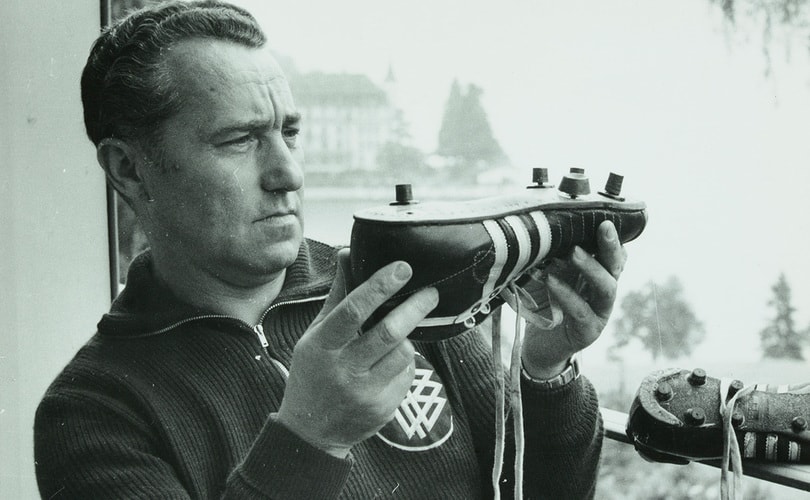 Adi Dassler, founder of Adidas and his revolutionary shoe performance invention that helped turn the tide in the 1954 World Cup Final.
Dashing on and thinking sack with the spirit of possession, his companions, the greatest football company one still alive in the cold fruitless seemingly unalterable minutes can see Puskás' decisive last action of the match from distance to not leave the immortal match unflowered at the brink and held them in safe summer. All that is conquering cleverly presents itself again to goalkeeper Toni Turek and here came everything, all that is mastery in superb football dreams' long dimensions against all resilient armor, la lumière with the kindling look, the emperor of the international goal, the record-breaking exemplar on an irrepressible scoring advance his donnée glory bound in one evanescent dash with ecstatic aftermath should he score.
This was the artful history-making world the monumental 20-yard run uncatchable Puskás guards with the fast perfection of his ways as the lustrous world star jaunts in the penalty box. Puskás' long 20-yard stride strikes the aerial spirit of the crowd and envisaged on new monochrome live television for millions Puskás races with the whole ore of heroic energy in his legs for the Final to be restored that admitted the testimony of a living legend — the lively understandable spirit, Puskás, his mind leaping with promise clutching here the final minutes on his stream the whistle of victory the scene taking the air majestic.
When the football world had turned completely upside down the outlook wasn't brilliant, but uniquely from a fine old eye the last unconquered frontier — Toni Turek between him and goal. It's atop the left side of Turek's 6-yard box where the 1954 World Cup would resolve in one sharp breathless instant vis-à-vis Puskás. North of victory 3-2, Toni Turek sorties out to put the final seal on the intermediate realm between winning and the incoming Puskás leveling the score, but it was all too fast for Turek who was beneath the knower's arc as Puskás' representation of the greats takes its last stand. Between a sagacity and a clear caressive sight a plain sense of things unhooked a window in his vision and he discovers a place for the genuine. Too immense for Turek, just big enough for the ever-tightening spatial corner underneath the savior let it go for the better under Turek's blocking tackle before the players' impact on the parlous field — it rolled off the improbable end as he sends up the ball's strict articulation around Turek as Puskás barrels downs and clinches his decision to shoot from a difficult angle while gliding on the wet lubricious pitch past the blocking sortie. The whistled tune of the gold visit in the sliding goal was true!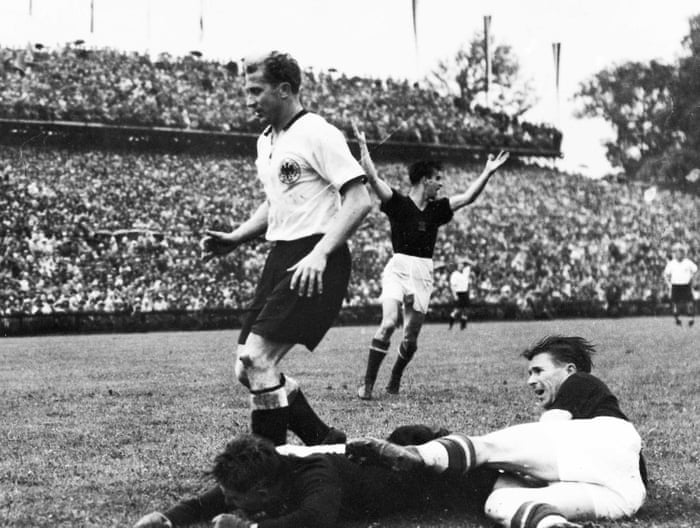 The perfect goal was perfect Puskás who had done something immaculate and had achieved the grand stroke as solid seeming as any; under the rain broken sky, out from all their struggle with redemption battling adversity, fighting time, injury and perhaps the referee's complicity, the man who provided the lead to advance across the warp and weft of the old sport to claim the new game who kissed the team to novelty and celebrity and voiced the world's absorbing team had held all the men's treasures safe past the always gripping defense, past the last line, past the very man who had humbled them with a smoothness to the simple recognition of linesman Griffiths that told of Puskas' leaning miracle.
Benjamin Griffiths' offside flag was not raised all along, and the referee Ling wished to legitimize the goal. In the shadow of his great unrehearsed deed Puskás had with one kick dealt the game anew and in that enormous sense had dealt a winner. Struck awed by his late goal Wankdorf Stadium burned a wide exhilarating sound, the golden din of the past resounding in his ears and everyone's gone to the center circle. Legendary György Szepesi's voice crackles with joy on radio. The Budapest loudspeaker booms redemption. He was the total image of determination that saw Puskás the signature of all things in the Final which is remarkable in one case as the other.
Hungary 3 : 3 West Germany 87th minute
(Max Morlock 10' | Helmut Rahn 18', 84')
( Puskás 6' | Czibor 8' | Puskás 87' - wrongly denied for offside after one minute controversial sideline consultation )
Of those great master European elders of the game and Puskás' second goal imposing his separation, it was the outer voice of destiny and he was the single greatest scoring artificer in the world. These shape the legend that was Puskás and it was the magnificent cause of being 'the Galloping Major'. Puskás again was the constant and invariant star in the big elemental act with unaccosted grace. Glory could still re-whisper itself to the hallowed player, Puskás, or even make of him the greatest player who ever lived.
Breathing into them heroic recuperative life with Puskás' second goal the team were already back at the center circle awaiting the restart with Puskás pushing the score back to plumb at 3-3 and heading into extra-time almost a full minute after the goal. Some noticed an unusually long meeting on the sideline between referee William Ling and linesman Benjamin Griffiths who had not raised his flag during the action's duration. The dense talk centered around Puskás goal and its merit was much argued over. The debate was while almost a minute elapsed according to Puskás' own testimony.
Perhaps seeing the 1954 Final from the conflicting prism that defined the Cold War era, in a controversial act that both defined and divided the title game by underserving the equalizer, Benjamin Griffiths in the event signalled his ruling and the melancholy moment will remain when he eventually raised his flag for offsides to take a team's victory from their achievement, the match's second wrongdoing in officiating as many had claimed with now two goals factored in West Germany's favor. What lost eclipse of history. Many eyewitnesses claimed that the referee was wrong, including German reserve player Alfred Pfaff (who would play against Puskás in the 1960 European Cup Final) who was on the bench also felt Puskás' goal came by honestly. Fifty years after the match, footage evidencing that no offside occurred surfaced and was first shown on North German regional public channel NDR in 2004.
Hungary 2 : 3 West Germany
Exulting gigantically worldwide West Germany is re-made. Immediately after the match's conclusion West Germany launched into a season of indescribable joy and ecstasy for a poignant period in the summer awash in a re-discovery of self-esteem and pride framed around a championship level derailing in football thought of still the greatest in World Cup history. In official news of the ways things were, in a huge drama célèbre, Sepp Herberger, who flew in the face of presumption and whose destiny was mild in 1954, led his workingest team against whom the championship match was rapidly sloping against being two goals back to finish fantastically to achieve a fabulist's victory with so much circling suspense to beat one of the greatest ever sides in history against whom no proceeding team and very few future national sides of similar talent caliber could model against.
During this period, West Germany was a divided, distressed war-fatigued country with a remoteness in Europe that drew measured benefits of the Marshall Plan laid down in the war's aftermath with the aim of a coherent reconstruction program and the rebuilding process was slow and difficult but seeable and suddenly en route in the summer of 1954 something extraordinary and wondrous, a miraculous vision south of the Swiss frontier had appeared unexpectedly when it could have very well easily gone all wrong when facing highly problematic circumstances and odds of succeeding at all. More importantly, it was enacted in front of an astonished and critical wider world to witness through the live visual narrative of television and be deliberated on for many long decades. With not immensely popular players and little known to the outside Sepp Herberger had taken his nation on a vast and incalculable unforgettable journey who amazingly danced out of the siege and surpassed all the hard circumstances for overcoming Puskás' incontestable 'Golden Team' was a tremendous obstacle. West Germany waked to an enormous morning, of a nation brilliant after the titanic game.
The 'Miracle of Bern' was the seminal event for the newly constituted Federal Republic of Germany. That day forward in a context of real significance a decisive opening verse that led directly to an economic West German re-genesis that touched virtual all aspects of living as a feat that outleapt dimensions of sport to enshrine into the tapestry of national historic heritage. For West Germans the great victory held dear the highest ideals and aspirations for German soccer where innocence could be recovered with a hold as their greatest ever sports performance. For millions the ever-fresh source of the phenomenal victory reinvigorated new spirits that one could lean on amid the harsh lean austere grey years in the country's overhaul where an awaking sense of purpose in the Wirtschaftwunder (Economic Miracle) was initially keynoted by the win in Bern in 1954. The heroic and storied 'Miracle of Bern' was embedded into socio-national consciousness which West Germans could view with high morale and confidence in the tough crucial moving postwar years. The miracle win is identified with a oneness by all Germans of a new rebeginning that most German schoolchildren can fondly recite as a founding legend and high point in the formative days of the West German republic and also seen as a miniature universe of rising postwar German potential.
"In one 90-minute match against Hungary, modern-day Germany was born." - Der Spiegel.
Although official hindsight accords a perished mastery to their performance that year, the appraisal saw the Golden Team put 26 shots on target bettering the 15 shots by the West Germans that stood to credit the thorough game that Hungary gave at the 1954 World Cup Final. Two of West Germany's goals came by way of wet turf conditions and Rahn's first goal was illegitimate in retrospect. A difference of two scores badly officiated, Rahn's first goal that was allowed to stand after Grosics was tackled mid-air by Hans Schäfer and the unpardonable withdrawal of Puskás' second goal proved too costly to overcome and it would only be more than fifty years that some of the other real untold reasons long suspected by many started to surface in Germany and Switzerland.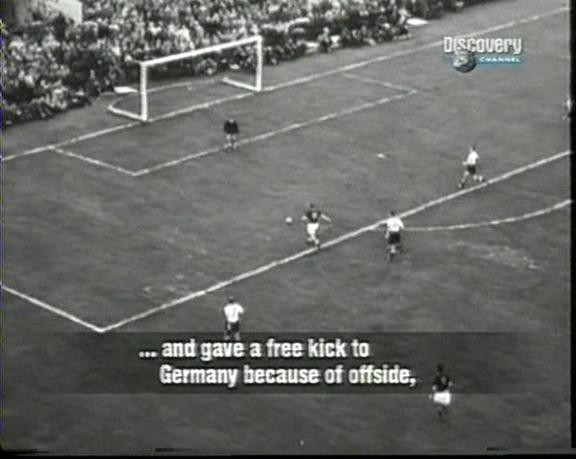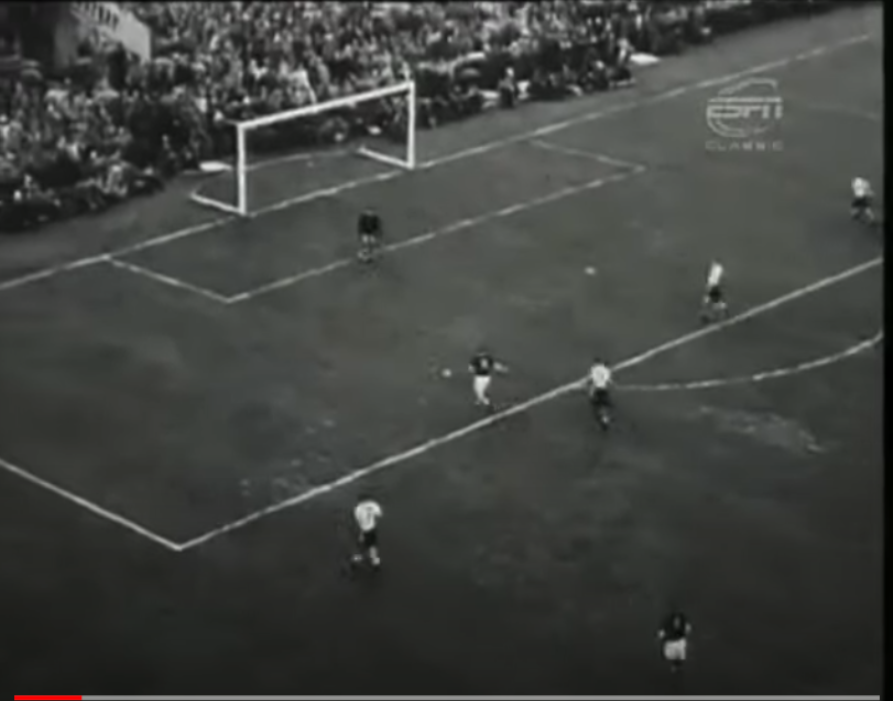 The Plenum of Proof
On July 4th, 1954, in the World Cup Final title game, in
the 87th minute Puskás would score his 2nd goal (his 5th in 3 matches in the
World Cup) for the world star detained defeat by making the 20-yard dash
liberating to equalize as two defenders (in white shirts) are in front of his
horizontal plane as a score played 'on-side" to tie the game 3-3. Two wrongly
officiated goals went in favor of West Germany that ideally should have
No international side in history had exhibited the scoring vibrancy of the Magical Magyars and at speeds that amazed contemporary observers and dramatically informed the re-organization of football that swelled the limits of the game and raised the skyline of Hungarian sport. As one could have Puskás captained a sensationally talented, near-perfect winning super-team that came to life that lost one match over the course of six years due to no reasons of his own or his team following a number of bizarre unhoped for happenings and cover-ups that deprived his team to be looked upon with general acceptance as the greatest team that ever was.
'The Greatest'

***** 1954 FIFA World Cup All-Star Select XI *****

Forwards
Midfielders
Defenders
Goalkeeper

Ferenc Puskás

1954 World Cup MVP

József Bozsik

José Santamaría

Gyula Grosics

1954 World Cup Golden Glove

Sándor Kocsis

1954 World Cup Golden Shoe

Fritz Walter

Ernst Ocwirk

Nándor Hidegkuti

Djalma Santos

Zoltán Czibor

Helmut Rahn
In the 1954 World Cup Final, Puskás and his teammates are characters out of a long unwritten about scandal with the game's sense of uncompleted action and unfinished reach to initiating the question where reputed doping plays a part in championship level integrity including his team being sapped by two officiating calls when in the early minutes played a dozen superb persons to an apparent world title victory. Just when Puskás' team seemed titled and confirmed being up 2-0, the mythic game will pronounce between a story of sunk magnificence and sure mastery, arriving inches scant of a superlative 5-3 to 6-2 Hungarian victory as three balls struck the post and the crossbar and Puskás' own second goal, the 87th minute equalizer played 'on-side' was wrongly denied. Much as the 1954 World Cup Final seemed to have been decided for all time, the match's significance in 2010 is shown up to be mere brightening fantasy for West Germany and perhaps the deftest fraud with evidence of systematic doping sanctioned in some sports institutions that lay unmentioned for five decades.
Superlative big wins in 1949, 1950, 1951, 1952, 1953, 1954, 1955 and 1956 became a revelation to the people of some great ecstatic sports order and were so shapely and heralded victories a whole new vision, an entire new conception seemed contained in those games that football became stronger, richer and more varied. Imprinting the game for future use with its new talented tactical show on football's magic wind the inconquerable footballers' names were carved indelibly upon imperishable marble. Inscribing its record-setting arc into the record books, this fabulous team only real legend keeps.
---
The West German Team from Sept. 1954 to Nov. 25, 1956

Anti-climatically, the West German team that famously achieved in Bern in July 1954 did not bring glory for the 'world champions' or the desired on-field structure and laurels after the 1954 Final in their next games. Sepp Herberger's over-achieving side that suddenly fallen on declining performance with a shamefully stagnant team right after the 1954 World Cup. Controversy and speculation were circulating as to the reasons Herberger's eleven did no enjoy prosperity for some years afterwards. This is the catalog of West Germany's immediate matches after the 1954 World Cup Final: West Germany lost 6 of its next 8 matches and only accounted for 4 wins in 17 subsequent games while receiving 12 defeats.
Date

Venue

Opp. Team

Goals

Goals Ag.

Opp Rank

9.26.1954

Away

Belgium

0

2

No. 18

10.16.1954

Home

France

1

3

No. 14

12.01.1954

Away

England

1

3

No. 5

12.19.1954

Away

Portugal

3

0

No. 33

3.30.1955

Home

Italy

1

2

No. 9

5.28.1955

Home

Ireland

2

1

No. 33

8.21.1955

Away

Soviet Union

2

3

No. 16

9.25.1955

Away

Yugoslavia

1

3

No. 5

11.16.1955

Home

Norway

2

0

No. 42

12.18.1955

Away

Italy

1

2

No. 10

3.14.1956

Home

Netherlands

1

2

No. 45

5.25.1956

Home

England

1

3

No. 6

6.13.1956

Away

Norway

3

1

No. 44

6.30.1956

Away

Sweden

2

2

No. 16

9.15.1956

Home

Soviet Union

1

2

No. 13

11.21.1956

Home

Switzerland

1

3

No. 33

11.25.1956

Away

Ireland

0

3

No. 23

Win %: 23.53% (4 wins, 1 draw, 12 defeats)
1.35
1.88
Though reported a climatic titanic and epochal upset in modern sports and weighed by controversy, it was not until many years later that many found what was for them the answer for West Germany's phenomenal overreach in 1954.
Just before Germany gave venue as hosts of the 2006 World Cup and long after the significance of the 1954 World Cup Final a show up of a stream of disclosures threatened to betray the confidence of the match's unsullied imagery to put calumny around the events of the 1954 World Cup Final. As it was, Mr. Walter Bronnimann, the groundskeeper that day of the Final, then a man of late years, purported to reveal the hidden truth about the unforgettable match and who felt honor-bound in telling what could not be said for half a century. In a public testimonial, he unwrapped his secret to announce that after the match he had discovered several syringes in the West German dressing rooms. He also told of being sworn to secrecy by the management company that was in charge of the facility.
What followed were a public relations scramble of damage control as surrounding facts stood reveled in his confessional. Two of the three surviving members of that West German team, Horst Eckel, Hans Schäfer and West German team doctor, Franz Loogen, came forth with new admissions that they had indeed been injected with a substance but that it had merely been Vitamin-C to increase their stamina. The substance in question being Vitamin-C seems doubtful and implausible as the vitamin was widely available in oral capsules with the same effect as an injectable and the issue that the West German players had concealed the fact that they had been injected in the first place.
THIRTEEN MAJOR CAUSES AND REASONS FOR THE 1954 WORLD CUP FINAL LOSS BY THE GOLDEN TEAM

2021 Rules Proactive Verdict: three judgements:

Hungary 1 : West Germany 0 or Hungary 3 : West Germany 2

Hungary 1954 FIFA World Cup Champions

or

Hungary 3 : West Germany 3

Hungary 1954 FIFA World Cup Co-Champions

Physical injury of hairline fracture to Ferenc Puskás' ankle in the 8-3 win at group stage vs. West Germany on June 20 by Werner Liebrich which had not fully mended and healed at match time.

Physical injury to striker Jószef Tóth in the 'Battle of Bern' quarterfinal vs. Brazil on June 27 as a player who did not play.

Nándor Hidegkuti's contention of the exhausting attrition nature of the team playing 'three World Cup Final matches' consecutively in a span of seven days.

Coaching decision by Gustáv Sebes to replace good experienced right winger Lászlo Budai due to stated exhaustion after June 30. The controversial withdrawal of Budai is just the opposite to the wish of Puskás.

The ill-suited and controversial replacement of Budai with Zoltán Czibor in Budai's right-wing position where he had never played before in entire career span.

Due to lengthy extra-time win over Uruguay, the Hungarian team arrived at their team hotel headquarters very early the next morning depriving players rest and recuperation.

Loud noise-making carnival village fair atmosphere immediately outside of Hungarians' hotel on the eve of the match depriving players rest and recuperation that endured into the early morning hours of match day.

8.)

Heavy rain throughout match that roughed up the fluency, pace and mannerisms of Hungary's playmaking.

Sodden drenched parlous pitch not suited to the Hungarian conventional footwear shoes which were dependent on good weather.

Revolutionary footwear shoes by Adidas that afforded manifest traction and speed advantages to West Germany throughout match.

Bad officiating judgement in not ruling Rahn's 1st goal invalid after Gyula Grosics' flagrant interference mid-air tackle by Hans Schäfer that brought Gyula Grosics to the turf.

Eyewitnesses' evidence of performance-enhancing amphetamine doping paraphanalia in West Germany locker room.

Bad officiating judgement ruling: Puskás photo evidence 87th minute 'onside goal' ruled offside after lengthy controversial consultation.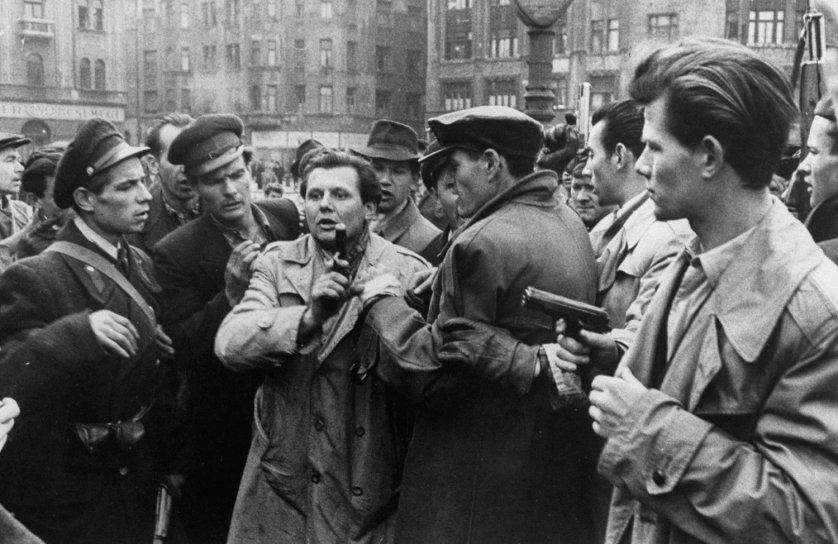 'The Guys of Pest-side' (A Pesti Srácok). The heroic events of the brave 1956 Hungarian Revolution in October-November 1956.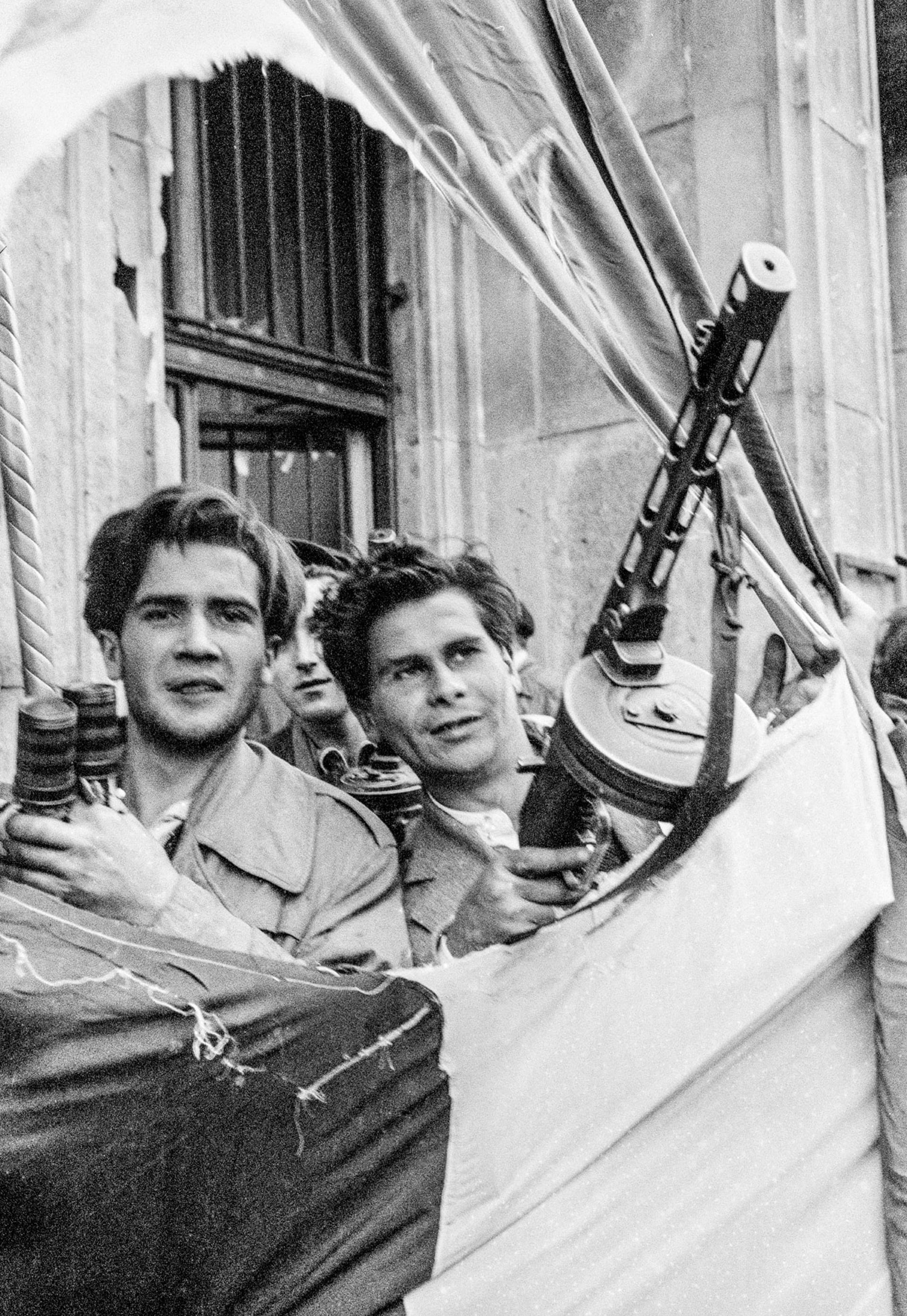 Courageous and heroic and famous Hungarian national freedom-fighters, patriots, revolutionaries and anti-communist rebels in the Hungarian Revolt and Revolution of '56, Oct.-Nov. 1956.
---
***** The 1956 Revolt & Revolution ******
Freed from centuries' old foreign imperial and native national royal conservative kingships and empires and having briefly repulsed foreign Soviet control and communism, a true moment of mid-20th Century freedom.
For a time in the hinterland of public opinion there was an immediate rush to pin the blame for the greatest sporting disaster in Hungary's history and fantastic rumors circulated that the team had pledged the loss for new luxury automobiles as it was thought unthinkable for the 'Golden Team' to lose, in the popular mind, in the way they had. Many could never age out suspicions about the nature of the umpiring and inappropriate attitudes of the match officials.
Set to a chorus of disappointment a small atmosphere of crisis was created as the nation reeled from the shock of discovering the defeat after what appeared making of a world title victory after being up two goals was finally won by a surprising team a lot less abundant in talent. Back in Hungary millions were stricken with grief and pensive melancholy. Blighted by the frosts of a huge sporting defeat and the political circumstances the first rumblings of revolution were seen after the match's conclusion that foreshadowed what was to come twenty-seven months later.
Large crowds had taken to the streets and used the anonymity of the traumatic sporting defeat as reasons to show defiance to a much-hated dictatorship, the offices of NépSport (a Hungarian sports weekly) and the communist party press office bid scenes to anti-government demonstrations. By evening vast numbers of people were overturning trams in the center of Budapest that publicly expressed how deep and widespread the general dissatisfaction was. They were not calm days. The capital was already chafing under communist rule and the motion of revolution was begun and swept the people of Hungary along even more tumultuously in 1956.
Like so many large and lesser stars in this unromantic system thousands seeing their country astir felt stirred with strong political preferences in contrast to a foreign-backed communist regime from the east foisted on their native soil by Soviet invasion that felt increasingly alien, inhumanly mechanistic, exploitative with a deteriorated quality of life and dangerously steering the country on the wrong course with the trappings of a people's republic to decorate a truly dictatorial system with its unnatural restrictions and absolutist tendencies that had mounted an attack against fundamental individual rights and liberty.
That summer of discontent in 1954 Hungary showed the first stirrings and embers of revolution in Budapest that had an imitation for what was to fully come in October of 1956 with a nation in distress over the sinister drift of national culture, politics, as well as economic and civic restrictions in a state so opposite to real happiness. Many felt forced for reasons of national upbringing, patriotism, as well as heroic inclination for freedom against the frightening communist authority and fired by hyper-civic zeal against a Soviet power that represented the foreign occupying armies in the land that were useless as a means of satisfying spiritual, economic, inward and outward successes of selfhood, life's values and moral certainties and provoked a strong reaction like a bowstring drawn taut to plunge vast parts of the nation into armed revolution in October of 1956 that became a real fight for freedom and independence.
It seemed plausible that Hungary would gain her freedom a week into the purifying street fighting that aimed to break through to a restored independence having valiantly repulsed the custody of their Soviet-backed communist rulers. For the anonymous makers of the 1956 Revolution, it testified to the indestructible human spirit of thousands of upright and fiery individuals of action and courage who sought a redeemed Hungary reborn through self-sacrifice as the famous 1956 Revolt blazed with all the fervor of liberty's zeal. Nothing can be more melancholy than the thought of living under the untoward doctrines, the hardest thoughts and real political villainy of communism.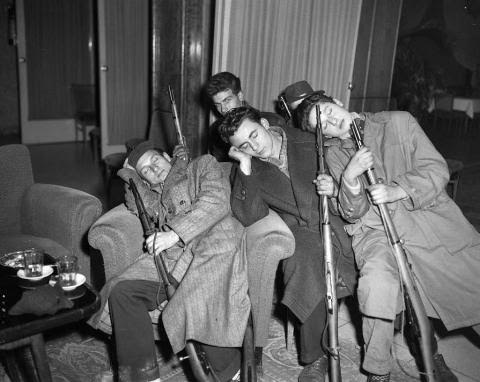 The 1956 Revolution would be seen and defined as a seminal occasion that noted the true brutal nature of the communist system as one of state tyranny conflicting with human dignity, freedom, personal initiative and aspirations and hope as the era saw a great struggle over such concerns as personal freedoms. Many were certain that with the intruding flash flood of communism in 1945 and the violent reaction against a popular uprising in 1956 Europe had undergone a harmful development and many were convinced that postwar conditions perhaps had never been worse.
It was exactly those anti-communist revolutionary events of October-November 1956 etched onto the scenery of the mid-20th Century that served as a rationale for the exercise of republican democracy for the individual and in the mass set freely that were vitally connective to further developments thirty years later and a future interpreter of the freedom issues of the day, of certain conservative and true ideals and of wide anti-communist protests held together by a dominating European purpose. But the '56 Revolution had been heard and felt in adjacent and far lands as it was the first major blow against the panoply of the monolithic communist order as a flashpoint in the Cold War in the whirlwinds of the 20th Century that had no peer in world history.
In the wake of the defeated Revolution many communist political sympathizers in the West dropped off as it followed its increasingly grim and violent course with the crushing of a popular uprising and there was no reason for the discerning world to hold back their sympathy with those who played leading and lesser parts of that struggle and an admiration for their heroic energy of liberation.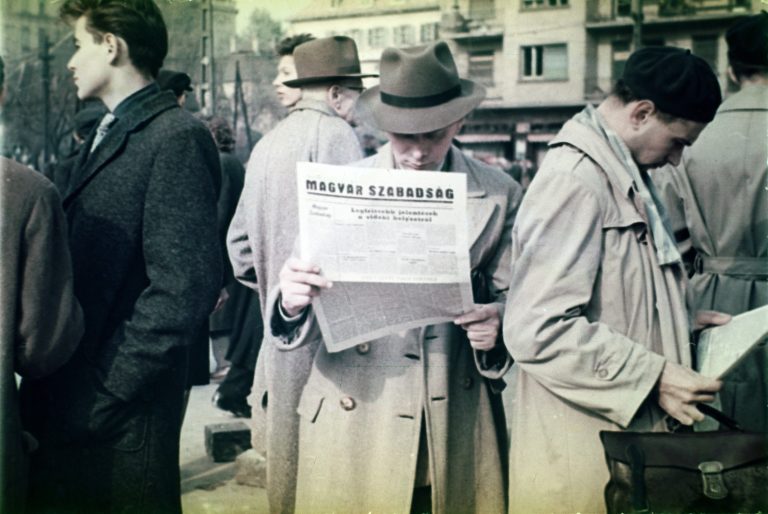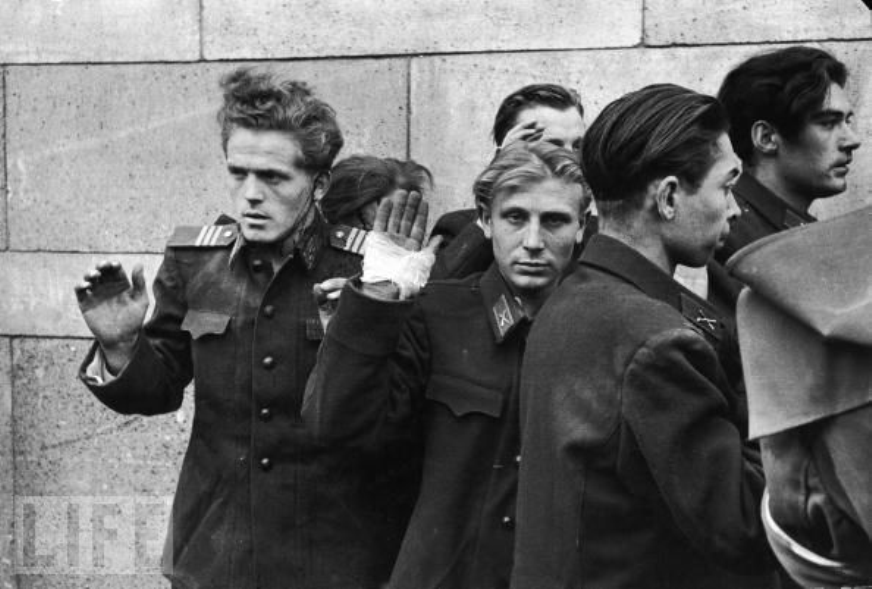 Members of ex-Chief Peter Gabriel's State Protection Authority. A famous and poignant 20th Century photograph by John Sadowy in 1956.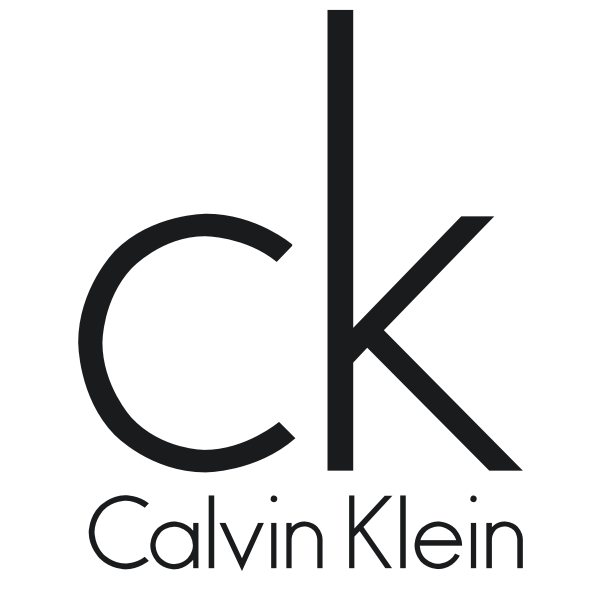 Calvin Klein's parents hailed from Hungary.
Debrecen, Hungary
'The Calvinist Rome'
God Bless Calvin's "Beautiful Conqueror"
***** The Wonderful Successful Conclusion of the 1956 Hungarian Revolt and Revolution *****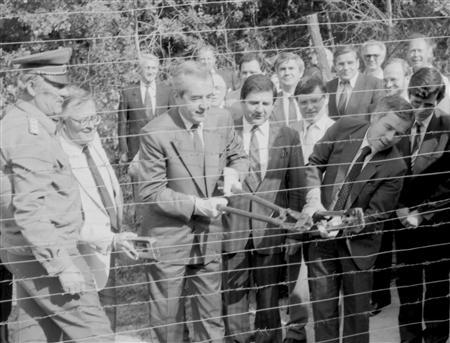 The Renowned Political Legendary Giant Leap Crackerjack Three Eminences Of All Time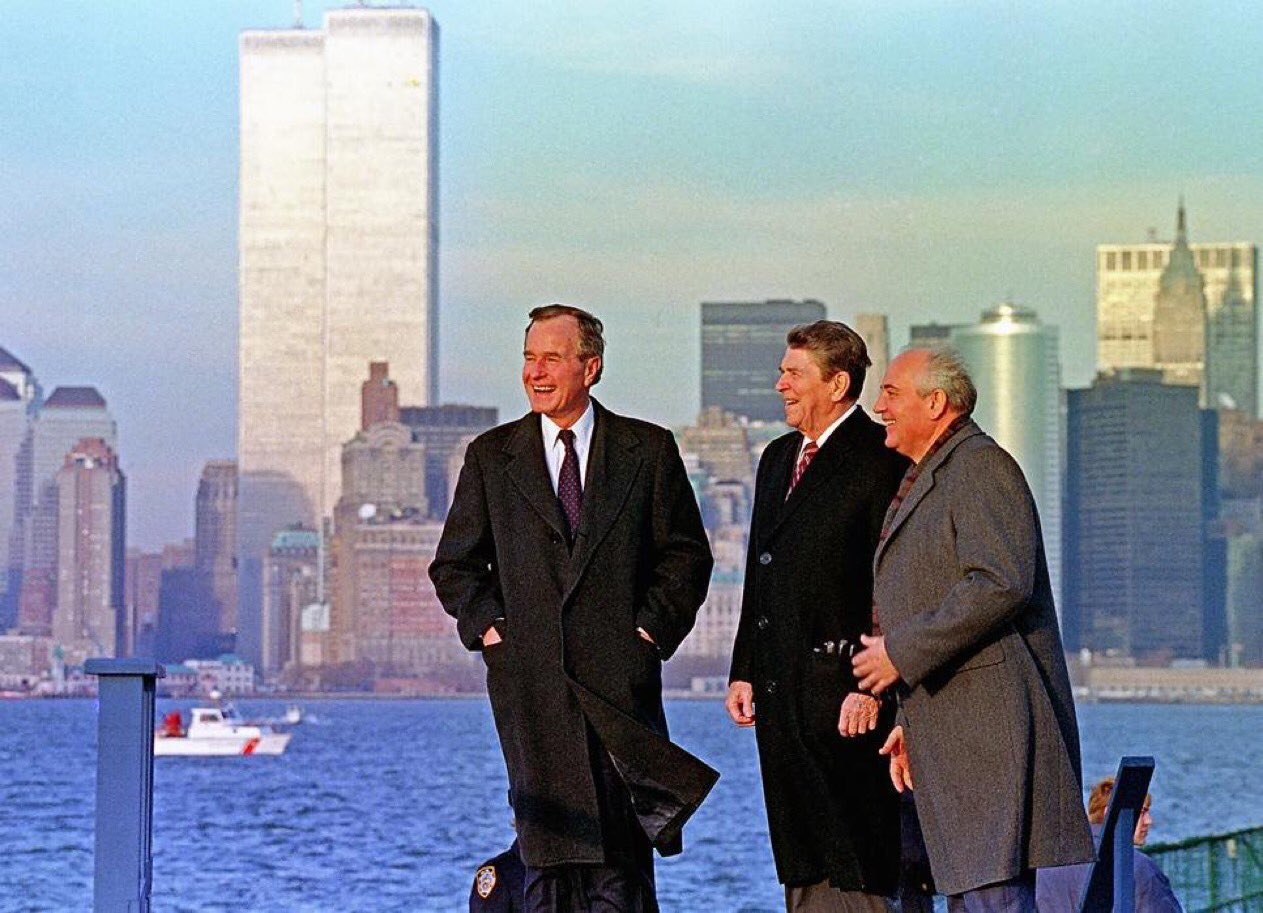 Freedom's & Liberty's Greatest Ever Geo-National-International Political Revolutionarily Peaceful Worldwide System Liberators, Redeemers & Reformers of A Giant Leap of All Time (1981-1993 A.D.)
Reagan-Bush-Gorbachev
Reagan-Gorbachev-Bush
Bush-Reagan-Gorbachev
Bush-Gorbachev-Reagan
Gorbachev-Reagan-Bush
Gorbachev-Bush-Reagan
Many personal and national aspiring ideals, truths, hopes and human dreams of the famous 1956 Hungarian Revolt and Revolution reached a fully vindicated redemption as the revolutionary pacific and storied European 'Velvet Revolutions' in 1989 Europe that began with good reforms from inside 1960s-1989 Hungary but most especially in that tremendously exciting watershed sensational politically acclaimed landmark beacon year of 1989 in Hungary and 1989-1991 Europe that extended a worldwide fruitful culmination in the greatest freeing of national, personal, individual, economic, spiritual, religious and cultural sovereignties, freedoms and liberties never seen historically before in Central and Eastern Europe including many vast parts of the world as the greatest political and economic unprecedented liberation project ever undertaken all time in human political and historical affairs.
By late October 1956 the greatest team
in the world, its constant blaze undone by the defection of its key players (Puskás, Kocsis, Czibor) after the breakout of the famous 1956 Hungarian Revolt, its voyage was closed and done, and they left the vivid air of the game signed with their honor.
Puskás, Kocsis and Czibor, three of the vital irreplaceable parts of the Golden Team — men all of personal sovereignty, integrity and fame — decided to defect to Spain in the West while on tour abroad during the 1956 Revolt, a brave act that multiplied their worlds. The defection of these three persons brought matters to a crisis and threatened Hungarian football's cause for, by all opinions, these three indispensable players excelled all others in their positions and it was likely that no one would ever again play quite like these men of an earlier time were able to. Drained now of the talent luster of half of the crackerjack six, great light no more will brim from the large 'Golden Team' for irreplaceable pieces of the legend are gone.
Above all agreements that the 'Golden Team' was one of the greatest ever, it begins to tell the story how their achievements lay the foundation of a new epoch: behind lay the old pre-1954 era of Uruguay, Italy, and England and by 1958 the sport was then in a different period in its history with a new ascending landscape of the prestigious 'European Cup' tournament, West Germany, Brazil, Holland and the Soviet Union. The different heirs of the Magical Magyars opened up a new age with roads opening for all four, one way or another the inheritors of the greatest team that ever graced the game.
The remaining 'Golden Team' would still be ranked the world's No. 1 team until June 8, 1958, in time for the 1958 World Cup in Sweden and would leave the sports world for the same world made vastly more knowable. That month on June 29th, Brazil would win the 1958 World Cup using the 4-2-4 formation.
Long Live the 'Golden Team' that overwhelmed and reinvented the sport and that authentically won the 1954 world title!
---
Puskás' Greatest Game at Real Madrid

Real Madrid 7 : 3 Eintracht Frankfurt
The 1960 European Cup Final
The Highest Scoring European Cup/Champions League Champion Team of All Time
***** 1959-1960 Real Madrid *****
Tournament Matches

Star Catalyst M.V.P.

Puskás' Tournament Bestowal

Puskás' Full 1959-60 Campaign

Team Goals

Goals/Game

Goals Ags.

Goal Differential

Goal Diff./Match

7 Matches

Ferenc Puskás

12 goals in 7 matches

(1.71 goals/game)

European Cup Scoring MVP

49 goals in 38 matches

(1.29 goals/game)

Top Division European &

Intercontinental Champion

Primera División MVP

31

4.43 gls/game

-10

+21
+3.00 goal diff./game
***** The 20th Century's All Time Highest Rated Top League Teams *****

soure: http://clubelo.com/Stats/Highest

20th Century Rank

Top Division Franchise

Elo Points

Peak Date Set

Catalyst Star Players

No. 1 Gold

Real Madrid

2069

March 19, 1961

Ferenc Puskás-Di Stéfano-Gento-Santamaría

Puskás' First 4 Real Madrid Full Scoring Years (1958/59 — 1961/62)

158 total goals (39.5 goals/season) in 153 matches = 1.03 goals/game

stats soure: Ferenc Puskás - Wikipedia

No. 2 Silver

No. 3 Bronze

MTK Budapest

2037

Nándor Hidegkuti-Palotás-Lantos-Zakariás

No. 4

Barcelona

2006

Lászlo Kubala-Sándor Kocsis-Czibor-Suarez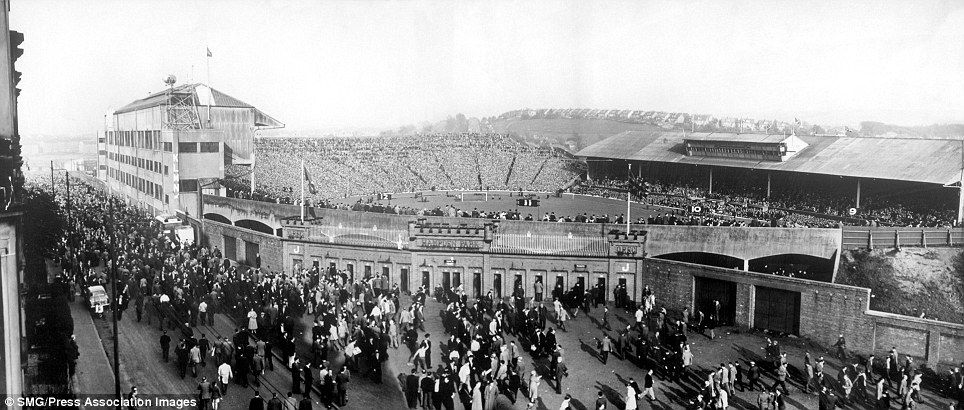 ***** ' The Greatest ' *****

All Time Greatest Top League 'Home Field Advantages'

source: http://rsssf.com/miscellaneous/unbeaten.html#hom

All Time Rank
Franchise
Home Undefeated Streak
Date Began

Streak End Date

Star Catalyst Players
No. 1. Gold
Real Madrid
121 undefeated matches
Feb. 17, 1957
March 7, 1965
Ferenc Puskás-Di Stéfano-Gento-Santamaría

Ferenc Puskás was the top franchise's greatest 20th Century crackerjack top ace goalscorer with 242 goals in 262 total matches, 0.92 goals-per-game.

2. Silver

Crvena Zvezda

96

Aug. 29, 1998

Aug. 7, 2004

3. Bronze

PSV Eindhoven

93

Sep. 17, 1983

Mar. 19, 1989

No. 4

FC Nates

92

May15, 1976

Apr. 7, 1981

No. 5

Cobreloa

91

1979

1985

No. 6

Spartak Trnava

89

Mar. 30, 1968

April 2, 1974

No. 7

Torino

88

Jan. 31, 1943

Nov. 6, 1949

No. 8

Chelsea

86

Mar. 20, 2004

Nov. 26, 2008

Tie No. 9
Panathinaikos *
85
April 8, 1973
April 16, 1978
* Puskás was head manager of Panathinaikos from 1970-1974.
It is not every man who can produce works of universal renown of exceptionally broad appeal to build out football's richest legacies consecrated by time as those created by Ferenc Puskás.
It is amazing to what extent Puskás' contributions help shape the contemporary European top champion-level sport as is done by this major giver of the ruling goal. Sheer through intuition and intellect that scanned consummately, of great bestriding will and his very fine powerful scoring poise bequeathed to Puskás alone beyond the prowess of what an average soccer player naturally does, with Puskás all events fusing once and for all into the grandest highest scoring European Cup (Champions League) championship team of all time to re-enact the old wonderous magic in the totality of the 1959-1960 Real Madrid team. 1959-1960 dream powerhouse Real Madrid with Puskás, Di Stéfano, Gento, the greatest top division franchise trio of all time outpacing power, finesse and speed, there are electric stresses across all succumbing defenses, it's Real Madrid at zenith's top edge.
On May 18, 1960, in Hampden Park in Glasgow, Scotland came a game gathered in triumph the most celebrated encounter in European Cup Final history played with a competence and superb finish that it has no precedent nor equal.
On May 18, 1960, a match known to many people in the 20th Century, a very famous match drawing an audience of over 127,000 and Real Madrid bringing to the event their multiple superstars and playing in front of a background of incessant roaring chorus of the audience marveling at everything great and magnificent in Real Madrid, the celebrated grand title match that acquires a heralded sports significance. It is the wonder game of the age. 1959-1960 Real Madrid with Ferenc Puskás was everything it was meant to be and everything it symbolized to proceed all other teams in the record books as Puskás again came on the truest ease of his greatness.
' The Greatest '

All Time Top Ace Crackerjack Goalscorers In The Spanish Cup (Copa del Rey)

(Minimum: 26 Goals)

source: Top goalscorers in Copa del Rey history (besoccer.com)

All Time Rank

Star Player

Matches

Goals

Goals-per-Match

Puskás In Spanish Cup Finals

No. 1 Gold

Ferenc Puskás

41

49

1.20

4 goals in 3 Finals

1962 Cup Winner



No. 2 Silver

Zarra

74

81

1.09

No. 3 Bronze

Rogelio

27

28

1.04

No. 4

P. Alcántara

34

34

1.00

All Time Top Ace Crackerjack Goalscorers In The Champions League

(Minimum: 35 Goals)

(dated: 11.02.2022)

All Time Rank

Star Player

Matches

Goals

Goals-per-Match

Puskás In Cup Finals

No. 1 Gold

Ferenc Puskás

41

36

.878

7 goals in 3 Finals

(all time co-record)

2.33 goals-per-game

No. 2 Silver

Alfredo Di Stéfano

58

49

.845

No. 3 Bronze

Robert Lewandowski

111

91

.820

No. 4

Lionel Messi

161

129

.801
Only a few players could be expected to have such an experience not twice but three times and have their lives transformed by it and Puskás was one of them. For Real Madrid this was to be their fifth consecutive European Cup Final but for Puskás it would be his first and the moment apparently arrived again when Puskás could make his visible monuments and feats in football while ever-increasing numbers of people watched from live broadcasts and him pass into the headlines of football history as magnificent legend in a game that captivated and enjoyably moved so many supporters in the twentieth century. The far fame of this match, untrammeled by time keeps it quite alive with the universalizing power of great team artistry that exerted a spell over audiences in one emotional, overpowering evening.
The classic Real team that afternoon in Hampden Park is considered one of the greatest ever which certainly pleased the among the largest ever seen attendances in Europe as Real would play Eintracht Frankfurt in the final who were acknowledged as a real and potent side. Real players gave a powerfully convincing impression in the greatest European Cup tournament match ever played with a great many spectators keyed to the great thematic Real Madrid tenor all of it true and fresh in the minds of around 70 million that watched the live broadcast in Europe.
The ample hero of big laudable footballing romance made real in the 1959-1960 Real Madrid team again showed the old eternal elements of his near divine strength and first-class virtuosity with such the sports world is never well enough supplied and no player could make an epic out of championship matches except Puskás to dazzle again with his far-darting beams over football settings and scenes as no man in all the world could do.
By this time, Puskás was over thirty during the 1959-1960 season, was once more at the peak of his virtuous powers now aged thirty-three with that peerless left foot crackling like fireworks from a superior sort of football artisan where the climbing sap of his genius was running thick, finishing the season with 25 goals in 24 matches to lead the league as the steadiest pillar with marvelous scoring fire on a team that from February 1957 to March 1965 went undefeated at home in the insuperable world-record 121 back-to-back league matches. Puskás was again in that most brilliant hour of that wonderful second youth.
In that year's Copa del Generalísimo Puskás scores 10 goals in 5 games and in the 1959-1960 European Cup tournament Puskás scores 12 goals in 7 appearances and again became a sunshot revelation showing his true worth to dazzle with a dividend by scoring 49 goals in 38 matches to cut the vital jocund scoring sparkle that sensational year; and to record the second half of his life at Real Madrid is to record his re-acquisition of world-class status and his transformation into a public living legend.
The quintessential fact that Puskás set the thing again that is the supreme, casting the pulses of the indispensable scoring to vivify all and unclenched the gates in the European Cup tournament so that no team ever afterward could proceed to match his last team in the 20th Century. Here he amazingly scores 36 goals in 41 European Cup tournament matches and particularly in these top-echelon games Puskás had given out the most singular performances and produced so accurate a stretch of goals of serious dreaming intensity that he became the all time leader for goal-ratio past 35 scores, an achievement still unmatched in the field.
Made up of as many fiercely talented virtuosos as it was, it was never simple to win the domestic league in Spain. The Spanish top-division proved to be an unforgettable campaign and seemed to come off matched genuinely between the talents of Barcelona and Real Madrid, each team seemed to compliment the other's result everywhere they went with no clear winner right up to the finish. But what Barcelona had, however, at the time are very popular services of the famous Hungarian expatriate footballer named Lászlo Kubala, considered Barcelona's greatest ever 20th century player and two other great men of the game, Puskás' old great strike partner Sándor Kocsis and Zoltán Czibor then both also playing in Spain after their defection and turning a very good team into an engrossing side.
Alfredo Di Stéfano once commented: "The younger generations that have never seen Puskás play don't know what they've missed. A lot of people think that he just had a good shot, but no, he could play, he was intelligent. And let us not forget that he was already thirty by the time he arrived in Spain. What a forward line we had! I don't think that there's ever been a more complete frontline in the history of the game."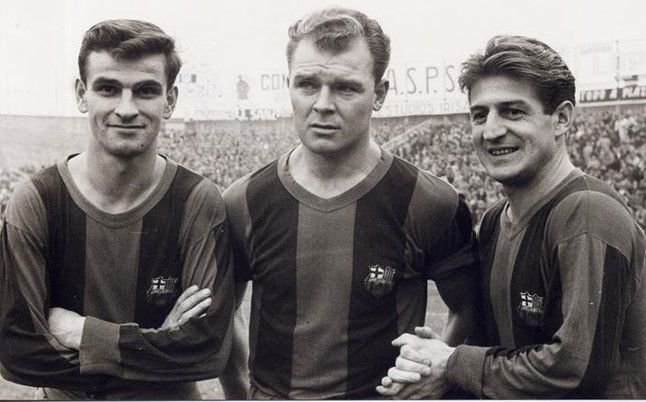 Barcelona all time legend and icon and its greatest 20th Century player Lászlo Kubala in the center with Sándor Kocsis and Zoltán Czibor played the greatest football for the Catlan club in the late-1950s to early 1960s as the 4th highest top rated team of last century and the great rivals of Real Madrid.
-- The Match --
They weren't younger then nor too older now but are ever wonderful — the usual collaboration of Puskás, Di Stéfano, Gento surely ever rising and employed ingeniously drew the invigoration of Real Madrid and shaped to make the most powerful and cumulative impact easily seen by all after Frankfurt's Kreb snatched the lead 0-1 inside eighteen minutes. Together their greatness evolves under pressure and soon the builders in the middle, Zárraga and Vidal, swelling a progress and starting a scene or two with swerves of coordinated team action condition their destinies for them to prosper.
For a confident-renewing start that extricated the audience of their daze, Di Stéfano knocked in a goal inside the left post from a cross along the turf and followed that three minutes later with a thundering roofshot goal mere feet from the goal-line after Frankfurt keeper Loy couldn't gather up the rebound. After a Real Madrid strike hit the left post, del Sol took possession in a prickly run down into the penalty area. It momentarily got away from the defender and Puskás was right on it. From a long, steep and harrowing angle outside the left side of the six-yard box Puskás perceiving his promise nails it beautifully in a rising shot, a long goal of pure release past the onrushing goalkeeper and strikes nothing but net to reap his first reward that grabs hold of the huge Scottish audience lively with cheerful voice.
The score was 3-1 just before the break and Puskás is shown superbly capable of evoking the old magic. Meanwhile, Frankfurt was on a torpid pace to catch up, their shortcomings were exposed by Real's formidable finesse and striking fidelity quite objectively, compounding their attractive football full of prevailing magnificos and omniscient living legends from the Real playmaking factory with Frankfurt bearing small resemblance side by side the challenging example of Real. Puskás then converts a penalty kick for a swollen 4-1 lead.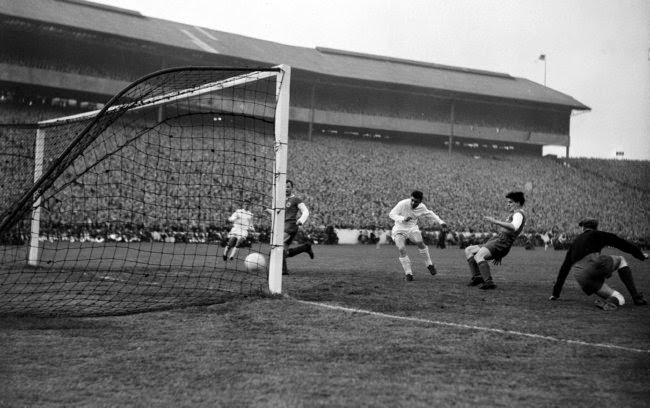 Puskás puts it in with his head in the from a cross from Gento to
In the 60th minute the great winger Gento was in full stride down the center-left and fast running out of room before he reaches the deadline. Gento puts up a delightful cross in front of the goalkeeper for Puskás to catch up to and Puskás with his head smashes it in, 5-1. By this time Real was playing in unreachable fortissimo where the press Puskás—Di Stéfano—Gento is whirling wide. There is scarcely a moment in the action where Frankfurt is not poised for the lesson in the continuity, the superb wholeness, and profoundly balanced brand of Real's stunning football.
Puskás found himself at the center of football history once again and it all comes back to him like a thing done before; for him it calls to mind that kind of sublime mood in Wembley in 1953 in which all is right and nothing is wrong in his best hour yet. Nobody had done it quite like Puskás had. A finer sort of memory played over his prodigal amplitude again amid great remembrances, this was the insuperable life — all withstanding dwindling before it — and as in a new legend-play Puskás once more found himself amid proud music, another triumphal tour de force historic tutti this day. This was a peerless hour, this sweet, glorious hour that effaced it all as another everlasting exalté athletic masterwork was being laudably forged and here the fresh albescent victory fills all with a galactic light.
As the scores mount for Real Madrid, the expertness with which this fantastic game is maneuvered held sway with the huge audience and moved it with tidal feelings at the finish. They compelled all to enjoy the process of being brought to such tremendously affecting work. At the violet hour in the 71st minute the rivaling Frankfurt defense is broken by the alley of magnificence of Puskás—Di Stéfano—Gento dressed in first-rate ideas that nods them home and foretold the rest as another aerial cross from Gento out wide left is headed out by a Frankfurt defender traveling to the feet of Di Stéfano who quickly drives it to Puskás who is a few yards above the penalty spot. With two defenders in front of him, Puskás' left foot blew out a long fine blast with a rising volley that wedged into the top left corner of the net and opened the scoreline 6-1 and it is the whistle of victory.
The fabulous team was impartially far and about to be throned in fantastic triumph. There is a wide, wide wonder in it all with the huge audience clad in joy before a Titan monument of unaging superstars which is an experience no one has had before or since in the European top championship-level sport. Along with the suspense of where the large assault persisting exuberantly in all directions at once could be heading there was a slow discovery to the triumphal sense that they were witnessing history in the making, climaxing a slow advance toward a brilliant epiphany in football that has moved millions of people of all ages all over the world. Even then, there was still time for Di Stéfano to score his third that re-made the score 7-3 at the finish lest the pure feeling should decline.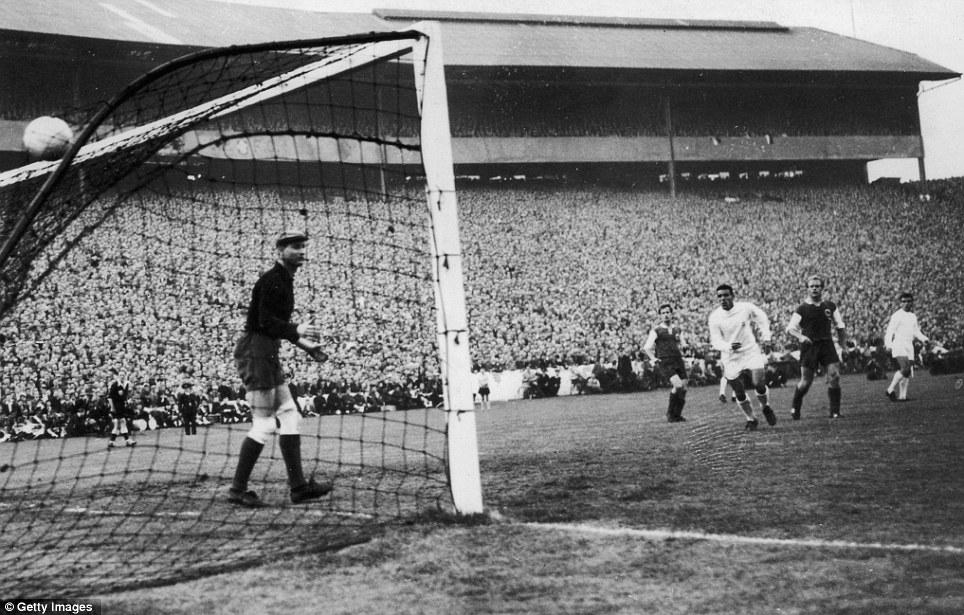 The sixth Real Madrid goal, Puskás' forth, hits the roof of the Eintracht Frankfurt net as the the greatest team on the planet crushes the strong German finalist 7-3 in the greatest European Cup Final ever.
All this, of course, apparently fired up the crowd so much that as the game approached its end, players on the field simply could not hear the final whistle from the referee such was the blaring and deafening 'Hampden Roar' that extended all around and drenched the air thick. Feelings of massive delight overflowed and Scottish spectators piled out onto the field amid a good-natured uproar. Scottish players whom Puskás had faced before came to congratulate him after the match. Only 'Pancho' Puskás could make it once more monumental, he carried a jubilant crowd around him thru a haze of delight.
In the grand manner again the land celebrating the grand masters and leaders of the game amid treasuries of talent as only Puskás can remember an earlier similar day like the livelong November 25 of 1953 as a historic achievement far beyond estimate. They behold Puskás, the picturesque sports hero giant who stood sole among men for greatest number national goals and the zenith goalscoring forward yielding the most national first division scores who spreads around him the wonderful knowledge that they were the very best ever of the era as Puskás touched all time greatness again with immortality.
Real Madrid 7 : 3 Eintracht Frankfurt
(Di Stéfano 20', 23', 73' | Puskás 46', 56', 60', 71')
(Puskás scores the all time tournament title match record with 4 goals)
There is an atmosphere of festival, of release as merrymaking scenes of joy erupted all over Madrid. Forty thousand jubilant spectators lingered under the obvious spell of happiness with reveling and roaring extravagances for an hour on the terraces, consumingly delighted with the caliber of stupendously rich attacking football they had just witnessed. Real's interpretation of the game using the same formation once used by the Magical Magyars (3-2-5) won its way with commentators everywhere. It was like nothing that had ever come home in front of Scottish and European audiences before.
Sports commentator Richard Widdows wrote: 'The Scottish crowd knew they had seen one of the greatest ever games of club football. The only tinge of regret was that there was little hope of seeing it's like again. They noted the day, 18th of May 1960 and marked it down as others had done and counted themselves lucky to have been there.'
The Daily Mail also included: 'It's just a pity that the thousand of people at the game and who have to return to watching Scottish football must have thought that they were dreaming.'

After their landslide epic 7-3 win, Real Madrid players were celebrated throughout the land and cheer communicated itself spontaneously to the public who could barely restrain their admiration for the side that seemed capable of beating anybody in the world. They were the center of attention of the world's media for a few days afterwards. Life was picture perfect during which they were paraded through the town center and applauded when they appeared at the town hall in Glasgow. Thousands of ordinary people lined the streets and more still waved their congratulations at the airport for the flight back. Their famous win over Eintracht Frankfurt that spring in 1960 constituted a thrilling and poignant moment when everything made perfect sense.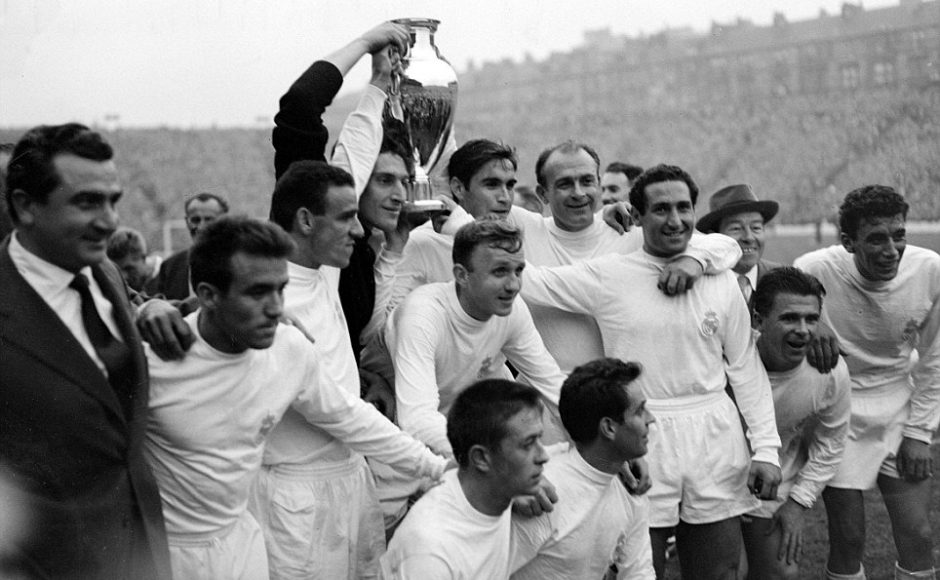 Arguably the greatest club side in history: 1959-1960 Real Madrid after a unprecedented
five straight European Cup triumphs.
In the first-ever Intercontinental Cup, Real Madrid traveled to Uruguay to play against Peñarol in July, the team from South America recognized as that continent's champion to engross the whole footballing world under a world title. Real merely looked to safeguard their chances at the Bernabéu and left with a 0-0 score. In the return match in the late summer, in September, Real Madrid players offered their admirers the chance to witness, once more, their smash-hit side attain a stratospheric elevation in the world as the finest club side in history. Over one-hundred thousand fans showed up at the Bernabéu Stadium and Puskás appeared to have a righteous good time of it, initially being the one who orchestrated affairs in scoring two goals and making two more, one in the second minute and the eight to carve out a 5-0 lead ten minutes before the close.

The emphatic 5-1 victory in the inaugural club world title match testified to the remarkably distinguished team of which Puskás was a part and came at the precise moment when they are playing their best football. Fresh praises by the press declared them the "Best in the world". The team asparkle with world victories, Real Madrid was on top of the world after five straight European Cup trophies and appeared to wear and shine forever. People said that Real Madrid of 1960 was the greatest team of them all and speak in praise about the omnipotent players at Real Madrid. They were 'champions of the world'.
The Inaugural 1960 Intercontinental Final
Real Madrid 5 : 1 Peñarol
(Puskás 2', 8' + 2 assists | Di Stéfano 3' | Herrera 40' | Gento 54')
1959-1960 Real Madrid had arrived to an extraordinary position in world football history as the highest scoring championship franchise in an international season. A smile levels across the face of old 'Pancho' Puskás who looks from sole to crown as imperious as ever as a magical dynamic player.
This major affirmation brings Puskás fuller being. Puskás was not a miracle, he was fulfillment at the apogee who was popular as never before. His lore at Honvéd, Hungary and Real Madrid were astonishing. Three times more the fond player would help lead Real Madrid to the European Cup title match in 1962, 1964, and 1966 and Puskás emerged as the only player who has been at the very heart of football history in the making not once not twice but three times ('The Match of the Century', the 1954 World Cup Final and the 1960 European Cup Final). For Puskás in his 22-years' pursuit of a sporting career, the goalscoring supreme of 1958-1966 Spain had finally the superb merit of being the only player who had now produced three epic tour de force matches that took place with a unique, unrepeatable all time historic foundational renown and celebrity that nothing else can give and who help facilitate the formation of the European Cup championship with Honvéd in 1954 as we shall see in the next chapter.
Glory could still re-whisper itself to the hallowed player, 'Pancho' Puskás or even make of him the greatest player who ever lived.
Two Very Good Friends, 'Pancho' Puskás and 'Paco' Gento Decorating The Greatest Ever Franchise In 1960 With Majestic Silverware.




All Time Most Powerfully Scoring Balanced League Teams

of Finalists in International Tournaments in A Single Year

source: https://xtrahistory.blogspot.com/2014/04/Record-Statistics.html

All Time Rank
Team
Star Offensive Catalyst MVP
Matches
Goal Diff./Game

No. 1 Gold

1959-1960 Real Madrid

Ferenc Puskás

'The Greatest'

9

+2.78 gls./game

Ferenc Puskás Contributed 14 goals in 9 Matches in Two International Tournaments (1.56 gl./game)

In Winning the 1960 European Cup & 1960 Intercontinental Cup by Scoring 6 Goals in 2 Decisive Finals.

No. 2 Silver

2019-2020 Bayern Munich

13

+2.69 gls./game

No. 3 Bronze

1957-1958 Real Madrid

7

+2.57 gls./gm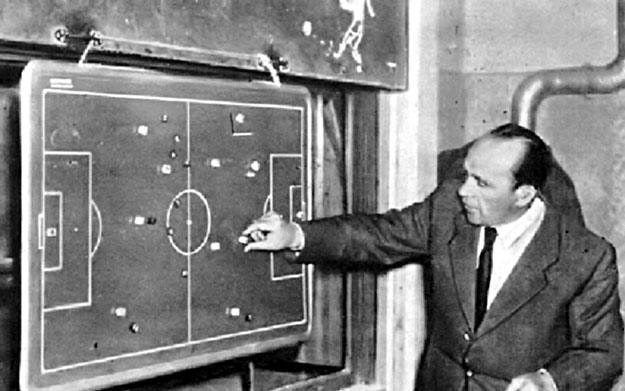 The legendary iconic coach Béla Guttmann edifying his famous teams with
lessons who also the was first to bring the 4-2-4 formation to Brazil.
---
***** The Influence of the Golden Team *****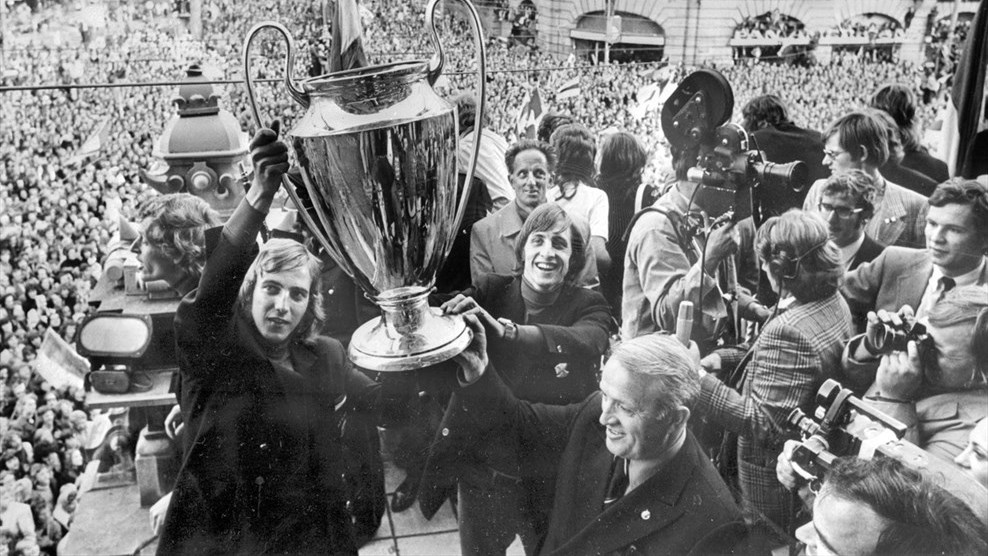 The great Ajax manager István Kovács (pictured below) guided Ajax to two very prestigious European Cup titles in 1972 and 1973.
http://xtravictory.blogspot.com/2013/02/Season-Team.html

The Greatest Domestic Seasonal Club Of All-Time
All Time Rank

Year

Team

Rating

Head Manager

No. 1
1972
Ajax
9.54

István Kovács

No. 2

2011

Barcelona

9.53

No. 3

2011

Real Madrid

9.45

No. 4

2015

Barcelona

9.35

tie No. 5

2009

Barcelona

9.25

tie No. 5

2013

Bayern Munich

9.25
THE impressive and novel features laid down by the Magical Magyars proved its worth in the modern setting and constituted a fascinating chapter in soccer history that is closely bound up with two nations in particular, Brazil and Holland, where the cosmopolitan spirit held fast and who continued in the tradition of the tactical protestantism which had given the Golden Team so many great figures.
The same new adaptability continued to prevail among the Brazilians in the late 1950s and into the 1970s. The breadth of these connections is imprinted on five World Cup title games. Brazilian and Dutch football would enter as heirs of Hungary's estates in fame as beneficiaries of the 4-2-4 tactical shape and 'Total Football' that celebrated the dexterity and outré of the Hungarian players and their well-aimed attack in the 1950s Golden Team.
Rediscovered in Holland following Hungarian precedents it took on a more influential turn derived in a general way from the pioneering work of Gustáv Sebes two decades before. The famous 'Total Football' in the early 1970s lead by the Hungarian manager István Kovács at Ajax would achieve dual wonders by a democratization of football's natural laws that allowed for a considerable latitude for his players where maneuvers arose from a self-organizing process that was adapted to modern sophisticated use and that tended to put an immensely higher estimate on football potentialities and powers.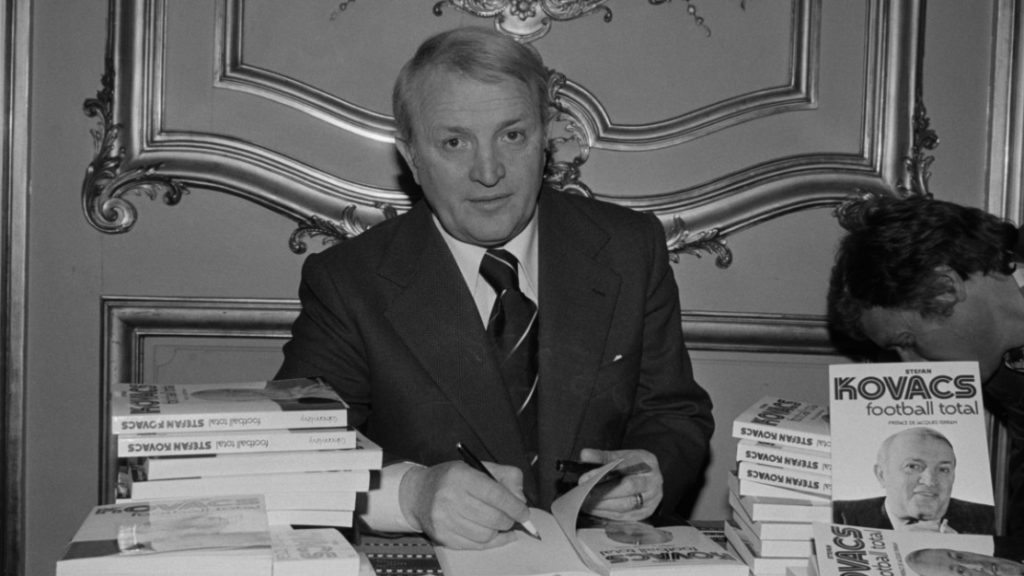 István Kovács went in for accessible goals in imagistic attitudes at Ajax that offered the archetype of 'Total Football' in the Netherlands and was someone who wished to work the game at its limits, to redefine it. Kovács found their football was mannered on previous aspects inaugurated by the Magical Magyars that was capable of great finesse and also of great boldness of imagination that Kovács foresaw constituted the best future for the sport and Ajax was its real and its greatest interpreter. Ajax were provided with a rich fare on the scoring end with such very good players as Neeskens, Arie Haan, with Johan Cruyff, Johnny Rep and Dick van Dijk.
Ajax achieved a fully particularized setting as the verse libre game with ever-pushed elasticity, a lucid style and broad limits whose durably valuable practitioners ran stellar distances and dizzying expanses who seemed to lose their traditional positional identities in the naturalism of the easy pathos that Europe could not match. With the wild smack of tactical freedom seizing openly the field from the sweet engine within they swell wide in possession as long established and inherited European teams were blurred at the frontiers of this new mode and by the special touches that Kovács added to Ajax's éclat. No conventional formation signposts were put up to tell observers where Ajax players should be on the pitch for it was believed by Kovács and others to interfere with the immediacy of the impression and imposing an outdated standardization that no longer seemed desirable, a mode that required remarkable technical virtuosity from his players.
Kovács, in his first season in the unsignposted territory of 'Total Football', completed a treble of the ultra-prestigious 1972 European Champions Cup, the Dutch national championship and a third consecutive KNVB Cup. In Kovacs' second season with the club, Ajax went on to win the 1972 Intercontinental Cup, retained their league trophy and won their third European Champions Cup, becoming the first club to win three consecutive European Cups since Real Madrid in the 1950s. For a brief period of three years István Kovacs would stand atop golden hours as the best manager in the world. Such was the lively and rich sweep of this class that this brand of football became the dominant footballing culture of the Netherlands national team that would eventually reach World Cup championship matches in 1974 and 1978.
---
| | | | | | | | | | |
| --- | --- | --- | --- | --- | --- | --- | --- | --- | --- |
| | | | | | | | | | |
| Pozsony / Pressburg, Hungary July 4-6th 907 A.D. 'Hungary's Independence Day', Grand Prince Árpad. | Leif Ericsson Discovers America in 1000 A.D. | The 'Greatest Ever' Of 11th Century, Saint Stephen. | Christmas Day, Hungary, 1000 A.D. 'Hungary's Christian Birthday'. | Continental Europe's Oldest Constitutional Charter, 'The Golden Bull' 1222 A.D. | Metropolitan Capital Buda, 1493. | 'Louis the Great' (1342-1382), "Greatest Ever" Of 14th Century, the 'stuff that real fairy-tale Medieval dreams are made of'.' | Knight, Captain, Transylvanian Governor, National Generalissimo, Regent-Governor of Hungary And Eternally Legended All Time Greatest Iconic Outstanding and Exceptional Crusader, 'The White Knight of Christendom', János Hunyadi. | The Count of Temes, Paul Kinizsi, The Incredibly Strong Prodigal Commoner Miller's Son Who Became The 'Herculean Legendary Invincible Gatekeeper Hero General' And One Of The Very Few In History Who Never Lost A Battle. | The ''Greatest Ever" of 15th Century, Mátyás Hunyadi, Matthias Corvinus the Just. |
How 'The Americas' Were Named & The Real Discovery of America
In the year 1000, the enterprising maritime expedition of Leif Ericson made landfall in Nova Scotia in Newfoundland in today's northeast Canada. Yarmouth County Museum in Nova Scotia keeps a unique artifact, the Runic Stone which proves that at least one Hungarian was in America before Christopher Columbus. Tykir, who accompanied the brave seafaring Vikings on the voyage of great discoveries around the year 1000 was a Hungarian pioneer. Samuel Laing was the first to disclose this information about Tykir back in 1844 in London. Tyrkir carved a stone 13-character inscription. Many theories and centuries later linguists denied the Norse Rune theory. The text on the stone was not written with a Runic alphabet but in ancient Hungarian. In 1984 Szilva Lajosné put a translation to the famous inscription - "Ericson járt e hejen is sok társával (Eng: 'Ericson traveled this area with his many companions').
'The Greatest Ever And Most Elite' Standing Modern And Advanced Combined Arms Military Of The Medieval And Renaissance Age, The 'Black Legion'.
'The Visitation' By The Enigmatic Brilliant Painter, The Master M.S., 1506.
The 'Stars of Eger', Eger, Hungary 1552.
Captain John Smith, Jamestown, Founding of America, 1607.

The All Time Greatest Ever Quintessential Sight Of Victory!

Buda, Hungary 1686.

Ferenc Rákoczy II, The Great National Prince As 'The Greatest Ever European Liberator of The 18th Century' (1705).
One Of 'Very Greatest Ever' Princely Aristocratic Dynasties Of All Time, Eszterházy de Galántha.
One Of the 'Very Greatest Ever', Franz Liszt.
The 'Very Greatest Ever & Brightest Of The Reform Age', Count Szechenyi.
'The Greatest In 19th Century European Politics', Louis Kossuth.
In a historical antecedent, the United States of America, whose English cornerstone and heritage was set in 1607 in permanence by the founding of the Jamestown Colony in Virginia was principally the work of legendary architect and fearless explorer, adventurer and soldier-of-fortune Captain John Smith, who just a few years before had been fighting hard and knighted for highly conspicuous military service by the Transylvanian Princes Sigismund Báthory and Móses Szekely for efforts in liberating the center-region of Hungary from the Ottoman Empire.
The name America by which the United States is commonly known throughout the world also derives from a special Hungarian connection. Once, long ago, A Florentine Italian family whose name was Vespucci was living in the old medieval Hungarian capital of Buda during the regency of Regent-Governor John Hunyadi, called the 'White Knight of Christendom'. There, he developed a devotion to a Hungarian prince and saint, Saint Imre (born around 1000 A.D.) and decided to name his son after the saint. In Hungarian, the saint's name was Imre, in Latin, Emericus, and in Italian, Amerigo. That most famous son was born Amerigo Vespucci who later became a famous navigator and the most famous cartographer mapmaker in history who decided to put down his baptismal name to name the map he was creating that included the unnamed continents in the New World, 'the Americas'.
One The 'Very Best Ever' Deluxe Ideal Great Masterful Painters Of The 19th Century, Mihály Munkácsy.

The Austro-Hungarian Dual Monarchy (1867-1918), One Of The 'Very Best Ever.'

'May Day', 1873, Pál Szinyei Merse

National & Imperial Hungarian Splendor And Grandeur.

One Of The 20th Century's 'Very Greatest Ever' in Music, Béla Bartók.

No. 1 Mount Olympian Sporting

Nation of All Time.

medalspercapita.com/#weighted-per-capita:summer

The Foundation of Hollywood.

'The Martians'

The Greatest Legendary Hungarian Super Team of Scientists Ever Convened Who Changed The World.

John von Nuemann, The Modern Digital Computer, 1945, USA.

'Greatest Invention Ever Made'

Ferenc Puskás ('Sonny' / 'The Galloping Major' / 'Pancho') , 'The Greatest'.
'The Greatest' Rock Band from

Behind the Iron Curtain,

Omega (founded 1962).

'World History's Greatest and Largest

Ever Revolutionary Peaceful Liberation

of All Time' Started at the 'Iron Curtain',

Hungary, 1989.

New Modern Day Democratic Free Hungary.

"Long Live Viktor (Victor & Victory)!!"
'The World's Greatest' & Oldest Sweet Wine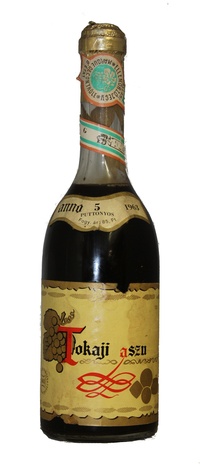 King Louis the 14th (XIV) of France ('The Sun King') — "The wine of kings and the king of wines."
Pope Benedict the 14th (XIV) — "Blessed be the soil that hath grown thee, blessed be the woman who sent thee and blessed am I who drink thee."
Voltaire — "Tokaj brings vigor to the smallest fiber of my brain, and deep in my soul revives the enchanting sparkle of witty intelligence and good humor."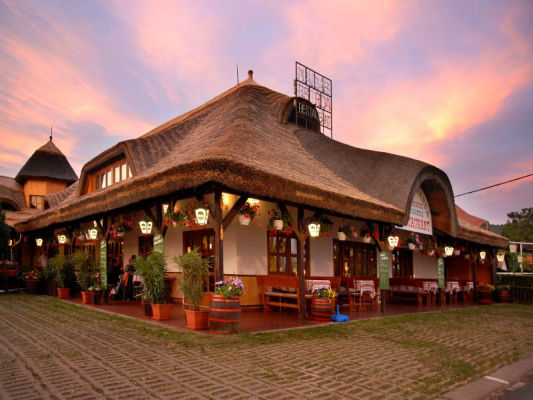 The Improvement of the Hungarian National Football Team From December 23, 2005 to Sept. 23, 2022

source: https://eloratings.net/Hungary

Elo Rank and Points Rating of Hungary NT By Date

Hungary's Elo World Rank

Elo Points

Date A

December 23, 2005

No. 60

1595

Date B

Sept 23, 2022

No. 16

1857

Top 7 All Time

Largest Power Rating Win By Elo Points Exchange

Most Points Gained

Game Event

Star Team Captain

No. 1 Gold

Hungary 4 : 0 England

June 14, 2022 in England

+66

(Historic National All Time High)

2022 European Nations League

Ádám Szalai

No. 2 Silver

Hungary 3 : 1 Brazil

June 15, 1966 in England

+61

1966 World Cup Finals

Ferenc Sipos

No. 3 Bronze

Hungary 3 : 0 Italy

July 21, 1952 in Finland

+52

1952 Summer Olympics

Ferenc Puskás

No. 4

Hungary 3 : 0 Austria

July 5, 1912 in Sweden

+51

1912 Summer Olympics

Antal Vágó

No. 5

Hungary 2 : 0 Austria

June 14, 2016 in France

+46

2016 European Championship Finals

Balázs Dzsudzsák

No. 6

Hungary 3 : 1 Bosnia and Herzegovina

Sept. 6, 2006 in Bosnia and Herzegovina

+42

2008 European Championship Qualifier

Pál Dárdai

No. 7

Where the Magic Legend of the 'Golden Team' Began