Puskás' Greatest Game at Real Madrid

Real Madrid 7 : 3 Eintracht Frankfurt
The 1960 European Cup Final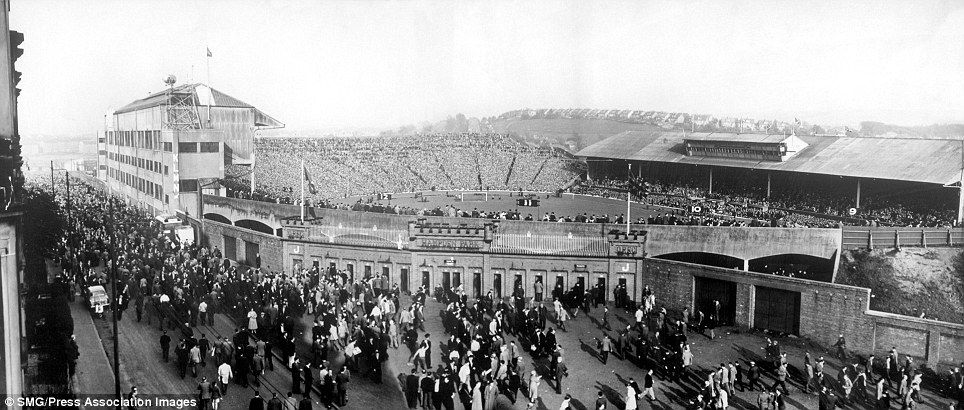 Hampden Park, Glasgow May 18, 1960 the site of the most watched European Cup Final between four-time reigning champions Real Madrid and a strong Frankfurt team. The 135,000 attending the match was the largest ever for a club match in Europe.
It is not every man who can produce works of catholic and universal renown of exceptionally broad appeal to build out football's richest legacies consecrated by time as those created by Ferenc Puskás.
It is amazing to what extent Puskás' contributions help shape the contemporary European champion-level sport as is done by this major giver of the ruling goal. Sheer through intuition and intellect that scanned consummately, of great bestriding will and his very fine powerful scoring poise bequeathed to Puskás alone beyond the prowess of what an average soccer player naturally does, with Puskás, all events fusing, once and for all, into the grandest highest scoring European Cup (Champions League) championship team of all time to re-enact the old wonderous magic in the totality of that 1959-1960 Real Madrid team. 1959-1960 Real Madrid with Puskás, Di Stéfano, Gento, the greatest top division franchise trio of all-time outpacing power, finesse and speed, there are electric stresses across all succumbing defenses, it's Real Madrid at zenith's top edge.
On May 18, 1960, in Hampden Park in Glasgow, Scotland came a game gathered in triumph the most celebrated encounter in European Cup Final history played with a competence and superb finish that it has no precedent nor equal.
On May 18, 1960, a match known to many people in the 20th Century, a very famous match drawing an audience of over 135,000 and Real Madrid bringing to the event their multiple stars and playing in front of a background of incessant roaring chorus of the audience marveling at everything great and magnificent in Real Madrid that acquires a universal sport significance. It is the wonder game of the age. 1959-1960 Real Madrid with Ferenc Puskás was everything it was meant to be and everything it symbolized to proceed all other teams in the record books as Puskás again came on the truest ease of his greatness.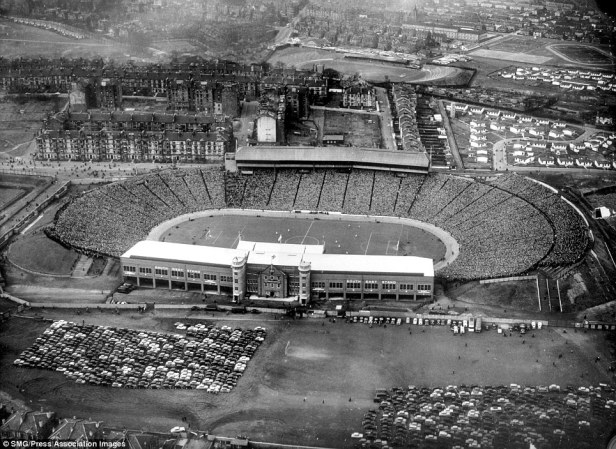 Only a few players could be expected to have such an experience not twice but three times and have their lives transformed by it, and Puskás was one of them. For Real Madrid this was to be their fifth consecutive European Cup Final, but for Puskás it would be his first, and the moment apparently arrived again when Puskás could make his visible monuments and points in football while ever-increasing numbers of people watched from live broadcasts and him pass into the headlines of football history as magnificent legend in a game that captivated and enjoyably moved so many supporters in the twentieth century. The glow of this match, untrammeled by time keeps it quite alive with the universalizing power of great art that exerted a spell over audiences in one emotional, overpowering evening.
The classic Real team that afternoon in Hampden Park is considered one of the greatest ever which certainly pleased the 135,000 in attendance, among the largest ever seen. Real would play Eintracht Frankfurt in the finale, who were acknowledged as a real and potent side. Real players gave a powerfully convincing impression in the greatest European Cup tournament match ever with a great many spectators keyed to the great thematic Real Madrid tenor all of it true and fresh in the minds of many millions.
The ample hero of big laudable footballing romance made real in the 1959-1960 Real Madrid team again showed the old eternal elements of his first-class virtuosity with such the sports world is never well enough supplied; and no player could make an epic out of championship matches except Puskás to dazzle again with his far-darting beams over football settings and scenes as no man in all Europe could do.
By this time, Puskás was over thirty during the 1959-1960 season, was once more at the peak of his virtuous powers now aged thirty-three with that peerless left foot crackling like fireworks from a superior sort of football artisan where the climbing sap of his genius was running thick, finishing the season with 25 goals in 24 matches to lead the league as the steadiest pillar with marvelous scoring fire on a team that from February 1957 to March 1965 went undefeated at home in one hundred twenty-one back-to-back league matches. Puskás was again in that most brilliant hour of that wonderful second youth. In that year's Copa del Rey, Puskás scores 10 goals in 5 games, and in the 1959-1960 European Cup tournament Puskás scores 12 goals in seven appearances.

Alfredo Di Stéfano once commented: "The younger generations that have never seen Puskás play don't know what they've missed. A lot of people think that he just had a good shot, but no, he could play, he was intelligent. And let us not forget that he was already thirty by the time he arrived in Spain. What a forward line we had! Kopa, Rial, Puskás and Gento. I don't think that there's ever been a more complete frontline in the history of the game."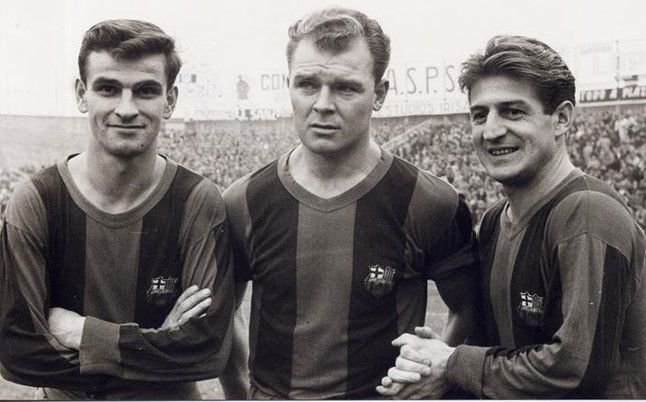 Barcelona legend Laszlo Kubala in the center with Sándor Kocsis and Zoltan Czibor played the greatest football for the Catlan club in the mid-1950s to early 1960s in the 20th Century.
Made up of as many fiercely talented virtuosos as it was, it was never simple to win the domestic league in Spain. The Spanish top-division proved to be an unforgettable campaign and seemed to come off matched genuinely between the talents of Barcelona and Real Madrid, each team seemed to compliment the other's result everywhere they went with no clear winner right up to the finish. But what Barcelona had, however, at the time are very popular services of the famous Hungarian expatriate footballer named Laszlo Kubala, considered Barcelona's greatest ever 20th century player and two other great men of the game, Puskás' old strike partner Sándor Kocsis and Zoltan Czibor then both also playing in Spain after their defection and turning a very good team into an engrossing side.
---

-- The Match --

They weren't younger then nor too older now but are ever wonderful — the usual collaboration of Puskás, Di Stéfano, Gento surely ever rising and employed ingeniously drew the invigoration of Real Madrid and shaped to make the most powerful and cumulative impact easily seen by all after Frankfurt's Kreb snatched the lead 0-1 inside eighteen minutes. Together their greatness evolves under pressure and soon the builders in the middle, Zárraga and Vidal, swelling a progress and starting a scene or two with swerves of team action condition their destinies for them to truly prosper.
For a confident-renewing start that extricated the audience of their daze, Di Stéfano knocked in a goal inside the left post from a cross along the turf and followed that three minutes later with a thundering roofshot goal mere feet from the goal-line after Frankfurt keeper Loy couldn't gather up the rebound. After a Real Madrid strike hit the left post, del Sol took possession in a prickly run down into the penalty area. It got away from the defender and Puskás was right on it. From a long, steep and harrowing angle outside the left side of the six-yard box Puskás, perceiving his promise, nails it beautifully in a rising shot, a long goal of pure release past the onrushing goalkeeper and strikes nothing but net to reap his first reward that grabs hold of the huge Scottish audience lively with cheerful voice.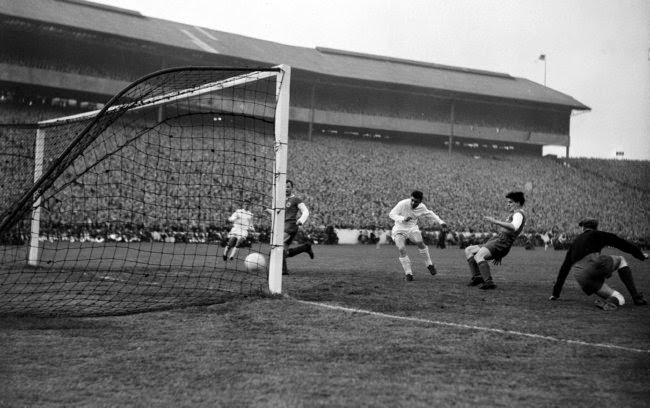 Puskás puts it in with his head in the from a cross from Gento to make the European Cup Final score 5-1.
The score was 3-1 just before the break and Puskás is shown superbly capable of evoking the old magic. Meanwhile, Frankfurt was on a torpid pace to catch up, their shortcomings were exposed by Real's formidable finesse and striking fidelity quite objectively, compounding their attractive football full of prevailing magnificos and omniscient living legends from the Real playmaking factory with Frankfurt bearing small resemblance side by side the challenging example of Real. Puskás then converts a penalty kick as the lead for a swollen 4-1 lead.
In the 60th minute the great winger Gento was in full stride down the center-left and fast running out of room before he reaches the deadline. Gento puts up a delightful cross in front of the goalkeeper for Puskás to catch up to and Puskás with his head smashes it in, 5-1. By this time Real was playing in unreachable fortissimo where the press Puskás-Di Stéfano-Gento is whirling wide. There is scarcely a moment in the action where Frankfurt is not poised for the lesson in the continuity, the superb wholeness, and profoundly balanced brand of Real's stunning football.
Puskás found himself at the center of football history once again and it all comes back to him like a thing done before; for him it calls to mind that kind of sublime mood in Wembley in 1953 in which all is right and nothing is wrong in his best hour yet. Nobody had done it quite like Puskás had. A finer sort of memory played over his prodigal amplitude again amid great remembrances, this was the insuperable life — all withstanding dwindling before it — and as in some new legend-play Puskás once more found himself amid proud music, another triumphal tour de force historic tutti this day. This was a delicious hour, this sweet, glorious hour that effaced it all as another everlasting exalté masterpiece was being laudably forged and here the fresh albescent creation fills all with a galactic light.
As the scores mount for Real Madrid, the expertness with which this fantastic game is maneuvered held sway with the huge audience and moved it with tidal feelings at the finish. They compelled all to enjoy the process of being brought to such tremendously affecting work. At the violet hour, in the 71st minute, the rivaling Frankfurt defense is broken by the alley of magnificence of Puskás-Di Stéfano-Gento dressed in first-rate ideas that nods them home and foretold the rest as another aerial cross from Gento out wide left is headed out by a Frankfurt defender traveling to the feet of Di Stéfano who quickly drives it to Puskás, who is a few yards above the penalty spot. With two defenders in front of him, Puskás' left foot blew out a long, fine blast with a rising volley that wedged into the top left corner of the net and opened the scoreline 6-1 and it is the whistle of victory.
The fabulous team was impartially far and about to be throned in fantastic triumph. There is a wide, wide wonder in it all, everything will be splendid today with the huge audience clad in joy, shouts and smiles at the peak of happiness, a monument of unaging superstars is an experience no one has had before or since in the European championship-level sport.
Along with the suspense of where the large assault, persisting exuberantly in all directions at once, could be heading there was a slow discovery to the triumphal sense that they were witnessing history in the making, climaxing a slow advance toward a brilliant epiphany in football that has moved millions of people of all ages all over the world. Even then, there was still time for Di Stéfano to score his third that re-made the score 7-3 at the finish lest the pure feeling should decline.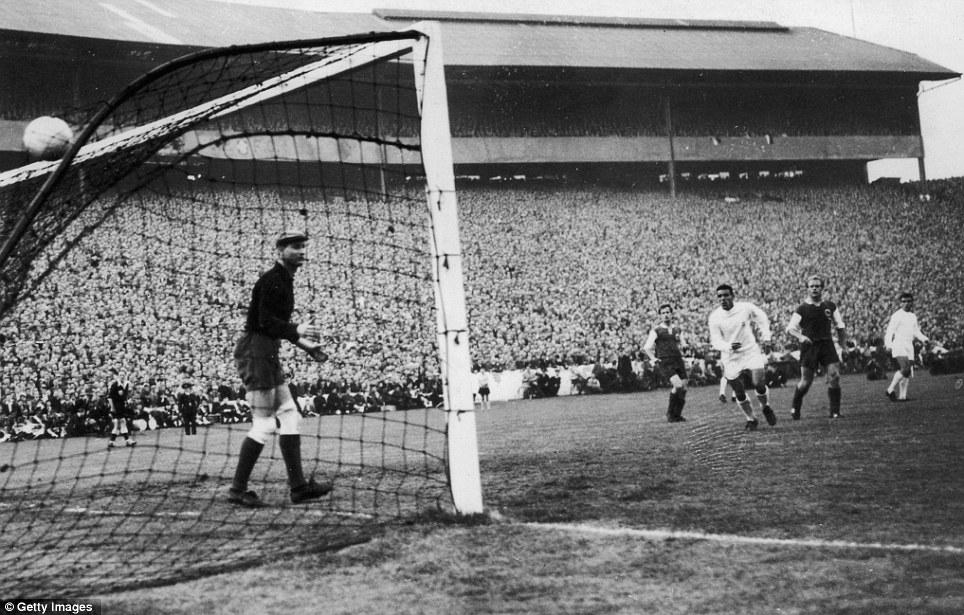 The sixth Real Madrid goal, Puskás' forth, hits the roof of the Eintracht Frankfurt net as the the greatest team on the planet crushes the strong German finalist 7-3 in the greatest European Cup Final ever.
All this, of course, apparently fired up the crowd so much that as the game approached its end, players on the field simply could not hear the final whistle from the referee such was the blaring and deafening 'Hampden Roar ' that extended all around and drenched the air thick. Feelings of massive delight overflowed, and Scottish spectators piled out onto the field amid a good-natured uproar. Scottish players whom Puskás had faced before came to congratulate him after the match. Only 'Pancho' Puskás could make it once more monumental—he carried a jubilant crowd around him thru a haze of delight.
They behold Puskás, the picturesque sports hero giant who stood sole among men for greatest number national goals and the zenith goalscoring forward yielding the most national first division scores who spreads around him the joy and knowledge that they were the very best ever of the era as Puskás touched all time greatness again with immortality. In the grand manner again the land celebrating the lords of the game amid treasuries of talent as Puskás can remember an earlier similar day like the livelong November 25 of 1953 as a historic achievement far beyond estimate.
There is an atmosphere of festival, of release as merrymaking scenes of joy erupted all over Madrid. Forty thousand jubilant spectators lingered under the obvious spell of happiness with reveling and roaring extravagances for an hour on the terraces, consumingly delighted with the caliber of stupendously rich attacking football they had just witnessed. Real's interpretation of the game using the same formation once used by the Magical Magyars (3-2-5) won its way with commentators everywhere. It was like nothing that had ever come home in front of Scottish and European audiences before.
Sports commentator Richard Widdows wrote: 'The Scottish crowd knew they had seen one of the greatest ever games of club football; the only tinge of regret was that there was little hope of seeing it's like again. They noted the day, 18th May 1960, and marked it as others had done ... and counted themselves lucky to have been there.'
The Daily Mail also included: "It's just a pity that the thousands of people at the game, and who have to return to watching Scottish football, must have thought that they were dreaming."
After their landslide epic 7-3-win, Real Madrid players were celebrated throughout the land and joy communicated itself spontaneously to the public who could barely restrain their admiration for the side that seemed capable of beating anybody in the world. They were the center of attention of the world's media for a few days afterwards. Life was picture perfect, during which they were paraded through the town center and applauded when they appeared at the town hall in Glasgow. Thousands of ordinary people lined the streets, and more still waved their congratulations at the airport for the flight back. Their famous win over Eintracht Frankfurt that spring in 1960 constituted a thrilling and poignant moment when everything fused together and made perfect sense.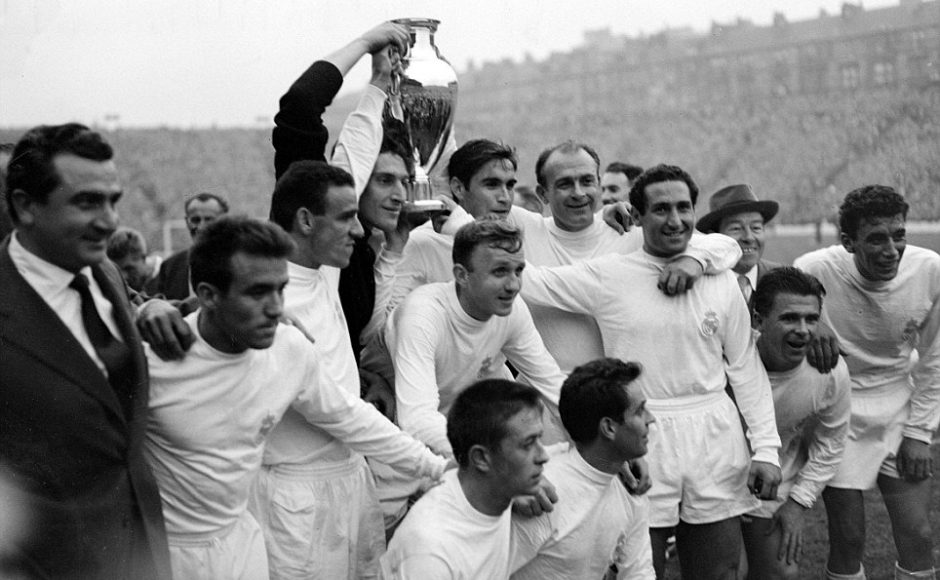 Arguably the greatest club side in history: 1959-1960 Real Madrid after a unprecedented five straight European Cup triumphs.
In the first-ever Intercontinental Cup, Real Madrid traveled to Uruguay to play against Penarol in July, the team from South America recognized as that continent's champion to engross the whole footballing world under a world title. Real merely looked to safeguard their chances at the Bernabéu and left with a 0-0 score. In the return match in the late summer, in September, Real Madrid players offered their admirers the chance to witness, once more, their smash-hit side attain a stratospheric elevation in the world as the finest club side in history. Over one-hundred thousand fans showed up at the Bernabeu Stadium and Puskás, appeared to have a righteous good time of it, initially being the one who orchestrated affairs in scoring two goals and making two more, one in the second minute and the eight to carve out a 5-0 lead ten minutes before the close.
The emphatic 5-1 victory in the inaugural title match testified to the remarkably distinguished team of which Puskás was a part and came at the precise moment when they are playing their best football. Fresh praises by the press declared them the " best in the world ". The team asparkle with world victories, Real Madrid was on top of the world after five straight European Cup trophies and appeared to wear and shine forever. People said that Real Madrid of 1960 was the greatest team of them all and speak in praise about the omnipotent players at Real Madrid. They were "champions of the world". 1959-1960 Real Madrid had arrived to an extraordinary position in world football history as the highest scoring championship franchise in an international season. A smile levels across the face of old Puskás 'Pancho' The Impeccable who looks from sole to crown as imperious as ever.
'The Greatest'

The European Cup's (Champions League) Highest Scoring Champion Team of All Time

***** 1959-1960 Real Madrid *****

Star Catalyst M.V.P

Puskas' Tournament Bestowal

Puskas' Full 1959-1960 Campaign

Team Goals

Goals/Game

Goals Ags.

Goal Diff.

Goal Diff./Match

7 Matches

Ferenc Puskás

12 Goals in 7 Matches

(1.71 goals/game)

European Cup M.V.P.

49 Goals in 38 Matches

(1.29 goals/game)

Top Division European & Intercontinental Champion

Primera División M.V.P.

31
+4.43
-10
+21
+3.00
This major affirmation brings Puskás fuller being. Puskás was not a miracle, he was fulfillment at the apogee who was popular as never before. His lore at Honvéd, Hungary and Real Madrid were astonishing. Three times more the fond player would help lead Real Madrid to the European Cup title match in 1962, 1964, and 1966; and Puskás emerged as the only player who has been at the very heart of football history in the making, not once, not twice but three times ("The Match of the Century", the 1954 World Cup Final, and the 1960 European Cup Final). For Puskás, in his 22-years' pursuit of footballing pleasure, the goalscoring supreme of 1958-1966 Spain, had finally the superb merit of being the only player who had now produce three foundational tour de force matches in football that took place with a glow that nothing else can give, and who facilitated the formation of the European Cup championship with Honvéd in 1954 as we shall see in the next chapter.
Glory could still re-whisper itself to the hallowed player, Puskás, or even make of him the greatest player who ever lived.