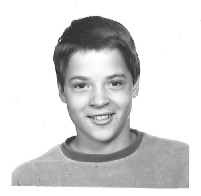 Author: The Historian Emeritus of the Literati, part time Astronomer, the Bobby Fischer of Crackling (Dynamic & tour de force) English and Michelangelo of Style(s)/ the Master Whiz Kid of English, the Oliver Twist of Treasure Hunters from San Diego, California, the greatest state in the Union ( the 'Golden State', the land of the 1848-1849-1850ers )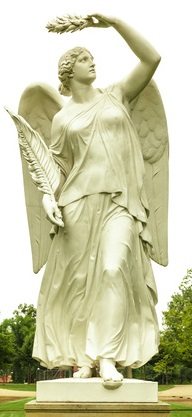 The Masters
Association Football History's Supreme All-Time World 'Dream Team' Select XI
http://xtrahistory.blogspot.com/2013/01/All-Time-World-XI.html

The World's Greatest of the Great Teams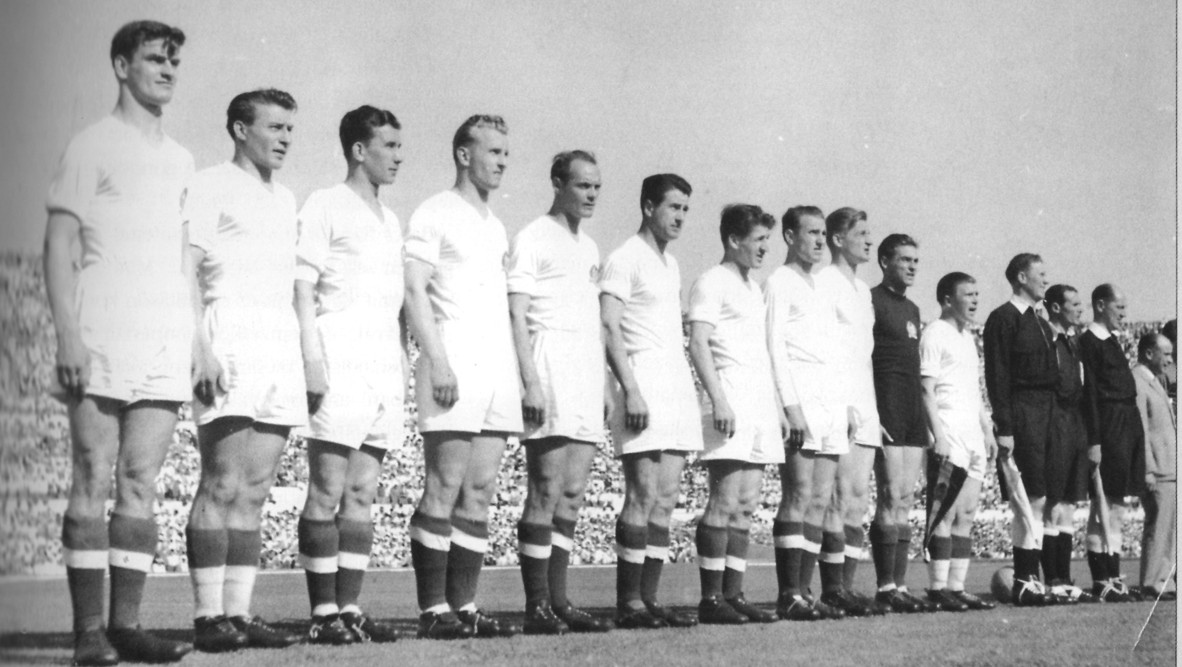 The 'Magical Magyars', football history's all-time highest rated team with 2231 Elo power-rating points.
---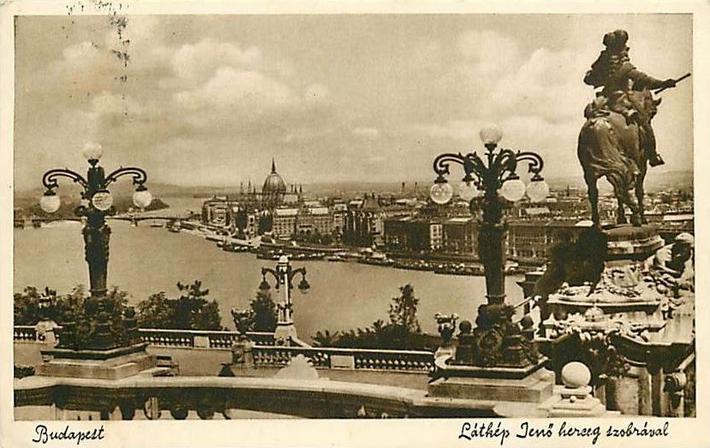 The 'Paris of the East', the 'Pearl of the Danube', the 'Capital of Freedom', old romantic Budapest is a very ancient city with its venerable pivotal and strategic past. In the depths of the Second World War, in Hungary largely untouched by the war, on December 5th 1943 in the Hungarian Transylvanian city of Nagyvárad , the precocious young talent, 16 year old Ferenc Biro Puskás makes his debut for Kispest (a local 1st division club from Budapest).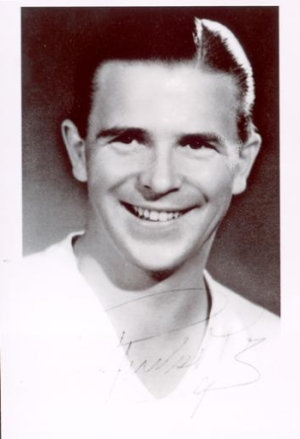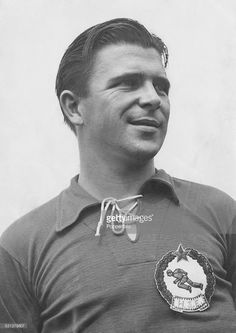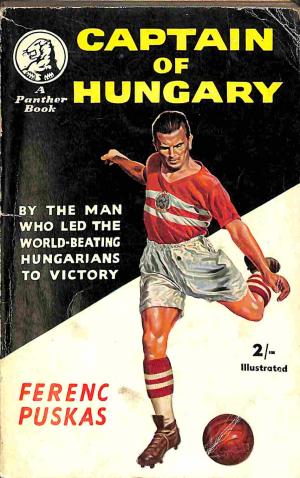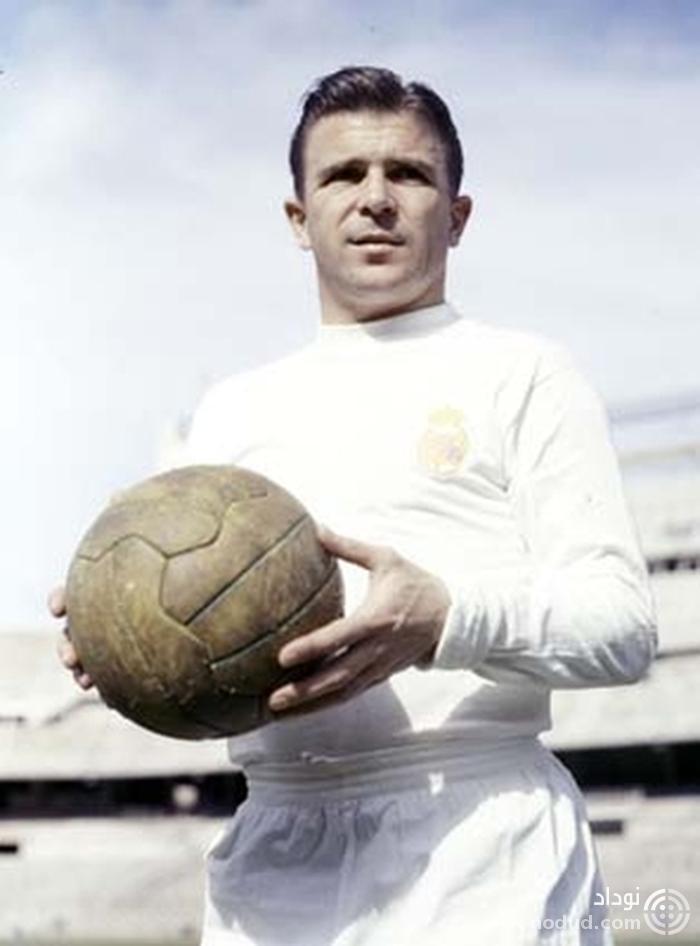 Football's 'Bambino', Folkloric Robin Hood, Tournament Extraordinaire,
Horatio Alger & Ulysses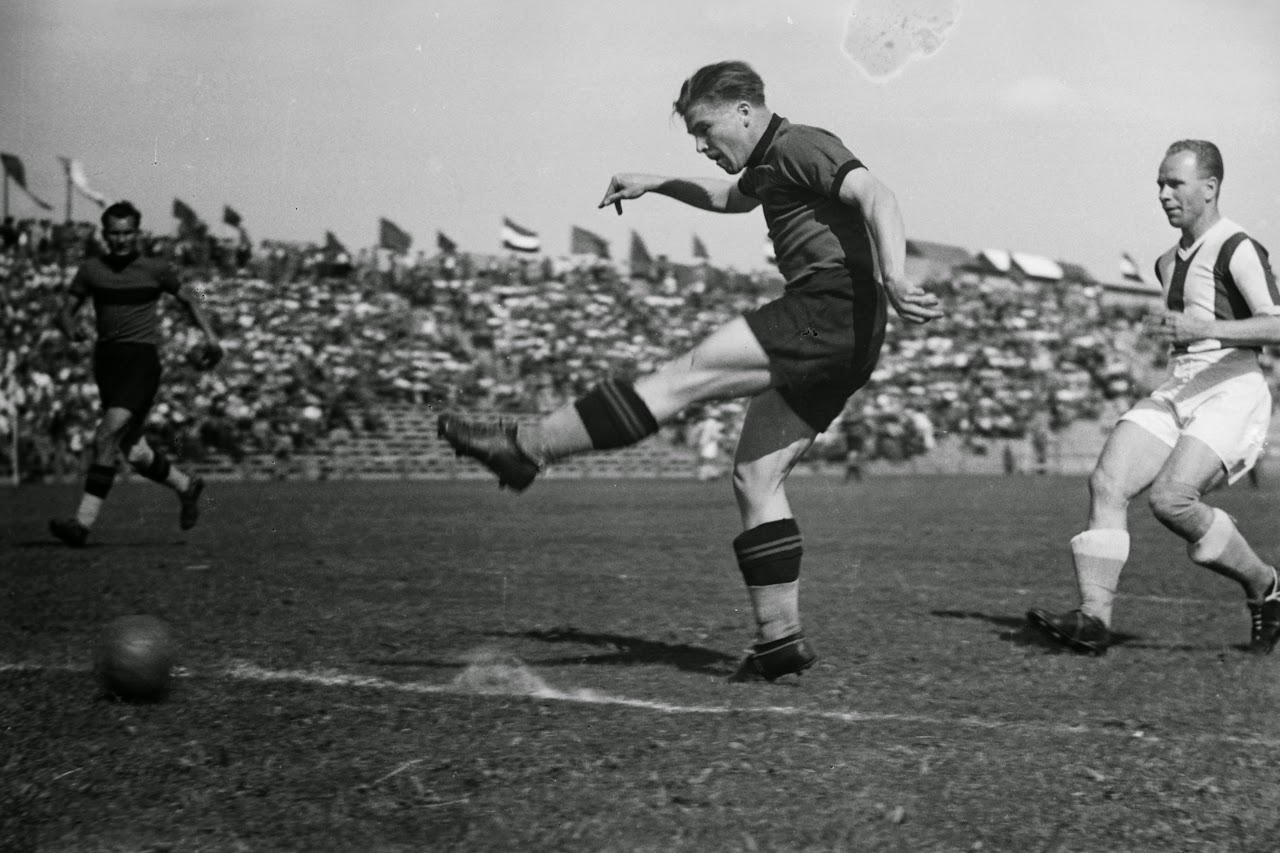 Ferenc Puskás
The World's Greatest Goalscorer & Football's First Superstar

IT might be prophetical and right that the 20th Century should have prepared the way for a player of prolific prizewinning Olympian productivity and that when this player came he was one of the extremely few who do not belong to any century but for all time.
It is no more in the legends than as if in some colossal drama all along post-bellum football history everywhere on victory's geography and conning the new times, Ferenc Puskás is the strong artist from whom every jot of greatness unfolded from the large Cold-war politics of the late 1940s, the entire football revolution made real by a new race of outdoor athletes with the 1950s Magical Magyars to 1960s Real Madrid's peerless compositions, top-flight football seemed to culminate to its crowning stage and set records still untouched and altogether unreached.
Without knowing Puskás we can hardly view 20th Century football in perspective for Puskás is the master player who most completely indicates the ways and the times in which football turned from the traditions of much earlier times to the new mode of the second half of the century. How little the formative years sometimes tell about an individual's potentialities is exemplified by the fact that Puskás, who was known as Öcsi ('Little Kid Brother ', pronounced: Uhchee) in his youth were he mastered the game with a liberated intelligence and talent in the simplest of settings during the inter-war years would lead a life of creativeness and wit, be involved in three of the most stupendous matches of the century from start to finish immersed in the atmosphere of the sensational that caused him to be ranked among the most celebrated players of all time and become a great footballing figure of the classic past. Three of his games where he was the chief participant, the 6-3 win over England where he scored two goals and made two more, the 1954 World Cup Final match (the world championship decider where he opened and closed the scoring notes with two goals) that lived under a cloud of suspicion and the 7-3 win over Eintracht Frankfurt in the spring of 1960 where he scored four goals are among the best ever done.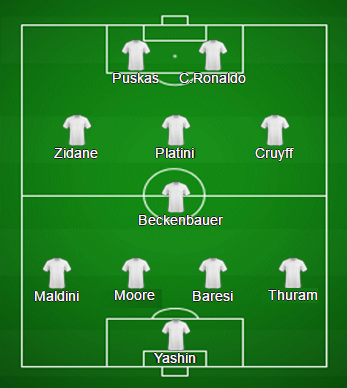 The All-Time European 'Dream Team' Select XI.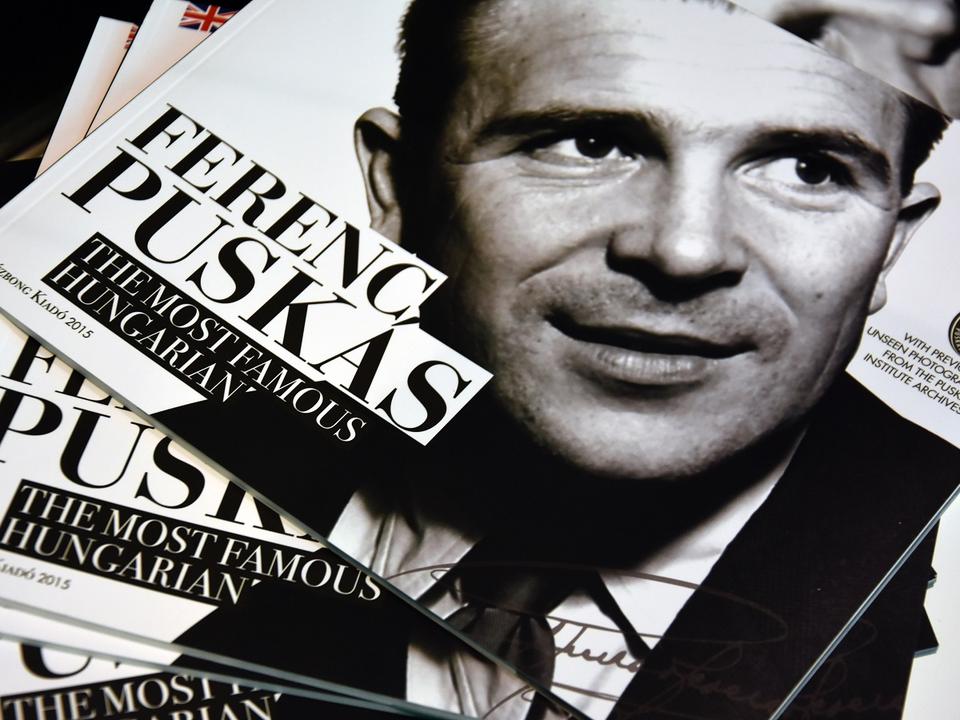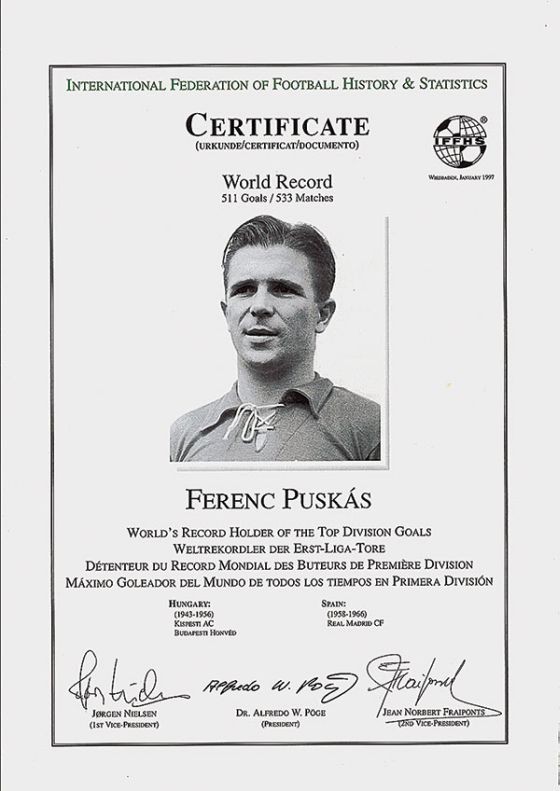 Only he holds the proud distinction of being on three of the most hailed and renowned teams of all time: mighty Kispest-Honvéd (1943-1956), Hungary (1945-1956) and Real Madrid (1958-1967), the latter two have remained, for many, probably the greatest teams to be seen in all the records of the world and the two principal teams of all time, the 'Magical Magyars' and Real Madrid.
In pouring goals with a streak of physical rhythmic élan, there is the inexhaustible fund of buoyancy with Puskás on jaunts of footballing years to crowning growth of matchless world-famous teams who run the race of fame, conquering their field of aim, endowed them with the glows and glories of cosmic and dynamic features.
Of the crowds of great teams who came and went, aloud in the raptured ears of men beheld Öcsi's team within the circuit of European football there entering a seven year reign of a national side that was perhaps peerlessly the best team of them all during a doctrinaire and the most extravagant and cavalier age of football, but Puskás metamorphosed them as 'statistically the greatest ever'.
How résumé is Puskás' potent, felt, interior command who has the quality to strike deep who built one thing after another with a remarkable talent through him the current and index of three superber risen teams that will rank as juggernauts equal or better than the greatest sides known. Continually bringing his returns and sending the sunrise out of these teams, he is the one that helped unclench the gates to five European Cups so that no team ever afterward could proceed to match his last team the century. Before Puskás , there were three won European Cups, after his arrival and on his retirement in 1967, Real Madrid had won three more European Cups plus twice runner-up title game silver medals in the competition and a 1st-division "world championship" in 1960 and Puskás had gone out a possessed True Legend who has kept his record place at top-division scoring ladders.
What a momentous and imposing 23-years' of footballing pleasure for Puskás with Kispest-Honvéd, Hungary and Real Madrid, his donnée glory-bound, they were to enjoy an honor of world-class nonpareil teams as Puskás, brisk wielder of speed and the ruling goal, unbound the old defensive spell by his superior lambent shoots along a wide circumference of talents and skills and into untraveled records and great forever legends. Whether at Kispest-Honvéd, Hungary or Real Madrid they enter the world the greatest as Puskás quite unsheathed the old heat at inside-left as none had or has before. Rivaling teams seem hindered characters caught in unstopped teams perfecting the game and casting a real reckoning with a hail of scores, all who played alongside him picked up magic in his nearness, the man of center situations who helped build glories their longevity.
This football symphony-maker, this conspicuous student of the game, this teacher of athletes, this organizer of huge teams eternally floating solutions played far off into the match and confronted it with swing and improvisation with the eyes of the artist so that power streamed out of him. For Puskás, who captained Kispest-Honvéd and Hungary, Real Madrid joyfully meets a new translation as a strong scoring flare plays ever through them for they have found nothing mightier than Puskás who once led Real Madrid in scoring for five straight seasons and had 25 or more goals each full campaign for six years beginning from his first in 1958 and disported the most strong drive cast from a left foot—the great thunderstone that gave upon the sylvan scene a stunning accuracy quick to return a score, the whizzing cannonball intoned with relish that splits the defense.
*****The World's Greatest of the Great*****
World's All-Time Top Division League Goalscorers (update Nov. 13 2017)
| World Rank | Star Player | Domestic League | Goals | Matches | Goal Ratio |
| --- | --- | --- | --- | --- | --- |
| No. 1 | Ferenc Puskás | Hungary / Spain | 511 | 533 | 0.96 |
| No. 2 | Imre Schlosser | Hungary / Austria | 417 | 318 | 1.31 |
| No. 3 | Gyula Zsengeller | Hungary / Italy / Columbia | 416 | 394 | 1.06 |
| No. 4 | James Edward McGrory | Scotland | 410 | 408 | 1.00 |
| tie 5 | Gerd Muller | Germany | 405 | 507 | 0.80 |
| tie 5 | Roger Milla | Cameroon/France/Indonesia | 405 | 712 | 0.57 |
| No. 6. | Hugo Sanchez | Mexico/USA/Spain | 400 | 684 | 0.58 |
| No. 7 | Ferenc Szusza | Hungary | 393 | 462 | 0.85 |
Source: International Federation of Football History & Statistics
Magnifying and applying comes Puskás, the old camerado, and there joins a group of superior circuit at Real Madrid who have passed their prelude. Putting in higher claims for greatness and a new tangible good, their strong football tenoned by Puskás-Di Stéfano-Gento, a swift-streaking full-sized engine speeding with superstars, for Puskás it was a new superbly rising apex. Making appointments with all great first-division sides abroad or at home at the Bernabéu Stadium they are the sierra of football launching a top-division verve that stands leagues off anything that came before or after.
At the Bernabéu, like no three alike in Puskás-Kocsis-Hidegkuti at Hungary, Puskás-Di Stéfano-Gento (1958-1964) were a belaureled story, foiling others with a long stretch of losses in a world-record 121 (Feb. 1957- March 1965) undefeated league matches in history's greatest 'home-field advantage'. Relishing well their streak, here they twain apart from other footballing men to sing the team electric of a side that shall grow fierce and athletic and be different and far more great from what anyone supposed. It is here in form, plan, union, plain excellence seeing it through the vigor of the names of Puskás, Di Stéfano, Gento amid bloomings of glory ever-returning spring for six years that hit the world with their ripe renown. Here visiting sides are taken and tossed, where they dally with all by the sweet questionings at midfield to set an emblazoned zone for the clean favored legended press of Puskás-Di Stéfano-Gento as visiting teams were scorched by the hot scores of the greatest and most decorated strike trio of them all playing out the lightning, the perfect top-division order trusted to Puskás-Di Stéfano-Gento.
At the Bernabéu, with the sternest defense on earth led by the great José Santamaría, the legendary instant defensive conductor all over the game signifying sureness, the team immodestly sliding away defeat unfolded undefeated seasons pursuing each other for eight years. With Puskás, Di Stéfano and Gento raking the broad field with reverent feet and with the last conquests of their eye, out of the talented dimness of every side opposite equals the Real Madrid advance in perfect health, picture perfect pride, and original energy drilling imagination right through the opposition with sweet speed — the journeywork of the stars in football's perfect day—as the whole well-wheeled harmonious landscape rang and Victory looks gigantically up.
Or to announce by all the world's press a fifth consecutive European Cup title superb and strong and portray the dreamed-out game in the spring of 1960 and finding himself in the center of football pomp never superseded upon, or fighting the uneven fight in the 1954 World Cup finale (his second goal and equalizer being the most marvel of all) where botched refereeing and reputed doping spelled the loss against a West Germany team that changed the course of European and world history.
Or to famously assail the world sport's high estate in 1953 in London to rousing adoration in his 10th career year in the 'Match of the Century' where old Agincourt-level football victories spread by a formidable world-renowned English side that put all the rest of world football in the shade and who had much practice and great talent to receive opponents when they come, there, at Wembley Stadium, the place where the modern sport began, home of the ever old inexplicable, possessors of history's stoutest, international football's greatest and long-fabled 'home-field advantage' of classic legends rare and old since organized football first began in 1863, Puskás, with an eye for the unique situation leading his heralds fired the shot heard around the footballing world in the sport's first new powerful athletic manifesto and produced a game-changing titanesque masterpiece prophetic of the future that now all 'modern football' can date from it — perhaps the very best of games played last century were the ones played by Puskás Öcsi.
Warmed by dazzling mastery, the air is blue and prodigal and filled with victory's perfume with the three teams broadening outward as they crossed and recrossed the pitch calling out for gain and in the activity and destiny of eleven performers where the good and the best and the legended move fantastically, the art is long, turning loose the system of practiced skills for the new maneuver and the unconsciously coordinated acts and upsprang the perfect team. Game after game with strict inscrutable élan the three teams with Puskás sparkle hot, outlasting all and were not detainable, kept creations at ease and moved more ways than one amid the palings of their rivals. All fashion of opposing defending unable to douse the old witty one-two-three as Puskás chanced upon the spot and with his rotund body's full consent rend open the candescent heat, the unavoidable straight beam and the match becomes avalanching over decades of the thoroughly dominant.
In all that proud old soccer world last century strong upon him is the life that is always in sight of the perfect team, and here would be salvation and all the wisdom you'd ever need. To roll the thunder from his vigorous left-foot, to see that power is folded in wondrous interplay, to quell Europe and the world with another exceptional team, a great team waited for by old worlds and new amid a showered halo of acclaim was the folkloric legend of Öcsi. Here were teams that legend could sing of as a paragon of vitality bringing infectious happiness directed by wily uomo universale of renaissance dreams who became a runaway star and the best player in the world.
*****The World's Greatest of the Great*****
Top International Goalscorers of the 20th Century:
| World Rank | Star Player | Nation | Goals | Appearances | Goal Ratio | Hat tricks | Years Active |
| --- | --- | --- | --- | --- | --- | --- | --- |
| No. 1 | Ferenc Puskás | Hungary | 83 | 83 | 1.00 | 5 | 1945-1956 |
| 2. | Godfrey Chitalu | Zambia | 79 | 111 | 0.71 | 6 | 1968-1980 |
| 3. | Hussain Saeed Mohammed | Iraq | 78 | 137 | 0.57 | 5 | 1976-1990 |
| 4. | Pelé | Brazil | 77 | 92 | 0.84 | 7 | 1957-1971 |
| tied No. 5 | Sándor Kocsis | Hungary | 75 | 66 | 1.136 (world record past 52 goals) | 7 (previous world record) | 1948-1956 |
| tied No. 5 | Kunishige Kamamoto | Japan | 75 | 76 | 0.99 | 8 (tied world record) | 1964-1977 |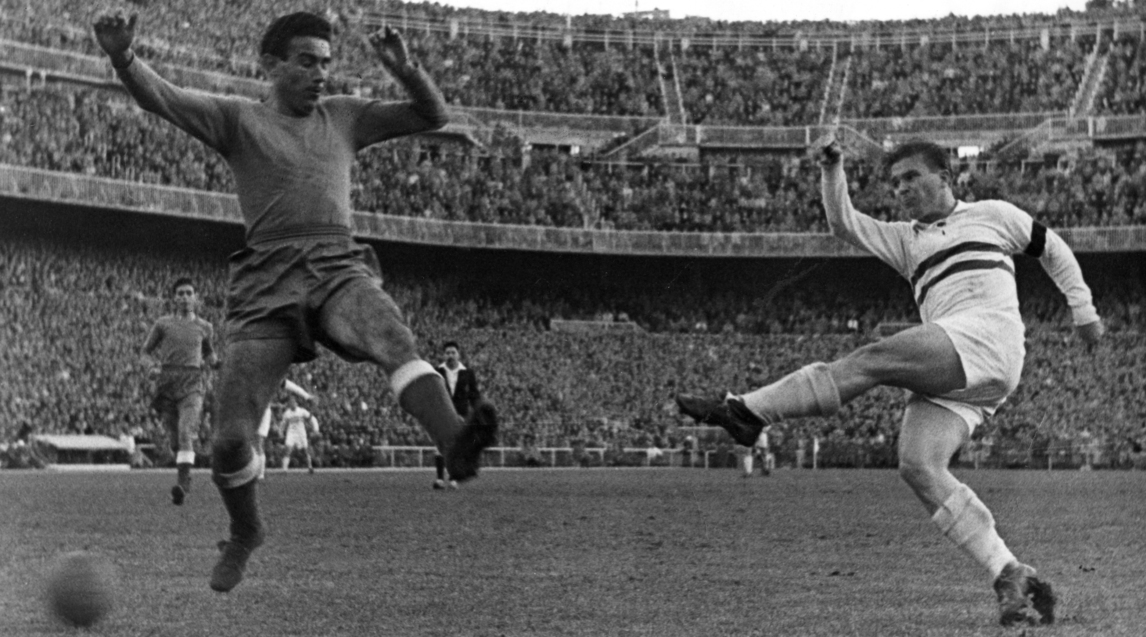 Ferenc Puskás was the 20th Century's all-time greatest international goalscorer and still the sport's most prolific top-division scoring league player in history.
So filled are the annals of games with Puskás able to conclude things very fast with his rippling single footedness that, in the least, a towering 746 total goals (http://www.rsssf.com/players/prolific.html ) were bestowed on goaltenders during his 23-year career with an unidextrous feel that prized out the tightest defenses. Most surprising for a player who almost entirely lacked an audience with this right foot, but whose assured urbanity, smartness and energetically inquisitive intelligence during the game's commotion that never halted at a fixed position but reflected ceaseless exploration coupled with a superb effortless command of his left foot put away all doubt that, as a player, Puskás was found worthy of being in the top four players who ever played the game. Football history's second player to surmount 600 official career goals, a benchmark for very elite status, was achieved by Öcsi, and he is one of only five players in history to surpass 700 official goals.
"Cañoncito Pum" ("Little Booming Cannon"), Puskás as a superstar talent
abroad, a folkloric-legend-in-exile in Hungary, a footballing crackerjack who
became the greatest top-division and world goalscorer and a top-division tournament
extraordinaire. One of the greatest ever players to play at Real Madrid.
Top division Tournament Extraordinaires
All-Time Greatest Goalscorers in the European Cup/'Champions League' by Goal Ratio (minimum 35 goals)
| Rank | Player | Goal Ratio | Goals | / Matches | |
| --- | --- | --- | --- | --- | --- |
| No. 1 | Ferenc Puskás | .878 | 36 | 41 | Budapest Honvéd, Real Madrid |
| No. 2 | Alfredo Di Stéfano | .845 | 49 | 58 | Real Madrid |
| No. 3 | Lionel Messi | .802 | 97 | 121 | Barcelona |
| No. 4 | Cristiano Ronaldo | .781 | 114 | 146 | Manchester United, Real Madrid |
| No. 5 | Ruud van Nistelrooy | .767 | 56 | 73 | PSV, Manchester United, Real Madrid |
| No. 6 | Eusebio | .708 | 46 | 65 | Benfica |
| No. 7 | Robert Lewandowski | .652 | 43 | 66 | Borussia Dortmund, Bayern Munchen |
source: http://www.worldfootball.net/alltime_goalgetter/champions-league/tore/1/
---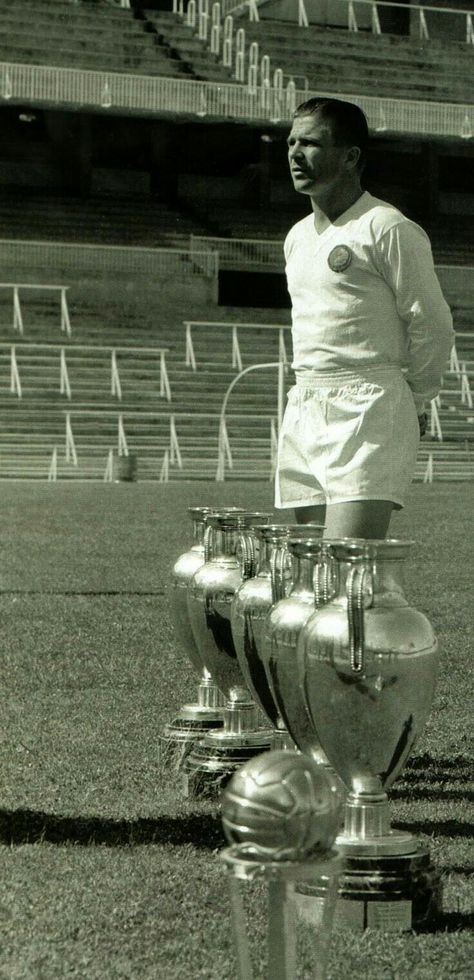 Ferenc Puskás with five sterling silver European Cup trophies,
the world's most prestigious prize in club football.
Puskás is large both in the theme of his world-famed classics that are among the most colorful parts of the mid-century and in the volume of his output and succeeded in catching the flavor of a time and place in European history whose like we shall never see again. We are probably closer to the essential character of the proud high noon of the post-bellum age with Puskás than with anybody else that played the game and he must be considered one of the great originals among footballers and perhaps the best—Puskás, immortal on all rosters, the animator of forces of style that would serve as a model for many generations.
The remarkable career of Puskás stretched across the whole modern post-war period and showed how a truly great player can reflect the varying developments of his age yet maintain an unmistakable individual sovereignty, unique and inimitable. His games were massive, elemental, becoming wonder games of the age demanding depth and insight. Puskás also remains incomparable also since his scoring streaks set him apart from all others and found in him all the livable lessons of life and football. A hundred anecdotes, largely legendary, celebrated the great sports star and authentic folk hero. As a player who was never bought or sold in his life, Puskás spent his entire career at the very top flight of his profession that seemed to raise his game to a sublime level.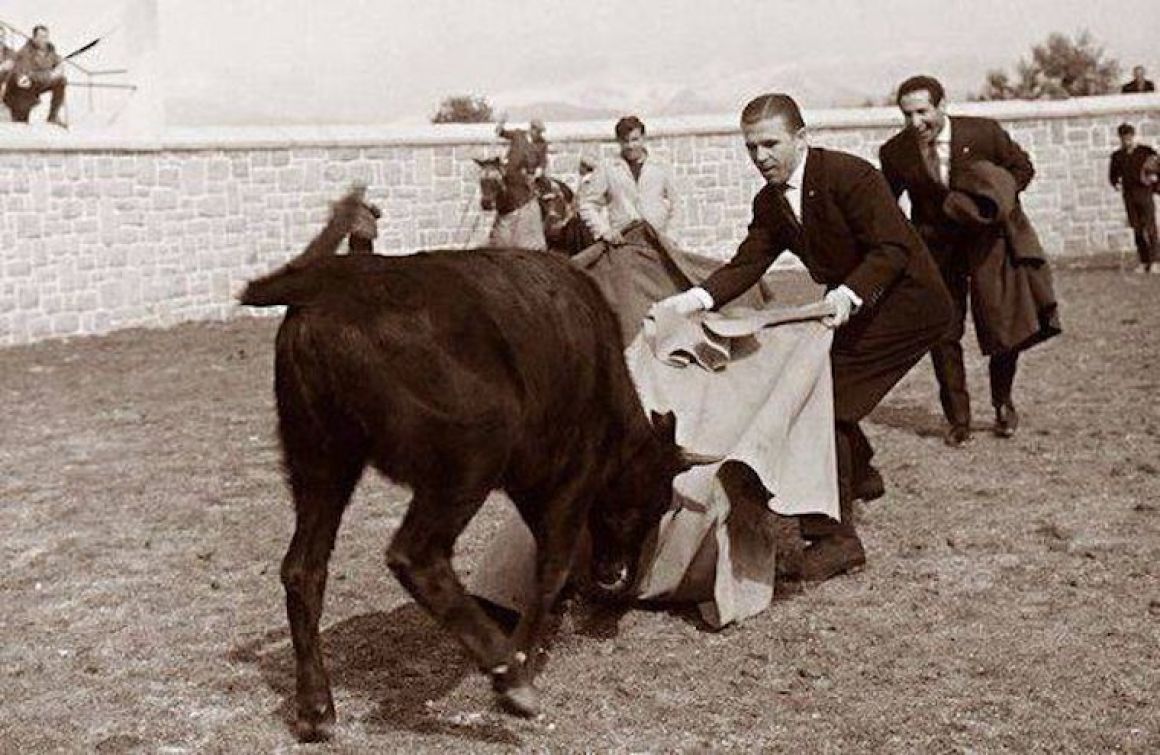 Puskás and Real Madrid great and good friend, the legendary winger Francisco Gento ("Paco")
the only man to win six European Cup championships as a player, in a bullfighter arena try out the
national sport of Spain
from inside the ring.
It has been well said that Puskás, the man, the player, the legend, and his life and times considered together were in many respects unprecedented. Puskás often enters the conversation of where the greatest footballers ought to be lodged in the towering pantheon of all time. The roll-call of the greatest would include men who have shaped football's affairs as well as imprinting their potent influence on national and club-level productions and be outstanding among players beyond the prowess of the average soccer layman. Not many players have had the versatility, prolificness and the knack for the spark which notifies championship outcomes, all of which belong to Puskás.
If debate for being the greatest ever player is plainly laid to figures for most goals at the highest levels both in the club and the international game, not to be estimated in any way by other criteria, it would assign this legendary game player an honored place in the game's hallowed iconography. The ever folksy and personable Puskás was the most significant forward top-flight football ever saw. He was also the greatest goalscoring international of the century who ever lived, scoring 83 goals in 83 matches for Hungary and the sheer breadth of his output showed just how immense and indeed Olympian an athlete's scope legitimately can be. Set in the sky of high scoring numbers, records and historic precedence is Ferenc Puskás.
Undoubtedly, the most renowned and greatest of Hungarian sportsmen, he is in company with magician Harry Houdini, Hollywood legend Bela Lugosi, newspaper magnate Joseph Pulitzer, Sir Alexander Korda (father of the British film industry), William Fox (founder of 20th Century Fox), Albert Szent-Györgyi (discoverer of Vitamin-C), Andy Grove (co-founder and CEO of Intel Corporation), polymath John von Neumann (the father-inventor of the modern computer in 1945), composer Béla Bartok, Alexandre Lamfalussy (the patron father of the 'euro' currency), photographer Robert Capa, chess wizard and grandmaster Judit Polgar, and Ernő Rubik who lent his name to the iconic Rubik's Cube for being among the most famous Hungarian citizens of the 20th Century.
"

The World's Greatest Goalscorer

", an exhibit to an exceptional player, Ferenc Puskás, at the National Football
Museum, Manchester, United Kingdom, 2015.
During a busy decade of a difficult rebuilding world in the post-bellum era, in the arc light and formative glow of nascent mass media with a global reach and increasingly networked newswires at the dawn of live television that meet audiences as never before made possible a new kind of connectedness and a new kind of culture which we call mass or popular culture. Around this time Puskás became football's first superstar both at club level and in the world game who foreruns the likes of Alfredo Di Stéfano, Pelé, Johan Cruijff, Diego Maradona, Zinedine Zidane, David Beckham, Cristiano Ronaldo and Lionel Messi, and it was Puskás who first spoke to and for this new era as football was being reinvented and telecommunications effectively shrank the world.
As prolific like the first and all-time greatest American baseball player Babe Ruth (the 'Bambino' who scored a world record 714 homeruns), Puskás never did acclimate to using his nondominant right foot for much except to dribble and scored few goals with his head. But he more than made up with an on-field generalship and a deep cerebral reading of the game as a highly competitive genius of daring color. He had a keen footballing brain to match his otherworldly accuracy. He had intuition with extra sensory awareness to grasp other sides' nuances with novel thinking and an encompassing eye in less than fifteen minutes of play by issuing a stream instructions to orient his team, and in his younger years often yelling at players many years his senior as a 'playing coach' solving ever-changing game vistas on the run.
Mentally striding in to take the lead, Puskás became an expert in the management of matches that revealed his calling as a versifier of genius and the darling golden boy of the system. Many thought that no one had a keener relish for the texture of the game than Puskás, whose agile intellect grasped knowledge hungrily and who came with a precocious talent at an early age making the national team all of eighteen as a supreme possessor with a heroic scoring indulgence on the ball that succeeded in catching the eye of Europe.
Much of what Puskás would come to stand for was determined long before his playing days at Real Madrid. Before the great golden age of football in the 1950s and 1960s properly declared itself, Puskás, armed with his rhapsodic vision in the 1947-1948 season at Kispest, scored 50 goals in 32 games to lead all players in the world and set the current of opinion that Puskás by then had qualified as one of the elites in the game. His well-known journey at Kispest-Honvéd saw Puskás score 352 goals out of his 341 games that effected an immense enlargement for the club's international prestige and elaborated a climax of Honvéd as the finest club side in the world, and already an initial career like this would have culminated with a first entry into Europe's pantheon of all-time greats. Confronted with the question of how he came by way of these instruments and knowledge, one can only conclude it was by sheer genius.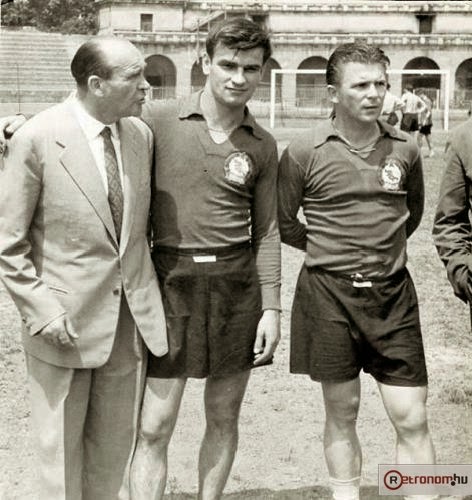 Legendary manager Béla Guttman with Sándor Kocsis and Puskás, the greatest and most prolific international trio of all time was Puskás-Kocsis-Hidegkuti tallied a combined 194 goals for Hungary on the highest rated football team of all time.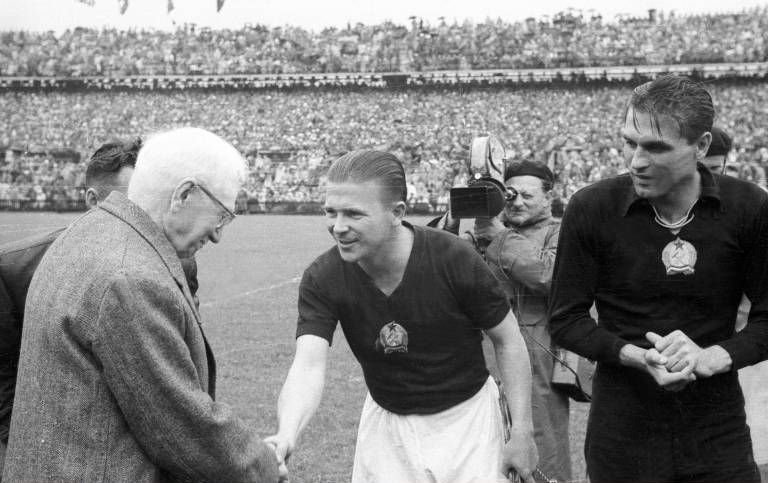 Former FIFA President Jules Rimet pays homage to two great Midas-players, the greatest player in the world, Ferenc Puskás
and Gyula Grosics, the greatest goalkeeper in the world, prior to the kickoff of at 1954 World Cup Final. The man most
responsible for bringing the World Cup to worldwide significance to rival the Olympics as an extensive athletic spectacle
spanning the globe, the pioneering architect and world football's highest official, one who oversaw football's vast
internationalization since 1921 as its founding father, FIFA President Jules Rimet was world football's supremo.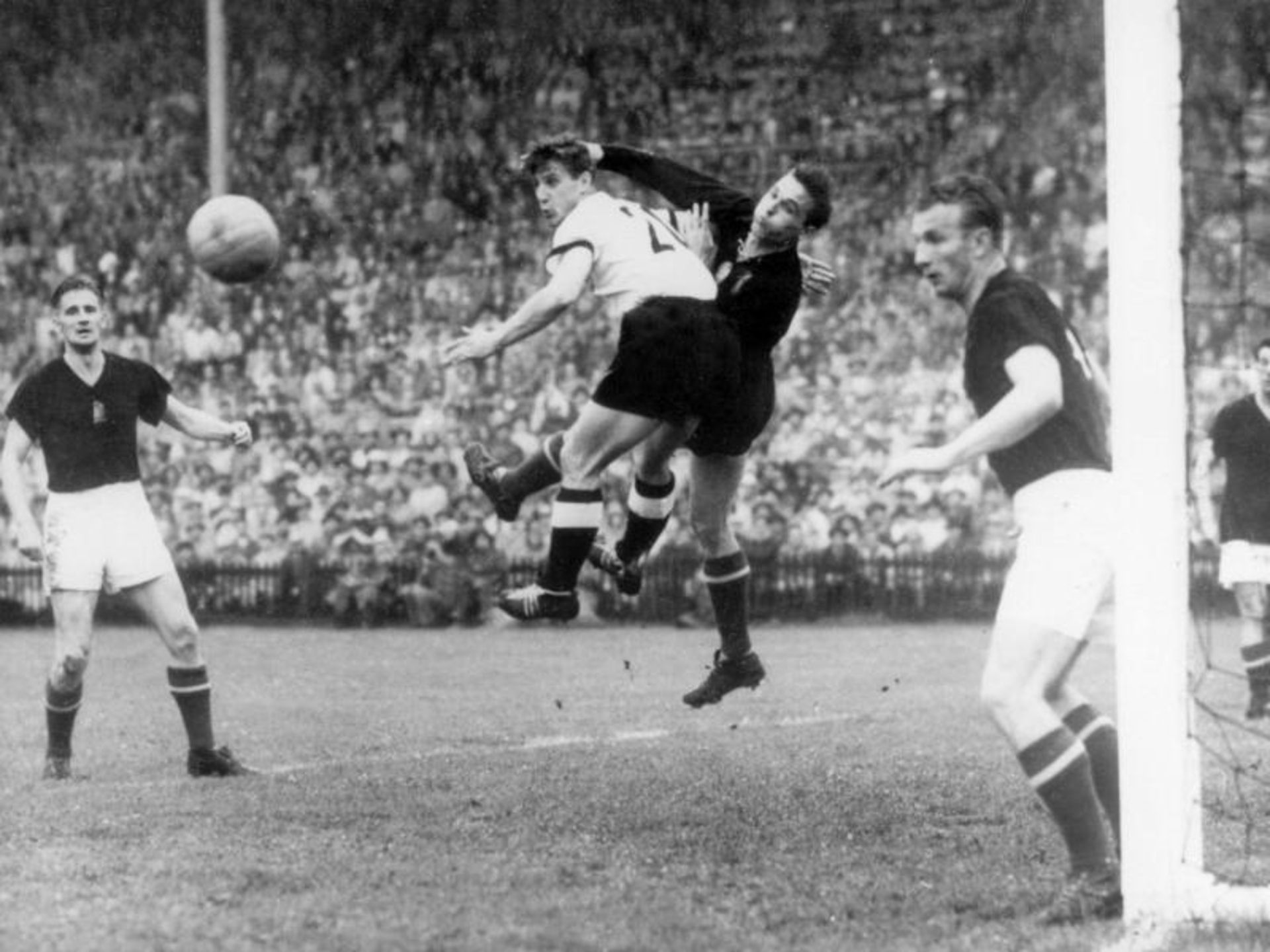 A defining moment: the un-whistled flagrant rough interference foul on goalkeeping Gyula Gyula by Hans Schafer in the 18th minute that brought down Grosics to the turf. The ill-guarded goal was scored upon by Rahn seconds later to re-make an ascendant 2-0 Magical Magyar lead into a heavily contested 2-2 match in the highest rated match of the 20th Century, the 1954 World Cup Final title game.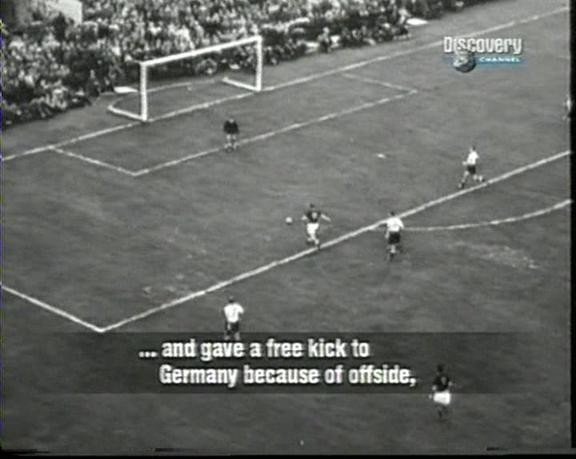 On July 4th 1954, in the World Cup Final title game, in the 87th minute Puskás would score his 2nd goal (his 5th in 3 matches in the World Cup) for the lustrous world star detained defeat by making a long wondrous 20 yard dash to equalize as two defenders are in front of his horizontal plane as a score played 'on-side' to tie up the most important game in international football history 3-3 against West Germany. Two wrongly officiated goals went in favor of West Germany that ideally should have ended 3-2 for Hungary.
A great deal of their success located Puskás to be the center of most things involving the team as a sharp operator both on the field and off with a fine grasp of public relations. The indisputably star player was the uplifter of an already great Hungarian side who drove his teams with a demanding love for winning to heights unrivaled and set a pace and a course to elicit the energy of Hungary's worthies and raise their minds to brave thinking that gave spur to his country's football flowering. The quintessential fact is that with Puskás at the helm Hungary became the most powerful footballing force in the world that lost a single game in six years. Puskás was honored for being named the top 1st division goalscorer in the 20th century by the International Federation of Football History & Statistics (I.F.F.H.S) in 1995.
Very few players had careers or stories to tell quite like Puskás for a number of occasions. In all that reporting of his career, a common thread in playing days that made him unique, simply that there is an air of the precious about almost all that he did, a glinting Midas touch, everything he touched on the field turned to gold in his life's work. Puskás only played on three teams: Budapest Kispest-Honvéd, Hungary, and Real Madrid, three teams that were to take turns in dominating his life amid their greatest flowering in golden periods of their own with an elegant yet fiery competitor with outgoing rough-diamond manners whose career crackled with re-inventive life.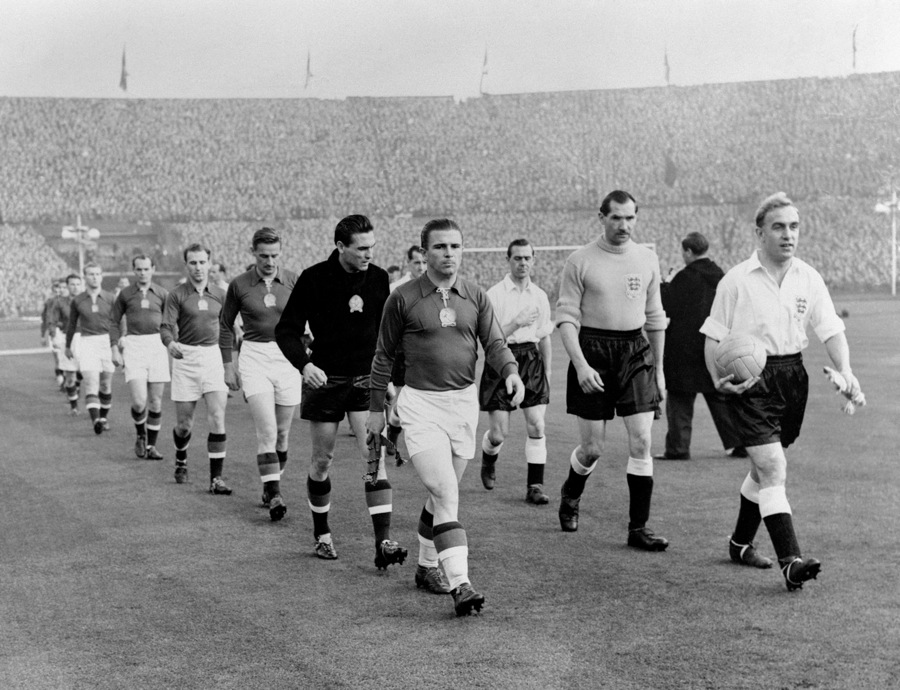 Top-tier association football's (world and top-division) most prolific scoring play, Puskás leads out the world's No. 1 team versus world-renowned unbeatable England, the legendary 1953 'Golden Team', a sensational panoramic Hungarian side with new vista that changed the game forever in the storied "Match of the Century", London England, November 25, 1953. In a very famous football day, a herculean football encounter between the greatest teams of any era, an unbeatably supreme, Western, never-humbled, never-beaten talented and much-fancied English side of grand power, the great aristocrats of football at home, versus the all-carrying Continental high scoring juggernaut in Hungary from behind the 'Iron Curtain' unbeaten in 3 1/2 years. The Magical Magyars amazingly prevailed 6-3 against the sport's and association football's greatest home field advantage against England, a 90 year old historic international record surpassed. With peerless Robin Hood mastery and contributions on the sport's original "Hallowed Turf" itself, inside England's magnificent Wembley Empire Stadium in the "home of football", Puskás scores two goals, including his incontestably best and brightest in the 'Goal of the Century' and two more stunning goals are marvelously set up by Puskás. A classic among classics, the "Match of the Century" was international football's greatest and most influential prestige friendly ever played that was also named the 'World Championship Decider' by the British press and where historians recall "modern football" first began.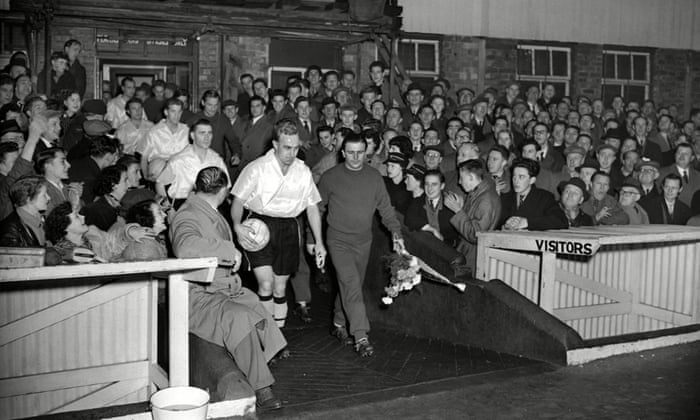 By late 1954, Puskás has become the world leader for international goals that he achieved in the 'Match of the Century'. Another great example of how great and influential Öcsi was: by playing in a heavily publicized prestige friendly on a sensational night under the bright lights against Billy Wright's Wolverhampton on Dec. 13, 1954 Puskás' Honvéd helped inspire in the European Cup ('Champions League') itself the following year.
Perhaps the strange, narrow, rigid socialist world in which he lived was constructed to provoke the rebelliousness latent in Puskás' spirit. Later estranged from his homeland due to the reprisals that were the fallout of the failed 1956 Hungarian Revolution and what might have awaited him for his refusal to return from abroad, and unconnected with interests in politics as Puskás was, he took that step that constitutes a temptation to many, defecting from Hungary which owes its origin to his desire to escape the vindictive storm that followed back home. Interspersed with problems of adjustment which faced him in language and customs, Puskás was adrift and languishing in exile his career and fortune apparently behind him but had decided to remain a player and who dreamed of going back to be the greatest, he was determination's totem.
On the wrong side of thirty and serving a one-year ban from FIFA, the famous epicurean was now mostly thought out of shape and in the twilight of his playing days. He has the capacity for change and sought to understand his new environment which molds the local mind and soon rose out of limbo and found himself in the employ of the greatest club and one the richest sports institutions in the world, Real Madrid at the height of its powers to begin a second consecutive and stunning double career.
By far, the best considered players among the supreme to play in Europe last century were Puskás, Alfredo Di Stéfano and Johan Cruijff. From the other far side of Europe would come Puskás to meet Di Stéfano, the greatest club player of all, on the same side in a storied centering of two iconic careers to begin another adventure in his second-act; and a stander on high, the best of the two winning-est, important, and quintessential teams in history cannot be told anyhow without Öcsi.
Real Madrid's "decade of dominance" from 1956-1966 of which Puskás was a major part (from 1958-1966) is considered by historians to be the greatest era for any first-division team that saw them enter eight European Cup championship title games, winning seven major world trophies; and amid some of the fulfillments of the greatest 1st division offensive line (Puskás-Di Stéfano-Gento-Kopa-Rial) ever concerted and a unbending defense contending to excel and boldly led by a defensive superstar of the game, Jose Santamaria, made them the most famous team in the world.
Like the Magical Magyars, in 1958, Puskás found himself on a perfectly lauded, superbly destined, rightly charged sport-shaping team in Real Madrid, a full-dazzling side victoriously careering through the Spanish league and the newly-minted European Cup for the solid prizes of the game, winners of the first three European Cup titles, a new team dominating previous ones singing the strong works amid vistas of glory just as positive and real as the Golden Team of the 1950s.
The team that Puskás joined (1958-1967) were to splendidly press forward with glad scoring notes, pacing miles and miles each game with undeniable skill, health and power to five European Cup ('Champions' League') title matches and five national championships; and fuller, O vastly fuller with the joy of the increase of the solid roll of prolific and vital Puskás, the team, receivers of new scoring stamina, initiates the stuff that start an endless enjoyment of wins and be put on a perfect equality or better than any other nonpareil side in history and become a grand producing land of the sport.
Here Puskás offered his style to everyone and helps tell them their destination. By 1967 at the time of Puskás' retirement, this Real Madrid team seemed to rebuff the attacks of all the remainder of the footballing world with the conquered fame of heroes advancing on real ground toward the measureless ocean of greatness that took the ostensible applause and exaltation of the world for men have found nothing mightier than they were. Rejoicing with high skill and a decided playmaking presence of Puskás, who once led Real Madrid in scoring for five consecutive seasons and with many a great player of talent safeguarding the enchantment, the team pierces through the stock of previous great sides and becomes an awakened enterprise. Soon the prizes they sought are won. Their fame reverberates through the grandest scenery of the football world that all men knew to be true, they were "The Team of the Century".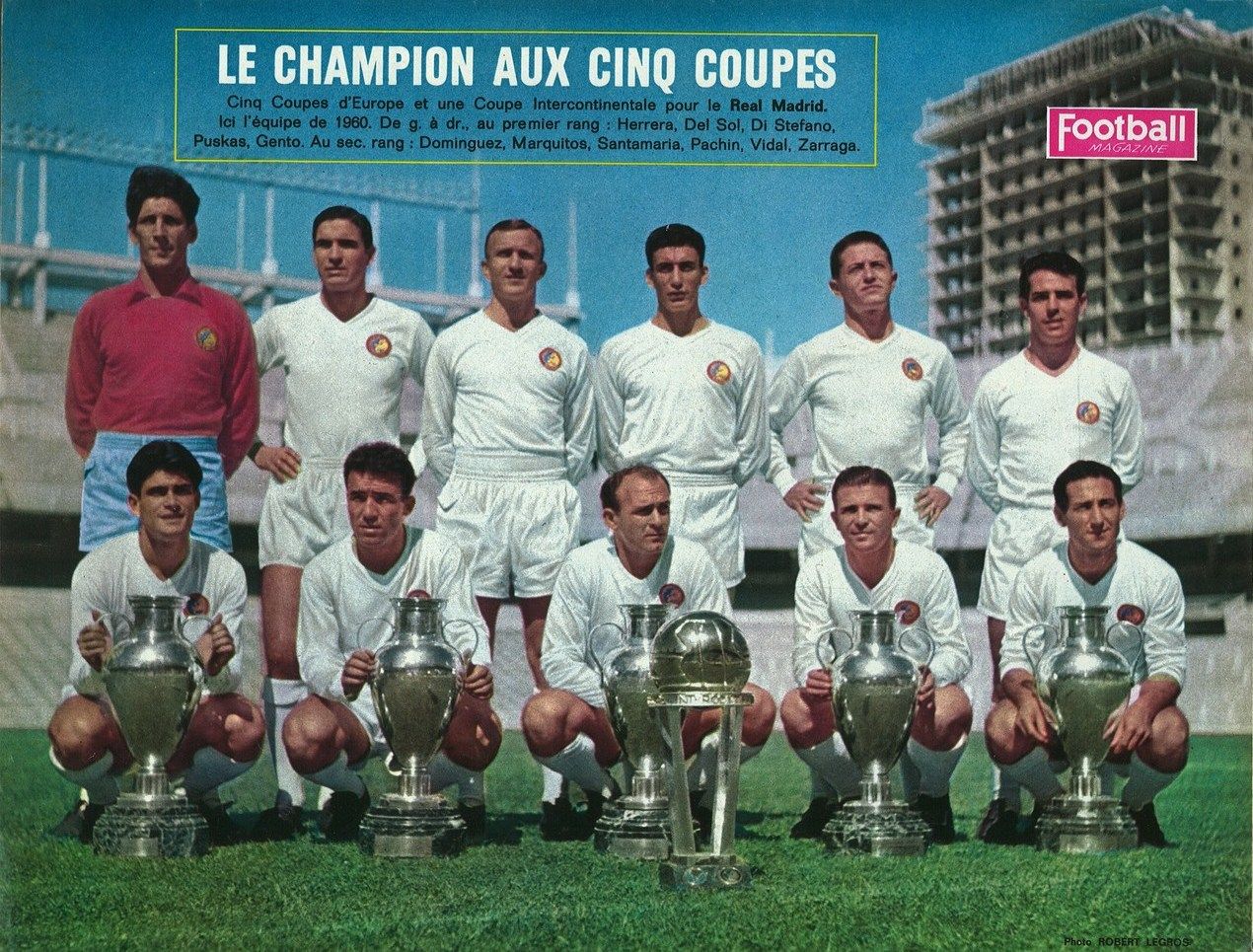 Puskás, named the 'European Player of the 20th Century' by L'Equipe, on a scintillating Real Madrid side, the orignal 'Galacticos' with five European Cup (Champions League) trophies and a 1st-division 'world championship' in 1960 on the Team of the Century.
Duly the great eleven appear in public in the proud and passionate city on the great team that has no conceivable failures, that loss cannot touch at home and proceed the eleven around their well-beaten Spanish and European counterparts for six years; completer, dauntless, masterful, ample, never-surpassed, forever forward, forever alive, a sunny race of footballing men, peals of goals dart out of them like dreams' projections. They are ultimate in their own right, well-possessed of themselves where talent is impossible to feign and knowing the perfect fitness of things, the haven of sophistications. There is something relentless in their fate as lusty confidences and the flush of the known game is in them, the errant ball to seize, then the splendor of the ball falling in where it is wanted, playing a swift sport through the air, advancing out of the sides or undergoing stratagems of movement and bursting through in un-looked for directions with transfers and promotions and sudden rightnesses, the colloquy is there, the trio, Puskás-Di Stéfano-Gento, the ball conversing with the learned men of the game far fitter than words can describe, with sudden gleams they pass, score and are gone to swiftly pass picturesque groups of teams, journeyers in uniforms of pure white over eight consecutive seasons undefeated.
Audiences throb to the brains and beauty of them thrilling works on the pitch as if no danger shall balk the practiced and perfect team sailing buoyantly over the roofs of the footballing world and its records. Projected through time, they soar above everything before or after and have gone forth among the legends through regions supreme. A vast camaraderie interlocks all, they were dynamic men, debonair, wholly excellent and admirable.
*****The World's Greatest of the Great*****
The 20th Century's All-Time Highest Ranked League Teams
http://clubelo.com/Stats/Highest
| World Rank | Club Franchise | ELO Points | Peak Date Set | |
| --- | --- | --- | --- | --- |
| No. 1 | Real Madrid | 2069 | March 19 1961 | Ferenc Puskás-Di Stéfano-Gento |
| No. 2 | AC Milan | 2052 | March 18 1993 | |
| No. 3 | MTK Budapest | 2037 | Oct. 20 1955 | Nándor Hidegkuti-Palotás-Lantos-Zakarias |
| No. 4 | Barcelona | 2006 | Oct. 6 1960 | Sándor Kocsis-Kubala-Czibor |
| No. 5 | Hamburg | 1973 | Nov. 9 1980 | |
| No. 6 | Juventus | 1966 | April 20 1995 | |
| tie No. 7 | Ajax | 1965 | May 7 1973 | |
| tie No. 7 | Liverpool | 1965 | Nov. 5 1990 | |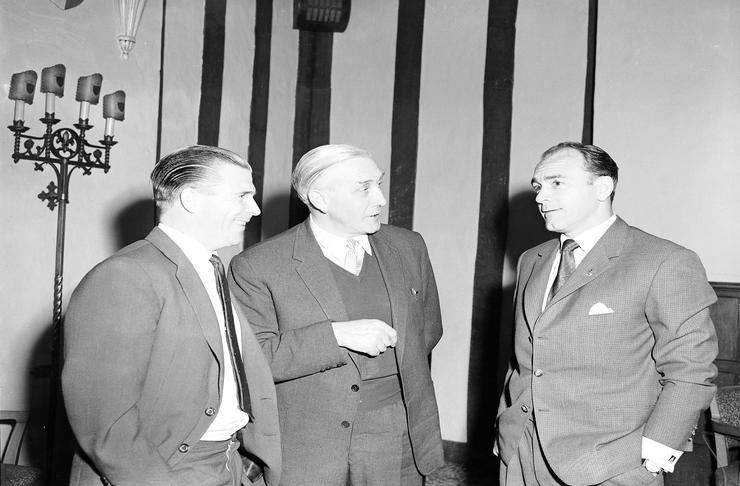 Ferenc Puskás with English pioneering legend Arthur Rowe, manager of Crystal Palace and advocate of 'push and run' football and Alfredo Di Stéfano in 1962. Arthur Rowe was employed in Hungary as a consultant and manager in 1938-1940 and also gave a series of lectures on the merits of the 'WM' system.
World Rank

Team

League Games Undefeated Streak

Date Began

Streak End Date

No. 1

Real Madrid

121 matches

Feb. 17, 1957

Mar. 7, 1965

2.

Crvena Zvezda

96

Aug. 29, 1998

Aug. 7, 2004

3.

PVS Eindhoven

93

Sep. 17, 1983

Mar. 19, 1989

4.

FC Nates

92

May15, 1976

Apr. 7, 1981

5.

Cobreloa

91

1979

1985

6.

Spartak Trnava

89

Mar. 30, 1968

April 2, 1974

7.

Torino

88

Jan. 31, 1943

Nov. 6, 1949

8.

Chelsea

86

Mar. 20, 2004

Nov. 26, 2008

No. 9

Panathinaikos

85 matches

April 8, 1973

April 16, 1978

Ferenc Puskás was head managerof Panathinaikos (Greece) from 1970
http://rsssf.com/miscellaneous/unbeaten.html#home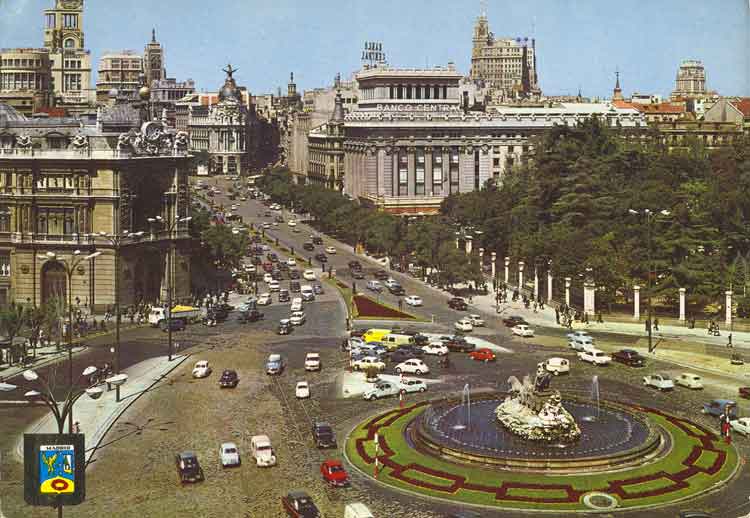 Madrid, Spain in the early 1960s.
At a time when players think of retirement, Puskás faced a daunting challenge of learning a new language and culture in the distinct new world of Francisco Franco's Spain at variance with the communist world from where he was coming. But with the gift of confidence and the right mental attitude Puskás soon endeared himself to everyone around him. Most importantly, he gelled with on-field boss and great Argentine star Alfredo Di Stéfano, the greatest player in the world at the time who was never the easiest man to know and who could be distancing to those he failed to get on with. The driver at Real Madrid when Puskás arrived was Di Stéfano, then the regular captain of the team who was a man enthroned and who could really make the team perform. With temperamental cheek being part of the charm, Alfredo Di Stéfano, a man of withdrawals and ego too, was the most determined and best footballer in the world this side of Puskás who dominated life at Real Madrid that won the European Cup the first three times after the competition opened.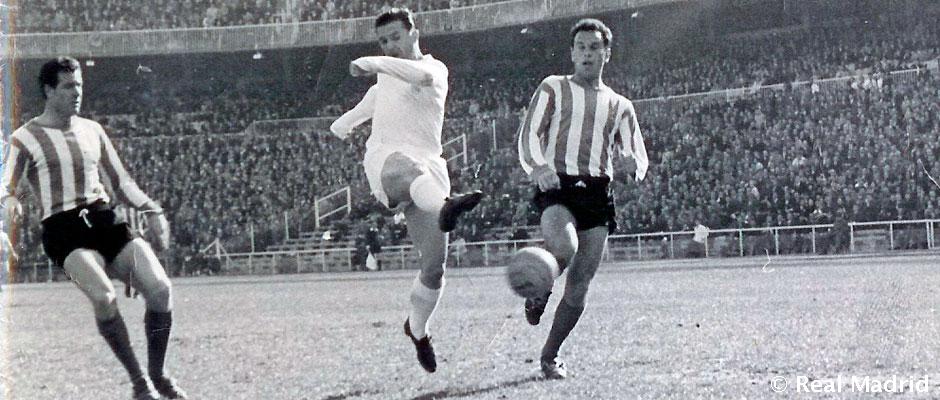 Crackjack seasons with Real Madrid! Puskás would score 156 goals in 180 in all La Liga matches
and in his second season lead Real Madrid in team scoring for five straight years, achieve five national
championships, earn Spain's vaunted Primera división's Pichichi MVP trophy four times, score 49 goals
across all his 41 Copa del Rey matches and who superbly played in European Cup tournament games
better than perhaps anyone has seen by scoring an amazing 36 goals in the European Cup
('Champions League') in 41 high-profile contests and has the all-time best goal-ratio in the European
Cup tournament past 35 goals.
But at first, Puskás, who earned a life of the most perfect satisfaction at Honvéd and Hungary as captain could not feel so fully in harmony with his new enterprise. Having carried Honvéd and Hungary to heights never reached before, would his career be convertible towards far loftier activities abroad? His joyous appetite which he has very well developed commonly fetches him and after early frustration with his weight in his first season, Puskás eventually loses the pounds and started scoring richly so that by the final game of the season against Granada he was on even terms with Di Stéfano for goals with both men neck-and-neck atop the league scorers' table. In his unique situation and realizing he needed to earn the friendship of the great Argentine star, in one scene during the match against Granada, Puskás, who neglected little opportunity to knock it in himself when the net was open to him, took the occasion to lay the ball off to Di Stéfano to score as a thing worth doing to foster happy concord with the brilliant headstrong player many considered the best in the world. The World's Greatest of the Great
History's All-Time Greatest 1st Top division League Home-field Advantages http://www.rsssf.com/miscellaneous/unbeaten.html#home
This well-rounded gesture and great personal deed where Puskás' regard for Di Stéfano outran his own competitive nature made Di Stéfano that year's top league goalscorer. Puskás was every hour a gentlemen, sharing his ethereal rays on the field and off of it. To love the public, to be a master of a nobler mind with a life-affirming, humorous sparkle was Puskás, who enjoyed exercising a substantial hospitality. The seeds of the honorable life had been successfully implanted in him. The great Real Madrid team began to recognize that they were meeting the real Puskás for the first time and once more he is the new person drawing towards greatness.
Soon Puskás reached the right physical condition and again became a sunshot revelation cutting the jocund scoring sparkle with that peerless left foot soon scoring a greater number of goals than Di Stéfano himself to earn a high and prominent place in a talented constellation of Galácticos. A particular image of the player went with such dollop of panache, and Puskás' nicknames in Hungary of 'Galloping Major' and 'Öcsi' now affectionately were termed into the Spanish 'Pancho', and was also given the impressive name of the 'Little Booming Cannon' as he assumed a position of foremost rank among the great players in the advanced and sophisticated game that Real Madrid practiced.
Real Madrid's "Very Best and Greatest"
Top Players by Goal Ratio All-Time (minimum 171 total goals)
| | | | | | |
| --- | --- | --- | --- | --- | --- |
| R.M. Rank | Star Player | Total Goals | Total Matches | Goal Ratio | Active Years |
| No. 1 | Cristiano Ronaldo | 426 | 420 | 1.01 | 2009-present |
| No. 2 | Ferenc Puskás | 242 | 262 | 0.92 | 1958-1966 |
| No. 3 | Alfredo Di Stéfano | 308 | 396 | 0.78 | 1953-1964 |
| No. 4 | Hugo Sanchez | 208 | 282 | 0.74 | 1985-1992 |
| No. 5 | Karim Benzema | 185 | 384 | 0.48 | 2009-present |
| No. 6 | Carlos Santillana | 290 | 645 | 0.45 | 1971-1988 |
| No. 7 | Raúl | 323 | 741 | 0.44 | 1994-2010 |
Source:https://en.wikipedia.org/wiki/List_of_Real_Madrid_C.F._records_and_statistics
Ferenc Puskás, as player or manager, is associated with six European Cup ('Champions League') title match appearances.
Hungarian players and head managers have won the European Cup on seven occasions ( 1959, 1960, 1961, 1962, 1966, 1972, 1973 ), and came in second place in the European Cup Finale four times ( 1961, 1962, 1964, 1971 ).
| Year | Star Catalysts & Major Contributing Player or Head Manager | Team | Type of Championship Final | Opponent |
| --- | --- | --- | --- | --- |
| 1959 | Alfredo Di Stéfano / Ferenc Puskás / Gento players | Real Madrid | European Cup Finale | Stade de Reims |
| 1960 | Ferenc Puskás / Alfredo Di Stéfano / Gento, players | Real Madrid | European Cup Finale | Eintracht Frankfurt |
| 1960 | Ferenc Puskás / Alfredo Di Stéfano / Gento, players | Real Madrid | Intercontinental Cup Finale (inaugural) | Penarol, Uruguay |
| 1961 | Sándor Kocsis, Zoltán Czibor, Lászlo Kubala, players | Barcelona | European Cup Finale | Béla Guttmann, manager of Benfica |
| 1962 | Ferenc Puskás / Alfredo Di Stéfano / Gento, players | Real Madrid | European Cup Finale | Béla Guttmann, manager of Benfica |
| 1964 | Ferenc Puksás / Alfredo Di Stéfano / Gento, players | Real Madrid | European Cup Finale | Inter Milan |
| 1966 | Amancio / Gento / Ferenc Puskás, players | Real Madrid | European Cup Finale | Partizan Belgrade |
| 1971 | Ferenc Puskás, head manager | Panathinaikos | European Cup Finale | Ajax |
| 1971 | Ferenc Puskás, head manager | Panathinaikos | Intercontinental Cup Finale | Nacional, Uruguay |
| 1972 | István Kovács, head manager | Ajax | European Cup Finale | Inter Milan |
| 1972 | István Kovács, head manager | Ajax | Intercontinental Cup Finale | Independiente, Argentina |
| 1973 | István Kovács, head manager | Ajax | European Cup Finale | Juventus |
| 1973 | István Kovács, head manager | Ajax | European Super Cup Finale (inaugural) | Glasgow Rangers |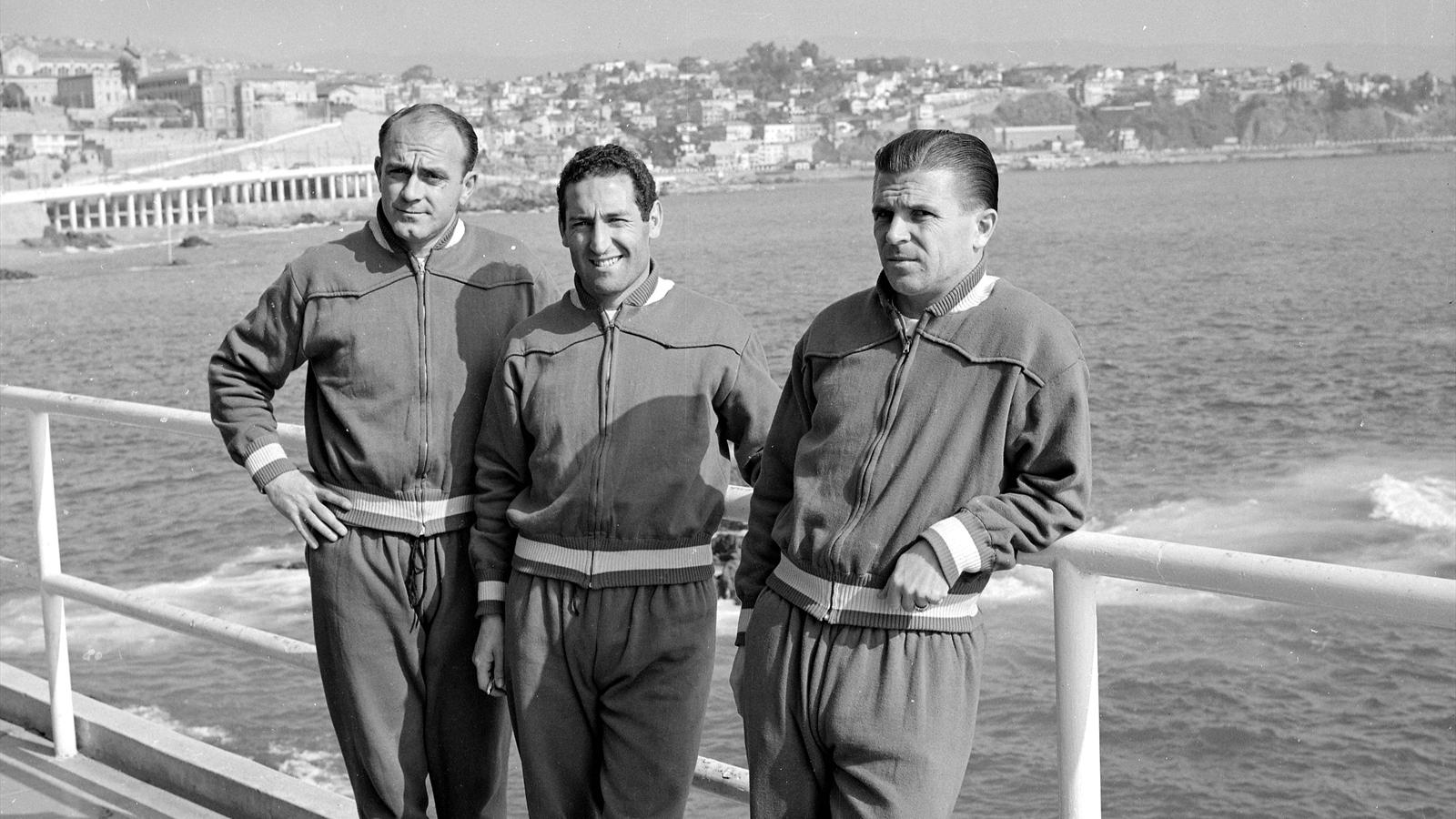 Three legendary and dazzlingly learned master craftsmen of the game on the 'Team of the Century'
: unquestionably the most talented and greatest club strike trio of all-time: Di Stéfano-Gento-Puskás (1958-1964). Football history's greatest, the most decorated forward line with 14 won European Cup titles between them, the three would combine for a 437 goals together in just six years. At Real Madrid, Di Stéfano (five time European Cup winner), football's greatest club player and top-tier tournament extraordinaire, would score 307 total goals out of 396 matches and Puskás (three time European Cup winner) would score 242 goals out of his total 262 matches. Francisco Gento is the only man to have won six European Cup titles as a player.
Puskás-di Stéfano-Gento, "The Greatest Ever"
on the highest rated franchise team of last century.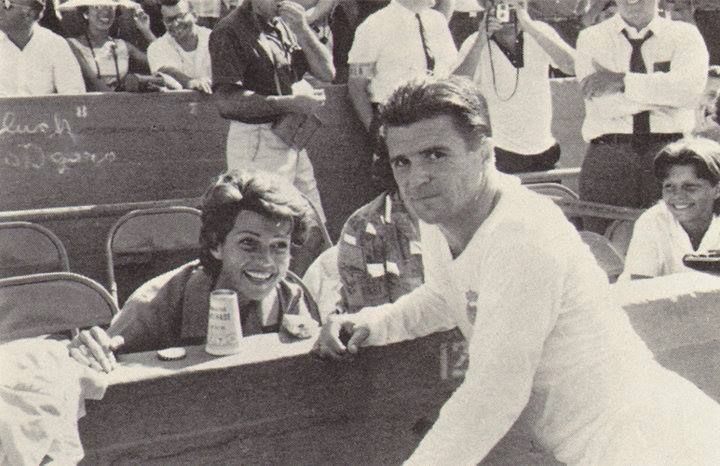 Stars meeting stars, Ferenc Puskás and Hollywood star Rita Hayworth.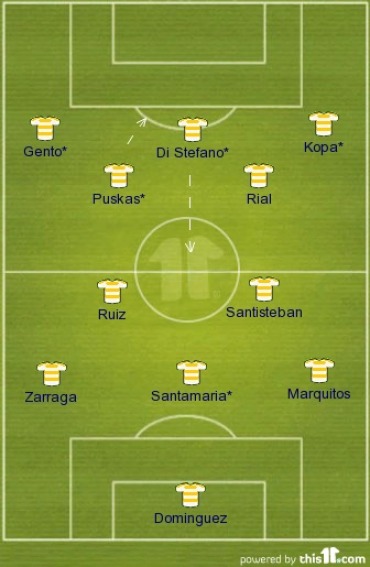 Club football scarcely attained such status of dominance than that of Real Madrid during the late 1950s and 1960s when Puskás played for them. The years at Madrid exposed a Puskás increasingly chiseled to meet the physical demands on an world renowned side in a second blooming of success near middle life who is working his passage to the center in a modern commercially oriented age and grew lean while he assailed eight seasons to become Real Madrid's best player weighed by goal-ratio of the century. Winning five Spanish championships along with way, Puskás became a four-time Pichichi Trophy (the Spanish Primera División's M.V.P. top goalscorer) incandescent forward in tandem with Di Stéfano to form the basis for the greatest double act world club football has ever seen became illustrious among the players at Real Madrid. Many came to understand that the major goalscoring star in that constellation of talent was Puskás.
By the dint of his insatiable delight and simple pleasure in the business of leading men by his hardworking probing and passion for ideas, this energetic master of cues made Puskás such a royal personality. If Di Stéfano kindled the engine as the 'starter' to the Real Madrid team and paved the way with his sumptuous zig-zagging moves through opposing lines, Puskás was the sizzling 'finisher' with the final responsibility of leveling the boom with his cannonball shotmaking after breaching the final line. Together with the inexhaustible Di Stéfano scooting obliquely high and low between the goalzone and midfield, he and Puskás produced a giantized image of Real Madrid complete with fantastic examples of each on the pitch that made Real Madrid incontestably their own to an apparently endless series of victories at home. He and Di Stéfano formed the 'card school' in the clubhouse, making sense in and among themselves to clean up against the younger players on the team and transmitting the same type of reckoning charge on the field who settled into a friendship ritual at the end of won matches of 'keep-away' playing the ball back and forth among them to wound down the game clock.
With two such public figures piloting events, both who met problems, dealt with solutions to set things right and doing the kinds of things that others could not and showing more always, Real Madrid reached superb heights and came in for a insuperable pre-eminence over teams at the Bernabéu Stadium that defined the greatest 'home-field advantage' in the history of club football.
From February 17th 1957 to March 7th 1965, Real Madrid achieved the world record, one-hundred twenty-one continuous league games undefeated at home that transported Real Madrid into an utterly different kind of club. With the Puskás & Di Stéfano double portrait at Real Madrid like the unrivaled duo of Puskás & Sandor Kocsis at Hungary whose constant blaze was undone in 1956 with their defection, the team could prevail legitimately as history's finest and most successful club enterprise that made home audiences see successive scenes of these two great standard-bearers exuberantly pulling every team astray with as much gusto and zest as could be had on rich running days.
With Puskás, who stood sole among men for most international goals, as with the Magical Magyars audiences again saw a never-surpassed team invincible to the attacks of the whole of the rest of the footballing earth possessed by all the ingenuity of every teams' dreams' celebration.
Imbued as they are with this genius, aplomb in the midst of it all is Puskás at inside-left fronting the west and east end of the pitch as a athletic footballing bard; and here Puskás was considered the indispensable man of campaigns helping bequeath to Real Madrid a bevy of European Cup title match appearances, five in all, three of which were won by Real Madrid, including one that begot the famous 7-3 rout of Eintracht Frankfurt in 1960 and a "world championship" in 1960 to win once more over the whole world's renown. Certainly in that most famous world franchise-making European Cup finales in 1960 Puskás maintained his magical power and old divine strength and registers a sophisticated sense of a master goalscoring legend that scintillating sensational 1959-1960 season (scoring 47 goals in 36 total matches, 1.31 goals/game) and to record the second half of his life at Real Madrid is to record his re-acquisition of world-class status and his transformation into a public living legend.
Dazzling Seasons,
Puskás' Great Years at Real Madrid (1958-1965)
La Liga Year

Goals

Matches

Copa del Generalisimo

European Cup

Total Goals

Total Games

Gls/Match

Team Decorations

1958-1959

21

24

2 gls

5

2 gls

5

25

34

0.74

Team Rank: 2nd in league (behind Barcelona involving Kubala-Kocsis-Czibor)

Team European Cup title Victory! Puskás 2nd in La Liga for goals.

1959-1960

25

24

10

5

12

7

47

36

1.31

Team Rank:
2nd in league (behind Barcelona involving Kubala-Kocsis-Czibor on goal difference alone)
European Cup title Victory! International Cup world-title Victory!
Puskás is European Cup scoring MVP
Puskás is Primera división MVP

1960-1961

28

28

15

9

2

4

45

41

1.10

Team Rank: La Liga Champion, European Cup: 1st round vs. Barcelona

Puskás is Primera división MVP

1961-1962

20

23

13

8

7

9

40

40

1.00

Team Rank: La Liga Champion,

European Cup silver medal! vs Benfica,
Puskás is European Cup scoring MVP
Puskás 2nd in La Liga for goals, leads team in scoring.

1962-1963

26

30

5

7

0

2

31

39

0.79

Team Rank: La Liga Champion,

European Cup: prelim round vs Anderlecht

Puskás is Primera división MVP

1963-1964

21

25

-

-

7

8

28

33

0.85

Team Rank: La Liga Champion,

European Cup silver medal! vs Inter Milan,
Puskás is European Cup scoring co-MVP
Puskás is Primera división MVP

1964-1965

11

18

4

4

2

3

17

25

0.67

Team Rank: La Liga Champion,

European Cup: Quarterfinals vs. Benfica,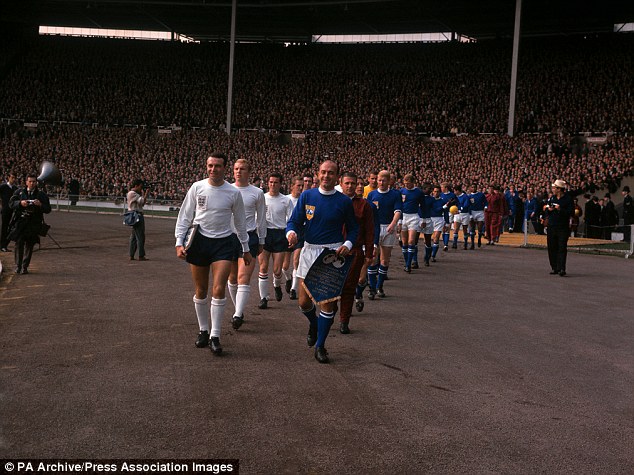 October 10, 1963, Puskás to play at Wembley Empire Stadium in another "Match of the Century", FIFA XI 'Dream Team' against Alf Ramsey's England team. The occasion was the 100th anniversary of the Football Association. To celebrate, the FA organised what became known at the time as 'The Match of the Century'. FIFA's first ever XI included the legendary lineup of Puskás, Di Stéfano, Gento, Kopa, Eusebio, Denis Law, Djalma Santos, and Lev Yashin in goal with over 105,000 watching in attendance.
Ever unspent in his stride from one far summit to another, in the great tradition of the European Cup during the time he played for Honvéd, Hungary and Real, few players have put such an indelible imprint on tournament events as Puskás had which will ever speak to his surpassing charms from the many inimitable beauties of his left-footed shots. A resounding trait associated with Puskás was being at his imaginable best in the biggest of games where his inescapable goalscoring élan and virtues stood confessed and he seldom seemed to have missed anything, scoring 42 goals in 47 matches in all top-division European tournament games and the quality of that work was always superior. Particularly in these extravagant top-echelon games Puskás had given out the most singular performances and produced so accurate a stretch of goals of serious dreaming intensity that he became the all-time tournament leader in the European Cup for goal-ratio past 35 scores, an achievement still unmatched in the field.
The quintessential fact that Puskás set the thing that is the supreme, casting the pulses of the indispensable fire to vivify all and unclenched the gates in the European Cup tournament so that no team ever afterward could proceed to match them the century. Burnt into gold points on the supreme theme of the European Cup Puskás here amazingly scores 36 goals in 41 European Cup tournament matches that he entered and who scored the record, 7 goals in two European Cup finales. Puskás, who in the 1960-61 season scored an everlasting 15 goals in the Copa del Rey in nine matches and scored a Real Madrid record 12 goals in the European Cup also scored a Real Madrid yet-record six goals in a Primera división match, became the oldest ever Real Madrid player at age 38 and 233 days and the team's oldest goalscorer the day that was his very last league game for the team.
When the meridian is low, in the first leg of the 1965-1966 European Cup on September 8th Puskás scores a goal against Feyenoord in the 1-2 away defeat. The Real Madrid team would need a superb effort to overcome the strong Dutch champions in the home game played at the Bernabéu and the old legend does something to set a crown upon his lifetime's effort with a kind of valediction, and it is a privilege to see Puskás' last largeness bold at the age of thirty-eight in his final major field of endeavor. On September 22, 1965 found Puskás, the old meteor of the team, more truly and rewarding as ever as the match is streaked with his sunset golds by brilliantly scoring four goals in a stunning 5-0 win that set Real Madrid on the path to its sixth European Cup title in ten years, a sporting feat that took dominion everywhere and helped build for a new team a new everlasting reign ending all argument: Real Madrid became the greatest top-division team of all time.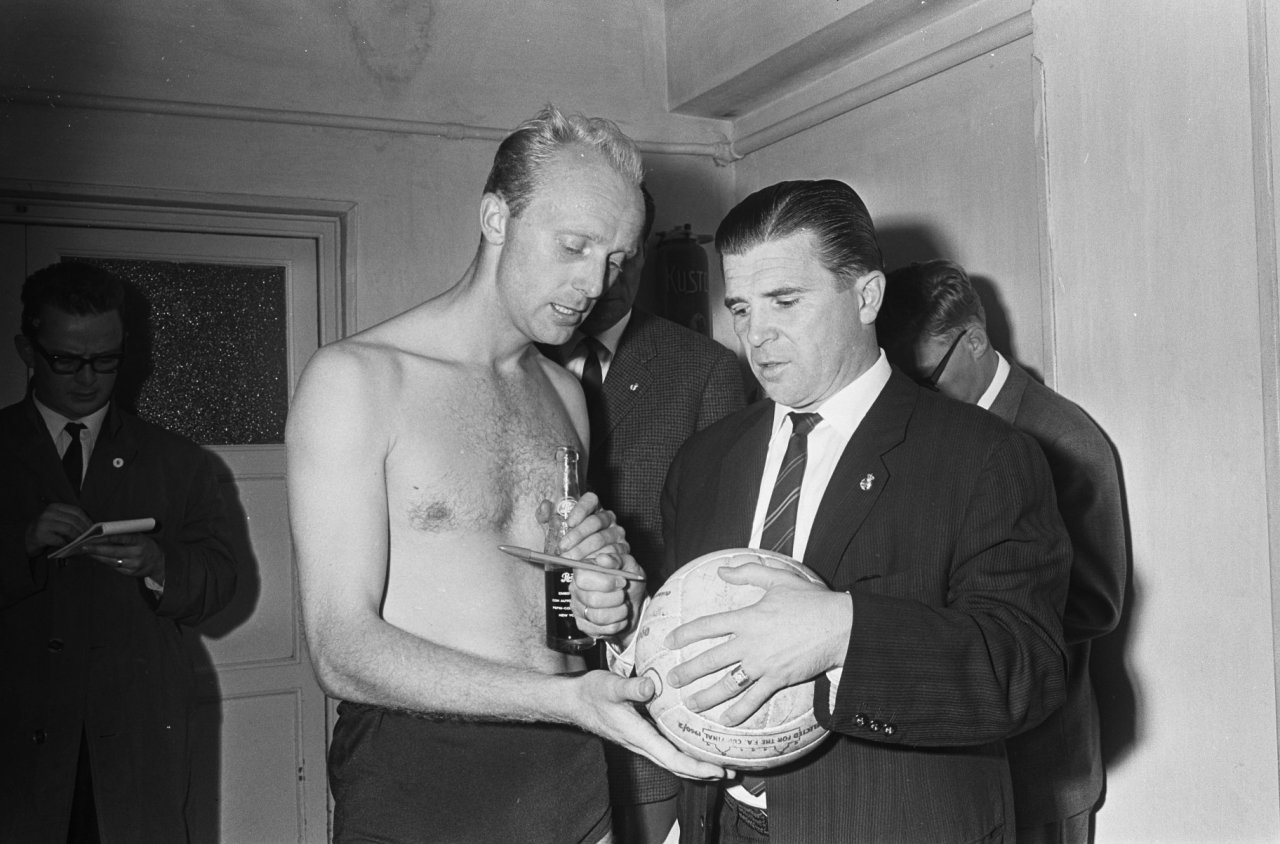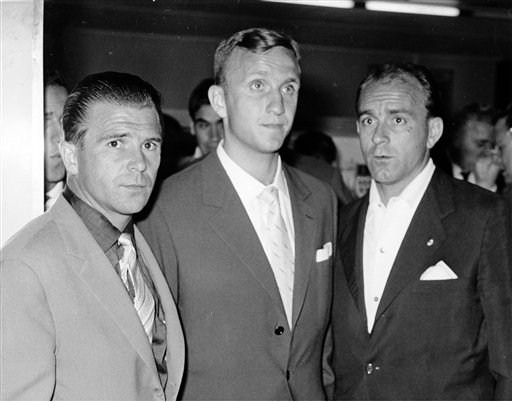 Puskás, the greatest goalscorer in history and naturally one of its famous greatest leaders
in Spain with Real Madrid teamates José Santamaría, recognized as one of the greatest
centerbacks in history and Alfredo Di Stéfano, one of the best center-fowards in history
who was also the greatest club player of all-time.
The World's Greatest of the Great
All-Time Highest Scoring International Club in a Single Season
| | | | | | |
| --- | --- | --- | --- | --- | --- |
| World Rank | Star Catalyst Player | Team | Matches | Goal Ratio | Year |
| No. 1 | Ferenc Puskás | Real Madrid | 8 | 4.50 | 1959-1960 |
| No. 2 | Alfredo Di Stéfano | Real Madrid | 7 | 3.60 | 1958-1959 |
| No. 3 | Pele | Santos | 10 | 3.40 | 1962 |
All-Time Most Powerful/Balanced International Club in a Single Season
| | | | | | |
| --- | --- | --- | --- | --- | --- |
| World Rank | Star Catalyst Player | Team | Matches | Goal Ratio diff. | Year |
| No. 1 | Ferenc Puskás | Real Madrid | 9 | 2.78 | 1959-1960 |
| No. 2 | Alfredo Di Stéfano | Real Madrid | 7 | 2.57 | 1958-1959 |
| No. 3 | Jose Altafini | AC Milan | 11 | 2.45 | 1962-1963 |

Source: http://xtrahistory.blogspot.com/2014/04/Record-Statistics.html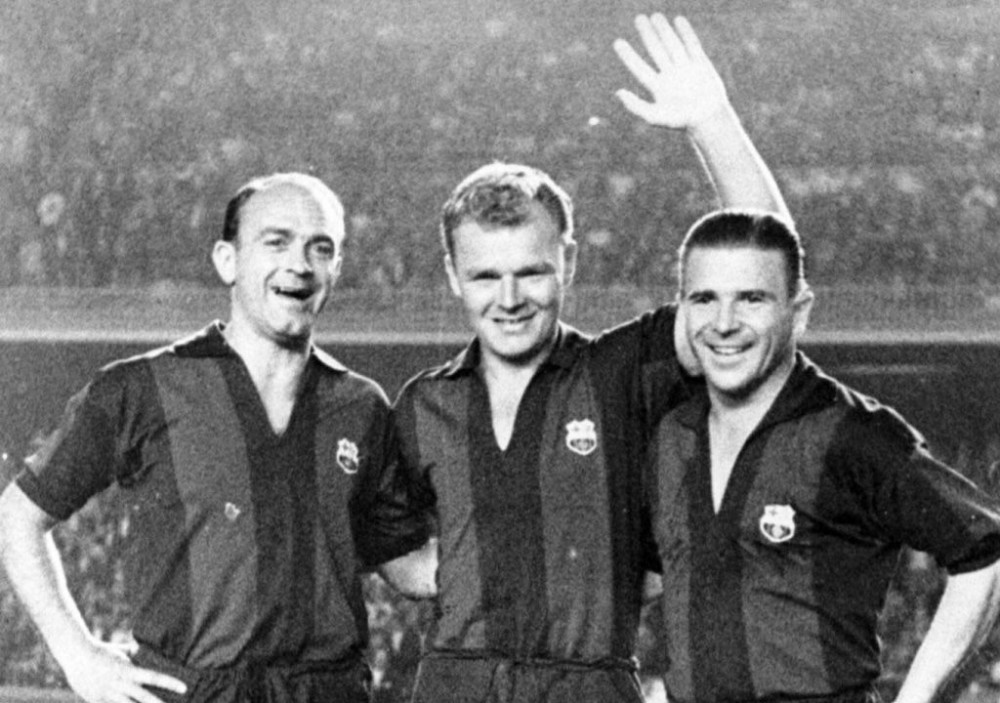 Three immortal legends: Di Stéfano, Kubala (the man who made 'Camp Nou' in Barcelona famous), Puskás.
Still echoing with the lustrous trade when Puskás played for them, so liked and popular was Puskás at Madrid that in his testimonial match that was usually accorded players of distinction at Real Madrid after their retirement from the club, nearly eighty thousand people attended Puskás' own at the Bernabéu Stadium on May 26th, 1969. Huge numbers of supporters turned out for the occasion on a Monday evening in one great, emotional night against Rapid Vienna as a poignant sendoff for a much fondly remembered legend after nine years as one of the greatest-ever players to wear the all-white strip that brought him a place in the hearts of Real Madrid fans. Conversely, three days later, the event taking place at the Bernabéu had been Europe's championship Cup Final between Ajax and Milan watched by 32,000 spectators which only speaks of the joyous and warm acclaim by which Puskás was held.
Cheerfully tallying life and football and powerhouse that he was, a most noble quality of magnanimity to strangers in need was there during, above and beyond his working active years in football parks where he was wholeheartedly supported all his life. After the 1956 Uprising there were pockets of Hungarian expatriates and exiles in every major city in the West. While traveling with the team and beyond, he became a veritable consulate for people of these communities, ready to lend his support financial or otherwise to those who were most in need that enlarged his character. Wherever people were interested in aid and alleviation, there Puskás, the lavish giver went as charming intercessor that gives us the whole man. Puskás' story illustrates a remarkable 20th Century Horatio Alger tale of a generous to a fault player rising to the pinnacle of the game from humble origins from those youth games in the late 1930s.
The eminent position of Puskás in the field of football is attested by the many successes that crowned his efforts, first becoming the 1947 Balkan Cup champion, then becoming Olympic champion in 1952, then a much finer accomplishment, the 1948-1953 Central European champion (here Puskás was the lead scorer with 10 goals), winner of the unofficial "World Championship Decider" in 1953 in London, World Cup finalist in 1954, in addition to being the top goalscorer in the 20th Century at top-division league and the century's top goalscorer in the international national game who is united to three ultra-prestigious European Champions Cup (1959, 1960, 1966) titles, 1 acclaimed Intercontinental world title (the 1960 inaugural title match), 10 national championship crowns (5 Hungarian Nemzeti Bajnokság & 5 Spanish Primera División), 3 European Cup scoring Most Valuable Player (MVP) titles with 8 top individual MVP scoring honors. A whole generation will best remember Puskás as a master player intimately associated with six prestigious European Cup Final matches. Others will recall him for his goals and exploits with Honvéd and Hungary while teamed with Sándor Kocsis, who, both were prophets of the European Cup that began in 1955 with a celebrated encounter (the informal European championship final between Wolverhampton and Honved) in December at the Molineux in 1954.
Like a proud player who had helped lead the team so long, Puskás would retire just as the game was assuming a tone that was becoming more and more conservative and stifling. For the next quarter century of his life when Puskás was no longer producing on the pitch he was now contributing his time as a coach and as an elder statesman also that made his own earlier work live for younger generations. He chose a consecutive journey-work life in management and chose that medium to tutor and bring mentoring light to youngsters with a grand coaching tour that took him to far away clubs on five continents as a citizen of the world, he of endless nationality.
The 1970-1971 year bore witness to Puskás as a marvelous leader again that earned him a reputation for fine teaching. He memorably guided a modest, distant, unheralded and little known Greek club, Panathinaikos, with a very nice ordering of wins obtained over big tournament stalwarts to head into the 1971 ultra-prestigious European Cup Final itself that kindled the people of Greece into raptures, this in spite of being given not much of a chance by many and with the most lukewarm of outlooks.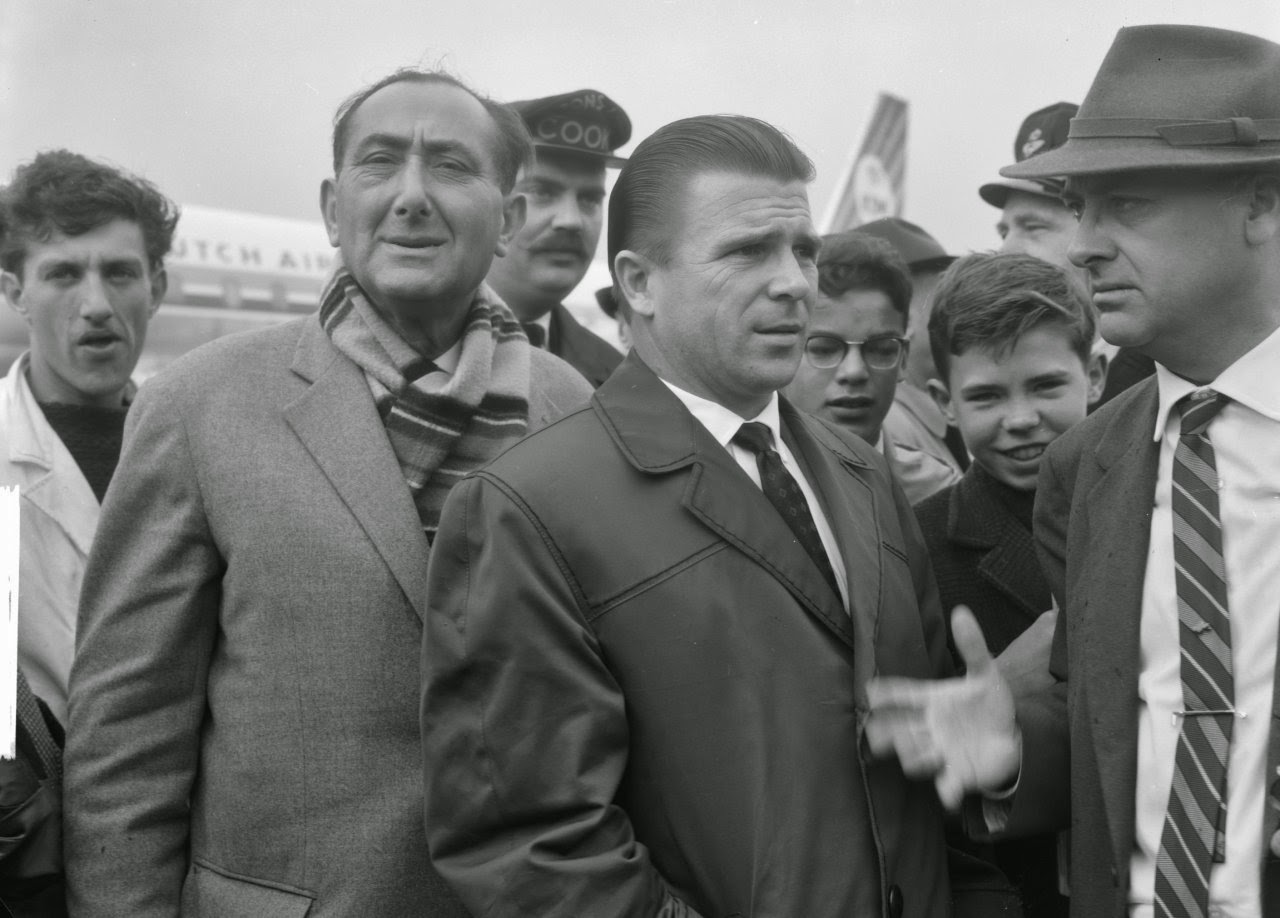 Puskás at the airport right before the European Cup Final versus Benfica in May of 1962. Puskás would go onto to 3 goals in
the first half to take a 2-0 lead and a
3-2 advantage at half-time for Real Madrid.
FIFA President Sepp Blatter had seen Puskás play in the 1954 FIFA World Cup Final in Berne. As a eighteen year old Swiss journalist, Blatter was involved throughout the match as a supporting spectator of the Magyars. In homage to Puskás for what he represented on the field and for enduring personal virtues off of it, Blatter founded in 2009 an international recognition award, the FIFA Puskás Award, meant to ensure Puskás' memory would remain powerful as ever for future generations.
In a fulsome life of varied activities as a great player and restaurateur, Puskás later became one of more noted Hungarian managers serving abroad whose journey's took him to five continents in the service of successive patrons, and towards the end of his life became acclaimed consultant and ambassador to the sport until he retired to his native city of Budapest. The daily side of him was all common sense, his characteristic response and feeling to life was a oneness to dedication, resilience, a wayward spontaneity, humor and wit that gave as good as he got. Puskás was one of the most living and appealing figures in recent memory because he expressed with the greatest glow the national dreams of personal freedom in the hearts of his countrymen whom people looked to for statements on the sport and life who followed the promptings of his witty sunny-hearted sparkle to being the man that he was.
Perhaps it was inevitable that the twentieth century should rouse a Ferenc Puskás — a citadel of virtue, outrageous cheek and expansive gusto. It was wholly appropriate, therefore, that the Nation's Stadium in Budapest finally bear his name in 2002 that does justice to a remarkable life superbly lived and finally acknowledged, here and elsewhere the greatest 1st division and international goalscorer of the century.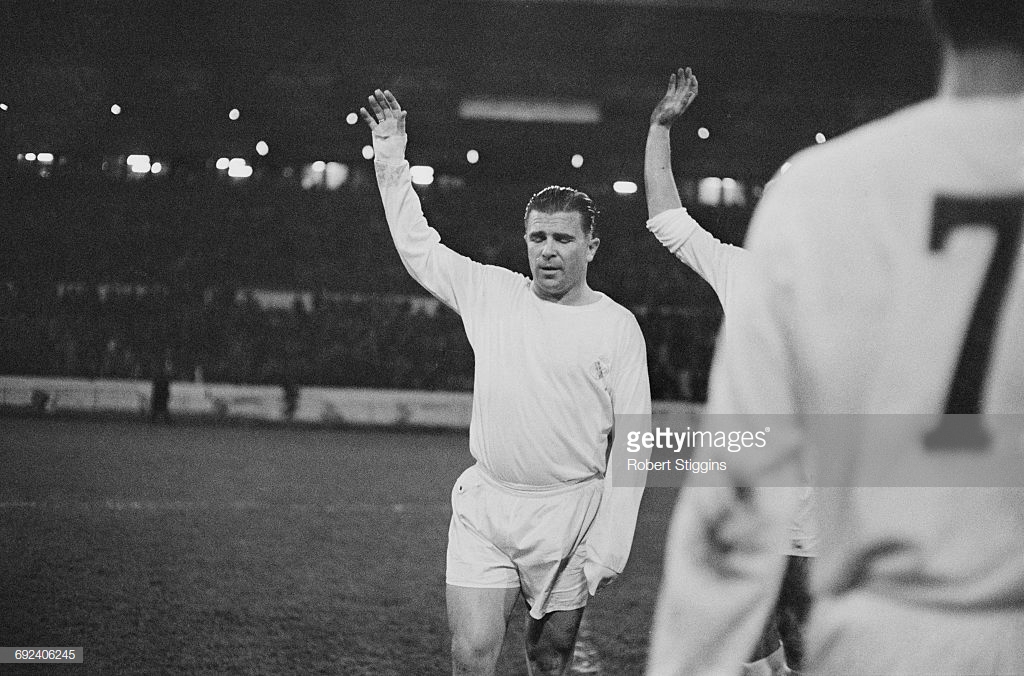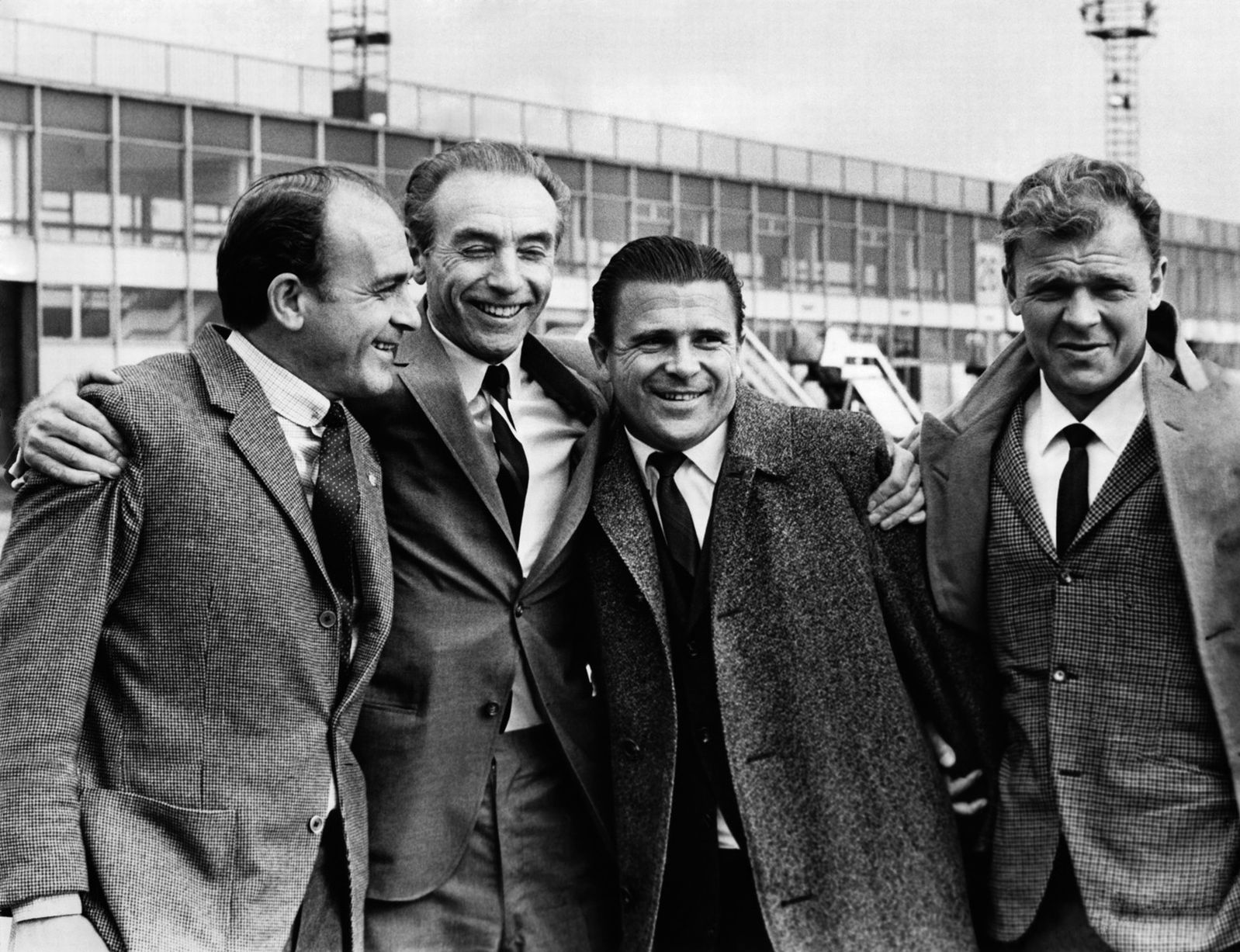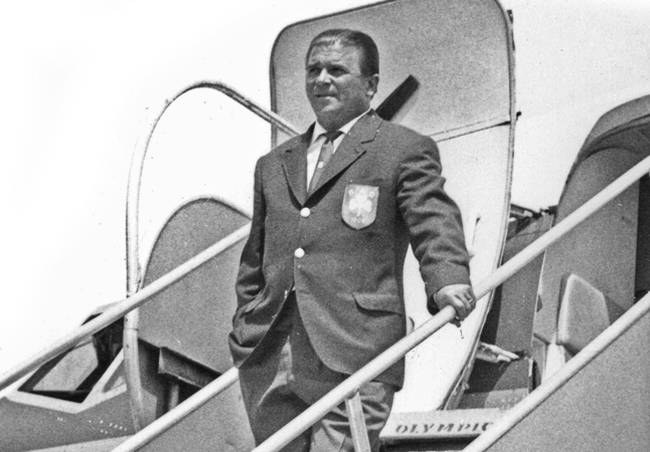 Puskás, the legend, the icon still at the top of this game in 1971, the head man of the Greek Shamrocks to prove another journey's gifts: Ferenc Puskás' gleaming season in management with Panathinaikos, a magical European Cup campaign in 1970-1971 that confounded the pundits. Under Puskás' laissez-faire approach and guidance, his Greek champion club routed Jeunesse Esch 7-1 on aggregate in the first round , then proceeded to defeat Slovan Bratislava 4-2 in the second. In the quarterfinal Puskás' side outlasted English champions Everton 1-1 on the away goal. In the semifinal, the very powerful Yugoslav Red Star Belgrade had his team pinned down 1-4 on goals in the first leg playing away. In a historic match that resonated sensationally in the whole of early 1970s Greece, Puskás' side reversed fortunes with a 4-1 thrilling late revival in their home stand that many could not believe. They faced Ajax in Wembley stadium on June 2, 1971 and gave their much heralded Ajax opponents a classic duel till the end losing only 0-2 (one of them an own-goal). Ajax began their run of winning three consecutive European Cup Finals in a row.
Four Immortal Legends: Di Stéfano, Stanley Matthews, Puskás, Kubala in 1965 at the airport for the World Select Side vs. England in Stanley Matthews famous 'Testimonial Match'.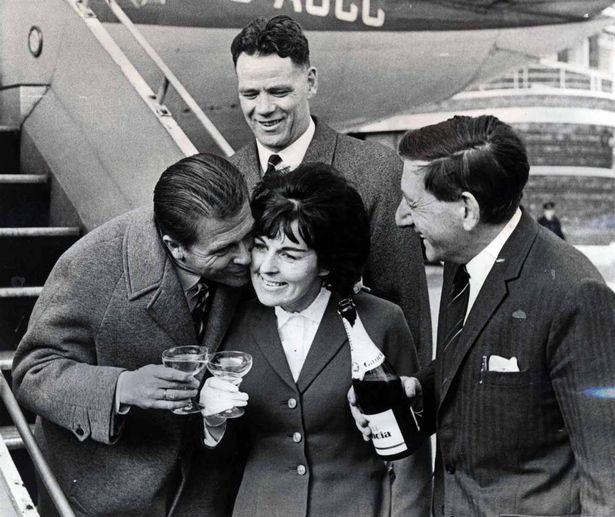 The day Ferenc Puskás came to play at Liverpool, May 1967. Puskás gives a
kiss on arrival at Liverpool Airport to air hostess Margaret Houghton. Also pictured
is Billy Liddell and Alderman Cowley (right), the deputy Lord Mayor.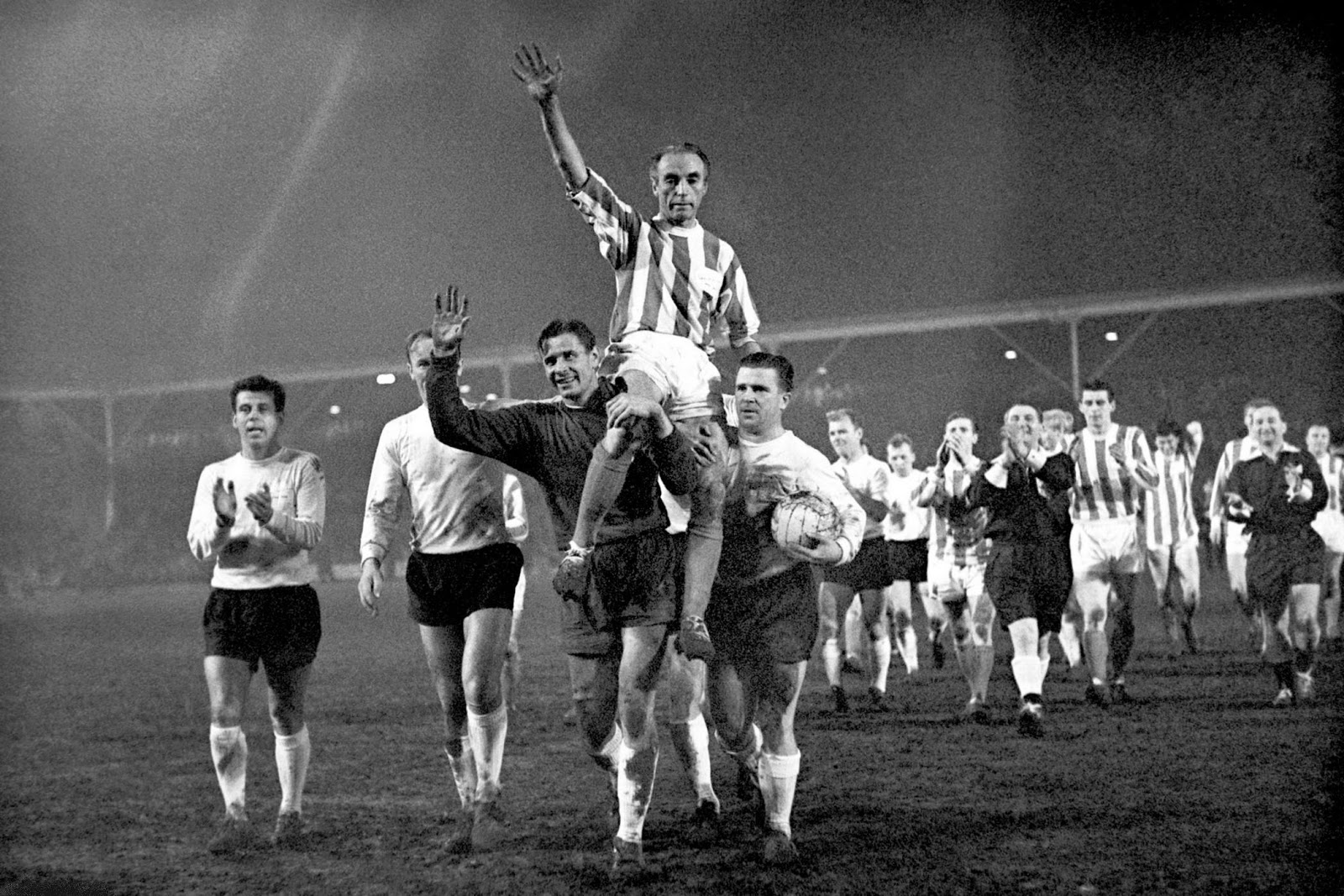 The greatest carrying the great, Puskás and Lev Yashin hoist up the legendary Stanley Matthews at Victoria Ground, UK (1965) after the winning World Select XI defeat England 7-6.
Generations labor to possess such greatness of a player like Puskás, in him the start of superior journeys, populous victories, world renown, a footballing bard to give the traits of new footballing ages outlining a history yet to be, a knower of the game, traveler of actions, rapt years and absorbing eras in the fairest weather, held some so much greatness that he is considered long to be the greatest European player of the century. To have a famous life on the pitch and beyond as a head manager on teams charged with untellable living wisdom, in him the drift of all things golden, giving all the drench of passions for audiences to drink the mystic deliria on many a championship teams entirely redeemed him. But lovers of Puskás' productivity and prolificness have hailed him as the supreme footballer of all time, and so this greatest of players, top-tier's greatest goalscorer, was also its greatest ever player in the world setting the thing that is the supreme on three teams.
All-Time Most Prolific Goalscorers in History in all Official Matches
(updated 9/2/2018)
source: List of Players with + 500 goals
Players in bold are currently active; data is accurate as of the 2 September 2018.[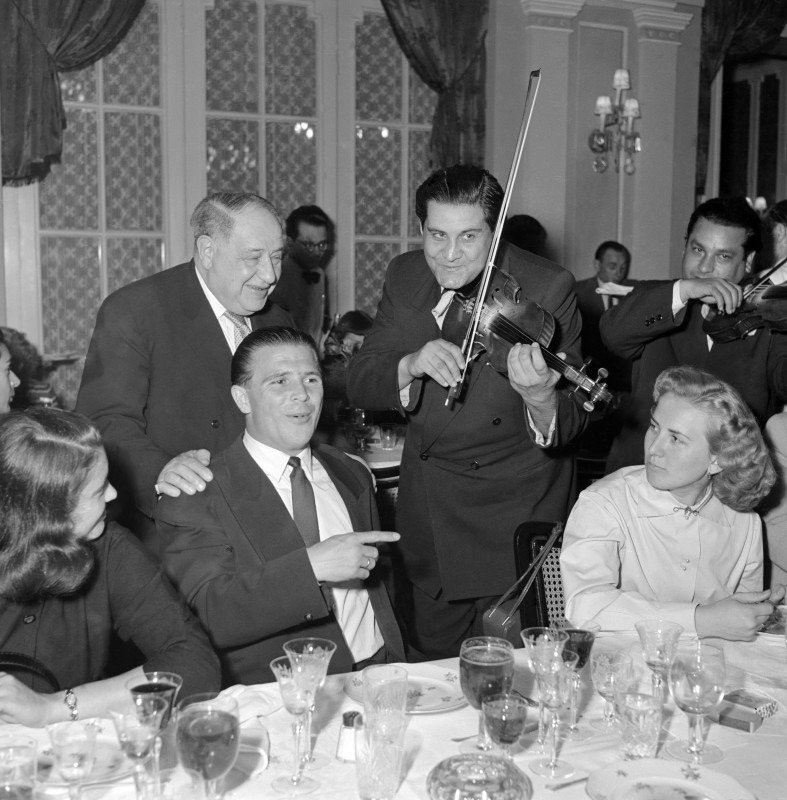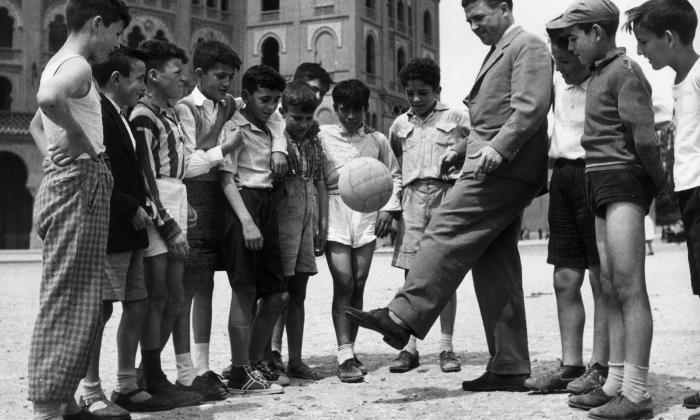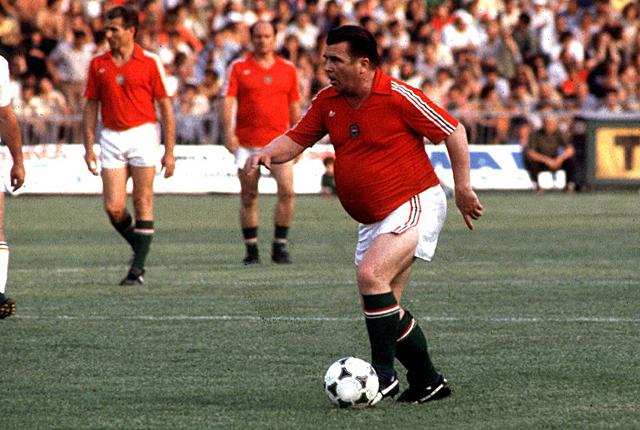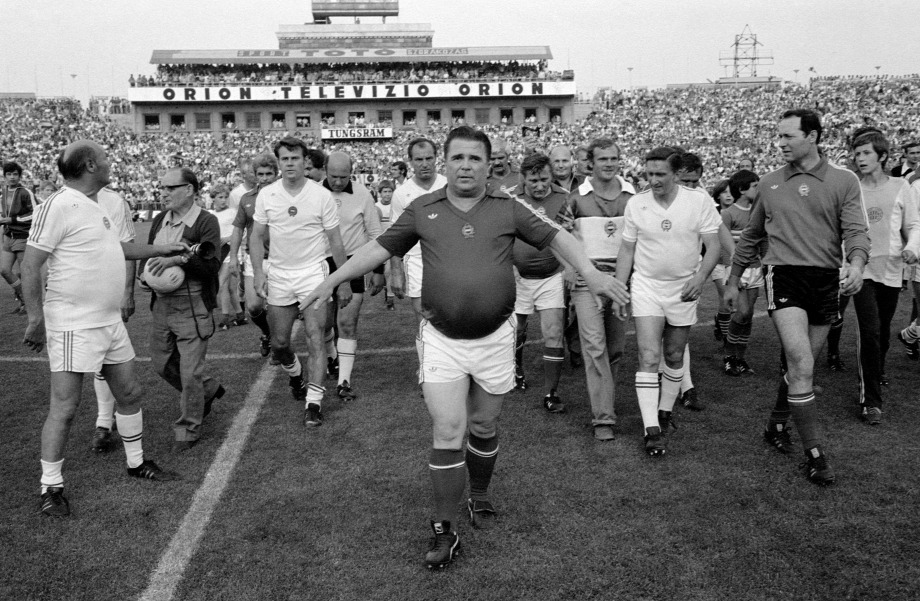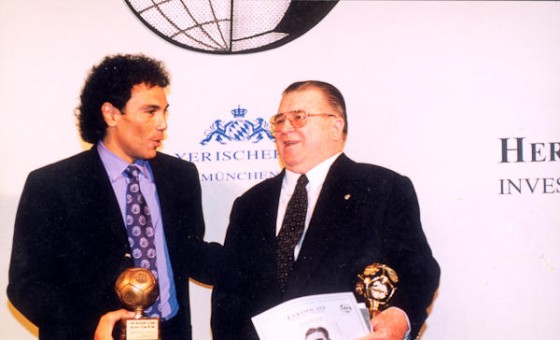 The icon, Puskás, with Hugo Sanchez in Munich in 1997 to receive the IFFHS's award for being the world's
all-time top goalscorer at top-division football.
---
—— " The Very Best Ever " ——
No. 1) Puskás
No. 2) Messi
No. 3) C. Ronaldo
No. 4) Péle
No. 5 ) Di Stéfano
No. 6) Cruyff
No. 7) Maradona
—— " The Very Greatest Ever " ——
No. 1 ) Puskás
No. 2) Messi
No. 3) C. Ronaldo
No. 4) Péle
No. 5) Di Stéfano
No. 6) Maradonna
No. 7) Cruyff