The 1954 World Cup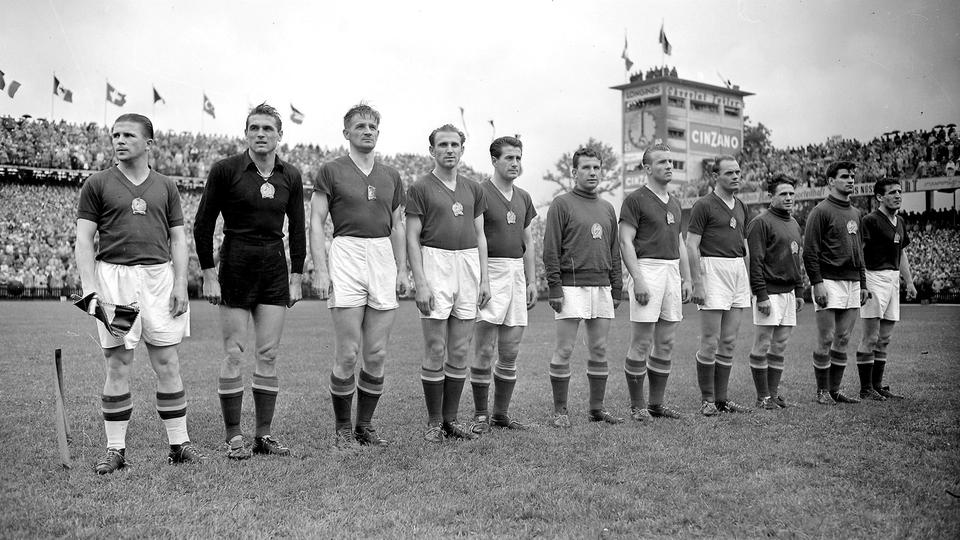 Solid Gold! The most powerful team ever at the World Cup Finals, the 1954 Magical Magyars, who averaged a goal differential of
4.50 goals/game
in four matches on the eve of the mythic finale title game, attained the highest rating in history and who had been
undefeated for a yet record 49 months
.
IT is no more in the legends than with a peak of sophistication the Hungarians had unseated and demystified the patriarchal sway the great masters of the game England had with two absorbing matches 6-3 abroad and 7-1 at home that became monumental constructions on enchanted grounds left as by vast composers that transfigured the European sport—antique and ponderous ninety year old history outvied!, solving fierce enigmas in overpowering passages of cheer-bringing football that won them a meteoric fame and celebrity in Europe that sounded the reveille over the roofs of the footballing world; and there was a general implication that the 'beautiful game' that was summoned in Wembley in November of 1953 appeared magically changed as the players smiled over their perennial enjoyment of inventive dreamful victories.
For the Magical Magyars came another truly historic experience, the experience believed and known to change football and European history forever, one of extraordinary interest and importance. Catching themselves once more with great glory in the summer of 1954 the team's largeness is there, the old rising triumphant ardor breaks out again in the tournament that all men wait for, the very famous tournament.
---
Given the need of his team to be ready for great encounters, it was obvious to Gusztáv Sebes that preparation would best predict his outcome and plans were being laid as early as December 1953 to put his team to greater physical tonality for the hardening of the strong campaign by strenuous training-routines, lifted out of hard cross-country running in the mornings and indoor fitness practice in the afternoons that would go beyond common form, stand the proof and ensure a high placing in the 1954 World Cup.
Expectations of a first-place finish were natural enough back home after begetting so many victories the world's media certainly thought so highly of. Only one prize remained for Hungary as it was proceeding without fault in the high summer of 1954 towards the "holy grail" of football and all bends to hitting the world title in stride. Not lords of football yet, world supremacy would be decided after the contrasts between Hungary and that of football superpowers from South America were seen. Tactically astute, the Hungarians were appraised by general consent as having the most redoubtable team to carry the title with plenty of talent to match.
Right before the 1954 World Cup got underway, on June 14th, an extraordinary plenary session of European FAs met in Switzerland where FIFA is headquartered and Gustáv Sebes was appointed chair of the committee overseeing the creation of the European Championship and where a joint decision was taken to establish the Union of European Football Associations (UEFA). The kings of Europe set off by rail with great fanfare to Switzerland where Europe's first post-bellum World Cup was occurring in a country almost untouched by the international events of the war and obvious choice to host the tournament. Proud and splendid, westward the course of greatness took its way through the marvelously clear sylvan air, their train coursing through beautiful landscapes with magnificent Alpine mountains set as a backdrop, the air bathed in a pungent pine-laden scent and made their lodging at the Krone Hotel in Solothurn outside the canton of Berne. The 16 finalists were grouped in fours and only two would see the next round in the quarterfinals. Hungary shared Group B with Turkey, West Germany and South Korea.
---
June 17, 1954
Hungary 9 : South Korea 0

The tournament had arrived, and a special kind of team is presented then to the world in a show of the bright summer's evanescence. There was never any more inception of greatness than there is now in the summer of 1954 that produced five best epics under the sun and world audiences saw something they had never seen before as the highest rated mountain of all time turns its true motoric force of creativity of century-wide talents to the 1954 World Cup.
Taking the scene and helmed against the tournament was the sport's greatest forward line, the centered lordship of Puskás-Kocsis-Hidegkuti-Bozsik forging the name of victory which knows the art and the sport's main tournament is lit up as their first two games were rocked and moved by a roaring scoring grandiosity to suggest a certain truth, a fated Hungarian festival of world triumph. With tremendous entrances little can excel them as their first two opponents were swept away by a supremely alive and healthy classical Magical Magyar side seen to be the nearest approach ever made to perfection with them scoring eight or more goals in back-to-back games that, in all probability, will never be equaled. Inscribing its record-setting arc into the record-books, this fabulous teams only real myth keeps.
They opened their campaign against a debut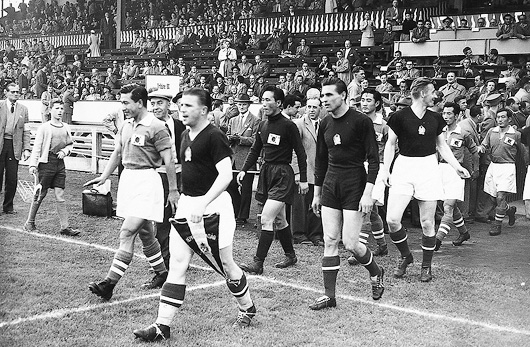 ant South Korean team who were on their first journey to the World Cup finals. Despite the Korean War's ending the year before there were no commercial fights out from Korea, and the Korean players endured a tiring six-day odyssey by air, sea, road and rail to arrive to the tournament in Switzerland. On less than a full day's rest the ill-favored South Korean squad reached the group game with the Hungarians who were keen to start well.
The rolling offense of the 'Golden Team' with the unremittent beat of possession and a tide of passes, that lambent sweet rhyme with a siege of curves lines and a verve so enhanced in a race to win the tournament's triumph there will never be any more perfection than there is now as their swift plays are on their way to launch an avalanche. The world's greatest wing-half József Bozsik, the 'thruster' industrious over the whole pitch with the certainty of other players superior to all they pass composedly with the Golden Team's harmonies thundering as Bozsik pressed close with extended dribbles and thoughtful passes that were superb and considered. Edged in on all sides defenders foisted in to dispossess, buckle and break up the South Koreans who go on crashing into empty ends and who can find no edge. With brimful presses and attacking cadence the 'Golden Team' regaled those watching with a breathtaking display as the ball moved briskly causing so much mobility that within twenty minutes half of the Korean team went down wilting with cramps.
In the 12th minute, Puskás, who himself would score two goals, put them ahead and began an effortless leak of goals in the unraveling and near crewless Korean defense and unclenched the gates that was perfect of its kind in the zest and gusto in which it was performed. Sándor Kocsis carried the spark and delivered up a mighty feat to begin his trek towards fame and hit his fourth international hat trick to imbue meaning on the day's extravagant feat, they had forever locked in a little masterpiece and put out that day the largest goal margin ever done winning 9-0.
Hungary 9 : South Korea 0
(Puskás 12', 89' | Kocsis 24' 36' 50' | Palotás 75' 83' | Czibor 59' | Lantos 18')
During the same hour in the same group, in Wankdorf Stadium in Berne, a West German team scored 4 goals against a Turkish side with one in reply.
All-Time Highest Score Margins in World Cup Finals Matches:
| WC Year | Winning Team | GF | Losing Team | GF | Margin |
| --- | --- | --- | --- | --- | --- |
| 1954 | Hungary | 9 | South Korea | 0 | + 9 |
| 1982 | Hungary | 10 | El Salvador | 1 | + 9 |
| 1974 | Yugoslavia | 9 | Zaire | 0 | + 9 |
| 2002 | Germany | 8 | Saudi Arabia | 0 | + 8 |
| 1950 | Uruguay | 8 | Bolivia | 0 | + 8 |
| 1938 | Sweden | 8 | Cuba | 0 | + 8 |
---
June 20, 1954
Hungary 8 : West Germany 3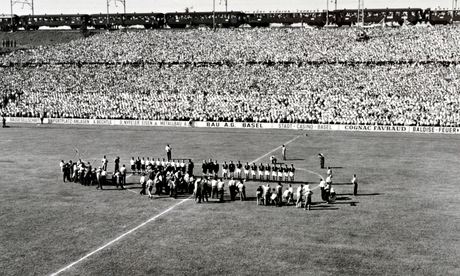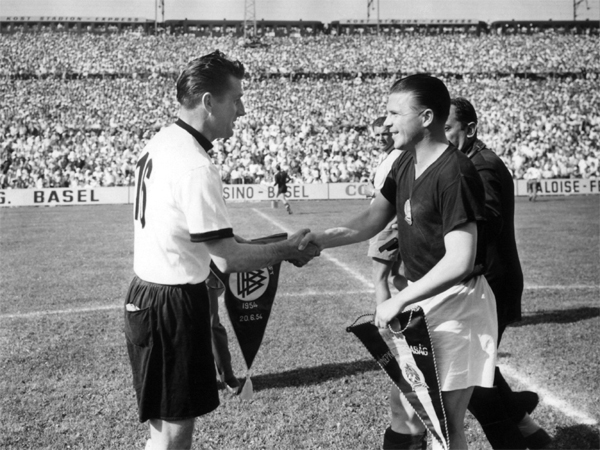 Three days later the Golden Team went into action against one of their other group opponents, an unseeded and unfashionable West Germany squad of whom not much was expected in the tournament. West German manager Sepp Herberger, imbued with a grander project to schedule his team for the best prospects in the knockout stages, wittingly put out half a squad of reserve players to gain inputs to what made Hungary so impeccable. Pondering stratagem and unfolding a plan to reconnoiter and have insight into Hungary's on-field strength while obfuscating and hoping to give misknowledge of his own and wanting a freshness for his main team without risk informed Herberger's decision to play this enormous gamble. In spite of wide criticism back home in West Germany to the contrary, Herberger's stated idea and contention was that Germany could still qualify for the quarterfinals in spite of a loss. Presumably at some point, Herberger was not slow to realize that trying his hardest to win the group, even if that were to happen, most certainly meant navigating the dangerous shoals of discouragingly strong Brazil and Uruguay, both to appear earlier before the finale.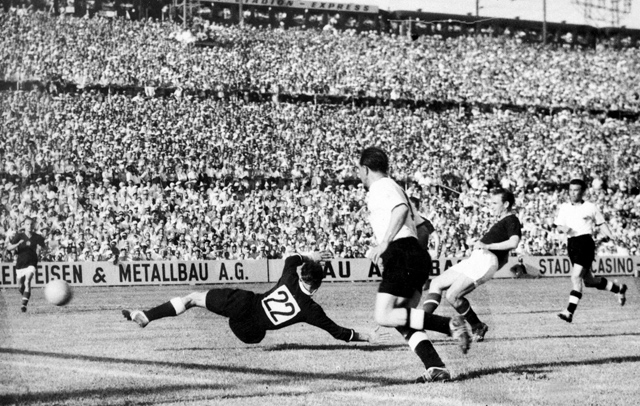 Hungary's supreme deep-seated No. 9, Hidegkuti, issues and shoots a goal past Kwiatkowski.
The match itself turned up overwhelming interest with a boom in attendance especially among the German population to see what their team could achieve against the Hungarians. St. Jakob Stadium in Basel was filled beyond capacity at 65,000 in the best-attended game at the tournament. Throughout this match the West Germans had a big advantage, the inspiration of playing nearer to Germany and a huge audience of comparable feeling with every seat taken. A special train was chartered that traveled to a position on a high ridge immediately overlooking the stadium, from the coaches hundreds of spectators who could not get tickets caught a view of the match.
It's a warm wind on summer's broadest high noon on June 20 and the Magical Magyars settle in with no weaker side and with invented in sweeps done almost with a leavening joyous magic the Hungarians come set with a heady confidence and precipitated themselves against the opposing line and soon glided through the brake of the defense that the West Germans were hard put to stop. Consequently, it was hardly surprising to find it so much interplay jazz streaming between them — the West German half was the scene of most activity, their goal heavily leaned upon by a rolling fire and tactical rigor that attacked without interlude as the goalscoring hammers rolled.
Sándor Kocsis was like a cavalier man possessed again inspiring everyone along his radii and sublimized the drama in a running tide of action, homing and winding through defensive mazes to add scores at the 3rd, 21st, 69th, 78th minutes and score his 5th hat trick. Hidegkuti who specialized in busting the center-goal area with delays searching for reaches also issued from his deep ensconced position and poured in two goals of his own along the ground and as the scores mound the steady football storm re-establishes itself.
In this match there is a note of concern and echoes with controversy for the roughness beyond the pale given the Hungarian captain in a game that was not without ominous and graceless incident. Being the world's finest player, Puskás was now receiving some very special attention and ungentle marking from all-comers he faced. Englishman William Ling did the officiating, and the Hungarian FA would later allege three critical fouls the match's refereeing had not accounted for undermined the game's integrity for the rough tactics adopted by the Germans to stop Puskás. Across the game, West German defender Werner Liebrich sets forth roughly with the prickly task of marking the indefatigable and high spirited Puskás and put a controversial edge around the game.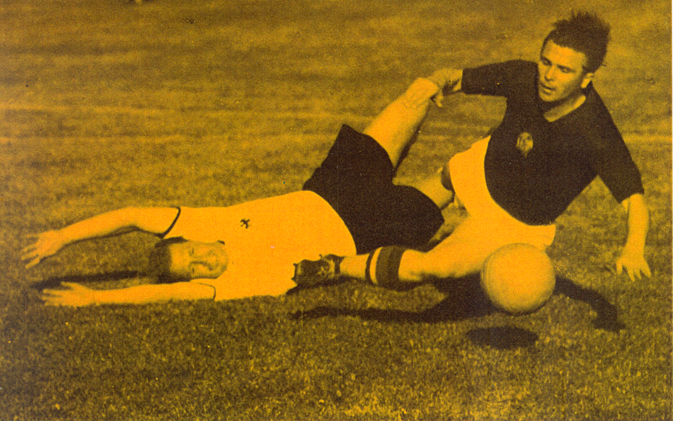 Spontaneity were not unique events in big games for Puskás. In their achievements no one took a greater part than Puskás. He was the first voice of the team and their captain, and one could hardly blame him for his daring egoistic aspects and for trying himself out in the grandest of settings. It was typically Puskás, sporting that badge of candor, who suggested to Hungarian-speaking German defender Josef Posipal whose family originated from Transylvania (a region that was once a part of Hungary) of his intent to make Liebrich look unskillful, slow and ponderous and that he could play the ball through his legs anytime he wanted. Posipal thought that unwise. In one of the finer moments, in the 17th minute, is a mesmeric work of Puskás weaving, hurdling and squeezing through a bloc of three defenders before sliding a short ball under the diving keeper Kwiatkowski.
At the height of the game a huge 6-1 lead lay around them, and it was Werner Liebrich, who perhaps with coarse West German icy virtue and brute caprice in his third and most damaging challenge of concern caught Puskás' ankle from behind with a roguish tackle and Puskás needed treatment on the field. This put him for the time out of the tournament with a sorely bruised ankle later revealed to be a hairline fracture. At the finish, even with ten men remaining, the match eased into another tremendous and decidedly offensive event and West Germany is beaten consummately at leisure 8-3. So explicit was the big victory the West Germany team seemed washed away by the magnitude of their worst ever defeat and apparently put out of court their chances of faring well in the tournament. The combined eleven goals in the match were then a world-record for the World Cup during regulation play.
Hungary 8 : West Germany 3
(Puskás 17' | Kocsis 3' 21' 69' 78' | Hidegkuti 52' 54' | J. Tóth 75')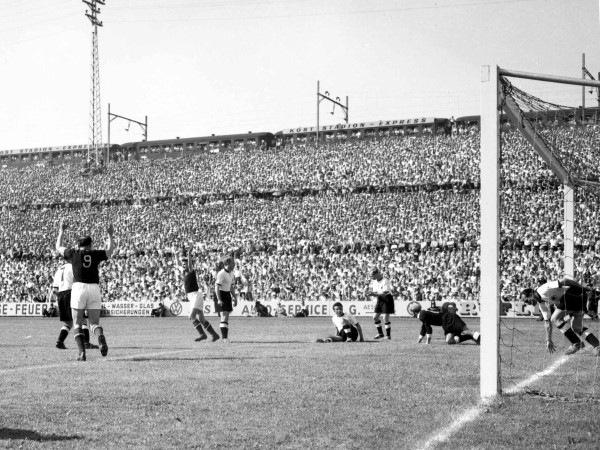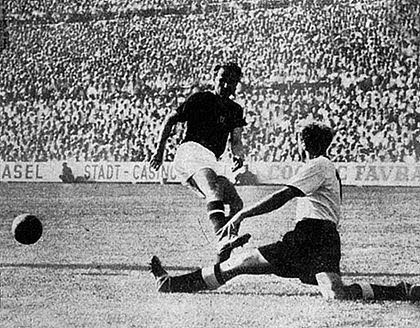 Sebes had principally built the team from earlier days around the inestimable talents of Puskás, his first among equals and most acclaimed, the dispiriting injury and jeopardy to his star left many wondering if the team could stand as before. What followed, in the absence of his prowess, is not a sharp reversal for his comrades but of a new marshaling of the team by Hungary's other incandescent talent, Sándor Kocsis. Kocsis, who stood beside his friend Puskás in international football as an exquisite scorer himself, would gain his own renown with many of the scoring responsibilities now thrown upon him and as the game designates Kocsis forth it is here that Kocsis must enter. There were many who clearly thought that the tournament still came with the predestined rise for Hungary but who now slipped into a less easygoing frame in the tournament without Puskás.
For allowing himself to be outmaneuvered and defeated Sepp Herberger bore the brunt of criticism to not play with a full team as a contentious issue with many and calls were nonetheless made for his resignation back in Germany. Perhaps not wanting to know the possible reactions back home, Herberger would use a double-down strategy against Turkey knowing that a 4-1 win over Turkey was already ensured, confided in his war room that a double defeat of Turkey was eminently possible to stay his course into the knockout brackets. It was his will to take heroic risks that settled the place of Herberger in the imagination of his supporters. It turned out precisely that the risk was well worth taking. Germany defeated Turkey 7–3 three days later with a mostly rested side in a playoff to make a counter-path in the tournament's group of second-place finishers.
After this match one of the most provoking questions and hypotheticals is to ask precisely how the team would have performed in 1954 without Puskás' injury.
---
June 27, 1954
'The Battle of Bern'

Football had come belated to Brazil transmitted by the son of a British expatriate, Charles William Miller, who had attended the English public school at Southampton and brought the aristocratic collegian game with him in 1894 to São Paulo. Football was a cliquish pastime of British communities in urban areas of Latin America. Following the First World War, it found a place in the inner life of most South American nations across all sections of society as the most practiced of favorite pursuits. Football was developing fast in Brazil whose trim were living at every World Cup. The grand progress made by the Brazilians at the 1938 World Cup where they earned third place honors managed to attract serious attention as they got on the right road as very consistent campaigners. By the 1950 World Cup, as hosts of the tournament, Brazil was primed on the cusp of destiny who had ascended as a stalwart and well-shaped team that comes to full fruition receiving copious publicity as the highly advertised side ready to win over the world with a strong team of moment. On June 27, 1954, the Hungarians took on the biggest nation from South America, playing the Brazilian national team in the quarterfinal in the Wankdorf Stadium in Bern in a game which would always remain something epic and one long remembered. That day Puskás sat out injured, his captaincy was conferred on József Bozsik and the elite winger Zoltán Czibor spelled Puskás at inside-left.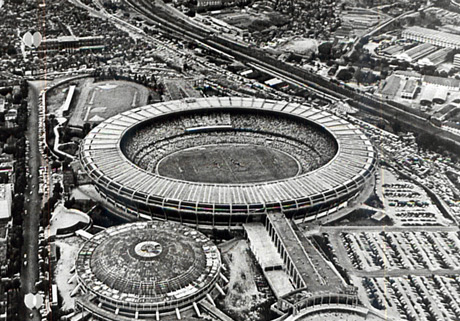 Maracanã Stadium in 1950 in Rio de Janeiro that saw the epic finale watched
by a yet world-record 200,000 fans between a home Brazilian team and
unbeatable Uruguay, who won their second world title 2-1 with a late revival.
In April of 1949, in Brazil, an entirely effective team was assembled that in that month scored thirty-eight goals in six matches and conceded only five, and in early May won the continental Copa America by a 7-0 scoreline over second-place Paraguay in the playoff giving them a high finish and a strong sense of easy domination at the expense of their South American neighbors. In June the following year, strengthened within on their home soil with exalted ease and great national enthusiasm the Brazil football team arrived at the 1950 World Cup finale scoring twenty-one goals with four in reply in five games, providing a powerful instance in the minds and feelings of men of all ages and places the finest hour of Brazilian football.
Inside the Maracanã Stadium, the world's largest, optimistic fans were preparing for the best and few doubted that Brazil was not the first choice to lift the trophy. The first salvo was fired by Brazil, who went up 1-0 two minutes after halftime that carried 200,000 people in a tide of patriotic good feeling. Bouncy with victory, things did look good for Brazil who had given a fine account by their driving vigorous participation, and the few occasions when Uruguay got close they were dulled by the home defense. But Uruguay was able to endure and to enter the final struggle with Brazil as a world power in the second half.

Inescapably, Brazilian fans were eager to believe in nothing less than a full triumph which was expected by all. The special format of the tournament provided that in the round-robin final group Brazil held a one goal advantage and this meant that even if the game ended in a draw Uruguay would have been relegated to a second place. But Juan Schiaffino among other leading players saved it from such a fate with the former equalizing 1-1 in the 66th minute. Clearly this was not enough for them, and the indefatigable Uruguayans were hungry for goals. When the winger Ghiggia put the heroically determined visitors up 2-1 in the 79th minute a thrill of painful angst was sent into the hearts of their opponents; a deep sense of disquiet, an insupportable thought of their team under challenge was felt everywhere in Brazil that millions found hard to believe as the full stadium was wrapped in a tangible, joyless soul-sickening hush and oppressive silence that had a chilling effect throughout the whole country. Much of Brazil went into mourning. The unforgettable defeat of their old adversary Brazil by Uruguay sent shockwaves around the footballing world in formerly the most famous upset before Hungary's hallmark defeat of England in 1953 astonished the wits of the footballing world that amounted to the game's re-invention.
Brazil came with a confidence that was made plain — to lift the chagrin and unhappy occasion of fortune in the events of the 'Maracanazo' which lingered with a team re-organized in a spirit to improve after the rather bungled 1950 fiasco. This Brazilian team, after their boundless expectations had been disappointed four years before, re-appeared again with a desire to change the direction of their team which even encompassed new kits and new national jersey colors. As the topmost team from South America, the Selecão's rating of 2038 power-rating Elo points reflected their status as the planet's No. 3 team and were downright robust and playing warmly alive in the language of a more muscular profession that may serve as a sample of Brazilian creed, work and style similar to that great suite of talent that played in 1950 and would again in 1958.
Since February of that year, Brazil played six matches and conceded only a thimbleful of goals and in prior twenty-eight matches had won twenty-one contests while losing only four. Doubly qualified as a virtuoso team of both attack and defense, Brazil had again built a rolling stock of greatness with a rank river of first-class talent and now cast their aspiring wizardry against the Magical Magyars who were playing faultless football. Faithfully partaking of their source—a soul-subduing paramount scheme in defense—the team of hammerhanded bravado would amply confront Hungary with stern process in the highest rated match of the 20th Century.
---
The following is the catalog of the Brazil national team's matches from July 5, 1950 to their quarterfinal epic tournament game named the 'Battle of Berne' with the Magical Magyars:

1950 World Cup Final

Pan American

Championship

Pan American

Championship

Pan American

Championship

Pan American

Championship

Pan American

Championship

Ave: Goals Scored | Strength of Opposition in 28 matches (21 victories, 4 draws, 4 losses)

Winning percentage: 82.14%

Undefeated percentage: 89.29%

in equiv. top-tier professional American football,

21-4 (

27.1 points/game)

Average:
No. 19.14
Deep down in this hard-finished defense was defender Nilton Santos, thought by many to be perhaps the greatest left-back in the game's annals and his colleague Djalma Santos worked in unison to underpin the strongest fullback tandem in football history. This alert duo apprehended the game's best raiders and were held in high esteem for the rate of their dispossessions, tackles and stopping the perilous runs and the passes of others to primly link the strong walled defense as a great buttress. Both would have impressively thorough careers together in 70 internationals, gain two World Cup titles in 1958 and 1962 and earn enormous credit in shoring up defense around goal. Pointing their game zestily which hits the average and good teams hard, at the heart of Brazil's playmaking stood one of midfield's great figures, Didi (Valdir Pereira), a high-status inhabitant to whom the ball was often channeled who kept the circle of Brazilian victories spinning prettily and overworking the Brazilian prestige. Around him were attached players of real talent with experience in unstinting form and fitness.
The 1954 quarter-final between Brazil and Hungary was enthusiastically written about by the press covering the game as the 'unofficial Final'. For fans, organizers, and journalists alike the match's ascent and build-out had finally arrived. After beating Mexico 5-0 and drawing with Yugoslavia 1-1, Brazil would gather up its strapping strength waiting to be cast into its ultimate form by caring to add three new attackers with an aim of springing swift traffic and breaking the grip the Hungarian defense exerted on everyone.
---

- The Match -
With Puskás watching from the stands his Hungarians began to assert their first-rate work and vision, suffused with ripe, uncatchable passing and duly entered with electric swiftness. Early on plays persisted warmly, appealingly and soon acquired heat and feeling. In a tremendous moving game, the finer shades of a besieging medley of sights, sounds, and climatic choreographed mounts begin to stand out for the Hungarians near the Brazilian goal.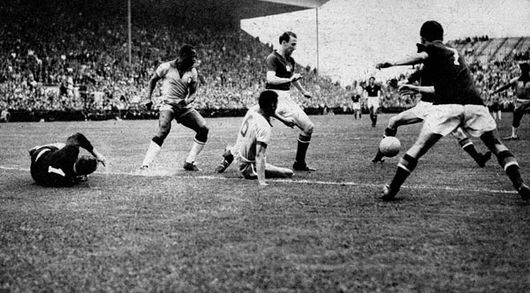 Nandor Hidegkuti amid Brazil's defense seconds before scoring the first goal in the match.
Very early in the third minute the quarterfinal draws out the scale of their talent: Hidegkuti took receipt of the ball from the left side of the penalty box from Czibor. There was a real struggle to prevent the goal, but all the instreaming Brazilian men cannot stop the mode in which the Magyars are fleet.
To the Brazilian goal comes the rhythmic racket, and in a scramble for it, half the Brazilian team trooped heavily back to the goalmouth where the Brazilians had yet to seal off the line to bolster a mantle of protection about their goal where there's a lot of wrangles, overcrowded with men jostling for position. Hidegkuti drove the ball which rebounded off a tightly marked Hungarian player and there a defender hoped to clear it. Pinheiro stumblingly treated the ball and Hidekguti found it again and wrenched loose a soaring shot by mightily plowing into it. It reached the goalkeepers' mitt who was sent falling. Once more, on his third kick, a glad exultant rainmaker done with as much power as could be got at a wall of defenders standing in goal, Hidegkuti's powerful rising shot sizzling inside the upper right-hand corner past three fullbacks erupted into a major reaction with the 60,000 in attendance after the vastly entertaining score. Hungary 1 : Brazil 0 (3' minute)
Mere minutes later, Nándor Hidegkuti, feeling the free channel of himself looked downfield thoughtfully and hard and hung his million-dollared long ball in the lean wind from midfield, the ball air-mailed into the drizzle moist afternoon to Sándor Kocsis who was mobile in the forefront of the fray alone and seemed to catch the spirit of the scene on the left side of the six-yard box. There Sándor Kocsis outleapt his defender to steer a long downward diagonal header, tucking it into place inside the far post that flung up the score 2–0. In the early part of the match, Brazilian players seemed to be pale things besides the warmth and vigor of the Hungarians as living truth again flashed through the game: afresh with compelling charms the Magical Magyars were playing a lusty tune on and cruising through a deeply penetrating and ferociously successful national team. A roaring cataract of enthusiastic tribute and applause flowed from the audience. Hungary 2 : Brazil 0 (7' minute)
The just-felt fast scores visited upon the proud Seleção put them ill at ease by the jolting pace of the two scores as the Magical Magyars showed things so natural in accomplishment in hot pursuit of a kind of perfection. But that a battle royale of dreadful renown was in the process of becoming tingled the blood of both teams. To stem and cool the heels of the other's progress there were many sharp plays in the ball game, those that trimmed down the other team's advance. The chafe and jar of the game saw players clashing fiercely in contention for the ball amid palpable tension as the fouling irritations that pile up accumulates a hard game that endures in strong, forcible temper. The 'Battle of Berne' was in full swing, underneath the quarterfinal a simmering passion amid the drizzle and mist of rain with the action taking on a certain roughness.
Soon the quarterfinal began to suffer breaks - interruptions, brutal buffetings, caused by durable passions as the match became erratic after each free kick was awarded. An unheard sum of forty-two free kicks saw many challenges violent as ringing symbols of the tenacious struggle between the two great teams which ran the blood and burned the pride of the Magyars. Of these, tripping that felled forward Indio in the penalty area was converted from the penalty spot by Djalma Santos, Hungary 2 : Brazil 1 (18' minute). Hungarian winger József Tóth was brought down, in the process he tore a leg muscle and went off injured.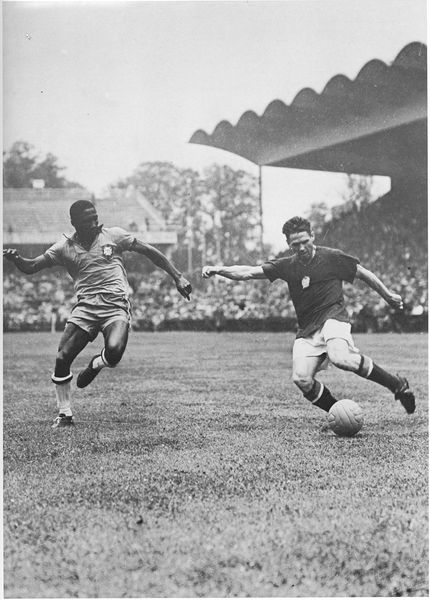 Hungarian forward Mihály Tóth veers in front of defender Djalma
Santos in the epic quarterfinal, June 27, 1954
Up to this point, the profit of the Magical Magyars' rhyme that poured over and pounded the Brazilian defense by the 60th minute opened out upon a large 3-1 lead as Lantos scored from the penalty spot. Hungary 3 :Brazil 1 (60' minute) The match was seemingly out of reach for Brazil, who left nothing undone to keep within the game who surged forward with a pestle of energy. The straightway dangerous Julinho slalomed in to stroke a curling drive, the ball driving into the top right corner of the net from the opposing side of the penalty box in one finest speculative efforts seen at the tournament. Hungary 3 : Brazil 2 (65' minute)
Bauer brought down József Bozsik who went off for treatment and was no fine thing done. Eventually Bozsik took umbrage and felt that he was tackled unfairly and hit out at Nilton Santos and soon both were in a serious brush in fisticuffs that led both to retire sullenly from the field on referee Arthur Ellis' red cards. Brazil energetically rolled forward with their remaining stores and it is put to its last trumps as Didi hit the crossbar in what would be their last chance to draw level. But there was trouble elsewhere on the pitch.
The Magical Magyars housed a wondrous yield on one of their strongest sides, the great winger Zoltan Czibor, who could not be fully stopped despite some mean-spirited efforts to cramp endeavor and disrupt the game's tempo. Djalma Santos' virtue was to provide surety by defending the best opposing wideout and found difficulties in coping with the fast Czibor. Hot and steely from his efforts in intercepting all sorts of raids, Djalma Santos found himself an exhausted right-back plunging in the vast task of covering the mercurial Czibor whose heroic feet never lagged, and repined to his hard fate, allowed himself malice and flew into a passion to pursue Czibor about the field.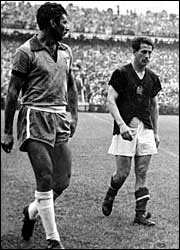 In the great final scene and the devout final minutes, nothing daunted, the un-markable Czibor was seen streaking down the field's periphery, had sped by the defense swiftly and shuttled a well-flighted ball to the center goal area to the man tugging them to the forefront, Sándor Kocsis, who again raced ahead to fix the game to put the square finishings on the much-ballyhooed battle. From close quarters with wonderful step Kocsis put in his conclusive reply, thunderously flashing in a headed goal that crashed into the right side of the net with a stunning winner, a signal of finality that ended the game 4-2 and infused the whole evening with that emotional glow, that electric charge that came off the audience as enthusiasts burst into a proper tornado of applause.
Hungary 4 : Brazil 2
( Kocsis 7' 88' | Hidegkuti 4' | Lantos 60')
The last moments of the game was a cauldron of pulsing emotion and rasping nerves. The game has grown martial and meets men with blows and disaster as the flow of the game becomes dull going and a little more than a running sparing match between the two great teams. The botched team, Brazil, pressed matters unpleasantly far after they hit the crash and fall in the unacclimated loss. Forward Humberto Tozzi kicked Hungary's Gyula Lóránt prior to the whistle and was genuflect on bended knees not to be sent off by referee, Arthur Ellis, who gave the game's third red card. As the game concluded, the excesses and tensions on the field continued unabated off of it ending in emotional vitriol.
Hamstrung throughout the game by the Golden Team and with dreams deferred until the arrival of the precocious footballing-talent in Pelé four years later, an exasperated and overwrought Brazil camp lashed into a frenzy by having their fans, photographers, trainers, reserve players and coaches invade the pitch with the Swiss police powerless to impose rule on the furies unleashed amid turmoiling scenes of swaying bodies of men and peace-compellers. Seemingly unable to make peace with the defeat, Brazilian players loosed a really terrifying geyser of abuse as a riotous band of Brazilians invaded the tunnels to the stadium and smashed the light bulbs leading to the Hungarians' dressing room and ambushed members of the Hungarian team in their quarters. There the room was lighted with the anger of men where a melee in virtual darkness occurred. There broken bottles, fists and shoes were used as weapons. At least one Hungarian player was rendered unconscious and manager Gusztáv Sebes ended up requiring four stitches after being struck by a broken bottle.
The game's English referee Arthur Ellis commented: "I thought it was going to be the greatest game I'd ever see. I was on top of the world. Whether politics and religion had something to do with it I don't know, but they behaved like animals. It was a disgrace. It was a horrible match. In today's climate so many players would have been sent off the game would have been abandoned. My only thought was that I was determined to finish it."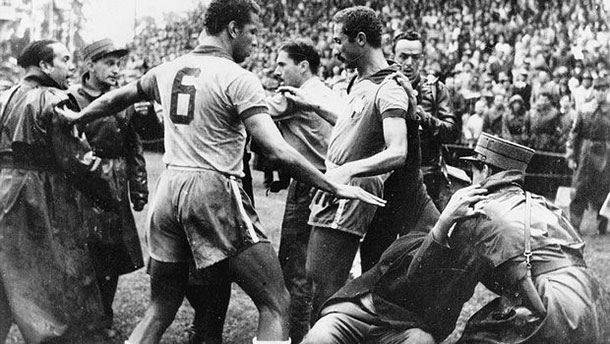 "Never in my life have I seen such cruel tackling."- observed The Times correspondent.
The chief blame for the mean-spirited and violent imbroglio were laid on Brazil after their quarter-final that became infamously known as the ''Battle of Berne". FIFA produced no official resolution on the matter except to state that punishments be sanctioned by the respective countries' federations, and the disciplinary committee was never enforced either. Beating Brazil ranks among the very strong triumphs the Golden Team achieved, with many in Hungary expressing the opinion that this was the first 'Final' of the three that Hungary were to play at the 1954 World Cup. Still others believed Hungary had staved off and prevented Brazil from beginning their procession of World Cup titles in 1954, added to those of 1958, 1962, and 1970.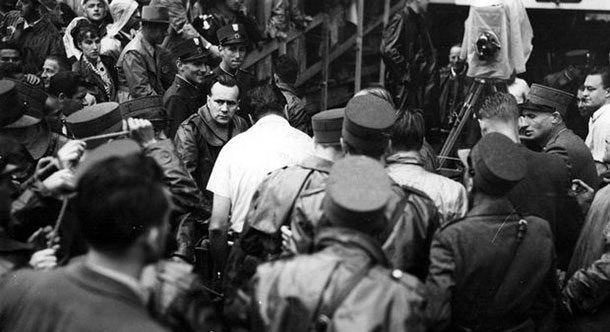 ---
June 30, 1954
'The Greatest Game Ever Played'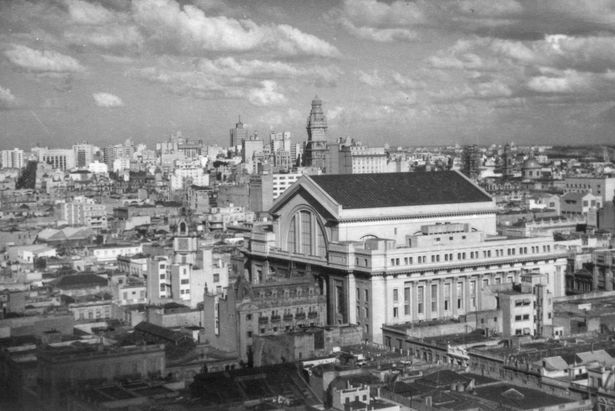 Montevideo, the capital of Uruguay in the 1930s. Uruguay was undoubtedly the most supreme
footballing nation in the Western Hemisphere having won every international tournament they
entered. They were the South American continental champions in 1916, 1917, 1920, 1923, 1924,
1926, 1935, 1942, were heralded Olympic champions in 1924 and 1928, and were victorious
in the World Cup in 1930 and 1950.

Free and clear of the last battle royale with Brazil came the semi-final and there, over all teams, looms a world champion power able to stand the whole footballing world crushing the mightiest teams even in the hour of their pride. The day came when the highest-poised team, the Magical Magyars, entered into another herculean encounter, another 'Match of the Century', their unbeaten reign now four years would play the banner of South American pride, the hardy perennials, Uruguay, the rivaling attraction full of honors and long-enduring amazing vogue.

After pockets of British cultural life first gave origins of the old collegiate game in the land, developments went further ahead in Uruguay than elsewhere in Latin America. It just showed the extent how deep and widespread the enthusiastic devotion ran and was accorded football in burgeoning scenes in the capital Montevideo and more smaller cities. In the shaping years of the game, Uruguay had put together important double titles at the Olympics in 1924 and 1928. Very memorably across those tournaments it was especially their handle of an attuned offense that lifted out a specific center of the game, that of a well-aimed South American passing attack that had vista better than previously known leaving fresh impressions of a sensible and intelligent kind from a far-flung place beyond the horizon.

That huge success won by Uruguay in 1924 and 1928 was a foreshadowing and would mean a new scene. International teams like Uruguay in 1924 and 1928 were much remarked because they helped set a new florescence and provide a lead to advance across football's warp and weft and the threshold of a new age. Twice Uruguay was hailed by FIFA "champions of the world" even before the first World Cup got underway. When Uruguay won gold in 1924 FIFA had not then established the World Cup. However, by the time Uruguay retained the trophy in 1928, FIFA proposed, just like in the Olympics, that world football should have its own tournament, a leader in its field, through which leading teams would vie in a great order of competitive appointments which invited footballers, amateur and professional alike, to take part. Their football underlay and authenticated a new "Spirit of the Age"; and the sport was given immense impetus when almost immediately various influential individuals, who were probably inspired with the new wealth that had lately been brought into the sport on the field and off of it, took a decision to establish a world tournament in session every four years.

That year, Uruguay was given the honor of being the first to host the World Cup and won the inaugural title on home soil amid widespread rejoicing; but then boycotted the next two tournaments in 1934 and 1938 before re-entering the World Cup staged in Brazil in the summer of 1950. There again, Uruguay headed their first team to the championship match but who were weaker, less active, and less spectacular in every way to be finally outweighed by Brazil as the glamorous underdog fighting their adventurous way through.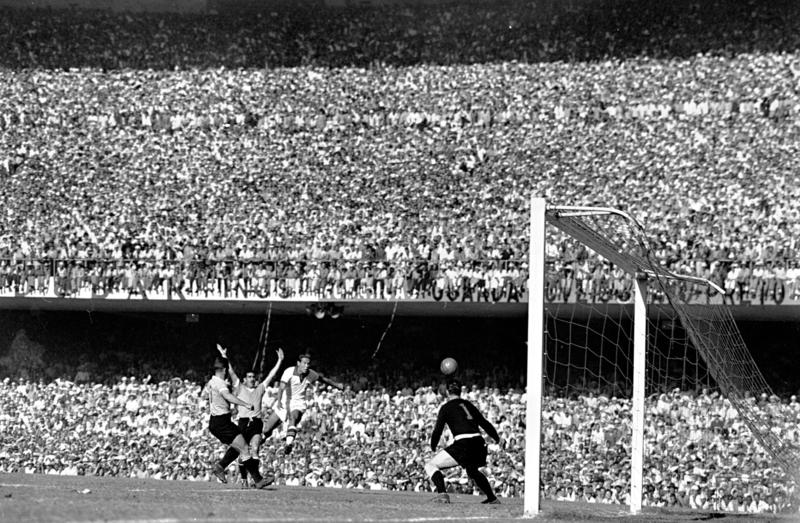 The epic events of the 'Maracanazo' in July of 1950 saw the much-heralded Brazilian national team upended by
the indomitable spirit of a Uruguayan side, who won their second World Cup.
A greater virtue is to reveal itself for Uruguay that carried them up to a loftier plane than anyone who played the game that not even the illustrious Europeans could compare with it. Uruguay had won against the world's best sides since 1902 done on a vastness of scale quite unprecedented, a level reached only by the English, Italians and Hungarians who had magnificent runs of their own. Uruguay first got involved in the world game in 1902 and by June 1954 had gathered into an immense, resonant unbeaten championship force that lifted them into the sphere of the most remarkable teams of all time. While playing in various tournaments and prestige friendlies carried over the years evolved an unvanquished set of matches mostly directed at strong European teams whom the Uruguayans defeated with scoring pomp and dazzle.

This is when Uruguay becomes vitalized and amid the proudest sway in twenty-four matches, consecutive and aspiring, Uruguay became the towering national team of the first half of 20th Century from South America. Indeed, no famous group from Europe or anybody outside South America went on to win at least one match against them. In a series against nations outside their continent, Uruguay had put together 18 wins, 2 draws and no defeats: putting 78 goals past all and conceding only 19 as most teams facing them went to smash. Enormously respected, Uruguay came to Switzerland with little disturbance in their routine having run thru every type of team in every World Cup match and all tournaments. The star power and winning vein of form in their 1954 campaign should not be underestimated, quite rather the contrary. Of dogged strength and thoroughly learned by the longest practice, Uruguay was again lavishing an unbroken overawing power in football.
Uruguay came into the 1954 semifinal in one of its strongest inexhaustible versions and emerged from an eddy of three sunken European sides that gave rise to another great champion team. Czechoslovakia, Scotland and England have all their talents and skills tried out against the world-champions but never quite met their measure and were plowed up by the powerfully sturdy and silky concord of Uruguay. Uruguay were once again putting on a new strength and exhibiting the game's pinnacles to reach that loftiest range of football timelessness.
No team has ever really gloriously led more of a charge through major tournaments as Uruguay had and no world champion entered more decidedly than in 1954. Uruguay, who had such definite and developed players held there by a scoring wind and a defense that clutch, were to carry the tournament to its farther verge that seemed to awaken echoes of four years before. In the make of the Uruguayan team a prodigiously active bravura that presented all teams with a hard surrounding defense and a 52-year-old irrepressible scoring advance through all defensive strata and schemes that forever indicated champions.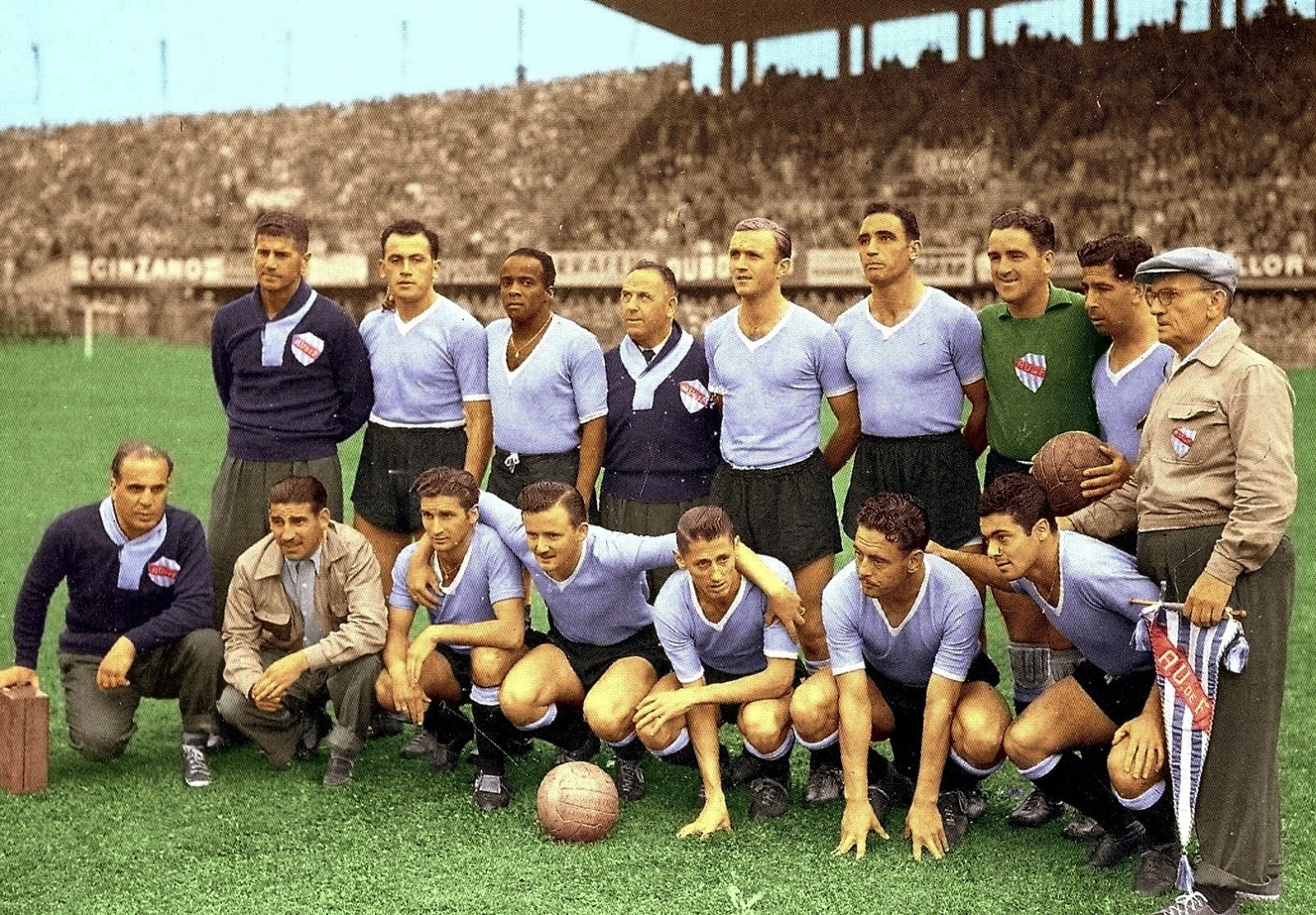 Czechoslovakia was first beaten 2-0, then they comfortably defeated Scotland 7-0 at group stage. In the quarterfinal, they faced England in a tremendous showing and won 4-2 as a further three more European teams knuckled under the reigning never otherwise Uruguayan juggernaut. It was their hard-earned victory over England, their second in over a year's time that authenticated the high parallel world champion team and good press fed some speculation of reaching yet another title. Uruguay's first team came in stronger terms to the semifinal than it did when it beat Brazil in 1950 and was judged to be far better.
Practicing the game skillfully, scoring in earnest and hardly leaking any goals in the back by being reliant on an absolutely sturdy defense that took on the strength of granite, the two-time reigning world champions would find themselves scaled against that most offensive of all football's shows with its superiorities, Hungary's unbolted tactical richness and unique bequeathment—a beta version of 'Total Football'— of players re-positioning themselves outfitting a group working at an elevated rate with so much dedicated to attack rousing unprecedented scoring, and with the greatest goalkeeper of his day, Gyula Grosics, posing defensive problems unanswerable.
Around the same time Uruguay defeated Brazil in 1950, in Hungary, who probably did not enter that tournament for financial reasons and were not in the picture, Puskás, Kocsis, Hidegkuti et al. were flowering into a top talent class on the mainland with a full team swelling with numerous young talent and offensive prerogatives being the main focus. Many of the teams Hungary played since 1949 became oft-recurring images of distortions and signposts among uneven talent as various countries were crushed up by the scores of Puskás, Kocsis, Hidegkuti who had so many times ascended over teams with the vastest results in fine and large games that affected the sport.
The twice champion Uruguayan team, towering with all-time historic sublimity, everlastingly ascendant and unmatched by Europe and internationally, was in search of its peer on top the world game that it had not yet met — the new great Hungarian unbeatable juggernaut of 49 unbeaten months.
The inevitable history-filled appearance between the two great national teams would come on July 30 in Lausanne in a broadly celebrated encounter where they would deal in legendary materials as if devised on something much larger.
Uruguay entered to play in the 1954 World Cup Semifinal undefeated all-time in every major international tournament they entered, and undefeated in all friendlies and competitive matches against all non-South American national sides as the following chart indicates.
7

3

5

Netherlands

2

Switzerland

3

2

4

Italy

3

Argentina

Argentina

2

4

6

Argentina

4

8

Spain

Sweden

3

Brazil

2

England

2

7

2

7

England

4

Ave: Off. & Def. | Strength of Opp. | 21 wins, 3 draws, 0 defeats)

Winning percentage: 93.75 %
Undefeated Percentage: 100 %


in equiv. top-tier American football,

21-0 (all-time since 1902)


36.2 points/game

3.62 gls/gm

0.92 gl/gm
---
Without injured Puskás to amplify the game with his goalscoring élan, Uruguayan captain Obdulio Varela was also out having picked up an injury in their 4-2 quarterfinal win over England. Provisional captain Juan Schiaffiano, one of the heroes of the 1950 World Cup Final who helped re-establish Uruguay onto the summit, first ran his selection onto the field. Soon following out of the tunnel came a column of eleven players headed by József Bozsik. Bozsik's team exuded an air of solid confidence with a leisurely gait onto the pitch intoning the old magic. Warm applause descended on the sportsmen. Bozsik and Schiaffiano swapped pennants at the center meridian before a match featured in World Soccer Magazine's 1960 inaugural issue as the 'Greatest Game Ever Played.' Uruguay and the Magical Magyars were, at last, rapturously received and in the open with most feeling they are nearing the final essence and core of the tournament, the winner simply to be the all-but-inescapable certain world champion in 1954.
On June 29, sports writers pictured the mutually approaching unofficial Final between twice champions Uruguay and the Hungarian super-team as a highly exciting and prized game often described by those who watched the game as one of history's all-time outstanding matches. The high standard of play certainly impressed all in attendance that was there for everyone to see immediately, between this more civilized affair and the worse off behaviors in the Brazil-Hungary quarterfinal that enlivened the crowd for its faultless consistency and meticulous propriety of craftsmanship as one to savor. This sense of quality of fair play dominated the temper of the match and one that obviously qualified in the remarks of the referee Benjamin Griffiths:
"Reporters described it as the greatest game of football ever seen and who am I to contradict them? Straight from the kick-off we saw some magnificent play by both sides, while an early foul by a player gave me a chance to show I was going to stand no nonsense. From that point on, there were no incidents to which anyone could take exception. The match had everything, brilliant individual runs, excellent combined moves and marvelous saves by both goalkeepers."
Right from the start in this mannerly game, the whole sequence of events, stretching from the kick-off to the final whistle, was a command performance as twenty champions attacked the gates of the other in an impeccably spirited and heavily settled game of dramatic potential as midfield becomes the thoroughfare. Pivotal to the success of the Golden Team was their long reputation of getting off to a fast start in their games, and no team could deny them long. Tapped by shifting motions, possession and running quality yardage and shuttling combinations the Magical Magyars soon began to rule the match, and here, too, Sándor Kocsis lead the way.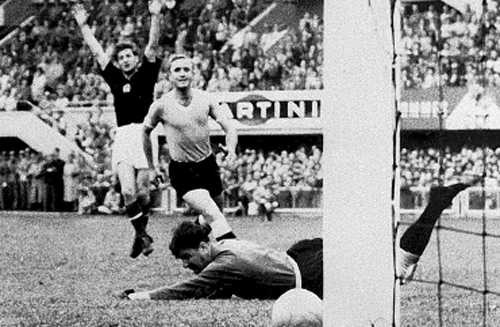 Zoltán Czibor watches elatedly as his work nudges inside the right upright
for the first score as defensive star Jose Santamaria tried to block the
scoring lane on the turf.
At the 13th minute, Hidegkuti elevated the ball with a chip shot from midfield directed toward the Uruguay area. Sándor Kocsis linked the aerial ball with his head to a more inclined forward player inside the Uruguayian penalty area. The designedly dropped ball trimly dipped in front of Zoltán Czibor's feet center-left midway inside the box. The great Uruguayian defender, Jose Santamaria, was desperately dashing in from the right in close down lanes exposed to Czibor who was now vis-a-vis with the keeper Roque Máspoli. Approximately from 11 yards out with his nondominant left foot Czibor kicked it roughly driving a long dribbling grounder against the grain that moved with medium speed. Keeper Máspoli was soon flat prostrate along the ground but could not extend to it. Czibor stood his ground then postured with raised arms as he watched his object of art dribble inches inside the far post. Hungary 1 : Uruguay 0 (13' minute)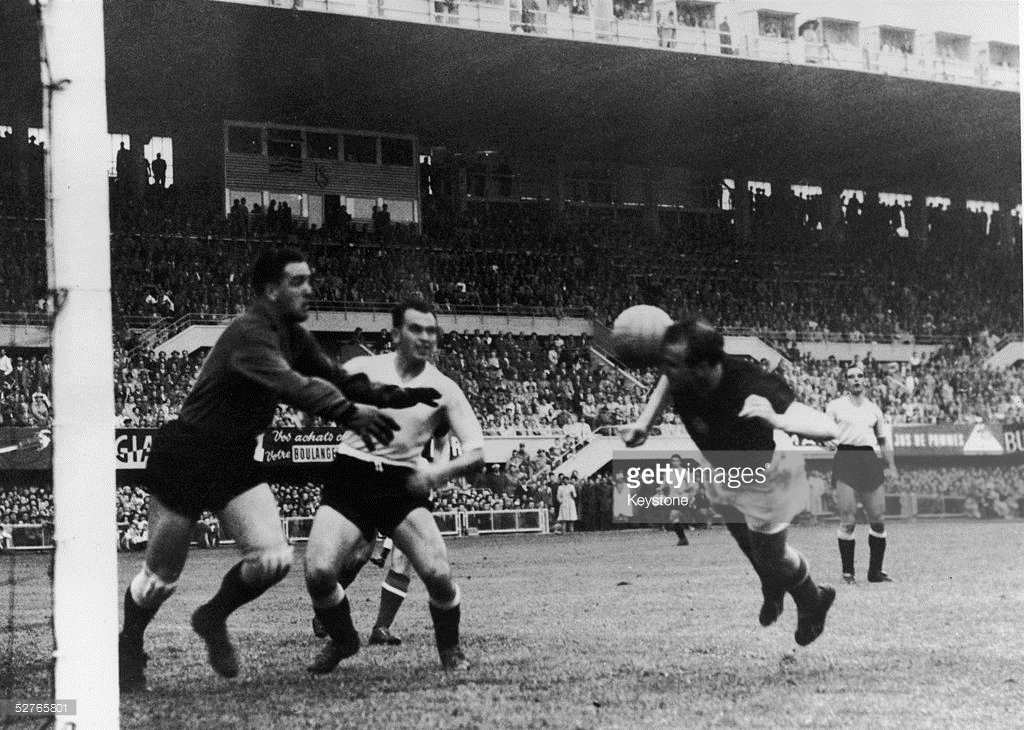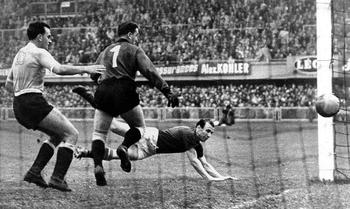 Nandor Hidegkuti's diving header shoots inside
the near post in the "Greatest Game Ever", June 30, 1954.
Another reflowing by Hungary's great line occurred a minute into the second half, and the Hungarian players raised their sights to the gleam of triumph with a score of surpassing beauty. Hidegkuti was plying his trade deep inside the opposing area and saw a high arching cross from deep wide right come his way from Laszlo Budai and broke into a canter to go in for his chances of winning through the pass completion. Hidegkuti was then hurriedly in full tilt towards the left side of the Uruguayian goal to where the ball was falling on the left edge in front of the goalpost. Coming with all speed Hidegkuti pushed himself to be horizontal with a swan dive with the ball gracing the side of his head as it shot inside the near left post. Hungary 2 : Uruguay 0 (46' minute)
In these moments of confidence there was rising excitement in most households in Budapest and elsewhere in Hungary after the Hidegkuti score as immediate coverage of events were relayed on Hungarian radio by legendary commentator György Szepesi, who was almost becoming as well known as the players themselves. Being 2-0 up, Hungary was basking in castle sunshine and had pierced the domineering Uruguayan defense that suddenly ran Uruguay into trouble. To all appearances, Uruguay's tracks to victory were slowly disappearing but rather than conceding on the precarious brink, the great Uruguayan team bearing steadily on, mustered and collected its energies to crucially give it everything that enshrined the game as one of football's tour de force matches of the twentieth century.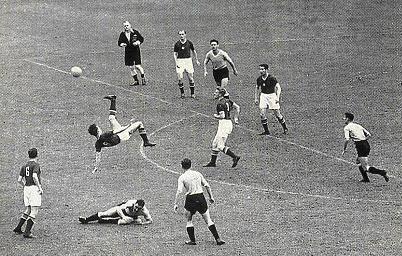 Hungary defender Jozsef Zakarias does a marvelous bicycle
kick to clear the ball atop the penalty box in the 1954 Semifinal
matched called ' The Greatest Game Ever '.
La Celeste spent much time in the second half largely mobile painstakingly patterning their plays aimed at getting past the ever-blunting Hungarian defense as most perilous balls were divested by keeper Gyula Grosics himself almost single-handedly as defense-splitting through balls, fast breakaways, crosses and solid Uruguayan shots did not abate. Inside the last 15 minutes, what Hungary supporters wanted most of all was a third goal to effectively finish the game, but this most difficult of conquests was not forthcoming. For Uruguay, it must be finding of a satisfaction as pressure was starting to mount for their growing failure to score. A tremendous wave of will swept over Uruguay who worked exhaustively with hard and productive toil until every combination was worked through to edge into the Magyar defense. Held at bay until the last quarter, naturalized Argentine Juan Hohberg found a crease and played it past Grosics to give heart to the world champions. Hungary 2 : Uruguay 1 (75' minute)
Seeking to ward off a Uruguayan oncoming and clinging tenaciously to the one goal advantage in the dying minutes, the irresistible fighting spirit of the world champions came about in a revealing experience. Uruguay reached the crest of their curve in the 86th minute. Forward Juan Hohberg was drawing near the Hungarian goal and loosed a shot, an advancing Grosics blocked it but could not clutch it securely as it went ungathered. Two Hungarian defenders were rapidly withdrawing between the goalposts as Grosics was off the line and on the ground. Hohberg regained possession and laced the ball past two men who stood inside goal. The vision of Hohberg's late goal transported an immediate reaction in those present having counted themselves lucky to be in front of such determined world-class heroics. Hungary 2 : Uruguay 2 (86' minute)
Overcome with a fainting spell by scoring
the equalizing goal 4 minutes from time
against the best team in the world, Juan
Hohberg is revived on the sidelines before extratime.
Breathing into them recuperative heroic life, in a fever of excitement, Hohberg was immediately crowded by teammates but was knocked unconscious and fell to the field overcome by his late score that proved so vitally important for him personally and Uruguay. The half-conscious Hohberg was still being recuperated to by a team of physios and masseurs on the sideline as time drew to a close four minutes later. Dramatic tension builds as both teams head into extra-time.
-- Extra Time --
The considerable stamina required for periods of extra-time also now shifted the game to a hard visceral test of character with the nerves of some players fraying at the edges. The team took instructions from Sebes on the sideline for the coming extra-time as Uruguay had chiseled away at the end most vitality horizons of the great Hungary team. It was in the first period of extra-time that a play hung upon the apex of disaster in a tremulous twinkle as Juan Schiaffiano released Juan Hohberg to the left side atop the Hungarian penalty area with a pass. Hungary's assistant trainer Gyula Mándi, who was a major contributor himself, went pale, filled with a curious tremor as his heartbeat fluttered into the hundreds as Hohberg's low blazing piledriver shot soared precisely toward the left side of the Hungarian goal. By blessed chance, the powerful volley struck the left goalpost and violently caromed back to the penalty spot where it was cleared.
Capable and cool, Hungary tediously met the challenge as the game hardened even more with the better tempered physical conditioning of the Hungarians honed by Sebes starting to pay on the intrinsic physical energies of the toiling South Americans that was appearing wearing thin and overdrawn. Chipping and delving with heaves of impulse with the game laid bare on the line between winning and losing, in a flourish of excess stamina, Hungary surged forward as an aerial ball came horizontal from the right to Sándor Kocsis who stood about ten yards outside goal. At this crucially pressing juncture came the winning sunshine moment of uplift with Kocsis rising to leap as high as he could and steer a header into the right side of the net to break the tedium of the stalemate. Hungary 3 : Uruguay 2 (111' minute)
Refreshed by the gladness of the score, Hungary was again powering through onsets of strain and fatigue and foisted their plays into the penalty area with scoring Sándor Kocsis taking a encore position as yet Bozsik sent some more accurate breeze, the well-flighted ball from the right to again connect with upraised Kocsis contenting for the upper hand to win them the day. Wonder-starred Kocsis has taken the scene again, a master shown through the medium of film footage, warm glow of photography and live monochrome 1950s television coverage, leaping high with defender Jose Santamaria draped over his shoulder as his second winner glanced just inside the left post past the desperately diving Roque Maspoli and the game is accomplished and the main team arises.
Beholding the certain effectual movements of that masterpiece of nature, Sándor Kocsis, with that kind of majestic preoccupation with the ball in the air was the true climax to the match that imparted an exquisite tone. The exhilarating and cathartic tonic that Kocsis' second settler produced exuded certainly a deep sense of easement and solace to emotionally and physically release the players from the game's hard tension and work. Hungary 4 : Uruguay 2 (116' minute)
Hungary 4 : Uruguay 2
( Kocsis 111' 116' | Hidegkuti 46' | Czibor 13')
At the end of their arduous contest, Uruguay captain Schiaffiano came up to Jozsef Bozsik and offered warm congratulations to give credit on the wonderful victory. Bozsik was touched by the gesture and described the Uruguayian players as real sportsmen, stating: "This was the most beautiful, the most humane game of my life." Those who watched the game stood in applause and ovation for the presence of a profoundly unforgettable occasion ever witnessed at the World Cup. Members of the Golden Team returned from their dressing rooms to acknowledge the grateful crowd in a reception from the terraces in an extended curtain call.
Kocsis, the shining hero, the new meteor of the team who physically overtops all, wondered over by everybody because he was so brimful and in the matter of heading the ball he was sublime, had wholesomely affected huge wins over both teams from the 1950 World Cup Final, one after another, and had advanced his name definitely beyond the bounds which most mortals would have found range in the World Cup; and created 11 goals in 4 games to his ledger to lavish a lasting renown on the leading performer at the games who achieved a near single-handed mastery over the tournament. Alongside earning top honors after being nominated as ''Best Player at the Tournament", Kocsis was more masterful than he has ever been, going on to score 23 goals in 14 national appearances that same year, international football's most ever in a single year.
Around this time, Puskás was the staple of talk among journalists, no one was quite sure about the changing situation with his ankle injury and whether the unprecedented fabulous three, Puskás-Kocsis-Hidegkuti, would come together down the center line. Newspapermen could never get enough dependable information on Puskás' injury and news coming out of training camp was uncertain on the changing situation. The two 15-minute periods of extra-time with Uruguay and their lengthened stay on the field to soak up adulation sought by the joyously rising crowd and press caused Hungary to miss their train back to their hotel in Solothurn. The Hungarians were also in search of a local restaurant for pleasure in a celebratory dinner and arrived back at their lodgings at the Krone Hotel between 4 and 5 o'clock on the Friday morning that did not necessarily bring resting solace needed by the team before their appointment Sunday afternoon.
Hungary's game nearly already crowned world champions and playing brilliantly to produce great results over Uruguay and Brazil were identified by the public and journalists as decidedly overwhelming, and what emerged was a reasonably clearer picture that Hungary would win the title whoever they played. Like a Waterloo among battles, Uruguay's maiden defeat in the tournament also took on symbolic meaning, a ' passing of the baton ' from one enduring team to another. The players soon learnt that they would be facing a freshly risen and altered good West Germany again in the Final whom they had emphatically defeated 8-3 on June 20 at group stage. In reaching the Final, West Germany did far better than anyone expected and who were capable of a general good Final. Hungarian manager Sebes later sang the praise of the Uruguay squad who he faced in describing them as: "...the strongest team we have ever met."

The Semifinal between world champion Uruguay and the Magical Magyars is described by Cris Freddi's History of the World Cup as:

"...an outstanding candidate for the greatest international match of all time."
1.

5.8.1949

Home

Gero Intl Cup

1

No. 16

2.

6.12.1949

Home

Gero Intl Cup

1

1

No. 2

3.

6.19.1949

Away

friendly

2

2

No. 3

4.

7.10.1949

Home

Poland

friendly

2

No. 41

5.

10.16.1949

Away

friendly

3

No. 16

6.

10.30.1949

Home

Bulgaria

friendly

0

No. 46

7.

11.20.1949

Home

friendly

5

0

No. 5

8.

4.30.1950

Home

Czechoslovakia

friendly

0

No. 20

9.

5.14.1950

Away

friendly

3

No. 13

Keeper Grosics did not start in game.

10.

6.04.1950

Away

Poland

friendly

2

No. 43

11.

9.24.1950

Home

Albania

friendly

0

No. 63

Largest margin of win for Hungarian national team in its history.

12.

10.29.1950

Home

friendly

3

No. 14

13.

11.12.1950

Away

Bulgaria

friendly

1

1

No. 55

14.

5.27.1951

Home

Poland

friendly

0

No. 43

Beginning of 13 game winning streak (May 27, 1954 - October 19, 1952)

15.

10.14.1951

Away

friendly

1

No. 6

16.

11.18.1951

Home

Finland

friendly

0

No. 82

17.

5.18.1952

Home

East Germany

friendly

0

No. 30

Not a FIFA-official match, but a full international, E. Germany joined FIFA on July 24, 1952

18.

6.15.1952

Away

Poland

friendly

1

No. 45

19.

6.22.1952

Away

Finland

friendly

1

No. 77

20.

7.15.1952

Neutral

Romania

1952 Olympics
Group

1

No. 33

21.

7.21.1952

Neutral

1952 Olympics
Group

0

No. 5

22.

7.24.1952

Neutral

Turkey

1952 Olympics QF

1

n/a

23.

7.28.1952

Neutral

1952 Olympics SF

0

No. 12

National team becomes widely recognized in European football circles for innovative tactics, Wembley game first proposed

24.

8.02.1952

Neutral

1952 Olympics F

0

No. 5

Hungary becomes Olympics champion for 1st time; nickname of 'Golden Team' first became popular to national side. Hungary becomes the No. 1-ranked team in the world.

25.

9.20.1952

Away

Switzerland

Gero Intl. Cup

2

No. 22

Hidegkuti becomes regular starter after keying 0-2 comeback towards a 4-2 win.

26.

10.19.1952

Home

Czechoslovakia

friendly

0

No. 25

27.

4.26.1953

Home

friendly

1

1

No. 14

28.

5.17.1953

Away

Gero Intl. Cup

0

No. 6

Hungary wins European Gero Intl. Cup (1948-1953 edition) | Puskás top scorer in tournament with 10 goals

29.

7.05.1953

Away

friendly

2

No. 13

30.

10.04.1953

Away

Bulgaria

friendly

1

1

No. 60

31.

10.04.1953

Away

friendly

1

No. 17

32.

10.11.1953

Away

friendly

2

No. 12

33.

11.15.1953

Home

friendly

2

2

No. 14

34.

11.25.1953

Away

friendly

3

No. 3

"Match of the Century", most influential friendly in football history |
Puskás becomes top international scorer (60 goals) |
Hidegkuti scores famous hat-trick

35.

2.12.1954

Away

Egypt

friendly

0

No. 40

36.

4.11.1954

Away

friendly

0

No. 13

37.

5.23.1954

Home

friendly

1

No. 4

Hungary's most famous home win, England's largest defeat by score margin | Hungary becomes all-consensus favorite for 1954 World Cup.

38.

6.17.1954

Neutral

South Korea

1954 World Cup Group

0

No. 38

Largest margin of victory all-time in World Cup history

39.

6.20.1954

Neutral

1954 World Cup Group

3

No. 8

Most-watched game at 1954 World Cup | Puskás injured | Kocsis scores 4 goals

40.

6.27.1954

Neutral

1954 World Cup QF

2

No. 3

"Battle of Berne", Puskás sits out injured, winger Jozsef Toth injured for remainder of tournament

41.

6.30.1954

Neutral

1954 World Cup SF

2

No. 3

"Greatest Game Ever Played", Puskás sits out injured, Kocsis has 11 goals in 4 games in tournament | Hungary attains highest-ever Elo world football rating

Hungary from 1949-1954 in 41 starts: 34 Wins, 6 Draws, 1 Loss

Winning Percentage: 90.24 %Undefeated Percentage: 97.56 %

in equiv. top-tier professional American football,

34-1 (

44.6 points/game)

Goals/Game:

4.46

Goals Ag/Game:

1.15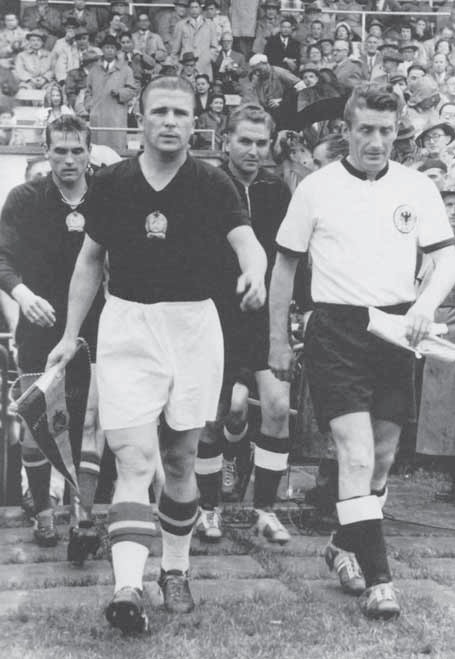 Puskás Öcsi and Fritz Walter in the highest rated match of the 20th
century, the most seminal and consequential occasion in World Cup
history, the 1954 World Cup finale.