*** Sándor Kocsis ***
*** Puskás-Kocsis-Hidegkuti ***

The Very Best National Strike Trio of All Time

source: Players with 100+ Caps and 30+ International Goals (rsssf.com)


All Time World Rank

Players

Nation

Goals

Wins

Draws

Losses

Goal Ratio

Win Percentage

Gold

Sándor Kocsis

Hungary

75

1.136

86.36%

Silver

Nándor Hidegkuti

Hungary

39

0.582

84.33%

Bronze

3

No. 5

Ferenc Puskás

Hungary

83

1.00

81.93%

90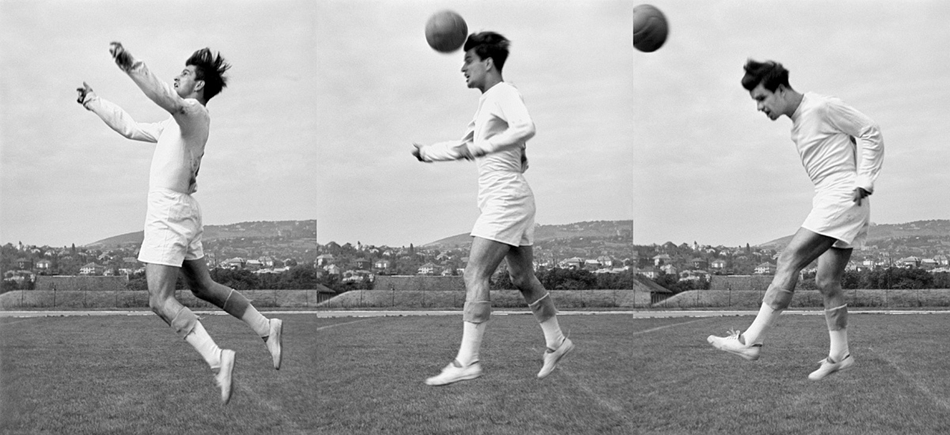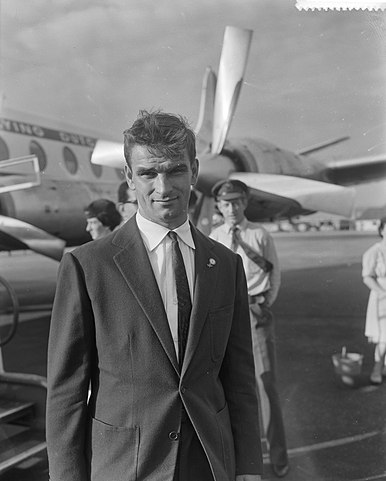 Goalscoring extraordinaire Sándor Kocsis (nicknamed 'The Cube' or 'The Man with the Golden Head')
was arguably the world's purest goalscorer in the international game - being the 3rd most prolific striker of
the century (75 goals in 66 appearances) who carried his team over many good sides in his 66-game
national career. He was the star catalyst of the great Ferencváros side of 1949 that won the national title
that year. In 1952, 1954, and 1955, Kocsis was again Hungarian national champion with Honvéd. In 1959 and
1960 Kocsis was Spanish national champion with Barcelona and won the Spanish Copa del Rey in 1959
and 1963. Kocsis' Barcelona side won the Inter-Cities Fair Cup in 1960. In the 1961 European Cup Final
against Benfica, Sándor Kocsis and Zoltán Czibor both scored in the heartbreaking 2-3 loss in the Wankdorf Stadium in Berne.
Sándor Kocsis was a tall bold homerun football slugger, athletic, continental, perfect in features, true in limb, an international target striker greater than before known. Sándor Kocsis was the nearest thing to the 'natural striker' for whom formalists had been searching for ever since the early 20th Century who built a reputation as a world leading scorer of a particular kind, and became a master worthy, too, to stand beside his greatest contemporaries with the other recognized legends in the world national game. Many considered him the most thoroughly athletic being that in the course of his career produced more aerial headed goals than any other on a super-team modern as any.
Of a tonic and alfresco player's physiology complete and an authority in size and pace with Kocsis there is no tougher and truer goalscorer who gratified the general relish for stature and high form. One other talent of his day can be compared with Puskás and Pelé in the national world game, that of Sándor Kocsis and no one of his time had so lively a footballing artistry as Kocsis. The rapidity and sureness of Kocsis' development has had no match whose career was made up of brilliant sections of football and like his achievements were unique in history. Kocsis was for his own time a player of entire quality and unparalleled efficiency who has had few peers.
Sándor Kocsis remains one of football's giant figures most important first of all because he was a great player and because he, along with Puskás, announced and instructed a new age at the historical moment for the rise of new tactics and football's re-invention. Like Puskás, he would lead a double career and the pattern of the life of Kocsis for many years was the pattern of Puskás' own. Kocsis showed simply a luminous gift for scoring as did Puskás, but Kocsis played more successfully than anyone has ever seen. So potent, in fact, was Kocsis at his best that the 20th Century is prone to regard Sándor Kocsis as the most victory-decorated international national player of all time for scorers who upcast their teams with at least 35 goals.
Most National Goals All Time in a Single Year

All Time Rank

Player

Nation |

Goals

| Year

No. 1

Sándor Kocsis
Hungary

23

1954

No. 2

Ali Daei

Iran

22

1996

tie 3

Sven Rydell

Sweden

19

1924

tie 3

Romario

Brazil

19

1997

tie 5

Just Fontaine

France

18

1958

tie 5

Godfrey Chitalu

Zambia

18

1978

No. 7

Imre Schlosser

Hungary

16

1912

tie 8.

Gunnar Nordahl

Sweden

15

1947

tie 8.

Ronaldo

Brazil

15

1997
Sándor Kocsis was born in September 1929 and growing up in young manhood during the war lived through a time of extraordinary trouble and turmoil. During Allied bombing raids of the capital city Kocsis' family retreated to house cellars and there he practiced kicking a tightly wound rag ball at walls and objects. Nor was Kocsis' family well-to-do like Puskás' during those days with a great many people in financial plight during a period of shortages and rationing during this period. As soon as the intense street-to-street fighting had stopped with the Soviet Russians occupying the capital in the spring of 1945, his father thought perhaps football held good promise in his future and introduced him to Ferencváros' junior team that was a good distance from their residence and was Hungary's first young man to register after the war. Football the adventure propelled by the strenuous life was the strong life for him that never knew harness and his father wanted that kind of life for him.
Despite such comparatively unpromising beginnings, Kocsis worked hard and learned much and became a full starter for the senior team of Ferencváros aged but sixteen debuting against a Kispest squad that featured Puskás in the lineup. Right from the start, Kocsis appeared different from the others, a shy young man who took his solid pleasures on the soccer field or in another game he enjoyed greatly, chess. He was described by many as tall, fast, svelte and sculpturesque but lacking ballast in weight and the club arranged to build up his physical blessings and constitution with a caloric diet delivered to his home while his father given a local pub to manage to help relieve some of the financial hardships.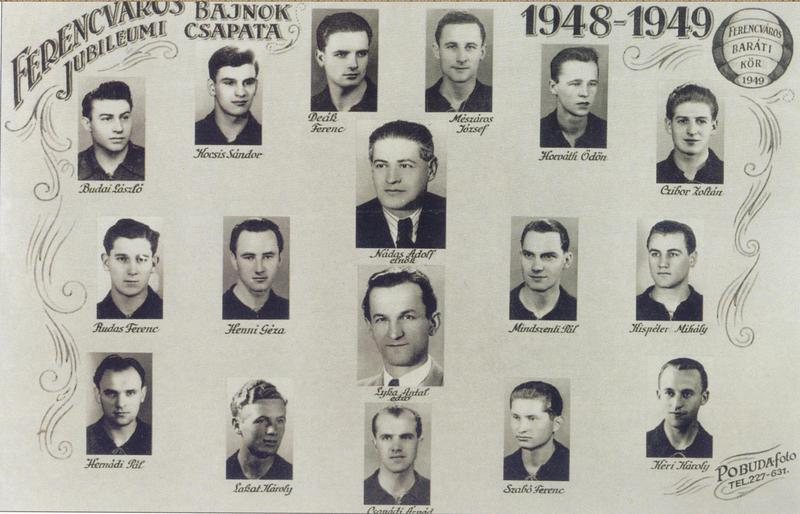 Team portrait of the great 1948-49 Ferencváros side (+3.5 goal differential per match) that won the league before a
dominating reign of Honvéd and MTK began in the 1950s. Playing alongside Lászlo Budai, Zoltán Czibor,
Sándor Kocsis was also paired with Ferenc Deák who scored an 'Old World' record 66 goals in one single season in
1945-1946.
In 1948-1949 with Kocsis leading and scoring 33 goals out of 30 matches Ferencváros came first in the league on a superb team that logged a goal differential of +3.5 goals each game. The following next year he scored 30 goals out of 30 matches as his team came in second-place behind Puskás' Honvéd. The report of such a prodigy awakened interest in many scouting representatives who were watching for talent all over the country to assemble for the national team that Kocsis should play for Honvéd. He was then given the prospect when he came of conscription age of either serving in soldiery on a frontier border-post or playing for them thereby excluding Kocsis from this military obligation.
Those two bonding earlier years at Ferencváros gave Kocsis a indelible love for the club that never quite left him knowing his heart was one that belonged there and most everybody privately knew it and Kocsis seemed most himself when lost in the milieu at Ferencváros. Whenever he arrived at a local restaurant bandmasters would stop their original tune and strike up a favorite Ferencváros song.
To yield interior scores with Puskás, Kocsis became the inheritor of roughly half the supplied assists and spent his next years in an ideal location at Honvéd for such influences to mold his life and his game and provoked Kocsis to adopt the critical weapons Puskás didn't have, a right footed shot and his head. There too Sándor Kocsis sustained and deepened his varied output and found his way into it frequently scoring 153 goals in 145 games and came second in time but first in importance behind that relentlessly productive master Puskás in league matches.
All Time Highest Scoring Averages in the World Cup by Goal Ratio


(

Minimum

5 goals):

All Time Rank

Player

Nation

Goals Ratio

Goals

Matches

Tournament Years

No. 1
Sándor Kocsis
Hungary

2.20

11

5

1954

2.

Ju

st Fontaine

France

2.17

13

6

1958

tie 3.

Guillermo Stabil

Argentina

2.00

8

4

1930

tie 3.

Josef Hugi

Switzerland

2.00

6

3

1954

tie 3.

Oleg Salenko

Russia

2.00

6

3

1994

6.

Leonidas

Brazil

1.60

8

5

1934 / 1938

7.

Eusebio

Portugal

1.50

9

6

1966
He made his debut for the national team in June of 1948 in a high-scoring 9-0 defeat of Romania where he scored two goals to begin an enormously successful career as a target striker at inside-right until October of 1956, and the team came through more successfully than other countries in large measure because of his talents and strengths. The next eight years showed Kocsis at the height of his energies and left no doubt that a player of great talent like Puskás had appeared in the period succeeding the war.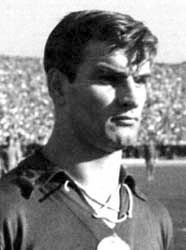 Observers immediately noted the great degree that Kocsis was able to gain the upper hand in the air, an aerial prowess that would be one of his great towering, emblematical attributes. He is most wonderful with his clear-blooded, strong-fibered physique who outvies others promiscuously while taking soaring flight in the air. Proper scores of tumbling gorgeousness cascade from his right and left foot and his head with prodigal zest. Most people presumed him the greatest header of the ball who ever lived, his raids among crowds so perfect, so essential that he could direct with superlative skill.
Quite a different side of Puskás, Kocsis could shoot terrifically and accurately with both feet and his head whereas Puskás was renowned for his booming broadsides with one. If Puskás was very lively in his perceptions and his spontaneous overflow and control, Kocsis was no less vigorous. Tall, handsome, strong, with no surplus once of flesh to burden him one can detect in Sándor Kocsis superior elements in his game, an athletic presence and a commanding persistence whose own manner of action had greatness in itself.
In the normal course of his career, he had an admirable beginning, trudging a high road to renown with him being the world's top leading league scorer in 1952 and 1954 with respect to 36 and 33 goals in those years that elevated him at the bar of history. By the year 1954 when he was already seasoned in his profession and set to the fantastic frame of the World Cup tournament, it appeared to explain Sándor Kocsis himself as a great player exceeding all others in the game's history for scoring an average of 2.20 goals-per-game in those important matches that won the attention of the world. The 1954 World Cup was converted by Kocsis' talents and skills into a quasi-mythic competition for the delight and memorability it afforded, and no small part is owed to Sándor Koscis for conveying Hungary's success. It is also a plume in Kocsis' sterling records the year in which the World Cup was played that saw his far-reaching fame go furthest which remained an image of exclusively Kocsis' domination of the sport when he scored 23 goals, still the most in a single year in the world. He tended to produce magnificent hat tricks, seven in all which was then a world record for many years after he left the international stage not by his choice.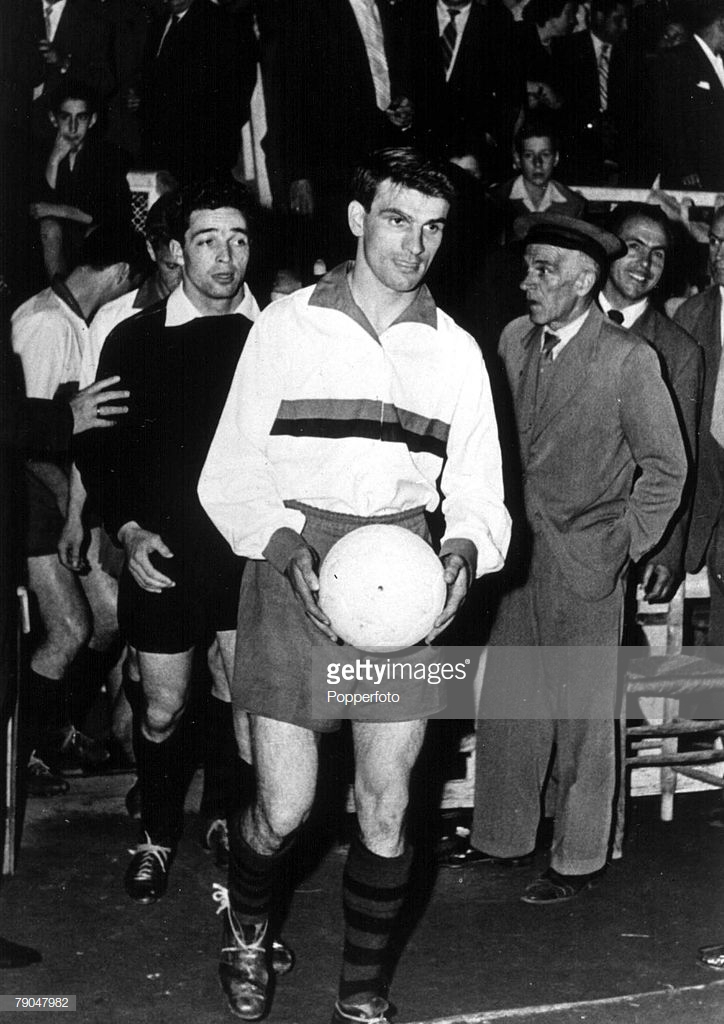 In international games Kocsis receives enormous meaning as the century drew to a close in December of 1999, the only other 20th Century player to outrank Kocsis's 75 goals was the Brazilian Pelé merely by two goals in 24 additional games played. Kocsis' pervasive quality at point and aura was profound near the goal with a fantastic vein of speed, touch, and control and simply set forth with what he saw in the light of his athleticism to master a role that even outpaced that of his teammate Puskás in strike-rate, scoring 75 goals to his country's service in 66 internationals. This turned people's eyes towards Kocsis as the successor and perhaps the superior of Puskás.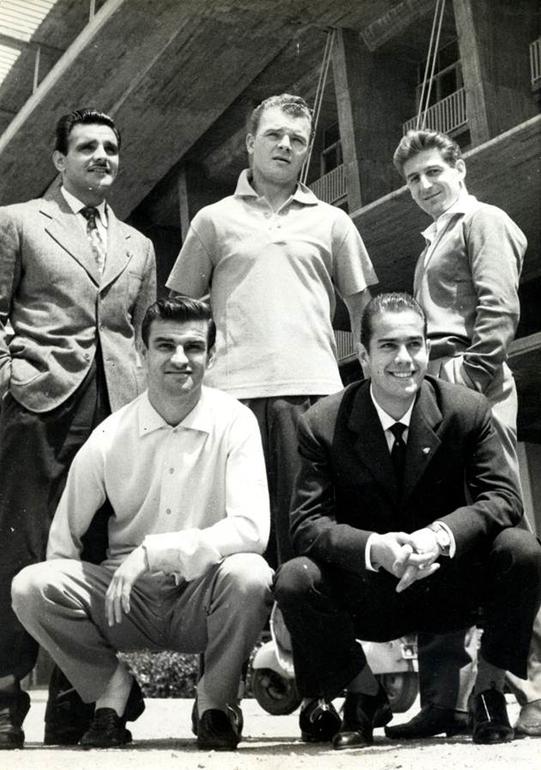 The great stars of 1958 Catalan Barcelona that won the Spanish La Liga that year: Ramon Alberto Villaverde Vazquez, Lászlo Kubala, Lászlo Czibor, Sándor Kocsis and Luis Suarez Miramontes.

Underlying the luster and glories that were laid open for the team, this considerable talent hefted greatly for carrying the team to victories. Versatile and various as he was, Kocsis' place in history also came from his positive influence becoming one of those rare individuals who conducted a clear-cut winning conviction into his matches and carried his team a very long way. For what shone in Kocsis was loading great triumphal sway into his matches, revealing into his forté gestures of invincible desire fashioned so surely amid the brightest boasts of attacking football one may find and the scale would turn in his country's favor. Big laudable football, one's calling, are everywhere in Kocsis.
One met with team victories now more oftener with the untutored natural play instincts of Kocsis and shows an appropriately sophisticated player who frequently points out the essential path to climatic wonders of the pitch: running through there in the games in which he scored, the Hungarian team came up with 37 wins, 4 draws and only 2 losses (95.35% undefeated percentage).
After the Hungarian Revolution of 1956, Sándor Kocsis arrived at a more specific course of a hopeful future than his strike partner Puskás. A spring and summer spent in Switzerland after the events of 1956, Kocsis went freely with powerful and educated persons of the game to Barcelona, then lead by one of the greats in the Spanish league, Lászlo Kubala, a Hungarian refugee himself. There Czibor joins him, and the three Hungarians would work there with equal glory.
The very gifted Barcelona team that Sándor Kocsis played on with three legendary Hungarians, Lászlo Kubala, Zoltán Czibor and Hungarian goalkeeper Ferenc Plattkó became on October 6, 1960, the fourth highest ranked franchise club of the entire 20th Century.