Managerial Legend Gustáv Sebes and the Birth of 'Modern Football'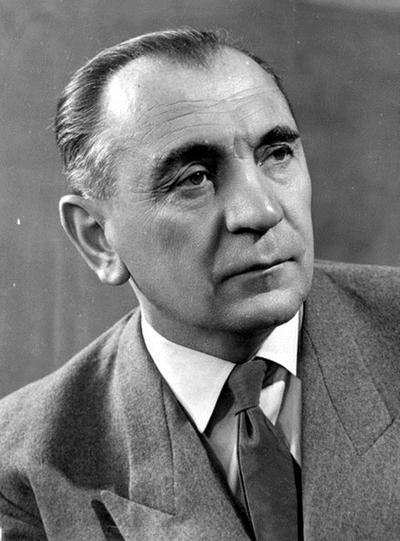 Hungary manager Gusztáv Sebes, one of the 20th Century's
winningest managers with 49 wins, 11 draws and 6 defeats and
brainchild behind the team. Sebes also chaired the committee
overseeing the creation of UEFA in 1954, becoming Vice
President of UEFA from 1954 to 1960.

Of persons arrived at high places, the team for managers began with Gusztáv Sebes, a cultivated person who had been a trade union organizer in Budapest and pre-war Paris at Renault car factories and was accorded a political clean bill of health to run affairs as the Deputy Sports Minister. Patronage by the Hungarian communists and coming on with good connections, he kneads his socialist credentials to a new formulaic style; and seeking a powerful ensemble through it, caused world football to witness 'socialist football' in its prime. His was a team game that would brush aside an assortment of individuals for six years to set milestones not set before or since.
In fact, Sebes was a system-maker who made his mark as a brilliant pioneer who along the way must have shared the belief in the finite or infinite (depending on your point of view) perfectibility of the game. Sebes wished, however, to do more than understand the game, he wished to change it and drew insight from the past that tell of a time some years before his own. The views Sebes held were rooted in the phenomenal success of other great teams two decades before namely Vittorio Pozzo who won famous victories for Italy and Hugo Meisl of Austria. While receptive to past currents he went many steps further as a management herald of a new age. Sebes originated an observation that only in fusing a flexible base and adopting a positive, complex passing plan could football more completely realize itself and bring tactics to a besetting offensive position and this permeated his work root and branch.
Moreover, Sebes' efforts were possessed by the quest to mirror and emulate the same as Pozzo and Meisl, principally to conscript into two core clubs the best players that country and history had bequeathed him and be the principal source of transmission for his national eleven that made possible several levels of reform simultaneously and helped achieve that union of passion, technique and imagistic precision. They were a lordly and honorable sporting society and Sebes brings together an environment that worked for a good understanding and cohesion between players, giving first place to the values of friendship to emancipate his team from the attitudes of the majority.
But above it all, the theme of all Sebes' goals were relationships who learned to see his experiments making flourish a rejuvenated football culture as though the sport was a body of truths he needed to unearth. It is there a story that has the post-war re-birth of the game everywhere in view which would admit the whole triumphant answer, make Hungarian national teaml delightfully enhanced and be the sport's measure of all things.
His main object was to command the best talents of the day as seen through a single team and to make them believe as he did: to present an example of socialism in action. He also probably intended to show that Hungary during its glorious football reign had produced men as great as the greatest as the now dominant Germans, Italians and Brazilians. Fortunately for him among those who lent themselves to his purposes were several players of many-sided genius. As their fame steadily grew around them for a remarkable lineage of seven years, the team known variously abroad as the 'Mighty', 'Magical' or "Magnificent Magyars" or simply and affectionately as the 'Golden Team' in Hungary was thrust upon audiences with a major box-office appeal.
Sebes composed his new movement governed by the idea that a communal solving of players equally sharing in the ball's forward propagation then dovetailing all players into defense when needed for a mutual advantage would stand as an advance. He played freely around with experiments, forcing his mind through channels of deductions that drove him to work and rework the game's dialogue for rhythmical perfection. Logically with a dose of reform motive, soccer, according to Sebes, can probably best be discovered where attack and defense were mutually reinforcing with the team all of a piece.
Proud of their abilities, Sebes in these years favored the extension of power to more of his players than had any manager in the past. He was wise to encourage his players to abandon strict positional roles that he identified as a bottleneck to give rise to a no-limit ambiance with the team larger than the sum of its parts in a sort of catalytic alchemy. The team was one of the first to communicate a new triangle-based passing offense among an arsenal of other maneuvers.
Most of all, Sebes needed the right available players to make it work. To help start that quest, he required the right local and national political permissions to house into two club centers (Budapest Honvéd and MTK) to anchor the very best Hungarian sport had to offer as a testing place, thereby binding them firmly to his cause by gathering them together in a group of unparalleled amplitude and forming them into a poised athletic ensemble. These liaisons and rich connections from Honvéd and MTK made the nucleus of the national team which was a finishing school for all graces of body and mind. Here knowledge is mastery of technique and craft, talents and the limits of physical capacities were harmonized in actual creative activities and freed a gallery of distinct, worldly, vivid individuals who became the worthiest players in the world.
---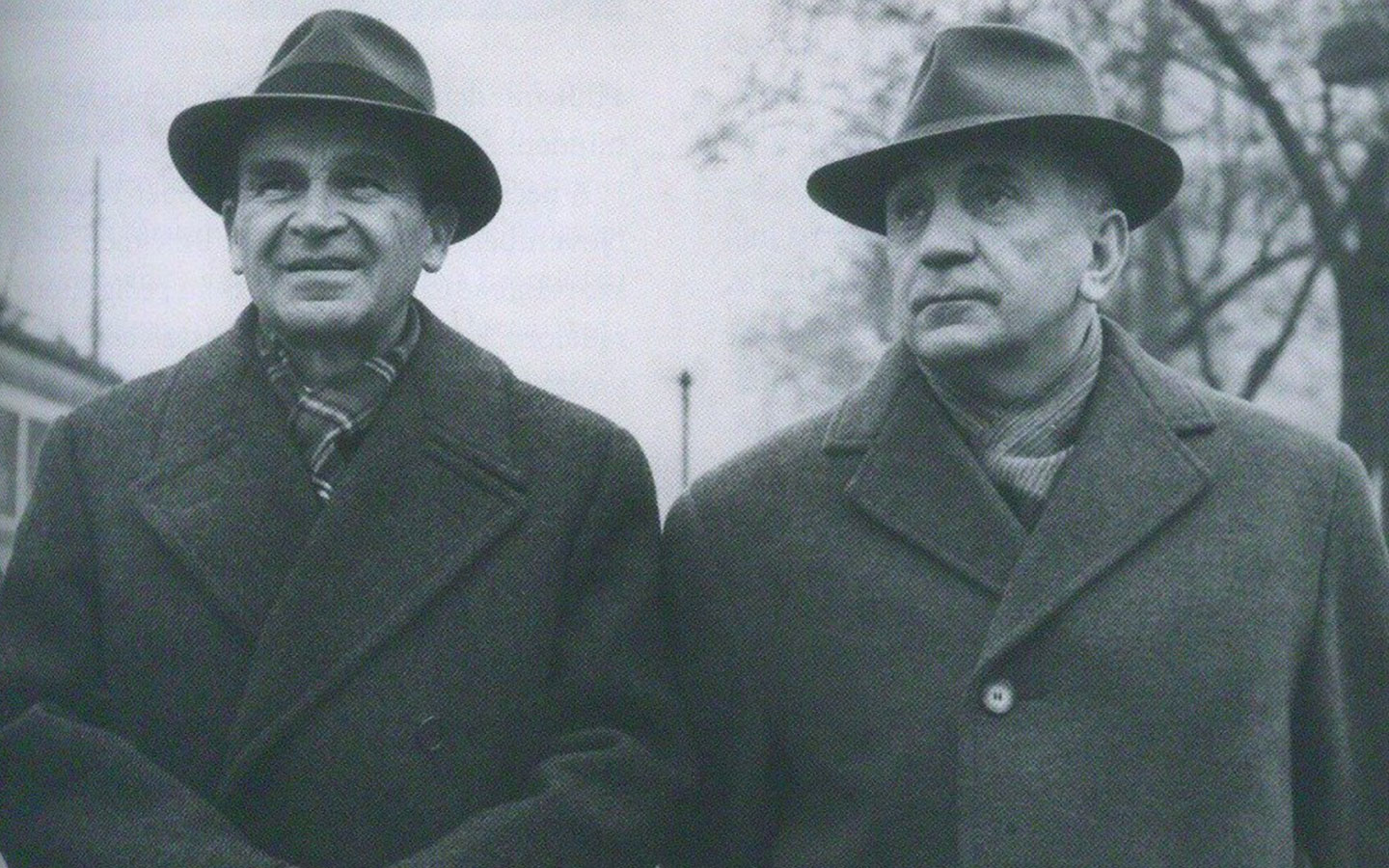 Famous legendary Hungarian manager icons, Béla Guttmann and Gustáv Sebes.
Whether the communist authorities admitted it or not, the team was authentically a vintage Hungarian one. Most all of the players grew up and took up their careers playing in a free Royal Hungary during the powerful regency of Admiral Miklós Horthy or during the brief budding of democracy right after the war, but it was thoroughly socialist in formulation after 1949 that says much about the measure of Sebes' strength of inheritance. The team were garlanded in patriotic odes and contemporary music honoring the wisdom and just design of the socialist system and were shown in cinema theaters playing in faraway places or at home that ennobled the ideal persons in the working-class system.

For a start, the attack that was enlivened with the players swinging in free-flowing style toward opponents' goal did not liken to a ' line formation ' but laid down a more fluid checkered pattern where space was created to play the ball into by changing lane assignments to find perfect pieces of land and to fabricate confusion that was simply about twenty years ahead of its time: for example if Kocsis drifted wide Bozsik moved into the center, if the right-winger Budai moved inside then defending right-back Buzánszky overlapped Budai's original position, if Hidegkuti advanced upfield, Puskás dropped back and so on, and in this way with its striking degree of overlap prefaced the first edition of "Total Football".
Entirely prolific, the tactical shape was pursued mainly through and received its rhythm from four players: forward inside-left Puskas, target striker at inside-right Kocsis well seconded by the withdrawn center-forward Hidegkuti and attacking wing-half Bozsik poised in the middle were the players that carried on the tide in the inner life of the offense that heralded a realm of unreachable attacking football which proclaimed the team most boldly. They were linked to Czibor on the left wing with his gleaming runs and the rightly used Laszlo Budai, dependable as they come, at wide right.
This winsome approach was truly appreciated and became internationally famous and visually studied and appraised by European experts who came to see the new tactics at work. Judged by the standards of the game in its time it was found it to be quite revolutionary that looked so natural to the prevalent eye but were seldom seen before. Thus, tactics were now more in a modern hand with the way that players could overlap into areas to impart a new fluid mannerism to the sport that proved so daring in their day that this vividly sketched the foreword to "Total Football" where individual roles in zonal positions should not be strictly predefined.
For Sebes, midcentury modernism saw him as one of the inaugural managers at the vanguard of modern techniques to strengthen his players with what he considered up-to-date professional standards in training so that no team might hope to obstruct the superior progress of his creation. He created amid the many blessings of his natural talents a physical engine that had a clean supercharged quality, a speed and pace fused to the spiritual bedrock of camaraderie that was conductive to outsprint, outpass, and outplay competitors in an air of solid confidence. The team he presided over was a verdant sanctuary, an athletic republic of free public spirits living a charmed cocooned life and training as professionals in its continuing drive for sporting excellence.
Most teams, therefore, could not rise above their predicament of seeing and confronting the prodigy of famous men of the people doubtless getting near their goal and scoring more often than they themselves with goals that could not be got back nor resolving the paradoxes of a team also that did not lack a conclusive defense. National teams seemed to founder to the tang of aptly turned passes, specialties and a prim defense that a sixty-game series hallowed their cause. They made newsworthy football look easy until one tries to play like the Hungarians and discovers how much care has gone into the choice of handling, placements of emphasis and array of thought.
Players with +500 Officials Goals

RSSSF Statistics:

56 Players Have Scored +500 Official Goals, 11 Were Hungarian (19.64% Of All Players in Association Football History)

source: List of footballers with 500 or more goals - Wikipedia

All Time Rank

Star Magyar Player

Goals

Matches

Goal Ratio

Active Years

No. 5

Ferenc Puskás (Golden Team captain)

806

793

1.02

1943-1967

No. 6

Ferenc Deák

(Puskás' first great strike partner)

+795

+511

1.56

1939-1959

No. 16

Ferenc Bene

630

946

0.67

1959-1985

No. 17

Gyula Zsengellér

611

641

0.95

1931-1953

Tie No. 25

Imre Schlosser

+569

458

1.24

1906-1928

No. 33

Sándor Kocsis

(Puskás' great strike partner)

556

537

1.04

1946-1966

No. 38

Ferenc Szusza

544

598

0.91

1940-1961

No. 39

József Takács

539

526

1.02

1920-1942

No. 44

Nándor Hidegkuti

('Golden Team' center-forward)

526

678

0.78

1938-1958

Tie No. 51

György Sárosi

507

592

0.86

1929-1948

No. 56

Lajos Tichy

('Golden Team' striker)

500

610

0.82

1952-1971